Day 16 Vegetarian Thai Food: Tropical Fruit, Jay Jay Restaurant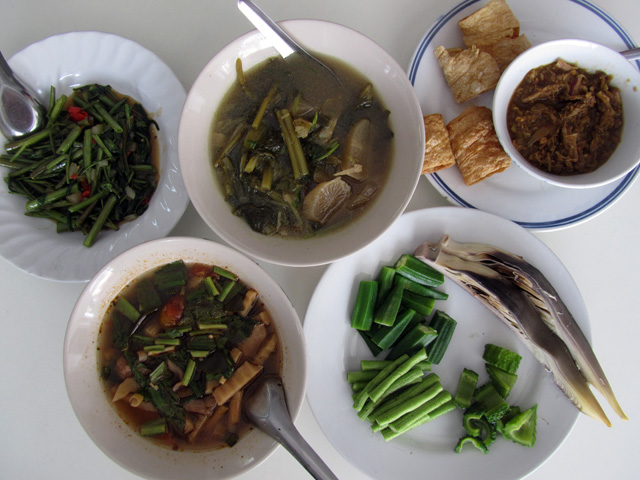 If you're joining us for the first time, we're attempting to eat vegetarian Thai food for the entire month of July 2011 in order to raise money for charity. Follow us for everyday blog updates and read more about the cause here.
Breakfast
I started the day off with a giant plate of fruit, including papaya, pineapple, dragonfruit and a banana. Thailand has an incredible selection of tropical fruit and they should all be taken advantage of.
Lunch / Dinner
A gigantic mid afternoon lunch was actually enough food to carry me over through the rest of the day.
I went to Jay Jay Vegetarian Food Center located on Phet Kasem Soi 65. It's a temple that doubles as a vegetarian restaurant.
Being a holiday weekend, the restaurant wasn't actually open, but they did manage to scrape up a lot of food for us. After hearing that I was going write an article about them, they ran around the kitchen, coming out with so many dishes I almost couldn't eat it all.
Needless to say, I ate a ton of food (restaurant review plus a live video coming soon!).
Here are just a few of the glorious dishes:
Pad pak bung fai daeng – stir fried morning glory
Tom jap chai – herbal soup made with lots of vegetables
Nam prik noom – raw vegetables served with a sauce
Tom yum jay – vegetarian sour spicy soup
Kanom jeen nam ya (bottom) – soft rice noodles with coconut curry and vegetables
They fed us so well, it was hard to even walk out of the restaurant. Wonderful vegetarian feasting on Day 16!