Chinese Muslim Hand Pulled Wheat Noodles in Yangshuo, China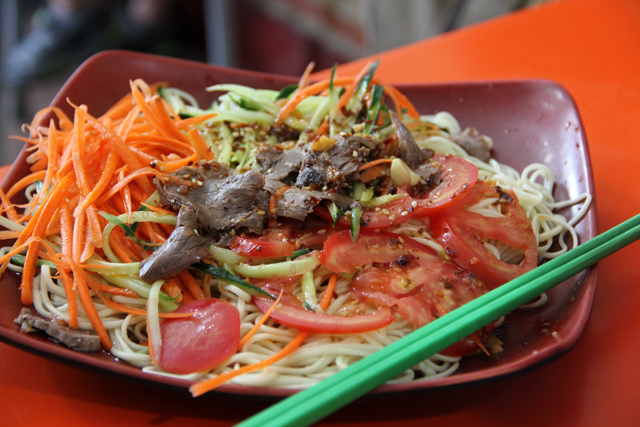 Chinese have been making noodles for centuries, and throughout years and years of civilization, I think it's safe to say that Chinese chefs have nearly reached noodle perfection.
In some regions of China, noodles are the devout staple, more popular than rice.
Though I normally consider rice to be superior than noodles, when I traveled to China I discovered the delights of hand-made noodles that were simply spectacular!
Thai noodles dishes like boat noodles are made from dried noodles, so it was awesome to get my fill of hand made fresh noodles I was in China!
This Muslim Noodle restaurant is located in Yangshuo, Guanxi Province, China. The owners are from the northern province of Gansu – so most of the dishes on the menu are Gansu inspired.
Lamian is a type of hand pulled Chinese wheat noodle where the maker works the dough by stretching it out and slapping it on the metal counter to pop the air bubbles.
With each slap the dough becomes stiffer but longer and more stretched out.
When the dough is just perfect, he further elongates it by performing a yoyo trick to the dough.
Magically, perfectly thin sized noodles emerge from his hands like a wrapped up cord.
They are immediately thrown into the boiling cauldron of water to cook.
The dish that really melted my heart was the plate of cold noodles. They weren't actually served too chilled but more room temperature.
The dish started off with a huge bed of the freshly hand pulled noodles covered in julienned carrots and cucumber, slices of juicy red tomatoes and a few tender pieces of beef.
Finally the cold noodles were dressed in a slight spicy oil vinaigrette.
A second favorite dish was the hot hand pulled noodles covered in fried egg and tomato. So simple and plain, yet pure delicious.
This last dish was not hand pulled, but rather knife chipped noodles that came off a big lump of dough. It's another great Chinese noodle variation to try out!
If you are ever in Yangshuo, China, this is a restaurant that you shouldn't miss – and the great thing is that you can get right off the bus, cross the street and you're there.
I'm not sure of the name of the restaurant, but here is a map of the place. It is located directly across the street from the bus entrance gate of the Yangshuo bus station.
Here's the map:

View Chinese Muslim Hand Pulled Wheat Noodles in Yangshuo, China in a larger map