10 Best Thai Restaurants in Bangkok in 2018 (Local Food)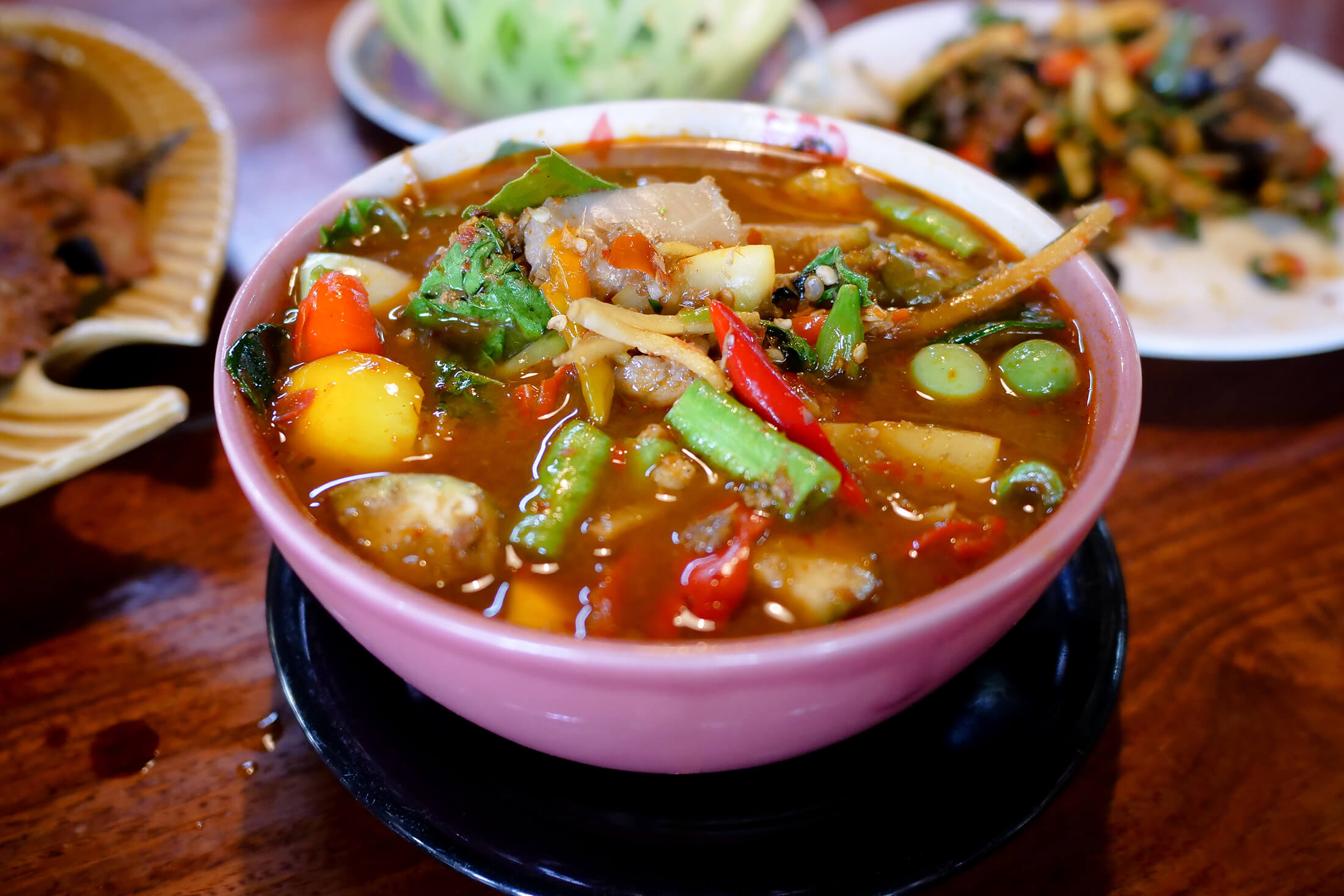 In this post I'm going to share with you the 10 best Thai restaurants in Bangkok, that I tried in 2018.
Even after years of living in Bangkok, it's a city where food is always exciting, and there's always more to discover.
A couple of quick things about this list of best restaurants in Bangkok:
This list only includes Thai restaurants in Bangkok, that I personally ate at for the first time in 2018.
I do tend to enjoy maximum flavor, extra spicy Thai food, so many of my restaurant choices reflect that. However, at these restaurants there are dishes you can order non-spicy as well.
Restaurants are in no particular order.
I haven't written a full post about every place on this list yet, but I will do so soon on the blog.
Ok, let's get started!
1. Pla Mae Nam (ร้านปลาแม่น้ำ)
I came to Pla Mae Nam (ร้านปลาแม่น้ำ) restaurant by chance – I just happen to be in the area, and we needed to eat so I did a few searches. It was one of those restaurants that, even from just the outside appearance, which is like a huge wooden longhouse, I knew it was going to be good; turned out to be one of my favorite Thai restaurant in Bangkok this year.
Pla Mae Nam (ร้านปลาแม่น้ำ) specializes in freshwater river fish, and other wild ingredients – in Thai known as jungle food.
There's a handful of different freshwater fish, frog, and wild boar that you can choose from, and about half a dozen different preparations. My two favorite dishes are the jungle curry (แกงป่า gaeng ba, one of the best in Bangkok) and stir fried spicy curry with wallago catfish (ผัดเผ็ดปลาเค้า pad phet pla kao).
Pla Mae Nam (ร้านปลาแม่น้ำ) restaurant
Address: 145 Soi Ekkachai 131, Khwaeng Bang Bon, Khet Bang Bon, Krung Thep Maha Nakhon 10150 (Google map)
Open hours: 11 am – 8 pm daily
Prices: 100 – 300 THB per person
2. Panya Seafood – Beer Hima (ปัญญาซีฟูด-เบียร์หิมะ)
Panya Seafood – Beer Hima (ปัญญาซีฟูด-เบียร์หิมะ) is a huge family restaurant in Bangkok where you'll find some of Bangkok's best southern Thai food and a huge selection of fresh seafood.
Dishes are known to be on the spicy side, and for sure their fish viscera curry (แกงไตปลา gaeng tai pla), is among the spiciest single dishes I've ever had in Thailand. Also be sure to order their southern Thai sour turmeric curry (แกงเหลือง gaeng leung), and their stink beans with shrimp and shrimp paste (สะตอผัดกะปิกุ้ง sataw pad kapi goong).
In addition to the amazing food "beer hima," as stated in their name means "snow bear." They cool their beer until nearly frozen, so when you pour it into a cup, it immediately turns to foamy icy snowy beer. It's pretty cool, and you'll need it to cool your mouth from the amazing spices.
Thanks to Khun Tan for bringing me here for the first time. Panya Seafood – Beer Hima (ปัญญาซีฟูด-เบียร์หิมะ) is truly a gem of Bangkok and one of the best restaurants.
Panya Seafood – Beer Hima (ปัญญาซีฟูด-เบียร์หิมะ)
Address: 19/2 Prasert-Manukitch Rd, Khwaeng Chorakhe Bua, Khet Lat Phrao, Krung Thep Maha Nakhon 10230 (Google map)
Open hours: 11 am – 10 pm daily
Prices: 200 – 400 THB per person
3. Sorn (ศรณ์)
Sorn (ศรณ์) is a high end restaurant in Bangkok that serves fine southern Thai cuisine. They opened in 2018, and in the same year they opened, they received a prestigious and very well deserved Michelin Star.
One of the reasons I was so excited to try Sorn (ศรณ์), is first of all I'm good friends with the Khun Ice and Chef Yod, and secondly, because southern Thailand is where my wife is from, and southern Thai food is my favorite regional variety of Thai food.
They serve a set menu, the first courses are small bites, followed by the main courses which are served typical Thai family sharing style. Some of the dishes were familiar to me, yet refined, using high quality ingredients.
Reservations are tough now, but do make the effort, it's well worth it! Sorn is without a doubt one of the best Thai restaurants in Bangkok right now.
Sorn (ศรณ์)
Address: 56 Sukhumvit 26 Alley, Khwaeng Khlong Tan, Khet Khlong Toei, Krung Thep Maha Nakhon 10110, Thailand (Google map)
Phone: +66 99 081 1119 reservations required
Prices: Set meals cost 2,900 THB per person
4. Ba Chao Jungle Food (ป๋าเชาว์อาหารป่า)
It's no secret, I'm a little obsessed with Thai jungle food.
Last year one of my favorite Thai restaurants was Loong Riang & Pamalee (ร้านลุงเรียง & ป้ามาลี) in Chonburi.
Usually in Thailand, jungle food means they use more wild and exotic ingredients (eel, deer, quail, porcupine), and it typically means dishes are cooked extremely spicy and with maximum flavor.
In Bangkok, there are not that many jungle food restaurants, you'll find most in the countryside, or in smaller rural areas. But Ba Chao Jungle Food (ป๋าเชาว์อาหารป่า) is on the outskirts of Bangkok, and the owner is from Kanchanaburi, where he brings his ingredients from.
The day I came here, I was with my friend Khun Pup and a few other friends and we ordered nearly everything they had on the menu. The highlight for me was their chili fried deer (กวางผัดเผ็ดkwang pad phet), and their fried fish with chuchee curry (ปลาฉู่ฉี่ทอด).
Ba Chao Jungle Food (ป๋าเชาว์อาหารป่า)
Address: 85/369 Chat Chai Ruam Mit Alley, Khwaeng Chorakhe Bua, Khet Lat Phrao, Krung Thep Maha Nakhon 10230
Open hours: 11 am – 10 pm daily
Prices: 200 – 400 THB per person
5. Kuay Teow Khae (ร้านก๋วยเตี๋ยวแคะ)
Kuay Teow Khae (ร้านก๋วยเตี๋ยวแคะ) is an extremely popular noodle stall in downtown Silom, Bangkok, which stretches down the sidewalk on Soi Convent.
At lunch, when the office crowds are released for lunch-break, is when the stall comes alive. Bowls of noodles fly off the cart and to the hungry rows of customers.
Their specialty dish, and the dish I automatically order when I come here is the dry egg noodles special with everything (ต้มยำแห้งเส้นโซบะ พิเศษ tom yum haeng sen soba pisayt). It includes egg noodles, pork balls, meat, dumplings, and crispy pork belly, in a chili oil, spicy, sour and sweet sauce. The soup is served on the side.
It's a great Bangkok street food bowl of noodles!
Kuay Teow Khae (ร้านก๋วยเตี๋ยวแคะ)
Address: Silom, Soi Convent, about a 3 minute walk from Sala Daeng BTS station (Google map)
Open hours: 7 am – 2 pm on Tuesday – Saturday
Prices: 60 THB
6. Som tam stall (ร้านส้มตำรถเข็น)
The Aunty at this small Isaan street food stall has been serving amazing green papaya salad for over 30 years. The cart is located at the top of the alley just off Ratchadmnoen Road, outside government offices and Royal Thai Survey School.
At first it's the kind service and warmth of the Aunty who will make you feel comfortable and welcome, and the breezy tables on the sidewalk under the tree.
Then it's the food – she makes some of the best single plates of green papaya salad and fermented fish (ตำปูปลาร้า tam boo pla ra) I've had in Bangkok this year: fiery, great umami filled fermented fish sauce, and refreshing ingredients.
You can also order laab (ลาบ) and tom saeb (ต้มแซ่บ), all of which are fantastic. This is an amazing little stall, and makes a perfect lunch in Bangkok.
Som tam – 30 year stall
Address: Just outside the Royal Thai Survey Department (Google map)
Open hours: for lunch
Prices: 40 – 100 THB per person
7. Lerd Tip (ร้านอาหารเลิศทิพย์ วังหิน)
I had a chance this year to hang out, eat, and experience Chef Gigg's cooking, who is the winner of Thai Iron Chef and Top Chef. He's an amazing cook, and his family restaurant is Lerd Tip (ร้านอาหารเลิศทิพย์ วังหิน) in Lad Phrao.
They serve mainly Thai Chinese dishes on their menu, but Chef Gigg has added a few fusion Western Thai Chinese dishes to the menu as well. The dishes are excellent, always stir fried on high heat to have a wonderful smoky taste.
One of Chef Gigg's signature dishes is holy basil fried rice topped with Wagyu steak with an egg on the side (ข้าวผัดกระเพราเนื้อวากิว) served in a Korean hot ceramic pot. It's one of the ultimate comfort dishes I've ever had, and an amazing combination.
Lerd Tip (ร้านอาหารเลิศทิพย์ วังหิน)
Address: 3/151 ถนนลาดพร้าววังหิน ซอย 70 แขวงลาดพร้าว Khwaeng Lat Phrao, Khet Lat Phrao, Krung Thep Maha Nakhon 10230 (Google map)
Open hours: 5 pm – 2 am daily
Prices: 200 – 400 THB per person, more if you eat crab
8. Lim Lao Ngow (ลิ้มเหล่าโหงว)
Lim Lao Ngow (ลิ้มเหล่าโหงว) is a family Thai Chinese street food stall in Yaowarat (Chinatown), Bangkok that serves fish ball noodles.
I was never a huge fan of fish balls, until I tasted high quality, freshly made fish balls, that are made with pure fish, like they serve at Lim Lao Ngow (ลิ้มเหล่าโหงว). The cart where they prepare the noodles and boil the fishballs is impressive, a steaming vat of water, fish balls swimming around, and some of the fastest noodle blanching you'll ever see in your life.
Your bowl of noodles typically comes with crinkly egg noodles, a mix of round fish balls and fish wontons, and seasoned with fried garlic lard, chilies, and vinegar. The fish balls have an amazing bouncy texture, but the real highlight are the fish wontons that explode with a pepper fish sensation.
For egg noodles and Chinese fish balls, this is one of the best restaurants in Bangkok (here's another place I love for their egg noodles).
Lim Lao Ngow (ลิ้มเหล่าโหงว)
Address: 645 1095 Mittraphan Rd, Khwaeng Samphanthawong, Khet Samphanthawong, Krung Thep Maha Nakhon 10100 (Google map)
Open hours: 6:30 pm – 11 pm from Tuesday – Sunday (closed on Monday)
Price: 40 – 100 THB per person
9. Jay Hong (ร้าน เจ้ฮ้งก๋วยเตี๋ยวคั่วไก่วรจักร)
The full name of this restaurant is Jay Hong Kuay Teow Khua Gai Worachak (ร้าน เจ้ฮ้งก๋วยเตี๋ยวคั่วไก่วรจักร), and they are legendary in Bangkok for a fried noodle dish called kuay teow khua gai (ก๋วยเตี๋ยวคั่วไก่).
I ate here with Khun Tan and Khun Tape on a huge late night Bangkok street food tour.
The restaurant is a very cool shop-house located in the alleys of Worachak Market. The restaurant is open at night, but the market is not, so when you walk there, you feel like you're walking into a dark unknown, closed alley. But then you smell the smoke wafting down the alley.
Immediately as you arrive, you'll notice how she cooks with a sauce pot, over a raging hot flaming charcoal fire. Her cooking skills and fire skills alone make her one of the best chefs in Bangkok.
When you eat at Jay Hong (ร้าน เจ้ฮ้งก๋วยเตี๋ยวคั่วไก่วรจักร), the first thing you'll want to order is their classic khua gai with wide rice noodles (คั่วไก่เส้นใหญ่), but also don't miss the same dish made with thin rice vermicelli (คั่วไก่เส้นหมี่).
Finally, order a plate of fried rice, which is probably the smokiest fried rice you'll ever taste. Rather than cooking the noodles pancake style, she scratches them over the hot fire.
Without a doubt it's one oft the best restaurants in Bangkok with the most unique cooking style.
Jay Hong (ร้าน เจ้ฮ้งก๋วยเตี๋ยวคั่วไก่วรจักร)
Address: Soi Ban Dok Mai 1, Khwaeng Ban Bat, Khet Pom Prap Sattru Phai, Krung Thep Maha Nakhon 10100 (Google map)
Open hours: 4 pm – 10 pm on Monday – Saturday (closed Sunday)
Prices: 40 – 100 THB per person
10. Hay baked chicken (ไก่อบฟางลุงพิน)
Known in full as Uncle Peen Hay Baked Chicken (ไก่อบฟางลุงพิน), this has to be one of the most unique styles of grilled or smoked or baked chicken I've ever seen or eaten.
It's actually a traditional Thai countryside cooking method, but it's very rare to find, especially at a restaurant where you can buy it (rather than just at home).
The chicken is marinated before being set up on an upright pole in the ground. An old oil drum is then placed over the top of the chicken, and rice straw hay is tucked around the oil drums. Next, the hay is lit on fire, and it burns all the way through, releasing the smoke and heat into the upside down oil drum where the chicken is.
This process of baking the chicken in burning hay is repeated a number of times, and in about 45 minutes emerges one of the most beautiful golden chickens ever. The process also keeps the chicken incredibly juicy.
Uncle Peen Hay Baked Chicken (ไก่อบฟางลุงพิน)
Address: Ngiu Rai, Nakhon Chai Si District, Nakhon Pathom 73120 (Google map)
Open hours: 9 am – Noon or until sold out
Prices: 120 THB per chicken
Thank you for checking out this list of best street food and best restaurants in Bangkok 2018!
Hope it gives you some ideas about what to eat when you're in Bangkok.
Finally, in 2019 I plan to blog a lot more about Thai restaurants and Thai recipes – so stay tuned. If you're not already, make sure you sign up by email so I can notify you of new posts and our best Thai food content.
Get e-mail updates (for free)
Enter your name and e-mail and I'll send you the best Thai food content: