Jungle Thai Food – Pilgrimage Worthy Meal at Loong Riang & Pamalee (ร้านลุงเรียง & ป้ามาลี)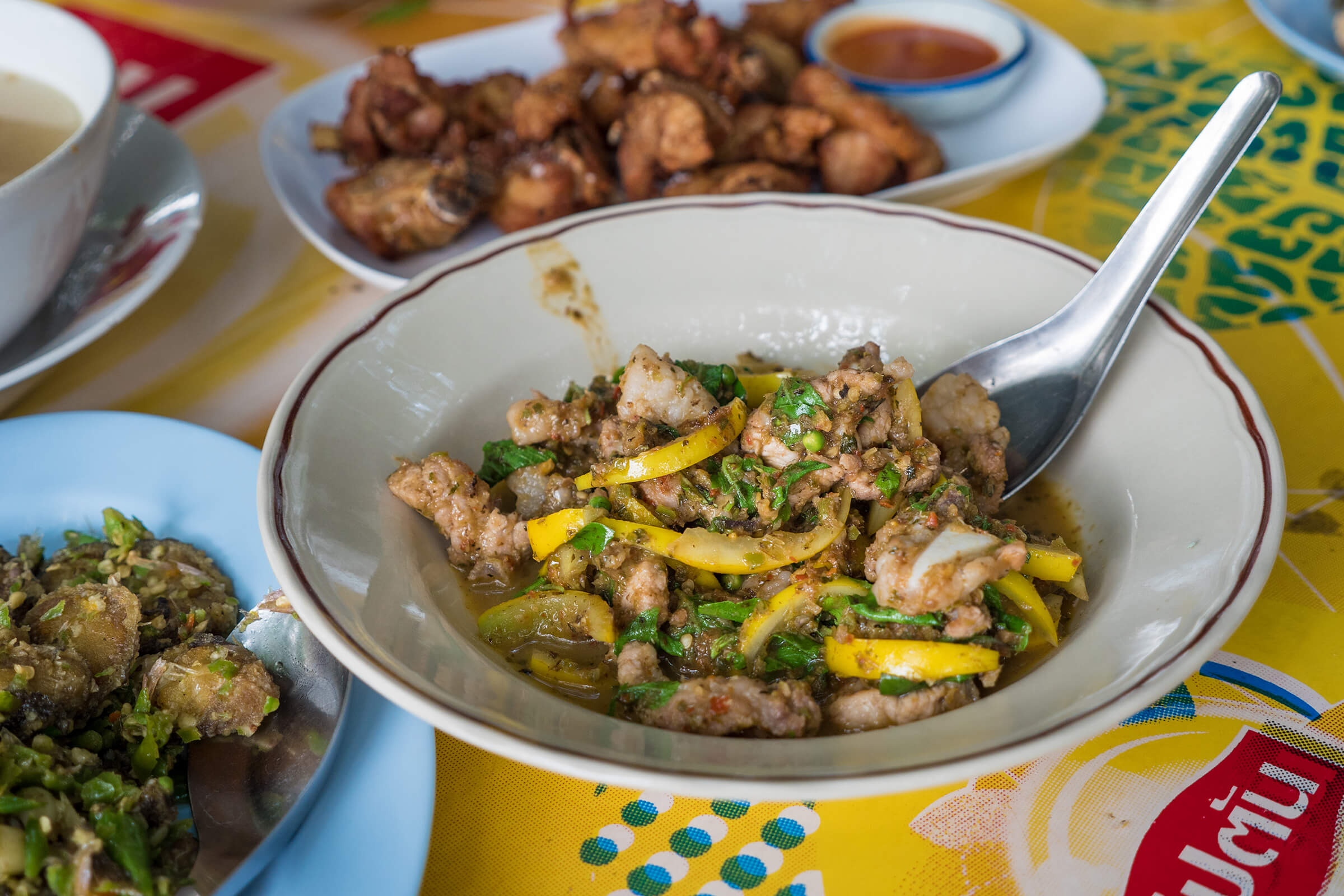 Thai jungle food (อาหารป่า) will explode with flavors on your tongue – and when you have a spectacular countryside atmosphere and friendly owners to go with it – that's a recipe for a pilgrimage food destination.
In this blog post I'm going to share with you all 12 of the unique Thai dishes we ate at this life changing Thai jungle food restaurant in Chonburi (ชลบุรี), Thailand!
Watch the video:
Press play to watch the full video of this incredible Thai jungle food meal experience.
(Or you can watch the video on YouTube here: https://www.youtube.com/watch?v=KExn4i5JErQ&t=25s)
Loong Riang & Pamalee (ร้านลุงเรียง & ป้ามาลี)
First off, I want to say a big thank you to @theskinnybib for this restaurant tip recommendation. Follow his Instagram for some amazing food pics and adventures.
When I call Loong Riang & Pamalee (ร้านลุงเรียง & ป้ามาลี) a pilgrimage-worthy restaurant in Thailand, I'm not saying that lightly.
It's the type of restaurant I would, without hesitation (if I didn't live in Bangkok), fly straight into Bangkok (from anywhere in the world), and find whatever means of transportation directly to the restaurant.
Along with Soei, this goes down as one of the best restaurants I've eaten at in Thailand.
Along with serving some of the most amazing Thai food you'll ever taste, the restaurant is all family run, and they are so cool — awesomely friendly and passionate about good traditional Thai jungle food.
You'll find lots more info about how you can get to this restaurant and details at the bottom of this post, but for now, let's dive right into the amazing Thai jungle food.
We'll go over each of the dishes in the same order as in the video (if you haven't already watched the video, be sure to check it out).
Wild boar with pineapple stems (ผัดหมูป่าจุกสัปประรด)
Wild boar is a popular Thai jungle food, and it's well represented in many dishes at Loong Riang & Pamalee (ร้านลุงเรียง & ป้ามาลี).
This wild boar stir fried with curry paste and pineapple stems (ผัดหมูป่าจุกสัปประรด pad moo paa jook saparot) was the first dish I tried, and one of my favorites of the meal.
It almost had a green curry paste taste to it, but stronger and not as sweet because there was no coconut milk in the recipe. It was herbal tasting, spicy, full bodied, and the pineapple stems were amazing.
Pineapple stems taste similar to bamboo shoots, but they are perhaps a little more silky crisp.
Pork curry with coconut shell (แกงหมูกะลา)
Yes, you read that correctly.
Not coconut meat or coconut water, but coconut shell – that woody outer shell.
This was one of the Thai jungle food dishes I was most excited to try because it was my first time to eat coconut shell (apart from accidentally eating some coconut shell shards while eating coconut meat).
When you eat coconut shell it comes from young coconuts, and it's sliced up into thin strips and soaked in water to become soft.
For this pork curry with coconut shell (แกงหมูกะลา gaeng moo kala), the coconut shell was stir fried with curry paste and pork.
Again, the flavor was stunning from the curry paste, and the coconut shell was spectacular.
I tasted the coconut shell raw before it was cooked in the curry and it was a little chalky, but within the curry it wasn't chalky anymore, but had an almost carrot like snap crispness to it.
Another spectacular and unique Thai jungle food dish at Loong Riang & Pamalee (ร้านลุงเรียง & ป้ามาลี).
Wild boar with snakefruit (หมูป่าพล่าระกำ)
One of the non curry paste dishes we ordered was wild boar with snakefruit (หมูป่าพล่าระกำ moo paa pla rakam).
Pla (พล่า) in Thai is a variation of a mix or a salad, and this was an absolute stroke of genius to add rakam (ระกำ), a type of salak or snakefruit in English, to the recipe.
The wild boar was slightly chewy as it should be, then it was flavored with lots of crushed green chilies, lemongrass, shallots, culantro, I think lime juice, and the snakefruit to give it an insane sourness.
The wild boar with snakefruit (หมูป่าพล่าระกำ) is a dish I'm still dreaming about.
Squid ink with garcinia leaves (หมึกต้มใบชะมวง)
For our next dish we ordered squid and their ink with garcinia leaves (หมึกต้มใบชะมวง meuk dam bai chamuang), which seem to be pretty healthy.
This was good too, but I think because of the other life-changing dishes mentioned above already, it wasn't as stand out to me.
However, the squid was nice and tender, while the bai chamuang (ใบชะมวง), which in English are garcinia leaves were extremely sour. The broth had a sweetness to it as well.
Old style fried fish cakes (ทอดมันโบราณ)
Using 100% fish (no flour) and curry paste, these yellowstripe scad fried fish cakes, were also wonderful.
The little nuggets of joy were very bouncy in texture and had a curry paste taste with a sweetness to them.
The old style fried fish cakes (ทอดมันโบราณ tod man boran) are not to be missed when you eat at Loong Riang & Pamalee (ร้านลุงเรียง & ป้ามาลี).
Catfish salt curry (แกงเกลือปลาดุก)
Another signature dish is their catfish salt curry (แกงเกลือปลาดุก gaeng kleua pla duk), and it was a first for me to eat this type of curry in Thailand.
The catfish, which the owner emphasized is always wild, not farmed, was delicious. It was wrapped up in their home-made curry paste and coconut milk.
One thing I'm unsure of is why they used boxed coconut milk (rather than fresh) for this curry. But nevertheless, the flavor was outstanding – it was packed with flavor.
Best omelet in the world (ไข่เจียวอร่อยที่สุดในโลก)
I'm not kidding you.
On the menu, it says it's the best omelet in the world (ไข่เจียวอร่อยที่สุดในโลก kai jeow aroy teesud nailok). But it's all in good fun, and I'm not going to argue with them at all!
The best omelet in the world included a secret mixture of not only normal eggs out of the shell, but also chopped up salted egg and century egg, plus minced pork and minced shrimp.
I'm going to leave it up to you to decide if this is the best omelet in the world or not.
But what I will say is that it's the type of omelet you wouldn't think twice about scarfing down at 3 am.
I might need to start adding some century egg to my Thai omelet recipe!
We finished eating the 6 dishes above, but could not bare to stop eating, so we ordered more food.
In the middle of your meal, if you wish to take a stroll around the coconut palms or cassava bushes, you can!
Free range chicken boiled with snakefruit (ไก่บ้านต้มระกำ)
For round 2, we started with a free range chicken soup boiled with snakefruit (ไก่บ้านต้มระกำ), which was so sour you could actually feel the sourness going down your body with every bite.
Again, using the same snakefruit (ระกำ rakam), it was boiled with free range chicken into an amazingly sour and marvelous tasting soup.
Catfish fried with fresh chilies (ปลาดุกผัดพริกสด)
If you hadn't seen them cooking this dish, you might think that it was catfish fried with green beans — but I can assure you, no green beans were used in this recipe.
For this plate of catfish fried with fresh chilies (ปลาดุกผัดพริกสด pla duk pad prik sod) the catfish was deep fried, then stir fried with a heap of pounded green chilies and garlic.
It was as good and as glorious as it sounds.
Fried chicken with salt (ไก่คั่วเกลือ)
I'm a huge fan of Thai free range chicken, and my mother in law often cooks with it at home.
But sometimes for fried chicken it can be a bit dry or tough. But their fried chicken with salt (ไก่คั่วเกลือ gai khua kleua) was absolutely spectacular.
The little bites of chicken tasted like REAL chicken — like the countryside free roaming chickens you want your chicken to taste like.
Also, what really made this fried chicken so good was that it was sprinkled with some good quality salt.
The coconut shell was amazing!
Pork ribs with yellow nightshade (หมูใบพายผัดมะเขือเหลือง)
Pork ribs with yellow nightshade (หมูใบพายผัดมะเขือเหลือง)
The owner recommended we also try pork riblets and cartilage pieces stir fried with at type of yellow nightshade (มะเขือเหลือง).
Again, just like the other stir fry curry paste dishes, the pork ribs with yellow nightshade (หมูใบพายผัดมะเขือเหลือง moo baipai pad makua leuang) was outstanding. The flavor of the curry paste combined with the meat and basil folded within, was insane.
The yellow nightshade (มะเขือเหลือง) was also really good.
It almost has a bit of leathery texture to it, but at the same time it almost eats like bell peppers.
Jungle bird with holy basil (กระเพรานกป่า)
Despite wanting to never stop eating, we were going to call it quits there.
But the owner said we couldn't leave Loong Riang & Pamalee (ร้านลุงเรียง & ป้ามาลี) without trying their special jungle bird with holy basil (กระเพรานกป่า kra prao nok paa).
They used some type of wild jungle pheasant. Just take a moment to admire that ratio of meat to herbs and chilies — it was perfect.
The bird was minced up with the bones similar to my mother in laws wild duck recipe, and then it was stir fried with wild holy basil, chilies, and lots of garlic.
It was the perfect dessert dish to finish off this life-changing Thai jungle food meal in Chonburi!
Menu
Here's a quick shot of their main menu poster at the restaurant. But keep in mind that some of the dishes are not available all the time, and they might have some random seasonal specials as well.
Details about this restaurant
I wanted to share a few quick tidbits about eating at Loong Riang & Pamalee (ร้านลุงเรียง & ป้ามาลี) so we're all on the same page.
1. Location
Please keep in mind that Loong Riang & Pamalee (ร้านลุงเรียง & ป้ามาลี) is NOT located in Bangkok. It's located in Chonburi (ชลบุรี), not too far from Pattaya.
From Bangkok, I drove directly there and it took about 1.5 hours (a drive that was well worth every single minute). Pretty much the only way to get here is by private vehicle or taxi if you can get the driver to take you and wait.
2. Spicy food
At Loong Riang & Pamalee (ร้านลุงเรียง & ป้ามาลี) many of their dishes are spicy and full of flavor. If you don't appreciate spicy food, it's probably best to not consider eating here in the first place.
3. Open hours and busyness
The restaurant is open from 8 am – 3 pm on Sunday – Friday (closed on Saturdays). But it can get really packed, especially on Sunday (as the owner told me), and sometimes you have to wait hours for a table.
I went at about 11 am on a weekday, and got a table immediately. But if you go, I might advise you to go on an off-peak time in the middle of the week.
Ok, those are the main things I wanted to warn you about.
Total price
There were three of us eating, and our total bill came to 1,720 THB ($49.35).
So it's not a cheap meal, but for the quality and uniqueness of the Thai dishes you can try here, it's worth every single Baht.
Conclusion
If you're a spicy food fanatic, Loong Riang & Pamalee (ร้านลุงเรียง & ป้ามาลี) in Chonburi, Thailand, serves some of the best Thai jungle food you could ever have.
They have many unique dishes on their menu, like pork fried with coconut shell or pineapple stems, and they make use of unique local tropical herbs and fruits in their cooking.
Not only does Loong Riang & Pamalee (ร้านลุงเรียง & ป้ามาลี) serve what I would call life-changing Thai food, but you can feel the passion and love of the owners in every bite you take (and the setting is superb as well).
Loong Riang & Pamalee (ร้านลุงเรียง & ป้ามาลี)
Address: Tambon Ta Khian Tia, Amphoe Bang Lamung, Chang Wat Chon Buri 20150, Thailand
Open hours: 8 am – 3 pm on Sunday – Friday (closed on Saturdays)
Phone: 087-0294376,081-2908490
Prices: Our total bill came to 1,720 THB ($49.35)
ที่อยู่ หมู่บ้านตะเคียนเตี้ย อ.บางละมุง จ.ชลบุรี
เปิดบริการ อาทิตย์-ศุกร์ 8.00-15.00 น. หยุดทุกวันเสาร์
โทร. 087-0294376,081-2908490