Soei (ร้านเส่ย) – One of My Ultimate Favorite Restaurants in Bangkok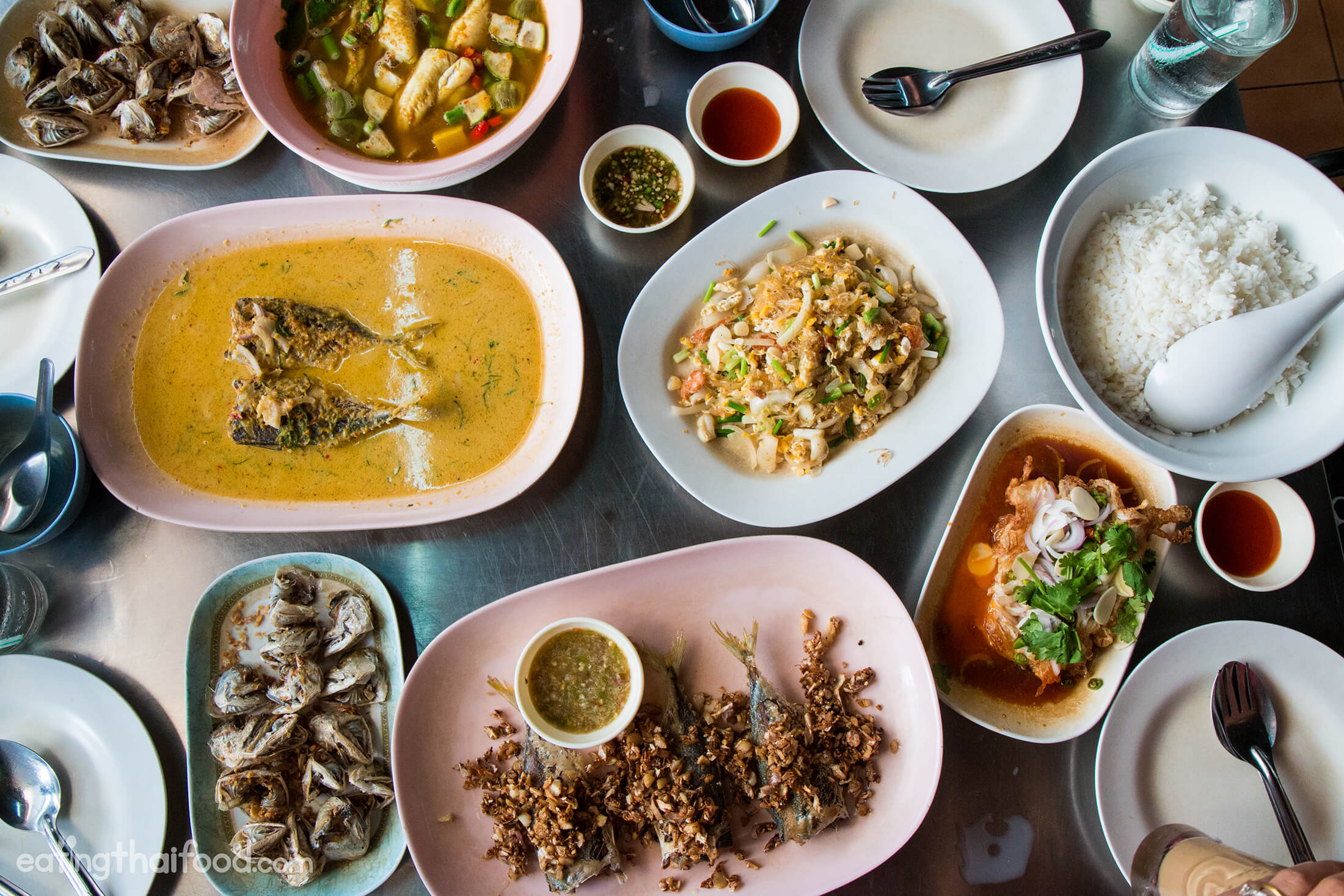 NOTE (October 2016): The location of Soei has changed. Please see updated details below.
There are countless outstanding restaurants in Bangkok, but I kid you not, when I say Soei (ร้านเส่ย) is one of the absolute BEST restaurants I've ever eaten at in the city (if not the world).
Soei (ร้านเส่ย) serves food that's so intensely flavorful, it will not only make your tongue tingle with delight, but your entire body will convulse with joy after every bite you take.
Ok, that might be an exaggeration, but really the food at Soei (ร้านเส่ย) is truly one of my favorite restaurants in Bangkok.
I eat at Soei quite frequently, so this blog post does not just include a single meal, but I'll continue to update it with more dishes.
The food is unbelievably flavorful.
Soei Restaurant (ร้านเส่ย)
The restaurant is located right at Sam Sen Railroad station, which is located in the quiet and peaceful Dusit district of Bangkok (not too far from Victory Monument).
It's in the same area as Ratchawat Market and Sriyan Market, two more of my favorite places in Bangkok for delicious food.
P'Soei – Owner and Chef
As soon as you enter Soei (ร้านเส่ย), you'll see all the plaques, trophies, and photographs hanging around the kitchen.
Look a little closer, and most of them are photos of sports teams.
P'Soei, the owner and chef of the restaurant, was a former rugby, basketball, and football player, and he was even a coach for a period of time.
"He has always had a passion for sports and food," his nephew told me.
When P'Soei, was playing rugby, after games and practices all his teammates would come over, have some drinks and P'Soei would cook up some ferociously flavorful food for them all to enjoy.
This was the beginning of his restaurant.
Another impressive thing about Soei is that P'Soei is the only cook – every dish that's served at the restaurant passes though his hands, making the quality and consistency of the flavor impeccable.
Sure he has a few sous chefs who do prep work, but he is the only one who actually cooks and assembles every dish that is ordered.
The last time I went, during a midday early lunch, there wasn't much of a wait, but his nephew (who is the manager of the restaurant) told us that sometimes, probably especially on the weekends or holidays, you might have to wait 2 – 3 hours to get your food (since there's only one chef) or even to sit down.
Sometimes there's a waiter who stands outside the restaurant with a sign that mentions how long the food wait will take.
Alright, now let's get into the delicious Thai food…
Kaem pla too tod (แก้มปลาทูทอด)
Kaem pla too tod (แก้มปลาทูทอด), or Indian mackerel cheeks (but really they're more like whole faces), is not a Thai dish you'll find at too many restaurants in Bangkok.
In fact, it's something I've only seen so far at Soei.
They are so popular at Soei that you have to call ahead (phone number below), in the morning before you eat there, to reserve however many plates of mackerel fish cheeks you want.
Ying and I ordered a plate in the morning before going for lunch.
The kaem pla too (แก้มปลาทู) were detached from the body of the fish, but somehow they were able to grab just the outer layer of the face.
They were seasoned with little more than deep fried crispy garlic and a pinch of salt, deep fried to a crisp, and then served with chili sauce.
I was truly impressed.
Not only was it cool to munch on an entire mackerel fish face, but it was incredibly tasty. They were like fish crackers, crispy all the way through, yet nice and light and fresh, with a lovely garlicky flavor.
Absolutely incredible.
Price – 90 THB
Goong chae nam pla (กุ้งแช่น้ำปลา)
Goong chae nam pla (กุ้งแช่น้ำปลา) is a Thai seafood dish, sort of the Thai version of ceviche.
Normally just a selection of raw shrimp are marinated in lime juice and chilies and raw garlic; It's a dish I absolutely love eating.
At Soei (ร้านเส่ย) they take the extra step and load up their goong chae nam pla (กุ้งแช่น้ำปลา) with wasabi; It's like a Japanese Thai fusion of delicious.
Price – 150 THB
The sauce was basically a harsh combination of wasabi, lime juice, crushed chilies, and raw garlic. The shrimp were raw, but perhaps cooked just a tiny bit from the acid of the lime juice and wasabi.
You first take a spoon of wasabi drenched shrimp, garnish it with a sprinkle of fried shallots (served in a small bowl on the side), and finally garnish your bites of the green herb, known in Thai as krateen.
It was sensational – the wasabi burned all the way through my nose and the heat lingered.
I discovered that I not only got that quick burst of wasabi burn, but the heat lasted from the addition of crushed Thai chilies too.
Goong chae nam pla (กุ้งแช่น้ำปลา) is not for someone who doesn't enjoy overly strong flavors, but if you do, like I do, you're going to love it.
Yam woon sen (ยำวุ้นเส้น)
One of Ying's favorite Thai dishes is yam woon sen (ยำวุ้นเส้น), a healthy mixture of mung bean glass noodles, vegetables, and a bit of meat for flavoring.
Judging form the strong flavors of all the dishes at Soei, I already knew it was going to be a hit – Ying loves her yam woon sen (ยำวุ้นเส้น) spicy and extremely sour.
Price – 90 THB
It was exactly how we had suspected, a great mixture of fresh ingredients, and the dressing was filled with chilies, and sour enough to make you squint your eyes.
We both loved it and agreed that it was one of the best yam woon sen's (ยำวุ้นเส้น) we had ever had at a restaurant in Bangkok.
Tom yum pla too (ต้ำยำปลาทู)
For soup we ordered tom yum pla too (ต้ำยำปลาทู), Thai tom yum soup with mackerel fish.
I'm a huge lover of tom yum (the clear version most of the time), I think it's such a wonderful, healthy blend of herbs and flavors, all wrapped into a delicious soup that goes so well with a spread of other Thai dishes.
The tom yum pla too (ต้ำยำปลาทู), was exactly the way I love it. It was ridiculously sour, teeming with chilies, and packed full of fresh kra pao (holy basil) leaves.
This was tom yum done the right way, not holding back on the flavors.
Price – 150 THB
The restaurant is located in the quiet Dusit area of Bangkok, but while you're eating, trains will pass by, adding to the ambiance and character of the dining experience.
Pla goong pao (พล่ากุ้งเผา)
Pla goong pao (พล่ากุ้งเผา) is a Thai shrimp salad, but normally I've had it at restaurants, and it's a little plate of shrimp in a dressing of roasted chili sauce and garnished with a few herbs and garlic.
The version at Soei (ร้านเส่ย) was truly an epic creation, both to look at, and the way it tasted.
Price – 450 THB
To make pla goong pao (พล่ากุ้งเผา) they first took jumbo freshwater prawns, and grilled them, before slicing them in half.
Can you see all those marvelous shrimp head oils that look like butter and mustard!?
Next, a bounty of fresh ingredients like finely shaved lemongrass, raw garlic, tomatoes, chilies, green onions, shallots, and finally some leaves of Thai sweet basil were thrown on top.
The dressing was again, a seriously flavorful combination of lime juice, sugar, and fish sauce.
In order to eat the pla goong pao (พล่ากุ้งเผา), it's easiest to take one of the shrimp, and kind of slide your spoon on the shell to take it out of the shell, making sure you get all that orange yellow head oil on your bite (DO NOT miss the shrimp head oil).
After separating my shrimp from its shell, I then found it necessary to re-dip in the dressing and make sure my spoon contained all the ingredients.
A bite of the shrimp topped with lemongrass, chilies, garlic, shallots, tomatoes, and sweet basil, was almost too good to be true.
Every bite, I literally could not contain my overjoy.
My heart rejoiced and jumped up and down.
Chu chee pla too (ฉู่ฉี่ปลาทู)
Finally, to balance out the salads and other dishes, we ordered chu chee pla too (ฉู่ฉี่ปลาทู), a coconut milk based curry with mackerel fish again.
I guess we, without even realizing it, ordered quite a bit of mackerel, a fish I think is amazing.
Price – 150 THB
The mackerel was first deep fried, so it was nice and crispy. It was then covered in thick layer of curry sauce, which I think was made only from the top of the coconut milk (hua, in Thai), the heavy cream.
The curry was so incredibly rich and creamy, flavored beautifully with turmeric, chilies, and garlic, and then topped with freshly shaved kaffir lime leaves, and a few slices of red onion.
It was sweet and spicy, and ultimately rich and coconut creamy.
Again, another truly marvelous culinary creation from Soei (ร้านเส่ย).
Pla too tod kratiem (ปลาทูทอดกระเทียม)
Mackerel is one of the ultimate little flavorful fish, and it's extensively used in Thai cuisine, and glorified at Soei.
Most of the mackerel faces / heads are reserved for deep frying to create Soei's signature appetizer dish (pictured above), but that leaves a lot of mackerel bodies for cooking, and they are equally delicious.
Along with including mackerel in a variety of different Thai curries and soups, another dish they make is pla too tod kratiem (ปลาทูทอดกระเทียม), deep fried mackerel smothered in crispy garlic.
The mackerel were deep fried to a crisp, then topped with loads of sticky and naturally slightly sweet garlic, and finally served with a Thai seafood dipping sauce to ensure ultimate flavor.
Simple, yet delicious. You can't go wrong with that much deep fried garlic.
Gaeng pa (แกงป่า)
Gaeng pa (แกงป่า) or Thai jungle curry, is one of the traditional styles of Thai curry, packed with curry paste, fish, and vegetables, but with a water base instead of coconut milk.
The jungle curry at Soei included a host of vegetables, all just slightly blanched (so they all still remained quite crisp), pieces of boneless fish, chopped fresh red chilies, and a crazy flavorful curry soup.
The flavor of the curry, the abundance of chilies, and the slices of bitter melon, all contributed to make it so good.
The gaeng pa (แกงป่า) is one of my favorite recent dishes at Soei.
Kak moo pad ka prao (กากหมูผัดกะเพรา)
I'm honestly not normally into Thai dishes that are too fatty… or just pure fat (like this!).
But the last time I went to Soei, the nephew of P'Soei recommended that I try the kak moo pad ka prao (กากหมูผัดกะเพรา).
Kak moo (กากหมู) is basically the leftover, cheap parts of the pig, which usually translates to skin and fat. So this dish included deep fried pieces of pig skin and fat, all stir fried up with holy basil, chilies and kaffir limes leaves.
While pad ka prao is normally a saucy stir fry, this was dry fried.
The pieces of pork skin were actually quite tasty, perfectly crunchy, with a balance of salty and slightly sweet, and incredibly fragrant chilis, holy basil, and kaffir lime leaves.
I probably wouldn't order this too often, but I will admit it was delicious on this occasion.
Yam kai dao (ยำไข่ดาว)
Yam kai dao (ยำไข่ดาว), Thai fried egg salad, is another dish the nephew of the P'Soei recommended I try. And it's actually a dish that's not really on the menu, but you just have to know about it to order it.
I've had a lot of fried egg salads around Thailand, but this one so far tops my list.
The eggs were deep fried in what must have been the perfect oil temperature, so the white of the egg turned fully crispy and puffed up, yet the yolk inside remained 100% runny and oozy.
The duo of eggs were then topped with raw garlic, chilies, cilantro, shallots, and a dressing that included soy sauce and lime juice.
It was crazy good, so good that Dwight and I ordered another plate of yam kai dao (ยำไข่ดาว) for dessert.
Pad woon sen kratiem dong (ผัดวุ้นเส้นกระเทียมดอง)
For something a little more simple and easy on the stomach, you can give the pad woon sen kratiem dong (ผัดวุ้นเส้นกระเทียมดอง) a try.
It had a little bit of that sweet and sour pad Thai flavor going on, but it was made with mung bean noodles, and the real kicker that really made it: lots of pickled garlic (kratiem dong กระเทียมดอง).
In the stir fried noodles, there were also onions, green onions, dry shrimp, and an egg for good measure.
Boo neem pad pongari (ปูนิ่มผัดผงกะหรี่)
One of my favorite dishes to order these days at Soei is soft shell crab curry (ปูนิ่มผัดผงกะหรี่ boo neem pad pongari).
He makes it unlike any other version I've had in Thailand – less sweet and more spicy, with a wonderful tone of yellow powder that you can actually taste in each bite. It's a spectacular dish.
Ow-tung (โอวทึ้ง), Dessert
Ow-tung (โอวทึ้ง) is one of the popular dessert options that many who eat at Soei (ร้านเส่ย) finish off their meals with.
I'm not a big sweets eater, buy my wife was very excited to try it, and to calm her taste buds down with an icy treat.
The ow-tung (โอวทึ้ง) was basically a shaved ice creation with basil seeds on the bottom, and flavored with what they said was a mixture of coffee and palm sugar.
It almost had a caramel flavor to it, and it sure was refreshing and very good.
I only had a couple tastes, but Ying slurped it down pretty quickly, with a full smile on her face.
New Restaurant Location (October 2016)
Bangkok is an always changing city.
As of October of 2016, Soei Restaurant (ร้านเส่ย) had to move from their legendary location next to the railroad tracks to a house in the neighborhood a short distance away. They had to move due to a BTS station that will be built there.
The good new is, the new location is still nice, and they have both open air outdoor seating and indoor AC seating. The kitchen is still outdoors as well.
And most of all, I'm happy to report the food is just as spectacular as it has always been!
Watch the video of this meal…
(If you can't see the video, watch it here: http://youtu.be/dZaXItI5z-k)
Conclusion
Soei (ร้านเส่ย) is a restaurant in Bangkok that specializes in Thai food that's ferociously flavorful. The owner and chef of the restaurant was a former sports player and coach, who simply loves to cook and eat.
For myself, the food is unbelievably delicious.
If you love sour, spicy, herb filled, and just overall, pungent balances of flavors, you should go to Soei Restaurant (ร้านเส่ย) immediately.
After eating a meal at Soei Restaurant (ร้านเส่ย) you will be in awe of the intense flavors your mouth experienced. Your tongue will likely be on fire, and tingling with flavor, and your heart will actually be smiling with pure delight.
The food is outstanding, and as a lover of extreme flavors, I would say Soei is one of my favorite restaurants in all of Bangkok (and the world).
Warning: The food is spicy and intensely flavored, so if you're not into really spicy food, it may not be the best option for you.
Soei Restaurant (ร้านเส่ย), Bangkok, Thailand
NEW Address (October 2016): Located on the corner of Phibun Whattana Yaek 6 and Rama VI Soi 34, Moo Baan Piboon Whattana – Go inside the neighborhood and look on the right hand side before the small roundabout (หมู่บ้านพิบูลย์วัฒนา พระราม 6หมู่ พิบูลย์วัฒนาแยก6 เข้ามาในหมู่บ้านไม่ไกลนัก สังเกตุร้านจะอยู่ด้านขวามือ ก่อนถึงวงเวียน) – Map below is updated.
Phone: 081-563-3131, 086-203-6603 (if you want to eat kaem pla too, you have to call ahead)
Open hours: 10 am – 9:30 pm from Sunday to Friday (closed on Saturday)
Prices: Soei is not a cheap restaurant, but it's well worth the prices for the quality and flavor of the food. You could get by on about 200 – 300 THB per person, but the longer you sit there, the more you'll want to keep eating and drinking (actually it's impossible to not keep on eating because the food is so good), so you might wind up spending around 500 THB per person with drinks.
โทร. 081-563-3131, 086-203-6603
How to get there:
As of October 2016, Soei Restaurant (ร้านเส่ย) has moved to a new location not too far from the original location, but within the neighborhood a little bit. The restaurant is within Moo Baan Piboon Whattana neighborhood, near the corner of Phibun Whattana Yaek 6 and Rama VI Soi 34. See map below for details, or check this map.