If You Love Fried Noodles, Kuay Teow Kua Gai Nai Hong (ก๋วยเตี๋ยวคั่วไก่นายฮ้ง)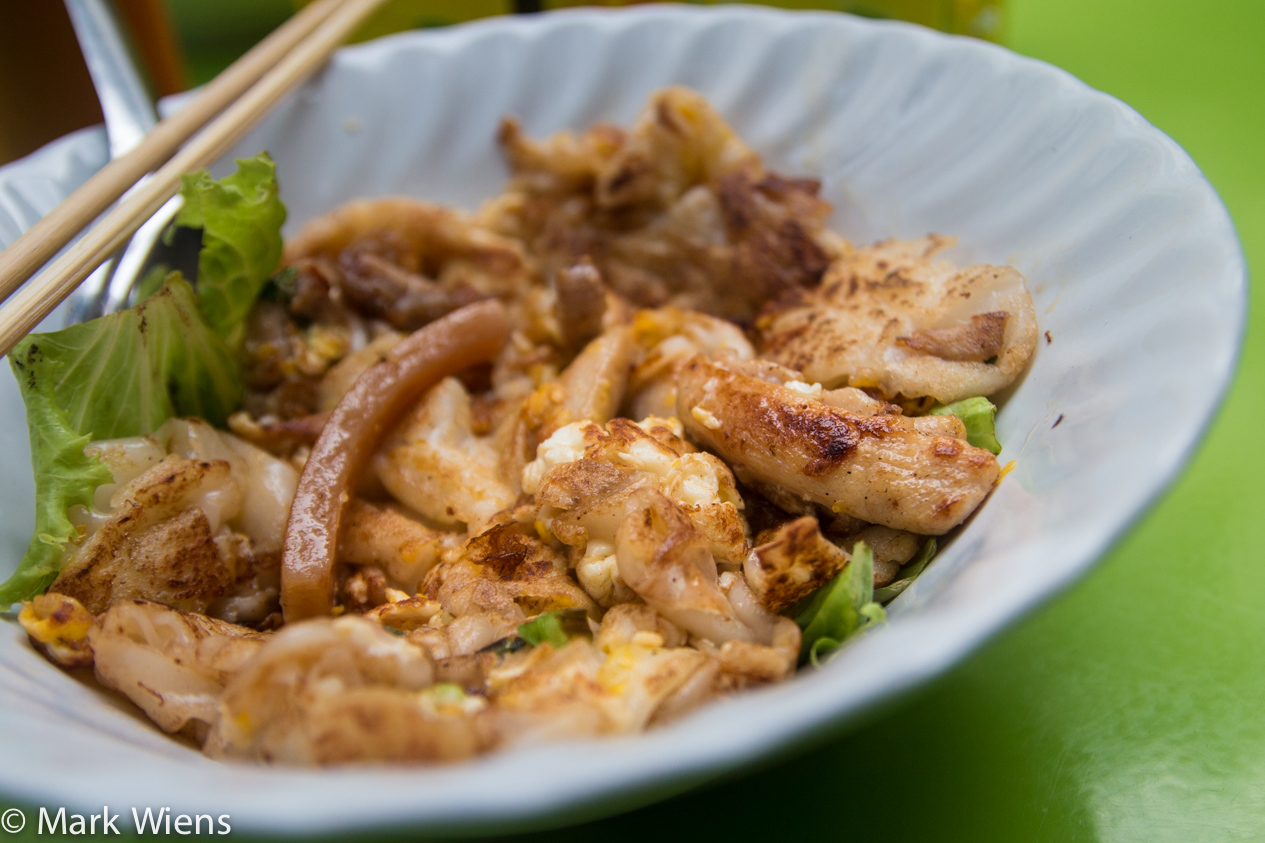 Any Thai lover of the noodle dish known as kuay teow kua gai (ก๋วยเตี๋ยวคั่วไก่), knows about the restaurants (street food stalls) around the Phlap Phla Chai area of Bangkok, just north of Yaowarat.
This is Bangkok's kuay teow kua gai (ก๋วยเตี๋ยวคั่วไก่) hood, and there are more than a handful of different restaurants in the area, each serving their own slightly different variation of the dish.
Probably the most famous of them all is Kuay Teow Kua Gai Nai Hong (ก๋วยเตี๋ยวคั่วไก่นายฮ้ง).
This place is a proper Bangkok street food stall, located down kua gai alley – a fantastic grungy soi that's black and oily.
I think it still needs a little more grime before it can compare to this noodle spot, though.
Down the street, there are motorbike mechanics, kids running around, flocks of stray cats, fighting roosters, shrines, and of course, food.
Bangkok's kua gai alley is a perfect street food dining atmosphere – when it comes to street food, the ambiance here is hard to beat.
In the evening is when all the kuay teow kua gai restaurants open.
Kuay Teow Kua Gai Nai Hong (ก๋วยเตี๋ยวคั่วไก่นายฮ้ง) is located kind of in the middle of the soi, and depending on which main road you come off, you either have to walk through Nong Ann (another famous kuay teow kua gai restaurant) or another street food stall if you come from the west side road known as Suea Pa (that's the way I walked in).
Their street food kitchen is set up simple, a few tables hosting the ingredients, and a single charcoal stove with a well used medium sized wok in the middle.
What's really awesome is their half-barrel shield – a street food antique that's caked in a layer grease and smoke – you've got to love it.
There are a couple of dishes on their menu, but we chose to eat what they are most famous for: kuay teow kua gai (ก๋วยเตี๋ยวคั่วไก่).
Sitting over hot flames, the chef first scooped in a generous spatula full of oil (I think it was lard), let it heat, and then plopped in a good handful of wide rice noodles (sen yai). These are the same noodles used to make Pad See Ew.
She didn't touch the noodles for what seemed like a minute, and just let them sizzle in the fat and heat, until smoke started to pour off the pan in a cloud.
Pieces of boneless chicken, which appeared to be marinated in salt and pepper, were also fried and combined with the noodles, and also a few slices of pickled squid.
Finally, the last step , she cracked an egg into the middle of the mess.
Condiment wise (เครื่องปรุง), when you eat a bowl of kuay teow kua gai (ก๋วยเตี๋ยวคั่วไก่), you have a number of options.
Just like a Thai style omelet, many Thais lather their bowl of noodles with sauce prik, a tangy tomato sauce, that's sort of like sweet transparent ketchup.
Others, I think, add a spoon of vinegar.
I like to just load mine up with a few spoons of chili flakes, and that's all.
It actually took a couple of minutes to cook each bowl of noodles, as the only way to properly make this dish is by slow cooking it, and ensuring that the noodles are golden charred – that's what the flavor is all about.
The clumps of wide rice noodles were seared until just before getting burnt.
Price – 40 THB
The pieces of chicken, the egg, and rice noodles, all had the same insanely delicious smokey char flavor, it really tasted like the entire contents of my bowl had been smoked for hours.
It takes some skill to make kuay teow kua gai (ก๋วยเตี๋ยวคั่วไก่) this well.
I've had bowls in Bangkok that weren't smokey enough and others that didn't have the heat right, so it didn't get crispy enough.
Though a simple combination of ingredients, it's tough to get right; At Kuay Teow Kua Gai Nai Hong (ก๋วยเตี๋ยวคั่วไก่นายฮ้ง) they do it incredibly right.
If there's one thing I could complain about, it was a little on the salty (or MSG) side. A little less on the salt, and it would have been perfect.
I was just about to order bowl #2, but that's when I noticed on the menu they had something called Gao Lao Kua Gai (เกาเหลาคั่วแห้ง).
You can usually order "gao lao" from any noodle soup vendor, and it means no noodles, just the meat and fishballs, and vegetables, with the soup.
So Gao Lao Kua Gai (เกาเหลาคั่วแห้ง) basically means noodleless kuay teow kua gai (ก๋วยเตี๋ยวคั่วไก่).
I couldn't resist.
Again, the wok went on the fire, and a seriously generous amount of lard went in the pan – I think like 1/2 a cup here.
First went in the chicken, which sizzled up in another puff of smoke.
She beat up a couple of eggs ferociously with a fork, mixed them with some seasonings, and then poured the mixture, along with more pickled squid, into the pan.
She did a couple of flips, let it sizzle, and then confirmed that all edges were golden to perfection.
Gao Lao Kua Gai (เกาเหลาคั่วแห้ง) is just a fancy name for a glorious omelet.
Chicken and eggs, and a few pieces of squid, all fried in a generous portion of lard – now that's what I call eating well – an omelet steak!
Price – 50 THB
I have to say the Gao Lao Kua Gai (เกาเหลาคั่วแห้ง) was pretty awesome.
It did lack that gooeyness from the noodles obviously, so it was just a very tasty, oily, and smokey omelet, which is a pretty good thing in my books.
With a few spoons of chili flakes, the omelet was even better!
Kuay Teow Kua Gai Nai Hong (ก๋วยเตี๋ยวคั่วไก่นายฮ้ง) opens in the late afternoon, so I got there about 5 pm, hoping to beat the dinner rush – which we successfully did.
But right as I was taking my final few bites, a lady strolled in and ordered 50 plates of kuay teow kua gai (ก๋วยเตี๋ยวคั่วไก่) for takeaway!
Here's the video of the meal…
(If you can't see the video, watch it here: http://youtu.be/8tUhL3OijDY)
This lady makes cooking kuay teow kua gai look easy!
The Bottom Line
Kuay Teow Kua Gai Nai Hong (ก๋วยเตี๋ยวคั่วไก่นายฮ้ง) is definitely one of the prime spots in Bangkok for kuay teow kua gai (ก๋วยเตี๋ยวคั่วไก่), no doubt about it.
I loved it, and especially that vibrantly smokey flavor that saturated the noodles, chicken, and egg.
I did think it was a little salty (probably MSG too), but I won't lie, that did make it incredibly tasty.
Kuay Teow Kua Gai Nai Hong (ก๋วยเตี๋ยวคั่วไก่นายฮ้ง)
Address: 266/1 Soi Thewi Worayat, Thanon Luang, Banbat, Bamprap Sathupai (near Phlap Phla Chai)
Phone: 02-222-4047
Open hours: 02-222-4047
Prices: 40 THB – 50 THB
ที่อยู่ 266/1 ซอยเทวีวรญาติ  ถนนหลวง แขวงบ้านบาตร เขตป้อมปราบศัตรูพ่าย กรุงเทพฯ 10100
โทร. 02-222-4047
เปิดบริการทุกวัน เวลา 16.00 – 22.00 น.
How to get there
Kuay Teow Kua Gai Nai Hong (ก๋วยเตี๋ยวคั่วไก่นายฮ้ง) is located north of Chinatown, not too far from Hua Lamphong. It's easiest to get there by taxi, and get dropped off across the street from Klang Hospital (Rongpiya Ban Klang โรงพยาบาลกลาง). Then navigate your way into the tiny soi.
If you're up for a walk, you can take the MRT to Hua Lamphong and it's about a 15 – 20 minute walk from there – just follow the map below.

View Bangkok Eating Thai Food Map in a larger map