Thai Stink Beans with Shrimp Recipe (วิธีทำ กุ้งผัดสะตอ)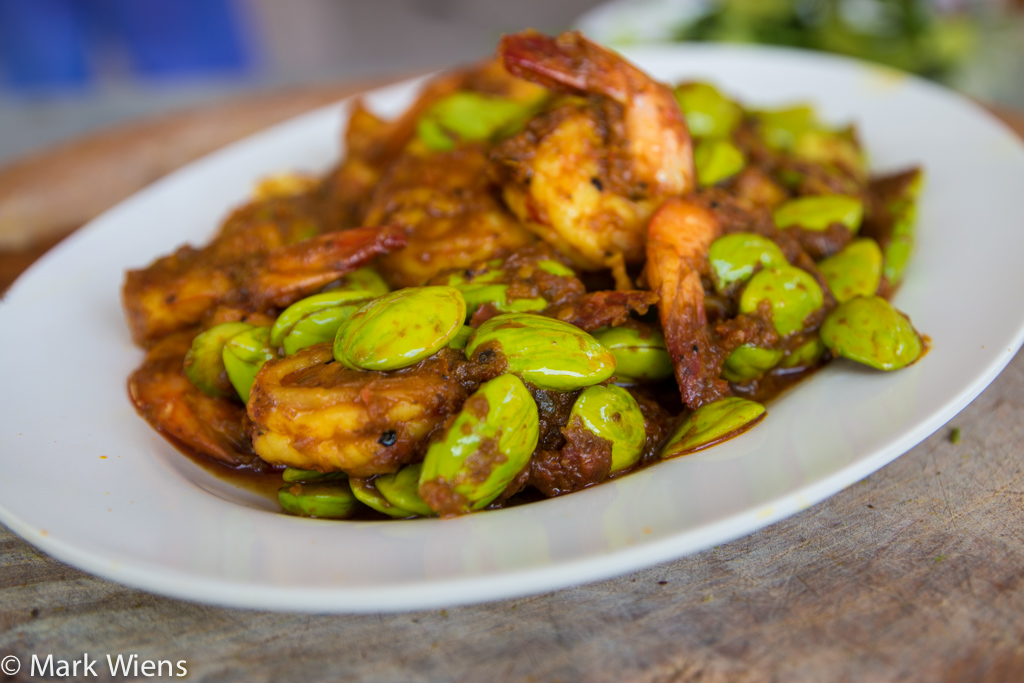 Stink beans are one of my favorite things to eat in the entire world.
To me, they are little beans of joy – little morsels of power and flavor, packed with vitamins, and both their taste and texture excites me like I'm a little kid on a roller coaster.
Alright, anyway, you probably have guessed that I'm a little obsessed with stink beans, and that would be an understatement. I could eat them everyday.
What are stink beans?
Stink beans, officially known as parkia speciosa, have been one of my favorite foods for many years now.
In Thai they are known as sataw (สะตอ), but you might also hear them called petai, bitter beans, stinky beans, smelly beans etc.
They are popular throughout southern parts of southeast Asia, especially in Indonesia, Malaysia, Singapore, and the south of Thailand.
I remember years ago when my wife Ying, who is from the south of Thailand, introduced me to stink beans – it was love at first bite.
Stink beans have a bit of a strong taste and aroma. Some compare them to natural gas, and though I do admit that they have a bit of a "gassy" taste, it's glorious at the same time.
The real aroma comes a few hours after eating a bunch of stink beans, when you urinate, and the strong smell of sulfur is released. Have you ever eaten a lot of asparagus? Stink beans offer a similar smell.
When it's stink bean season in Thailand, my mother in-law buys fresh stink beans at the market just about everyday (mainly because she and I both love them).
I love to eat them raw, accompanied by southern dry meat curry, or boiled in coconut milk, but my favorite way is in a dish called goong pad sataw (กุ้งผัดสะตอ), stink beans stir fried with shrimp and southern Thai style curry paste.
Most of the time, stink beans are cooked with other strong ingredients, like garlic, chilies, and shrimp paste.
Other strong tastes, complement and enhance the natural flavor of stink beans.
You've probably heard me say, "this is my favorite dish," about many different dishes… but I can REALLY say, this is one of my ultimate favorite dishes.
Preparing the stink beans
One of the other names for stink beans is "twisted cluster bean," because the beans come housed in a pod that's slightly twisted, kind of like a strand of DNA.
In order to prepare the beans, it's easiest to take a knife, and make a cut on one side of the bean, and then fold the skin over to peel it out of its shell.
There's a little cream colored film on the outside of the bean (inside the shell), which doesn't hurt to eat, but normally it's also peeled and discarded.
The beans take a little time to peel, but it's worth it.
Occasionally you'll find little worms in the stink beans… this just means they are healthy and fresh – and I guess the worms know good food when they taste it too!
For this recipe, I used 6 stink bean pods, which equaled probably about 1 full cup of peeled stink beans or so.
It really doesn't matter how much you use, but the more the merrier in my opinion.
Along with stink beans, I'm a huge lover of shrimp, which is why I like to cook stink beans with shrimp.
However, you can also make this same recipe with any type of meat you like – chicken, pork, beef – whatever you have available.
Once you've finishing cooking the goong pad sataw (กุ้งผัดสะตอ), the best way to eat it is along with a fresh hot plate of steamed rice.
The shrimp should be firm and juicy, the stink beans should be crisp and fresh, and the curry sauce is where all the stunning flavor comes from – the chilies, garlic, turmeric, lemongrass, and kaffir lime leaves all work together for a flavor that will blow your mind.
If you give me a plate of goong pad sataw (กุ้งผัดสะตอ) and a hot fresh plate of rice, I will be very happy, every single time.
(If you can't see the video, watch it here)
Stink beans and shrimp recipe (วิธีทำ กุ้งผัดสะตอ)
Time: If you already have the southern Thai curry paste ready, it will only take about 15 minutes of so to make this dish
Recipe size: I can eat what this recipe makes by myself, but it should be good for 2 – 3 people or so, as long as you have a few different dishes at the table, eating family style
Cooking utensils: wok / frying pan
Flavors: Spicy and salty
Eat it with: Hot fresh rice, and some other southern Thai dishes

Thai Stink Beans and Shrimp Recipe (วิธีทำ กุ้งผัดสะตอ)
One of the most beloved of all the dishes from the south of Thailand is a dish called goong pad sataw (กุ้งผัดสะตอ), which is stink beans stir fried with southern Thai curry paste. Stink beans (สะตอ), which are also known as petai, bitter beans, or cluster beans, are popularly eaten throughout the islands of southeast Asia, in Indonesia, Malaysia, and southern Thailand. For myself, they are one of my favorite things to eat in the world, especially when stir fried with shrimp and curry paste. Hope you enjoy this recipe, it's a true local southern Thai dish, and one of my favorite dishes in all of Thailand. Make sure you also watch the video of this
recipe here
.
Cuisine:
Southern Thai food
Ingredients
400 grams shrimp (you can also make this recipe with chicken or pork)
2 - 3 heaping tbsp southern Thai curry paste (recipe here)
1 cup of shelled stink beans (I used 6 pods, and you can use more or less)
½ tsp shrimp paste
½ tbsp oyster sauce
½ tbsp sugar (This is the Thai way, but I like to use less or none)
6 - 8 kaffir lime leaves
2 tbsp oil for frying
Instructions
The first step is to make a batch of southern Thai curry paste, or if you already have some on hand (homemade or from a can / bottle) you can get started on the next steps right away.
Prepare the shrimp by taking off the head and peeling the shell, and then devein them. If you want to prepare your shrimp Thai style, peel the body, but leave the tail on.
Stink beans grow in a long twisted hard pods, so the first thing to do is peel the stink beans out of the outer shell. The skin is quite tough so it's easiest to take a sharp knife and slice the bean, almost in half first. Then peel back the skin and remove the stink bean inside. You'll also see an inner, beige colored skin that coats the stink beans, and you want to remove that too. Go through all the pods and remove all the stink beans - this will probably take a few minutes. If you haven't watched the video yet, make sure you watch it for a better explanation of how to peel the stink beans. That's all for the prep work, it's time to get stir frying.
Put your wok or frying pan on a medium heat and add about 2 tbsp of oil. I normally like to use less oil when I stir fry Thai food, but with this stink bean curry recipe, you really need to add some oil so the curry paste gets nice and fragrant when frying and doesn't stick to the bottom of the pan.
When your oil is sizzling hot, add in the curry paste, first start with 2 tbsp. - you can always come back and add more later if it's not flavorful enough. Then add about ½ tsp of shrimp paste.
Stir fry the curry paste, working it into the oil, and scraping it off the bottom of the pan. Immediately you should start to smell those beautiful chilies, the lemongrass and the turmeric. Keep stir frying for about 30 seconds to 1 minute, making sure the paste doesn't burn, but is nice and fragrant.
Add the shrimp, and stir fry continuously for about 30 seconds. The shrimp should pretty quickly start to turn from transparent to pink orange in color. If the curry paste starts to get dry, you can toss in a splash of water, and that should give you some liquid to work with as well as a little extra sauce.
Then toss in the stink beans, and stir fry for about another 30 seconds or so. You want to keep frying hard so the curry paste doesn't stick to the pan.
Season with ½ tbsp of oyster sauce and ½ tbsp of sugar (the normal Thai way is to use sugar, so I showed it this way in the recipe, BUT, when I cook it myself I normally omit the sugar or use just a tiny bit - so up to you how much sugar you want to add).
Again, if your goong pad sataw (กุ้งผัดสะตอ) get's dry, add another splash of water, and then stir fry for just another minute.
The final step is to take 6 - 8 kaffir lime leaves, and tear them off the stems directly into the curry. When you tear the kaffir lime leaves, it will release their flavor. Stir fry for just 10 seconds, and then turn off the heat.
Immediately dish it onto a serving plate, and you're ready to start eating.
Notes
Before you start cooking, you might want to begin by putting on a fresh pot of rice to start steaming. That way, as soon as you're done cooking, you'll be ready to dig in!
Conclusion
Years ago, when I first came to Thailand, Ying (my wife now), handed me a dish her mom had cooked, "this is goong pad sataw (กุ้งผัดสะตอ)," she said.
As I took my first bite, I almost could not believe how good it was, the flavor of the curry was spicy and teeming with flavor, and the sataw (สะตอ), which I later found to be stink beans in English, were crisp and ecstatically unique and flavorful.
Goong pad sataw (กุ้งผัดสะตอ), stink beans fried with shrimp and southern Thai curry paste, has been one of my favorite Thai dishes for a very long time now, and still today, I eat it nearly everyday during stink bean season, and my mother in-law cooks it all the time.
Hope you enjoy this stink beans recipe (วิธีทำ กุ้งผัดสะตอ), and if you can get ahold of some stink beans, you've got to try this out.
Have you tried stink beans? Let me know what you think about this recipe in the comments below. Thank you!