Best Khao Soi in Chiang Mai: 5 Restaurants to Try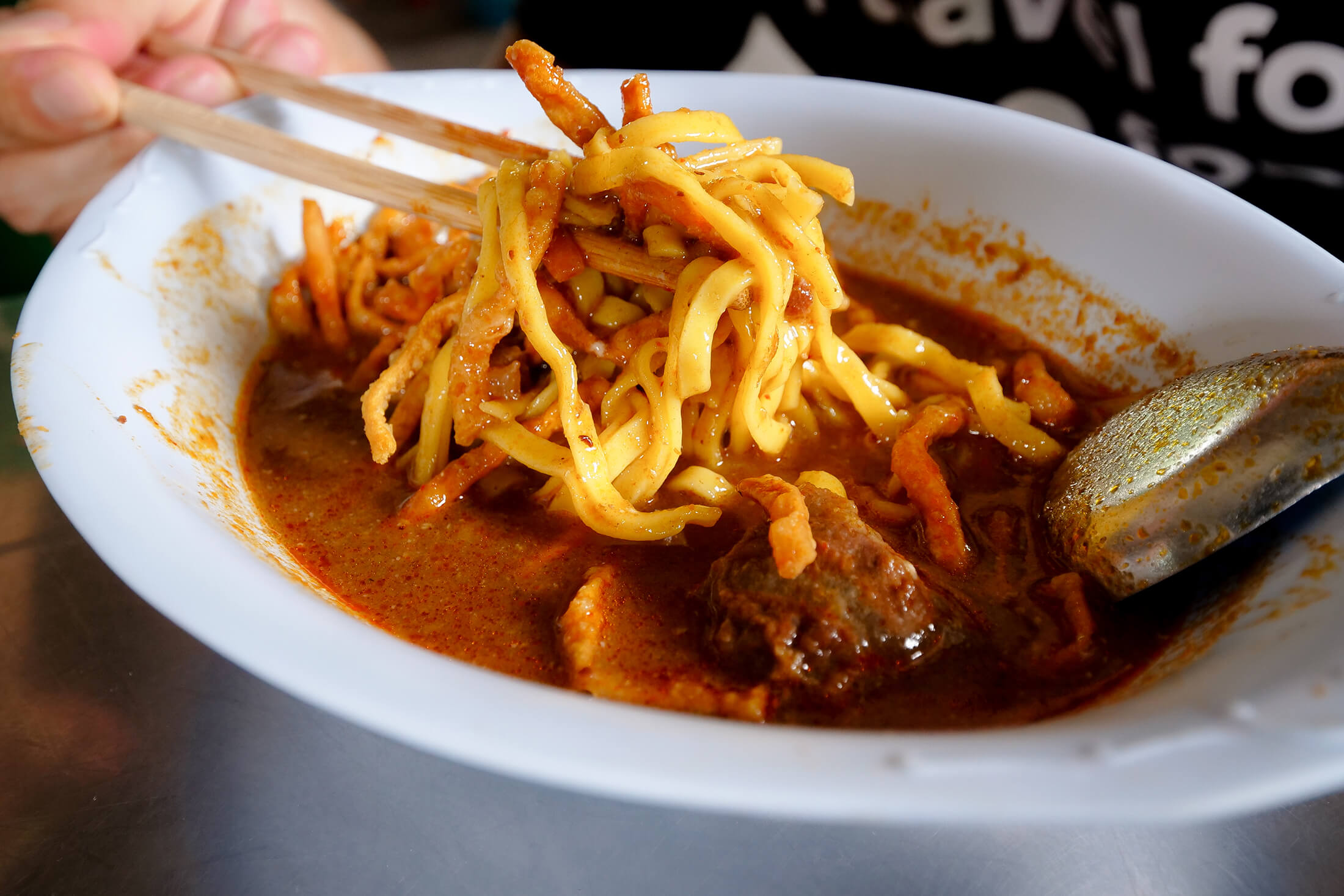 This article describes 5 of the all-time great places to have khao soi in Chiang Mai, Thailand, and the story of a day where I set out to do the impossible – eat at all 5 of them, back to back to back, and choose one as the Best Place to have Khao Soi in Chiang Mai.
Doing impossible things is fun though when you're with good friends, and we boldly set out together looking for the best khao soi in Chiang Mai, Thailand.
In this article I am going to share with you the details of how these 5 restaurants compete (in our minds and in our stomachs) for the title of Chiang Mai's best bowl of khao soi (ข้าวซอย).
Note: All 5 of these restaurants are serving khao soi that is so good I have written individual restaurant reviews on all of them. The links are in each section by restaurant, and then all again in a full list at the end.
Boldest Claim Ever?
I've been lucky to visit Northern Thailand several times, but never taken the chance to really hunt down the restaurant that I could confidently claim to be the best khao soi I have ever tried in Chiang Mai.
So on this day, we set out to try khao soi (ข้าวซอย) noodles at 5 different restaurants in Chiang Mai, eating at all of them in a row.
Listed below are the restaurants, links to individual articles on EatingThaiFood for each one, and our pick for the restaurant that serves the best khao soi in Chiang Mai that we have ever had.
Five Bowls in a Row
Yes, you read correctly, we went directly from one restaurant to another until we finished all 5 bowls* of Chiang Mai's best khao soi (ข้าวซอย).
While at first it might sound a bit much, I think that in the future, we should always review food like this.
I have never been able to so obviously and distinctly compare variations in a single food like this before. The memories, and reasoning behind the decision, are literally as fresh as the bowls of noodles you just finished that very day.
(*five bowls of noodles and also a plate of goat biriyani at the first restaurant (ข้าวหมกแพะ at Khao Soi Islam), because it is just way too good not to order it if you're there…)
A Little Work Before Play
Researching for this day beforehand involved of course both Thai and English web searches.
We made sure to do our homework, because as most Thai people will tell you, "if you haven't had khao soi, then you haven't arrived in Chiang Mai."
It really is that important.
This really goes to show that a search for the best khao soi in Chiang Mai is not only a competition among tourists – Thais absolutely love their khao soi!
We had to do this day right, not only for Eating Thai Food, but for Thailand as well.
Now that's quite a mission.
1. Khao Soi Islam (ร้านข้าวซอยอิสลาม)
I have been to this restaurant a few times before actually, and I love it.
I thought it would only be fair to go to this restaurant first, not just because I already know that they serve a great bowl of khao soi (ข้าวซอย), but also because its one that I would describe as just an all-around great basic version of khao soi, a good one to compare all the others against.
Its a great place to start the day with Khao Soi, but this is also just a great restaurant to start any other day of a Chiang Mai food tour as well.
Khao Soi Islam's recipes are unique, and a little bit more mild than some of the other popular khao soi restaurants around town.
As this is a Halal restaurant, they really have experience in making khao soi with beef, but its also a guarantee that their flavors will be slightly unique because you know already that none of their soup stocks or recipes at all include anything with pork, pork fat, or other pork products.
You Should Come Here For…
The home-made chili paste (นำ้พริกเผา nam prik pao). The version they make here is outstanding. You absolutely need to add at least one heaping spoonful of their magical chili paste when you come here for khao soi.
The curry broth too is wonderfully fragrant, even if it is quite mild, and even though its not very spicy, it still has a wonderful and unique khao soi flavor.
Finally, if you are into trying to make khao soi a healthy dish, then the way they use coconut milk here (and not coconut cream, which is higher in fat) just might make this your go-to restaurant for khao soi.
Best Khao Soi in Chiang Mai?
The curry broth is just not thick enough for me to consider this 'the best khao soi in Chiang Mai.'
That being said, I do still love this restaurant, and highly recommend it for a number of reasons;
Their biriyani for one, is great, and one of, if not the best biriyani in all of Chiang Mai (we just found it impossible to not order an extra plate of mutton biriyani (ข้าวหมกแพะ khao mok pae) actually while coming to judge the khao soi, just to secretly enjoy it on the side).
Finally, this would also be one of the best Halal restaurants in Chiang Mai, serving incredible beef tail soup, and their fried chicken is pretty tasty as well.
The recipe they use here actually reminds me of a recent Chinese Muslim Yunnan-style feast I had. I think they also use local chilies instead of larger farm produced ones. Here I think they use a chili paste made with Prik Kariang (พริกกะเรียง, a Northern Thai species of chili), which has a very bright flavor, as opposed to Prik Kee Noo (พริกขี้หนู), which is the more commonly used chili pepper in Thailand.
2. Khao Soi Khun Yai (ข้าวซอยคุณยาย)
This restaurant is probably the one that gets the most interest from online sources, and I would say that by far it was Khun Yai's, and another restaurant called Khao Soi Samer Jai*, that had the highest number of local people (on Thai websites) claiming it as a personal favorite.
I have visited Khun Yai before, to enjoy her near-perfect and wonderful recipe of khao soi, and I thought that it definitely deserved a second visit for this day of noodle madness.
*(I've previously had khao soi at Samer Jai's Restaurant, and even though it was highly rated online I thought it was much too sweet to include in this day's search for the best khao soi in Chiang Mai.)
'Khao Soi Gai' is the Khao Soi curry made with Chicken
At all the other four restaurants today, we ordered our khao soi with beef, but as Khun Yai chooses khao soi gai (ข้าวซอยไก่) as her specialty dish, we ordered it with chicken instead of beef.
Khao Soi Khun Yai Restaurant serves a bowl of noodles that is slightly on the smaller side, but one thing I can say with confidence is that this chef knows her flavor balance.
She serves a perfect blend of both flavors and textures, and where some restaurants can tend to add either too many crispy noodles on top, or too much coconut milk (or sugar), Khun Yai's years of experience are just immediately obvious when you taste your first bite of noodles.
You Should Come Here For…
A less-spicy but still great version of khao soi, because here, her original-recipe flavor is near perfection – almost needing no additional seasoning.
I always add the accompanying red onions, pickled mustard greens, and lime, just to make it a more full dish, but at Khao Soi Khun Yai you could actually just be satisfied with the plain curry broth and noodles themselves. Its that well-made.
Best Khao Soi in Chiang Mai?
The meat was just too dry for me, and the curry broth a bit sweet. I honestly couldn't say that it was a bowl of khao soi to go crazy over, maybe she has started to tame her recipe just a bit as more and more foreigners come to enjoy her popular noodles.
Not a bad thing at all, its just my opinion, and her cooking expertise does deserve to be known. This is one of the mainstays of Chiang Mai's Khao Soi, an all-time best, it just doesn't happen to be my personal choice for #1.
While I would recommend this as one of the 'must-try' places for any traveler new to this food (very good location, walkable, easy to find in the old town), this is unfortunately no longer a bowl of khao soi that I would recommend a veteran noodle lover pilgramage to eat.
3. Khao Soi Loong Prakit Kard Kom (ลุงประกิจกาดก้อม)
From the moment you walk in to Loong Prakit's restaurant, you just know its going to be a good food experience, no matter what you're going to order.
The first thing you might see is a smiling, older man, standing behind several huge steaming cauldrons of noodles. This is Loong Prakit, the owner and originator of an amazing recipe of khao soi, and he is likely to be found smiling confidently, yet humbly, welcoming customers in to the small restaurant seating section.
With only five tables inside, and three or four chairs at each, the restaurant is almost always full, and therefore every food they serve is always at its most fresh.
I love the ease of Self-Service at this restaurant
You enter the restaurant under the white plastic awning, and go over to the self-service table to grab some waters. Add ice to cups using a metal ladle, and hurry back to your table to arrange the accompanying trio of side plates they will bring you, filled with shallots, mustard greens, and fresh wedges of sliced lime.
The size of the bowls of noodles that soon arrive are just mind-blowing. All that immediately came to mind the first time eating here was, 'Someone could become a foodie here after just one meal! Now that's what I call a monster-size bowl of noodles.'
So many thick noodles, bathing in an incredibly deep and rich red curry broth, the gorgeously meaty smell that rises will make anyone hungry in a split-second's time.
I think it could be very possible too that you could try and finish an entire serving dish of their fried chili paste and never be more happy – their version is just amazingly fragrant and flavorful.
You Should Come Here For…
The beef. The incredible braised beef with egg noodles (ข้าวซอยเนื้อตุ๋น khao soi nuea doon).
Loong Prakit's Khao Soi is quite a looker too, piled high with golden deep fried noodles, full of steaming egg noodles underneath, and almost seductively attractive with its deliciously red glistening and oily brownish-red curry broth.
The bowl they're serving here is truly impressive, and would definitely win my award for 'most social media friendly photo' for a bowl of noodles (this is the bowl from the first photo you saw at the top of this article).
The red meat in this khao soi is so incredibly tender, and when I dream of a rich bowl of khao soi, its this bowl that I dream about. This would definitely be the best bowl of khao soi in Chiang Mai too when thinking in terms of price; as each huge bowl here costs only 45 Baht.
Best Khao Soi in Chiang Mai?
Honestly I would have no grounds to disagree with someone who chose this restaurant as their pick for the number one best bowl of khao soi in Chiang Mai.
The food served here is truly awesome, and the richness of flavor, the juicy-ness of their beef, and finally just the massive size of the bowl is all just so heart-warmingly wonderful.
It was a very close call in my mind to not choose this restaurant as my favorite, but you should read on to find out why.
On to the Fourth bowl!
4. Khao Soi Mae Manee (ข้าวซอยเเม่มฌี)
Khao Soi Mae Manee Restaurant is located just slightly outside of town, on the way to the town of Mae Rim, Chiang Mai.
This makes the trip there slightly longer, but also the location makes it a bit more cool than the denser city streets of the Old City area. Its orientation at the end of a long quiet street also just gives this restaurant such a cool feeling of relaxation.
If we hadn't already enjoyed three other restaurant's khao soi this day, I would have absolutely no reservations at all from having four, or even all five bowls to fill my daily quota of khao soi, all in a row without leaving Mae Manee's restaurant.
The noodles here are just that good.
You Should Come Here For…
Incredibly rich curry broth, and a painstakingly prepared recipe, made with care to the last detail.
First of all though, they also do all the big things right at this restaurant too – from hand-made, lumpy and perfectly cooked al-dente egg noodles, thick red chunks of hours-and-hours softened and tender meat (order the beef ข้าวซอยเนื้อ khao soi neua), and finally the unbelievably rich curry broth.
Besides all that though, they also do the small things right, and that's why this restaurants get our unanimous vote as having the best khao soi in Chiang Mai that we have ever tried.
After you sit down to order here, notice just a few of these small things that I am talking about – how each shallot has been individually cut, how the limes are already without seeds, even how they have streamlined your ordering process for you (color coding the bowls to the menu*).
*In case Thai is not your first language, but you still are completely and totally an addict to Eating Thai Food, then this restaurant presents no problems holding you back from enjoying a truly amazing meal of khao soi curry noodles. They have a picture menu, a color coded menu, and they're so friendly here that even the point-and-smile menu I guarantee will still work every time.
Watch the full khao soi video tour!
(Watch the video of all 5 of these khao soi restaurants in Chiang Mai on YouTube here)
Best Khao Soi in Chiang Mai?
Yes, I think it is definitely the best bowl of khao soi that I have ever had in Chiang Mai.
Not only is the recipe incredible on its own, but the extreme kindness, and the welcoming and friendly attitude with which the entire staff exudes is just wonderful. They even have a kids' meal!
No matter the level of spiciness you prefer, this is a great choice for khao soi. Whether you are a veteran of khao soi, or if this will be your first bowl of curry noodles ever, I would still recommend the trip out of town to visit this restaurant.
Its incredible, a real game-changer when it comes to khao soi curry noodles.
5. Khao Soi Mae Sai (ข้าวซอยแม่สาย)
This would probably be the restaurant that's most easily accessible on foot, as their location is right in the heart of the area know as 'Nimmanhaem,' or 'Nimman' (This area is one of the better/easier areas for walking around, and is also near the Maya Shopping Center).
Khao Soi Mae Sai Restaurant has some of the best beef in any khao soi that I have ever had (ข้าวซอยเนื้อ khao soi nuea). The large portions pieces they give in each bowl are ultra-tender, well marbled with fat, and great value for the low price they are charging here (40-50B depending on size).
Mae Sai's coconut milk too is added into the recipe a little bit differently from some of the other popular places to have khao soi in Chiang Mai – it is added right into the curry broth mixture while cooking, making it ever so slightly textured, much more smooth than if the coconut milk was coagulating just before its mixed in to the rest of the dish.
It is the egg noodles nestled underneath that are the key though (in my opinion), to taking a bowl of khao soi from good, to great, and the noodles at Khao Soi Mae Sai are a little soft for my taste.
The proportions here are good though – comparing the meat, to vegetables, to noodles, to curry broth – and this really is a nicely balanced bowl of khao soi overall when it comes to composition.
You Should Come Here For…
A tried-and-true traditional version of khao soi curry noodles, served with precision and confidence. They have years of experience making this Northern Thai style food, and the staff here actually are the thing that I would commend them for the most.
Staff here are very friendly, but besides that they are mostly young, teenagers even, and due to their convenient location in one of the main tourist areas of Chiang Mai, they have a lot of practice in dealing with and talking to foreign customers.
As location number 5 for our day of khao soi madness, the day that we ate khao soi here I overheard the staff using Chinese, Thai, English, and even Japanese, all seemingly very quickly and fluently, taking orders from customers (I assume) from all these respective countries and more.
Best Khao Soi in Chiang Mai?
This restaurant is another one that is very well reviewed on most large social media networks, on locally frequented websites, and even on local Thai TV programs.
They have the signs and awards hung around the shop to prove it, and besides that they also have a number of foreign travel news type websites listing this as one of the 'must-haves' for khao soi in Chiang Mai as well.
I can't disagree with their support for this restaurant at all, it really is a solid and well-rounded bowl of delicious noodles in every way.
I can say however, that in light of having just eaten not one, but two bowls of khao soi that day that were clearly superior, I have to say that if you have the means to go to one of the other two we recommend, then go. Khao soi mae sai shouldn't be your first choice when you're in the mood to eat khao soi, but it is a wonderful restaurant if you are on foot, if you are staying in the area, or if you're short on time and you need a good khao soi fix.
I will leave it at that.
A Little History
I won't go into much of the details about khao soi, but before this article ends, I will say this – the history of Khao soi is not very clear, but Chiang Mai does rightfully claim to be the place where coconut milk (and/or cream) was first added into the recipe.
You can quickly observe how almost no other local food eaten in Northern Thailand includes coconut milk, and Chiang Mai people themselves say that this khao soi recipe was learned from Yunnanese-Muslim traders visiting the town (roughly between the years 1895-1900).
Locals learned to love the dish, and then coconut milk was added to the recipe over time in order to please visitors from Bangkok who wanted something a bit more recognizable in their food.
Khao soi originally uses Burmese-style Masala spices, making the soup red, a tomatoey-color, and clear. By the way, you can have this original version as people enjoy it commonly throughout Northern Laos.
After adding coconut milk, the dish changes significantly, and therefore the creamy flavors and the signature orange and yellow rich curry broth, does indeed make this style of khao soi unique to Chiang Mai, Thailand.
Ok, and now for some final notes on judging our big decision!
Drum Roll, Please, For The Best Khao Soi in Chiang Mai
I thought that this was simply an all-around fun day of eating.  Digging in so totally to these dearly-loved local noodles, and especially doing something this bold with my friends… this is not only a food that hits the spot, but a memory that hits the spot as well!
All joking aside, the thing I appreciated the most, something I don't think I have ever really done before, was to give myself the chance to have several examples of a food all lined up. Maybe I have done two or three before, but never five!
They were so close together in fact that they were all hanging out together in my stomach at the same time. That's probably also the best situation in which we could possibly even attempt to judge something as big as picking Chiang Mai's best bowl of khao soi.
All in all, I really enjoyed seeing some incredible variety among older recipes and new, some heart-warming home-cooking, and of course just a few flashes of mom's-own comfort-food style of cooking (most obvious with Khao Soi Mae Manee, but Loong Prakit's noodles were such a close number two…).
The Best Khao Soi I've Ever Had
Khao Soi Mae Manee Restaurant serves the best khao soi in Chiang mai that I have ever had, and here's a few more details from our day of khao soi 'competition.'
It was a close decision, and if based solely on flavor, then I would say its really an even toss-up between Mae Manee's and Loong Prakit at the Kard Korm market.
Picking your favorite place too might even just depend on your location, because the Kard Korm market is slightly South of the Old City, and Mae Manee's is slightly North. Chiang Mai can have some pretty thick traffic at times, and being able to walk to your favorite restaurant is a wonderful bonus.
For an overall decision though, the warmth, the hospitality, the care for detail, and not at all overlooking their simply stunningly good curry broth – our award definitely goes to Khao Soi Mae Manee.
I have written a full article for all 5 of these khao soi restaurants (all with full descriptions and all the details you will need to find the restaurants for yourself) and all those links have been included in a quick list below.
Eating Thai Style in Not-The-Most-Local of Areas
While at times it may feel tough to navigate your way to local food in a place like Chiang Mai, it doesn't mean its not a worthwhile mission to patiently bypass a few watered-down foreign-palate-pleasing restaurants during your search to really eat like a local.
Eventually, you will find hidden treasure, and this will always make the search worth the wait.
Though Old Town in Chiang Mai might be a bit touristy, that doesn't mean there aren't a truly stomach-busting-ly huge number of family-owned long-standing businesses still around.
In my experience, these types of restaurants are there for a reason – they are all fighting to produce the very best version of khao soi, of any food really, fighting with years of experience besides that. So stay strong, and keep looking for that one special taste you're hungry for, I am sure it will be worth the wait.
And now, while I encourage you to try the restaurant that we have chosen as the best khao soi in Chiang Mai, I also just want to recommend that you use this article as motivation for you to go out on your own too, and find your own best of… the best of whatever food it is that you love!
Chiang Mai, and Thailand as a whole, is really a foodie's paradise, but the whole world is absolutely full of food as well, new food is everywhere, just waiting for you to explore.
Thanks for the support, and have a great day!
1 – Khao Soi Islam (link)
2 – Khao Soi Khun Yai (link)
3 – Khao Soi Prakid Kard Korm (link)
4 – Khao Soi Mae Manee (link)
5- Khao Soi Mae Sai (link)