Khao Soi Khun Yai (ข้าวซอยคุณยาย) – Best Khao Soi In Chiang Mai?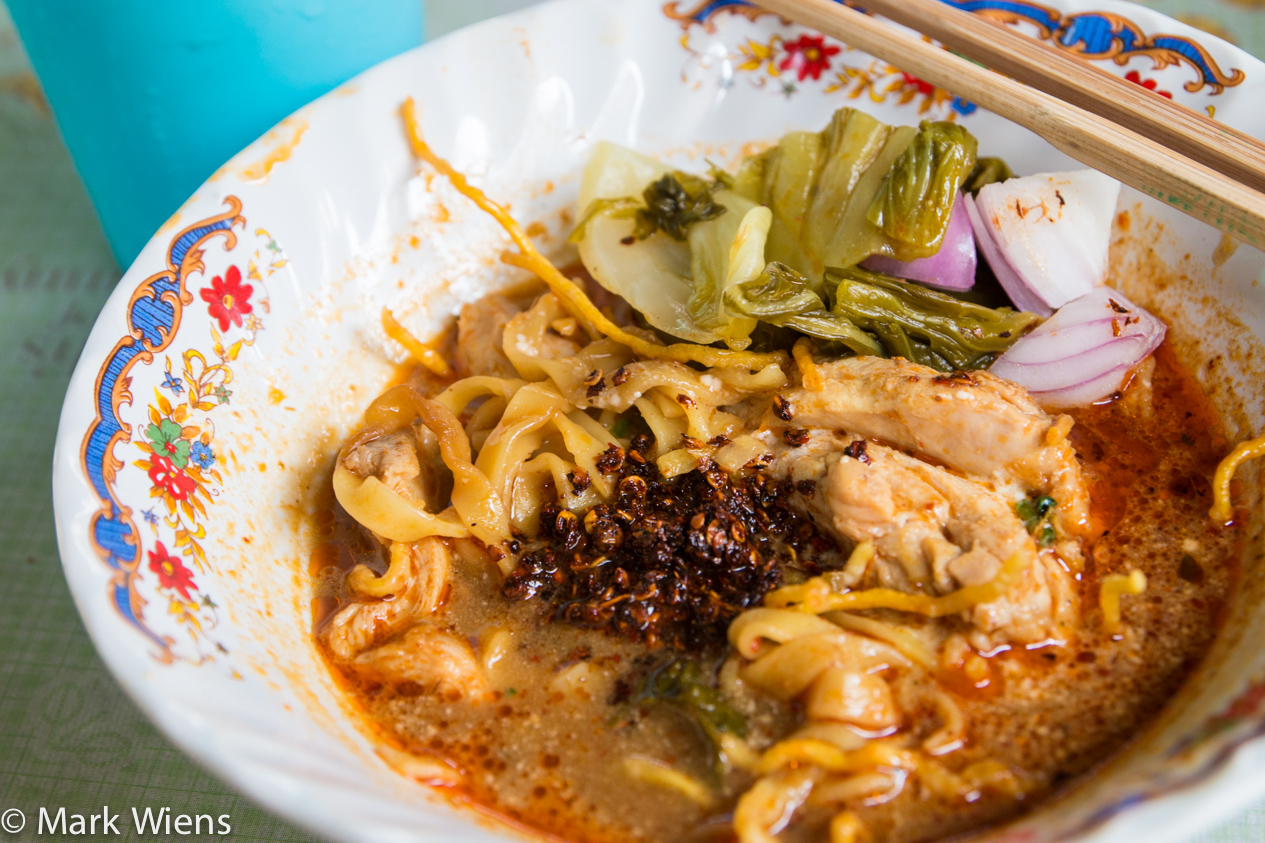 When you're looking for khao soi (ข้าวซอย) in Chiang Mai, you have many places to choose from.
During my latest stay in Chiang Mai, in between northern Thai feasts, I ate quite a few bowls of khao soi and visited many of Chiang Mai's most popular khao soi restaurants (I'll be reviewing all of them in time).
Tipped from this article on Travelfish, and since I was staying very near, in the Chang Phueak area, I headed over to a restaurant known as Khao Soi Khun Yai (ข้าวซอยคุณยาย) – Grandma's Khao Soi.
The restaurant is slotted in between two temples, and sort of situated in an empty lot (see map).
Walk in the rusty gate, and on the left hand side you'll see the open air shelter, home to this incredibly good little khao soi restaurant in Chiang Mai.
At Khao Soi Khun Yai (ข้าวซอยคุณยาย) you get your bowl of curry noodles and a side plate with the normal garnishing goodness of pickled mustard green, chopped red onions, a wedge of lime, and a petri dish of fragrantly roasted chili flakes.
When it comes to eating khao soi (ข้าวซอย), the portion sizes are always quite small – but that's not a bad thing – that just gives you the opportunity to eat a few bowls in one sitting, or if you're like me, you can sample the beef version and the chicken version.
I first tried the khao soi neua (ข้าวซอยเนื้อ), with beef.
I immediately loved the look of the broth, nice brown red in color, not too milky creamy (apart from some coconut cream on top), and not too oily.
The noodles were wide yellow egg noodles, covered in just enough curry, topped with chunks of beef, and a handful of the crispy fritters on top.
The khao soi curry gravy was outstanding, flavored beautifully with just the right amount of spices, and not to sweet like it can sometimes be. It was rich, but not oily.
In my opinion, sometimes when you have khao soi, they can go a bit overboard with the crunchy fritters on top, but at Khao Soi Khun Yai (ข้าวซอยคุณยาย) it was just the right amount.
Flavor and ingredients wise, a clear 10/10 for my taste buds.
Price – 35 THB
I always like to taste my bowl of khao soi first, before adding any condiments or extra chili, just so I know how the true flavor tastes.
The khao soi at Khao Soi Khun Yai (ข้าวซอยคุณยาย) was nearly perfect with nothing extra added, but to turn thing up a notch, and because of my obsession with chili, I tossed in the chili as well – and that elevated it to extreme delicious.
The first bowl was so good, I literally slurped it down in just a few bites, so next up was the khao soi gai (ข้าวซอยไก่), with chicken.
Again, equally as fantastic, same luscious flavored curry broth, just with chicken instead of beef.
Price – 30 THB
The khao soi gai (ข้าวซอยไก่) included nice pieces of boneless chicken, just dripping in delicious sauce.
Like I mentioned above, the khao soi (ข้าวซอย) was so good, it really didn't even require any extra seasoning, so I ate about half my bowl before dumping in the chili to give it an extra boost of heat.
Honestly speaking, I wanted to eat the khao soi (ข้าวซอย) here like it was boat noodles, and see how big of a stack of empty bowls I could pile up.
It was that good.
I managed some self control after my second bowl, and since we had more restaurant to check out that same day. But it would be easy to down 3 – 4 bowls or more at Khao Soi Khun Yai (ข้าวซอยคุณยาย).
I actually didn't even taste the kuay teow tom yam (ก๋วยเตี๋ยวต้มยำเส้นเล็ก), but my wife Ying had it, and she said it was outstanding too.
So if you're in the mood for a bowl of regular Thai tom yum noodles, Khao Soi Khun Yai (ข้าวซอยคุณยาย) does it well too.
Price – 30 THB
The sign is only written in Thai, but it's right on the main road, in-between two temples, so you shouldn't have any trouble recognizing this sign.
Watch the video of the meal..
(If you can't see the video, watch it here: http://youtu.be/_wvU1olA5PU)
The Bottom Line
Hands down, this is the best khao soi (ข้าวซอย) I've had in a very long time, maybe ever. To me, it sets the standard of 10/10 for khao soi. All other bowls of khao soi (ข้าวซอย) I eat now, will be judged against the khao soi at Khao Soi Khun Yai (ข้าวซอยคุณยาย).
Very good stuff.
I'm not a fan of overly sweet khao soi, and I'm a fanatic of spicy strong flavors – so if you have similar tastes to me, you're going to love it.
Khao Soi Khun Yai (ข้าวซอยคุณยาย) – Chiang Mai
Open hours: 10 am – 2 pm daily (closed on Sunday)
Address: In front of Wat Kuan Kama Temple, Sri Poom Road, Amphoe Mueang, Chiang Mai
Prices: 30 – 35 THB per bowl
ที่อยู่ หน้าวัดควรค่าม้า ถนนศรีภูมิ อ.เมือง จ.เชียงใหม่
เปิด 10.00 – 14.00 น. ( หยุดทุกวันอาทิตย์ )
How to get there:
From Chang Phueak Road, cross into the old city walls (across the moat), turn right on Sri Proom and you should see the temples on the street. Walk slowly past the temples and you should see that orange sign for Khao Soi Khun Yai (ข้าวซอยคุณยาย).