Khao Soi Islam (ร้านข้าวซอยอิสลาม) in Chiang Mai – Don't Miss Their Biryani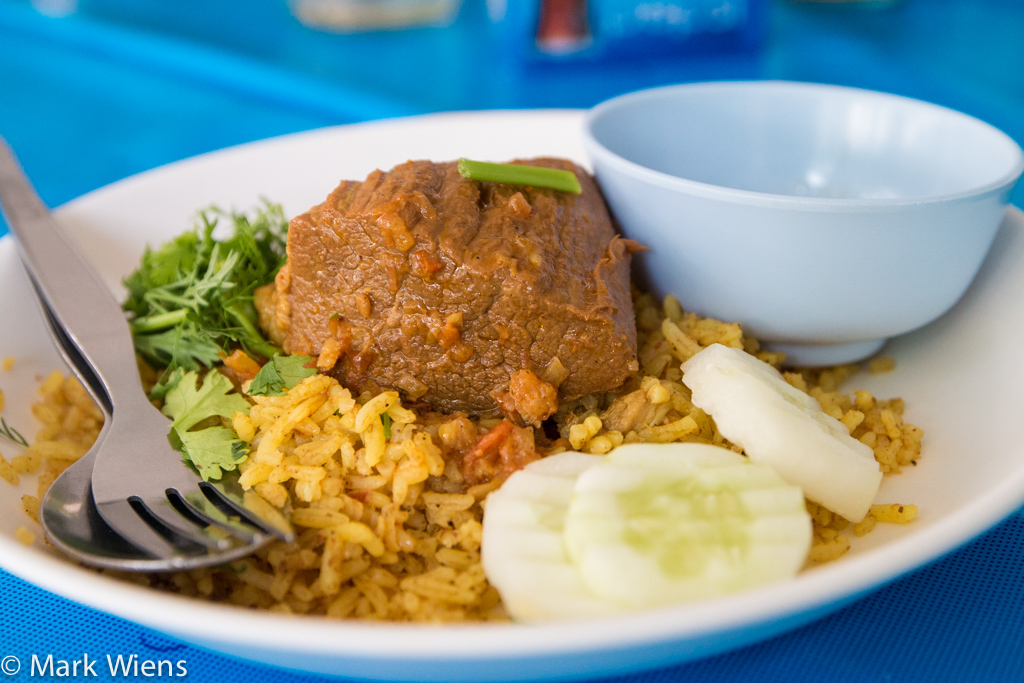 When I was in Chiang Mai my main mission was to eat (that goes for any destination I visit).
One of the many famous places to eat a dish known as khao soi  (ข้าวซอย) in Chiang Mai, is a restaurant, located right near the touristy night bazaar, known as Khao Soi Islam (ร้านข้าวซอยอิสลาม).
The reason I was excited to try the khao soi  (ข้าวซอย) at Khao Soi Islam (ร้านข้าวซอยอิสลาม) is because they are known for serving quite an authentic, or shall I say, original version of the dish.
While many restaurants these days have altered the recipe and switched up the ingredients, sources say Khao Soi Islam has kept the same original recipe.
As I'm sure you already figured from name of the restaurant, the roots of Khao Soi Islam (ร้านข้าวซอยอิสลาม) are Muslim, so the food served at the restaurant is Halal – if you're looking for a Halal restaurant in Chiang Mai, this is a great spot.
Khao soi neua (ข้าวซอยเนื้อ)
My first order of business was a bowl of khao soi neua (ข้าวซอยเนื้อ), noodles in gravy with beef.
Compared to other bowls of khao soi I had eaten so far in Chiang Mai, their version was whiter in color, and topped with quite a big handful for crispies on top.
The coconut milk was almost curdled, but it looked like a really rich creamy broth.
Price – 50 THB (บาท)
Overall, the flavor of the khao soi neua (ข้าวซอยเนื้อ) was very mild.
It was almost just like spaghetti noodles in a cream sauce. For myself it was lacking the spice blend that I think pairs so well with the noodles and coconut milk based gravy to make a wonderful bowl of khao soi.
It wasn't bad, but just not overly flavorful.
And that's when I noticed the glorious roasted chili sauce condiment on the side of our table.
The sauce was basically dry roasted chilies, pounded, and mixed with a bit of oil; Just lifting off the lid, I could immediately smell the beautiful aroma of roasted chilies, and I knew it would drastically improve my bowl of khao soi.
A few scoops of roasted chili sauce, nam prik pao, into my bowl of khao soi definitely bumped things up a notch.
While the flavor of the broth was severely enhanced with the roasted chili sauce, to me it still could have used a few more spices in the preparation.
Again, it wasn't bad, and they do serve an original version of the dish, but it was just a little plain for my taste buds.
Khao mok neua (ข้าวหมกเนื้อ)
The dish that really blew my mind at Khao Soi Islam (ร้านข้าวซอยอิสลาม) was their version of Thai biryani, known as khao mok (ข้าวหมก).
I wanted to get the goat version of the dish, but unfortunately they had already sold out of it by the time I ate there, so I had to settle for the beef.
Price – 70 THB (บาท)
I am happy to report that the beef biryani, khao mok neua (ข้าวหมกเนื้อ), was out of control good – it was simple and marvelous.
The rice was spiced just perfectly, the meat was tender and flavorful, and I loved how they sprinkled a bunch of crispy shallots and cilantro on top.
Thai style biryani is always served with a side sauce, usually a sweet and sour sauce made with cilantro and mint. The sauce made a wonderful condiment to the spiced rice and tender meat.
I was very impressed by the khao mok neua (ข้าวหมกเนื้อ) at Khao Soi Islam (ร้านข้าวซอยอิสลาม).
The flavors were nearly perfect, and along with the tender chunk of beef, what really gave it a touch of great flavor over other Thai biryani's I've had before, were those freshly fried shallots and the handful of fresh herbs.
Salad kaek (สลัดแขก)
Along with the khao soi and the khao mok neua, Ying my wife, also got a plate of a Thai dish known as salad kaek (สลัดแขก).
It was basically a mixture of lettuce, cucumbers, and some wedges of tomato, covered in a thick and creamy peanut sauce. The dressing was sweet and nutty, a little too sweet for me, but still good.
Price – 40 THB (บาท)
I almost forgot to mention that we also tried a bowl of soup neua, or beef soup (I didn't get a good photos of it, but can you see it in the top of the photo).
The soup was alright, a lot of fat, but it had a good beefy flavor and it was nice and spicy.
Khao Soi Islam (ร้านข้าวซอยอิสลาม) is a well known restaurant in Chiang Mai, one of the classics.
On the menu you'll find a number other dishes as well, including beef noodles, roti mataba, curry noodles, and beef satay. The restaurant is similar to Yusup Pochana in Bangkok, but not as extensive.
Here's the video of the meal
(If you can't see the video, watch it here: http://youtu.be/n6OSZPYo2ow)
Conclusion
Khao Soi Islam (ร้านข้าวซอยอิสลาม) is a restaurant in Chiang Mai that's known for serving an authentic original version of the northern Thai dish of khao soi (ข้าวซอย noodles in curry gravy).
Their version of khao soi (ข้าวซอย) was a little on the mild or plain side, and almost tasted like noodles in cream sauce.
They also serve khao mok (ข้าวหมก), or Thai style rice biryani with a choice of meat. I had a plate of khao mok neua (ข้าวหมกเนื้อ), biryani with beef, and I was impressed – it was outstanding.
So I would say, go to Khao Soi Islam (ร้านข้าวซอยอิสลาม) for the khao mok (ข้าวหมก), but if you order the khao soi (ข้าวซอย), just know that it's quite a mild version. I prefer the khao soi here.
For myself, I think Khao Soi Islam is a restaurant in Chiang Mai you shouldn't miss singlehandedly due to their biryani.
Khao Soi Islam (ร้านข้าวซอยอิสลาม)
Address: Thanon Charoenprathet Soi 1, Chiang Mai, Thailand
Phone: 053-271484, 08-2392-0142
Open hours: 10 am – 6 pm from Saturday – Thursday, closed on Friday
Prices: About 30 – 50 THB per dish
ที่อยู่ เจริญประเทศ ซอย 1 ถนนช้างคลาน ตรงข้ามเดอะพลาซ่า, เชียงใหม่
โทร. 053-271484, 08-2392-0142
เปิดบริการ 10:00-18:00 หยุดทุกวันศุกร์(วันเข้าสุเหร่า)
How to get there: Khao Soi Islam is located on Soi 1 of Charoenprathet road. You can either take a rot songthaew (public mini truck) to the restaurant, or from central Chiang Mai or the night bazaar area, you can walk there.
Check out the map below (scroll down until you see Khao Soi Islam and click on it).