Khao Soi Mae Manee – Most Delicious Curry Noodles in Chiang Mai (ข้าวซอยเเม่มฌี)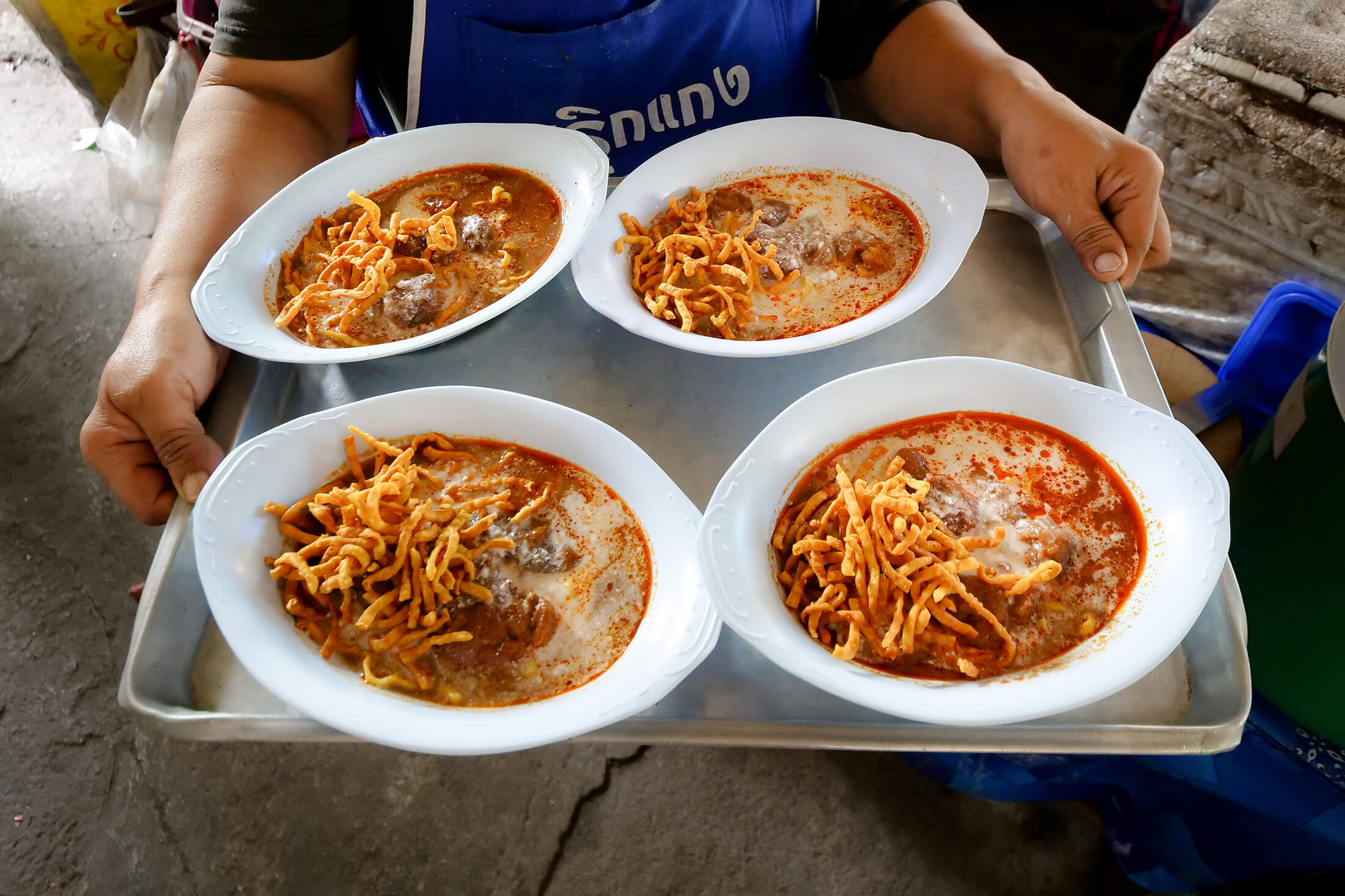 Khao soi (ข้าวซอย), or curry noodles, is easily the most well known dishes of all Northern Thai food.
Dear to the hearts of locals as well as a popular dish among expats and travelers (because it's so delicious), many would say it's worth visiting Chiang Mai just to eat khao soi.
One of the best (and most friendly) bowls you can imagine comes dripping with love (and amazing red curry sauce) at Khao Soi Mae Manee (ข้าวซอยเเม่มฌี).
In this article, I will share with you all the details of one of Chiang Mai's best bowl of khao soi noodles.
My #1 Choice for Khao Soi in Chiang Mai
Recently I went on an extreme Chiang Mai khao soi tour.
It was an epic day, eating no less than 5 bowls of khao soi in 5 different restaurants with a goal to determine the (our opinion) best bowl of khao soi in Chiang Mai.
I encourage you to watch the video from that day here, which shows you the epic noodle tour we had with local friend Tom (owner of Chaseki TeaHouse).
We ate a lot of noodles that day, but it was still no surprise when all of us agreed – Khao Soi Mae Manee (ข้าวซอยเเม่มฌี) serves the best bowl of khao soi curry noodles that we have had in Chiang Mai.
Let me tell you a little bit more about this amazing dish, and the wonderful Aunty who cooks it.
Khao Soi Mae Manee (ข้าวซอยเเม่มฌี)
Blazing sunshine and Thailand's mid-day heat, the wide hanging awnings make for a wonderfully inviting place to devour some curry noodles.
The lunch rush winds down at about 1 PM, and as we arrive the restaurant has a very gentle and calm atmosphere, tucked in the neighborhood.
A large red-letter sign hangs overhead, "The most flavorful bowl of khao soi in all of Chiang Mai." That's a tough claim to make, I thought, "there must be several thousand shops selling this exact dish."
You will notice about 25 more signs besides this one though, most of them with TV channel numbers and awards attached. The history of this unassuming-looking local restaurant starts to sink in as the bowls of curry come steaming out.
Sadly, Khun Mae Yuak (The 'Mother' of 'Mae Manee') and original founder of the restaurant passed away in September of 2018.
The restaurant continues by the family. During our visit, after sharing a few stories describing their mother's kindness the daughter (and manager) were both smiling as they assured us of their happiness to continue on in their mothers footsteps.
They are still working in the same well-known and loved location, between Chiang Mai town and Mae Rim (แม่ริม).
Assembling your curry noodles
Aunty recommended we all try her beef khao soi (ข้าวซอยเนื้อ khao soi neua).
In order to assemble a bowl she first added in some egg noodles, and topped it with a very thick curry sauce that smelled of dry chili.
Next, she added in a more watery curry sauce, and finally topped it, as typical for Northern Thai style khao soi, a spoon of coconut cream.
The coconut cream is plain and pure, and remains separate from the actual curry sauce, only mixing when its in your bowl.
From the coconut cream, your bowl of khao soi (ข้าวซอย) becomes so rich and so creamy – the pictures just cant do it justice.
Beef khao soi (ข้าวซอยเนื้อ)
Again, we all ordered beef khao soi (ข้าวซอยเนื้อ khao soi neua).
And like every other bowl of khao soi (ข้าวซอย) you order in Chiang Mai, it comes with sliced shallots, pickled mustard greens, and lime wedges, all for seasoning and topping your noodles with.
But before doing any seasoning, the best thing to do is just taste the curry sauce on its own.
At Khao Soi Mae Manee (ข้าวซอยเเม่มฌี), you'll notice that the curry sauce is not overly sweet, but you can taste the spice blend of dry masala spices, and the rich creaminess of the coconut cream which curdles into the curry.
The curry was almost like a stew, and Tom compares it to Hungarian goulash.
Mae Manee cooks her noodles to a slightly chewy al-dente perfection.
They are thicker than some other egg noodles I've tried in khao soi, but you could really taste that they were freshly hand made and that's another thing that really stood out.
Additionally, although not the largest portion size of khao soi (ข้าวซอย) in Chiang Mai, the ratio of meat to sauce to noodles is perfect.
If I hadn't eaten 5 back to back bowls of khao soi this day, I would have had 5 bowls right then and there.
Seasoning, chili oil
But finally, you must always season your bowl of khao soi (ข้าวซอย).
I typically toss in all the shallots and pickled mustard greens, squeeze in some lime juice, and depending on how spicy you like it, add in a bunch of nam prik pao (น้ำพริกเผา) chili oil.
The chili oil here is also home-made, a spicy, and a smoky flavor of greatness. At least one heaping spoonful is mandatory to perfect your bowl of khao soi.
It was delicious as she serves it, but once full of seasonings, this is a bowl of khao soi in Chiang Mai that my taste buds will never forget.
Thai curry noodles experience
Khao Soi Mae Manee (ข้าวซอยเเม่มฌี) really offers the full package. It makes you feel special, like they're welcoming you in for a meal at a friend's home.
It would be very difficult to award a single restaurant as having the "Best Khao Soi in Chiang Mai," almost like trying to search for Bangkok's best plate of Pad Kraprao.
I can personally say though that Khao Soi Mae Manee (ข้าวซอยเเม่มฌี) will blow your taste buds away, and that it's the best overall bowl of khao soi I've had in Chiang Mai.
Bonus item – kids menu
Khao Soi Mae Manee (ข้าวซอยเเม่มฌี) restaurant also has a special menu just for kids.
Something I may have never seen before come to think of it, an entire section of the menu for kids.
Besides children, this is also a great order for non-spice eaters. It still comes with a hint of that magical red curry sauce, but most of the broth however uses soup stock and fresh coconut cream instead of the spicier curry sauce.
It's almost more like tom kha gai, but still delicious.
Khao Soi Mae Manee (ข้าวซอยเเม่มฌี) 
Address: 18 Soi Chotana 24, Tambon Chang Phueak, Amphoe Mueang Chiang Mai, 50300 (Google Maps), Thai: 18 ซอย โชตนา 24 ตำบล ช้างเผือก อำเภอเมืองเชียงใหม่ เชียงใหม่ 50300
Open hours: Daily from 900AM-330PM
Price: Bowls of noodles from 45-60 Baht. Slightly more than street prices, but quality is high.