Thai Basil Stir Fry – He's Been Making It Here for 47 Years in Bangkok!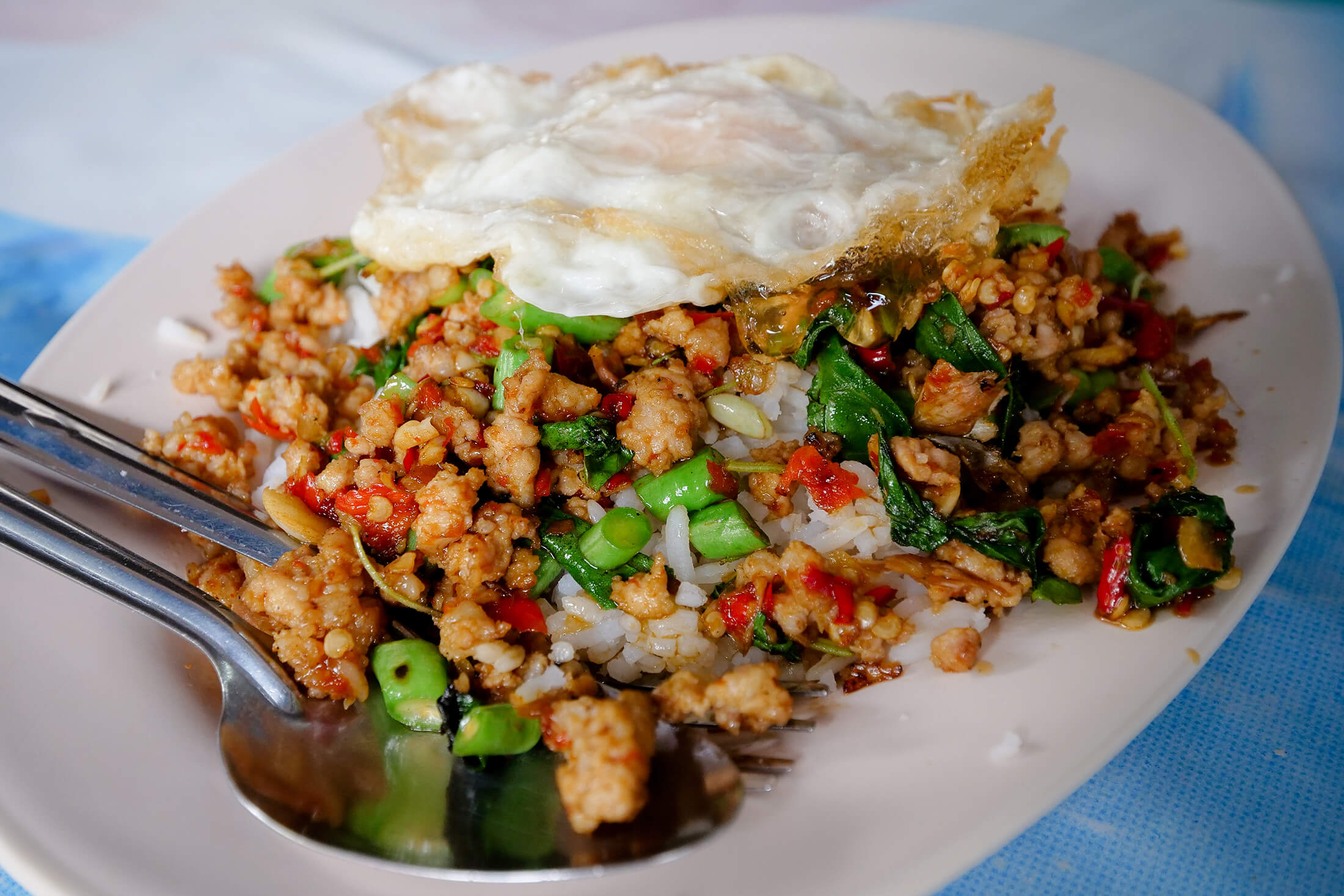 Thai basil stir fry (ผัดกะเพรา pad kaprao) is one of the pillars of Thai street food comfort in Bangkok.
It's one of those dishes that's simple to make, complex in flavor, it never gets old, and it's without fail, always satisfying – especially over rice with a greasy fried egg on top.
In this post, I'm going to tell you about a little corner restaurant in Bangkok where you can get a delicious plate of it.
Ung Jia Huad (ร้านอึ้งเจี่ยฮวด)
On a corner side street, just barely a stones throw from the bustling Asoke intersection, is an Uncle who has been making Thai basil stir fry (ผัดกะเพรา pad kaprao) for over 47 years.
Now that's experience.
It's in a spot where you can easily walk past, just down the road from the infamous Soi Cowboy, and surrounding by luxurious international restaurants.
He makes a variety of different quick stir fry dishes, but among his specialties is Thai basil stir fry with your choice of either pork or chicken, and either minced meat or sliced meat.
Uncle cooks with such expertise, he's the type of experienced cook that could make Thai food with his eyes closed.
You know from the beginning it's going to be tasty, just from watching him work the wok and handle the ingredients.
Minced pork basil stir fry (กะเพราหมูสับ)
It's important to note, to make Thai basil stir fry, it must make use of holy basil (or tulsi), which is much different from Thai sweet basil (which is commonly referred to just as Thai basil). Thai holy basil has a beautiful peppery taste and is very aromatic.
I began this meal with a plate of minced pork Thai holy basil stir fry, all over rice, with a fried egg on top.
Here's the full name in Thai:
kaprao moo saab kai dao rad khao (กะเพราหมูสับไข่ดาว ราดข้าว)
The rice, the basil stir fry minced pork, and the runny fried egg, all combine to create what is easily one of the greatest Thai street food dishes of all.
One of the touches that Uncle does when he stir fries the meat is he first adds some oil to the wok (possibly lard), fries the meat for a few seconds, then drains the oil. This gives your minced meat crunchy edges.
It's impossible to say any pad kaprao (ผัดกะเพรา) is the best in Bangkok, but Uncle's version is just perfect for what it is – it's what you want it to be in the moment you're eating it.
Fried pork garlic (ข้าวหมูทอดกระเทียม)
Another dish I ordered was fried pork garlic (ข้าวหมูทอดกระเทียม khao moo tod gratiam), another classic Thai single dish, one plate meal deal.
Again, just like the Thai basil stir fry, this was simple and satisfying with every single bite.
The pork was again fried in a bath of oil, drained, and then stir fried with the seasonings like dark soy sauce, garlic, and black pepper.
Perfectly salty, on the oily side, but so tasty, and with a nice touch of black pepper.
Again, the egg is not mandatory… ok actually I take that back… the fried egg is mandatory.
There's nothing better than yolk to coat.
For me, dining atmosphere in Bangkok can hardly get better.
It's nothing fancy, just a corner building, a few tables and stools, both inside and outside, with a concrete finish.
The menu is written in Thai – he does offer a few other single plate dishes like Thai fried rice and radna.
Ung Jia Huad (ร้านอึ้งเจี่ยฮวด)
Address: Sukhumvit 23 (Google map)
Open hours: 9 am – 3 pm on Monday – Saturday
Prices: Each plate is about 50 THB, a little higher than normal, but it's a very high end area, and it's totally worth it.
ถนน สุขุมวิท 23 กรุงเทพ
โทร 02-2584236
เปิด จันทร์-เสาร์ 9.00-15.00 น.