10 of the Best Bangkok Restaurants of 2013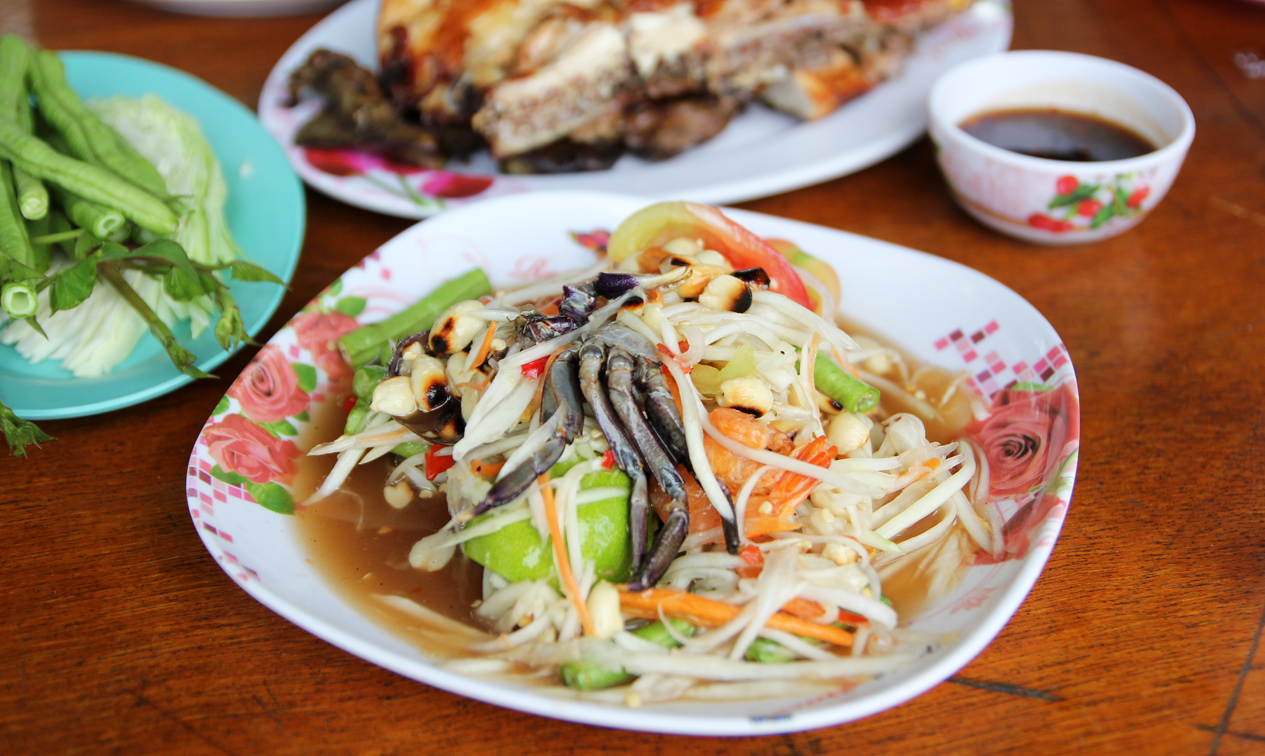 It's been another wonderful year of eating Thai food!
Narrowing down the archives of delicious food is always a challenge… but finally, it had to be done. Here are the 10 best restaurants in Bangkok we ate at in 2013.
By the way, you should also check out the resource page and the full best restaurants in Bangkok page – both of which will be updated frequently with lots of information you'll find useful.
Ok, let's get started on these 10 best restaurants in Bangkok in 2013.
1. P'Aor (ร้านพี่อ้อ)
P'Aor (ร้านพี่อ้อ) was by far the most popular post on Eating Thai Food in 2013. Among a host of excellent dishes, their main claim to fame is Kuay Teow Tom Yum Goong Nam Khon (ก๋วยเตี๋ยวต้มยำกุ้งน้ำข้น), or simply tom yum noodles.
2. Khao Gaeng Jake Puey (ข้าวแกงเจ๊กปุ้ย (เจ้เฉี๋ย)
As a lover of rice and curry (probably my favorite meal ever), Khao Gaeng Jake Puey (ข้าวแกงเจ๊กปุ้ย (เจ้เฉี๋ย), a popular Chinatown curry stall, was one of my top picks of the year. This is Bangkok street food at its finest.
Don't miss their Kaeng kari moo (แกงกะหรี่หมู) or their Seekong moo ob (pork ribs ซี่โครงหมูอบ).
3. Yusup Pochana (ยูซุปโภชนา)

You could put a blind fold on, point to something on the menu at Yusup Pochana (ยูซุปโภชนา), and you'd be 100% happy with what you got. Everything is good here. It's a Thai Muslim restaurant, so the food is Halal and more than delicious.
The Kuruma peh (กุรุหม่าแพะ) made me cry tears of joy.
4. ISAO
ISAO Japanese fusion restaurant is quite the hype in Bangkok, and the good news is that it really lived up to its name when I went there.
Everything we ordered was excellent, but I especially enjoyed the sushi sandwich and the spicy tuna roll.
5. Paste
Paste is a restaurant in Bangkok that leads the scene in modern Thai food. Their ingredients are of extreme high quality and care is put into every detail of dish preparation, without holding back on the flavors the way they are supposed to be.
6. Krua OV (ครัว OV)
Walking into Krua OV (ครัว OV) feels kind of like you're walking into a green themed Denny's, but everything changes from there. It's a classic Thai restaurant that serves wonderful curries and traditional elegant Thai dishes.
I loved the Khao Chae (ข้าวแช่) and the Pla Duk Foo Pad Prik King (ปลาดุกฟูผัดพริกขิง).
7. Thai Lao Yeh
Thai Lao Yeh is an elegant traditional Thai restaurant. The food is pricey, real pricey, and the portions are quite small, but the dishes are prepared expertly and both the restaurant ambiance and food presentation are top notch.
8. Khao Kluk Kapi Niyngow (ข้าวคลุกกะปินายหง่าว)
Khao kluk kapi, a Thai dish that includes rice fried in fermented shrimp paste with a variety of toppings is not always easy to find in Bangkok. But at Khao Kluk Kapi Niyngow (ข้าวคลุกกะปินายหง่าว) they specialize in it, and do it extremely well.
9. Somsak Boo Op (สมศักดิ์ ปูอบ)
Somsak Boo Op (สมศักดิ์ ปูอบ) is a wildly popular street food stall in Bangkok that serves goong (shrimp) and boo (crab) op woon sen. It's a true one dish wonder!
10. Doy Kuay Teow Reua (ต้อยก๋วยเตี๋ยวเรือ)
I couldn't finish this list of best Bangkok restaurants in 2013 without some boat noodles on the list.
Boat noodle alley is still good, but I have to say that Doy Kuay Teow Reua (ต้อยก๋วยเตี๋ยวเรือ), just a 10 minute walk away, is better.
Thank you for being a part of Eating Thai Food this year and you can expect a lot more delicious Thai food articles and tips in 2014 and beyond. Also stay tuned for Thai recipes!