9 Major Differences between Thailand Thai Food and American Thai Food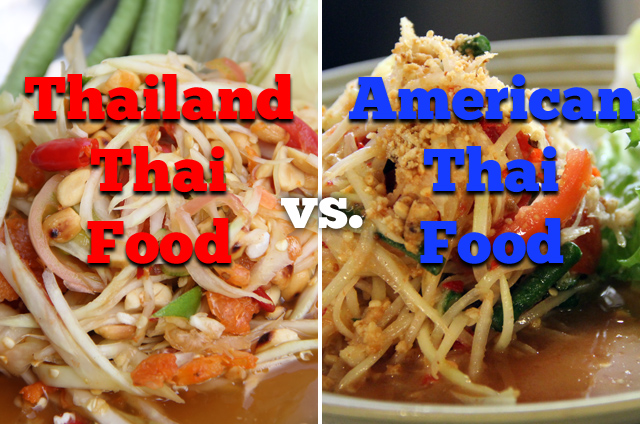 I was in Thailand for nearly 3 years before ever coming back to the United States.
I eat loads of Thai food in Thailand. And I LOVE it.
Upon returning the US for a quick few weeks visit, I noticed that Thai food is quite popular in America now. Nearly all neighborhoods have their very own "Thai Basil" or "Siam" restaurant at the nearest strip mall.
Many Thai restaurants in America are even owned and operated by real authentic Thais…
… but Thailand Thai food is different from American Thai food.
Not only are there differences in the ingredients or what's available, Thai restaurants (despite attempting to remain authentic sometimes) simply have to adapt and then abide by to American style and taste.
Unfortunately, a lot of the strategies for predicting an outstanding Thai restaurant (before ever eating there) are useless in America – largely due to regulations.
Here are 9 major differences I noticed while sampling American Thai food:
Of course, I could break down the differences between each and every dish (like pad thai in Thailand and in America), but for the sake of this article, I'll stick with the food in general.
1. Portion Size
There's a radical difference between American sized food portions and Thai sized food portions… and I had completely forgotten about it after staying in Bangkok for so long.
America loves HUGE.
It's not that I eat less in Thailand, it's just that the the portions are smaller so I order multiple plates of rice per meal. In Hawaii I ordered a plate of pad gra pao (lad khao – on top of rice) in Chinatown and it was a massive plate – double or even triple the size of a normal Bangkok street food portion.
2. Price
There's no surprise at this one. Living expenses are naturally more expensive in America than in Thailand.
While in Thailand a normal plate of rice topped with a single dish and possibly a fried egg costs 30 – 40 THB ($1 – $1.30) and in America the same dish would probably run $7 – $10. However (as mentioned above) the portion size is 2 to 3 times larger.
Maybe I should have done a weight to price comparison?
3. Spring Rolls as Thai Food
Thai restaurants in America serve lots and lots of spring rolls – just like everyone in America must eat an egg roll with Chinese food, so Thai food is always served with a deep fried spring roll.
I think it's because Americans like deep fried things (and Thai restaurant owners have figured this out).
Thailand does have deep fried spring rolls, but I could easily spend months in Thailand eating at only local street stall restaurants without ever touching spring rolls. In fact, I only know one food cart in Bangkok that even serves por pia tod on a regular basis.
4. Lots of Meat
America has long been famous as a large meat consuming nation, so it's not surprising to find American Thai food is generous on the meat.
A normal dish in Thailand will come mixed with a little meat, but just a skimpy amount compared to the amount of chicken or pork served in a single Thai dish in America. The chicken in America is just bigger and the pork is just bulkier.
5. Skimp on the Herbs
Pad gra pao (stir fried holy basil) should be packed with basil. One thing I noticed is that Thai food in America is that meat is heavily prevalent, herbs are scarcer.
Not sure if this is due to the price of the herbs in America or because lots of herbs means lots more flavor, which could be unappealing to some consumers, maybe?
Nevertheless, the best source of the delicious repertoire of Thai ingredients is within Thailand itself.
6. No Dried Shrimp
One of the fundamental ingredients in a good som tam (green papaya salad) is salty dried shrimp (goong haeng). Not only do the little guys provide extra flavor, but also extra saltiness and a little bit of a chewy texture.
After eating som tam twice in America I discovered that they don't include dried shrimp in their recipes – not sure if it's because it's hard to get in America or again if it's too different for most American crowds?
7. Flavor Level
Speaking honestly, Thai food in America is often bland and just about all Thais I know would put it into the "jued mak mak" category.
It's not that all dishes are lacking completely in flavor, it's just that some are lacking the proportionate amount of flavor – not hot enough, not sour enough, not rich enough, not herbaceous enough – all the pillar tastes combined into the authentic flavor of Thailand Thai food.
Note: I didn't mention spicy chili level here because you can order things chili hot in America… same like you can in Thailand. However the mild is probably milder in America.
8. Not Sour Enough
While Thailand Thai food does have a range level of sourness, even ordering dishes less sour in Thailand will land you with a dish or soup that's more sour than a sour dish in America.
Sourness is one of the pillars of Thai cuisine and it's one that has been toned down a couple notches to cater to the American palate.
9. Sticky Rice Mix-Up
There are lots of things you may not know about eating Thai food until living and eating in Thailand. Along with learning Thai food etiquitte, there are a number of unwritten Thai eating rules.
For instance, in America it's possible to eat a dish like green curry along with Thai sticky rice. This combination would be unheard of in Thailand. Green curry (gaeng keow wan) is eaten with steamed white rice. Som tam (green papaya salad) and other Isaan food dishes are often enjoyed with sticky rice.
This is just the surface. There are many many more differences between Thailand Thai food and American Thai food. As the awesome Thai food writer Pitchaya Sudbanthad explains, it's all about learning to love Thai-American food.
"When I eat it, I know where I am," says Sudbanthad.
I'd love to hear your thoughts. Please leave a comment!