A Week on a Virtual Food Tour with Bangkok Fatty in Review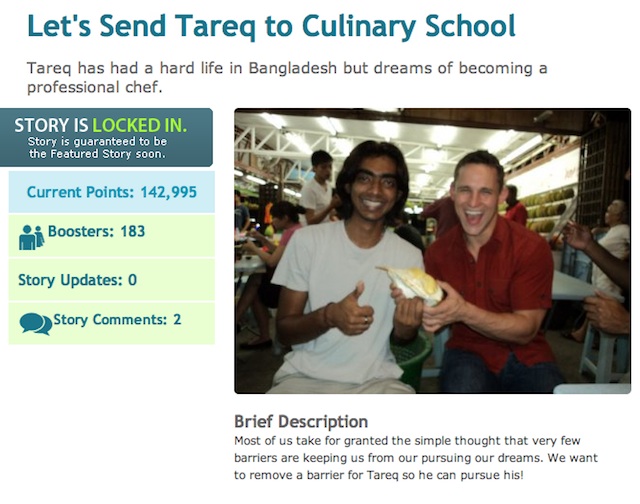 Thanks for joining the virtual food tour last week. Here's a wrap up with a few extra pictures incase you missed anything!
I kicked the party with veggie dishes, street food and an emergency red bull ice cream run!
Soi Yotse itself is good enough for a one stop food tour if you're looking for something different one evening and can handle the challenge of getting there. There's still tons of things there we didn't try. Go and let us know what you eat! Or if you book a private food tour with Mark, request Soi Yotse and funky flavored ice cream.
Great news!
Our friend Tareq, who was the victim of human trafficking, is now the featured story on HopeMob!
This is your chance to make a difference in this guy's life. No long speech from me, no excuses from you. Visit his story, donate and share!
We'll help him get sent to culinary school and begin his life again. Visit HopeMob for more.
Aloft is a futuristic looking place. We checked out their wine buffet.
Because they're new they're always having random deals. We're editing a video of us munching down their buffet and there may even be a chance to go back and try their bizarre molecular cocktails.
See their restaurant Crave's, facebook page to see what's happening.
The Local Restaurant by Oam Thong takes you back in time.
Advanced Thai food lovers will dig it. They have a garden where they grow ingredients that aren't found in Bangkok to make their specialty dishes from around the country.
Check out the fish they stewed for thirty hours for us. So tasty and you could chew right through the bones. Check out the article for more of what we ate there and we'll publish a video for you later.
For the final day we got off the streets and into the home of a local blogger.
There we ate some really tasty food and met some interesting people. If you're interested in doing something similar start your own in your city or watch the Mango Ginger website for news of their next event.
——-
Remember we're working on some cool stuff for YOU including video recipes, private Eating Bangkok Thai Food Tours, and Bangkok based events. Let us know if you have any requests and remember to be one of the first to like the new Bkkfatty Facebook page.