24 Gawk-Worthy Photos from July's Big Bite Bangkok Feasting Festival
Thanks to everyone who came and spread the word about this event in Bangkok. Now for some gawk-worthy food photos!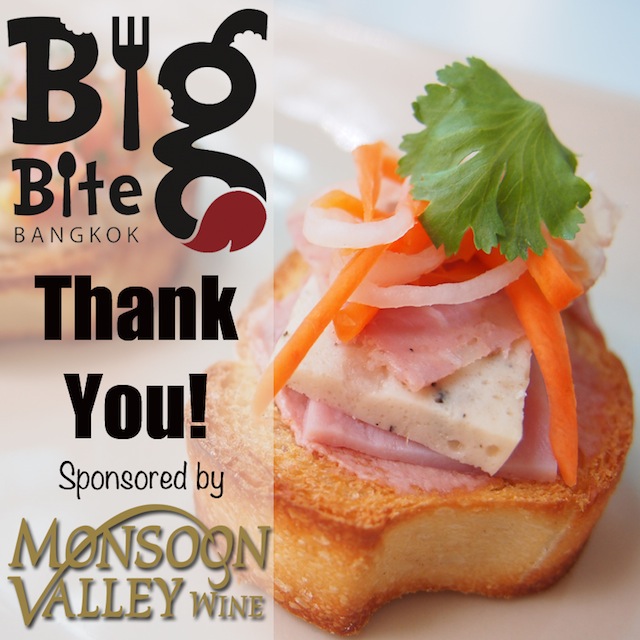 Big thank you to all of the sponsors, vendors, volunteers and of course all 300+ food lovers who crowded in for an indulgent Sunday afternoon at Maduzi Hotel.
If you missed all the announcements or you're not living in Bangkok, Big Bite Bangkok is the market series we've been putting on since last year.
You can read more about the event on our Big Bite Page, but basically the event is part food festival, part tasting party, and part charity fundraiser.
People show up mid sunday because they hungry, hungover, hunting hard to find foods or all of the above!
Here's the full list of awesome food and drink makers who participated:
Everyone expects to be fed well and after having their fill of beer, wine, and cocktails at the event, to have friendly encounters with other mustard stained and crump covered gourmands.
What people don't expect is a laid back, pop up market that raises more than $1000 for charity with each brief, three hour occurrence.
In the latest incarnation we had well over 300 foodies in place and raised double what we normally raise for my volunteer charity In Search of Sanuk (with the extra help of our sponsors and vendors).
You can't pack more WIN into a smaller space! Now here's some photos for you to gawk at!
Another super big thanks goes to our sponsor Monsoon Valley Wines who were only hand doing a tasting with of their award winning wines and answering people's questions about pairing their wines with food.
I didn't get to try enough of their wines during the event so I purchased a bottle of their sparkling Rosé wine and enjoyed it while I was recovering from the event.
Finally, big props to my volunteer photographers Lillian Suwanrumpha and Ramon Toralba for these awesome photos and thanks to everyone who came!