9 Thai Thanksgiving Replacements: Turkey in Thailand? Think Again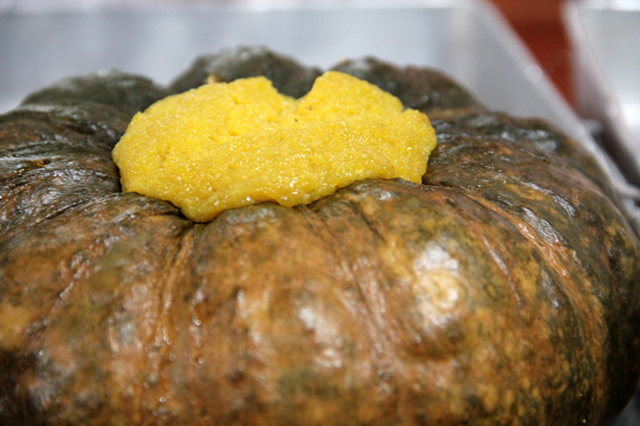 American Thanksgiving is a time to remember what we are thankful for…and also to enjoy a giant feast.
Below is a list of the classic dishes that many households throughout North America eat during the holiday…but this year we're setting aside the turkey and going for Thai food replacements.
1. Brown Gravy – Nam Daeng น้ำแดง
While a variety of different sauces accompany almost every Thai dish, Nam Daeng (red sauce) is about as close as it gets to a thick brown gravy. Nam Daeng is the sweet red sauce used over red barbecued pork on a plate of Khao Moo Daeng.
2. Cranberry Sauce – Gaew Mongkon แก้วมังกร
The extreme neon color of purple dragon fruit always amazes me. I know for sure it would go well with a dry piece of turkey!
3. Green Bean Casserole – Yam Tua Plu ยำถั่วพลู
Have you ever had winged bean salad? Apart from substituting winged beans for green beans, squid and sweet peanut sauce for the cream of mushroom soup, and deep fried onions for the cornflakes, Yam Tua Plu tastes almost the same!
4. Veggies and Dip – Nam Prik น้ำพริก
The Thai version of veggies and dip includes a variety of boiled vegetables served with a chili blended sauce. The particular version above is Nam Prik Goong Sot, but Nam Prik Makam or Nam Prik Kaphi would do just fine as well!
5. Cornbread – Khanom Tarn ขนมตาล
In reality Khanom Tarn is a little steamed piece of bread made from the fruit of a "toddy palm," but in my opinion it tastes pretty close to a good ol' crumbly Thanksgiving cornbread!
6. Stuffing – Yam Pla Duk Foo ยำปลาดุกฟู
Yam Pla Duk Foo is a deep fried plate of catfish fluffy essence. It has little taste until a scoop of sour mango spicy sauce is added to the top of every bite – then it's absolutely mouth-watering! I'd let Yam Pla Duk Foo pass as my stuffing any day of the week.
7. Mashed Potatoes – Khao Pad Goong / Boo ข้าวผัดกุ้ง / ปู
In Thailand we are far far away from mashed potatoes. If a bowl of plain white rice is just a baked potato, Khao Pad Goong (fried rice with shrimp) or Khao Pad Boo (fried rice with crab) are the garlic chives and cheese mashed potatoes.
8. Roast Turkey – Pla Chon Pao ปลาช่อนเผา
Ok, a whole roasted turkey and a grilled fish aren't too similar, but they are both stuffed and roasted. Pla Chon Pao is a snakehead fish stuffed with lemongrass and kaffir lime leaves, rolled in salt and roasted on the grill – and I'd be happy to devour 1 or 2 by myself for Thanksgiving!
9. Pumpkin Pie – Fuktong Sangkaya ฝักทองสังขยา
Fuktong Sangkaya is a pumpkin that is hollowed out and filled with a rich eggy custard. A sliced wedge from the pumpkin and you've got a Thai dessert that could easily pass as pumpkin pie!