Top 11 Bangkok Thai Restaurants of 2011: You Don't Want to Miss Them!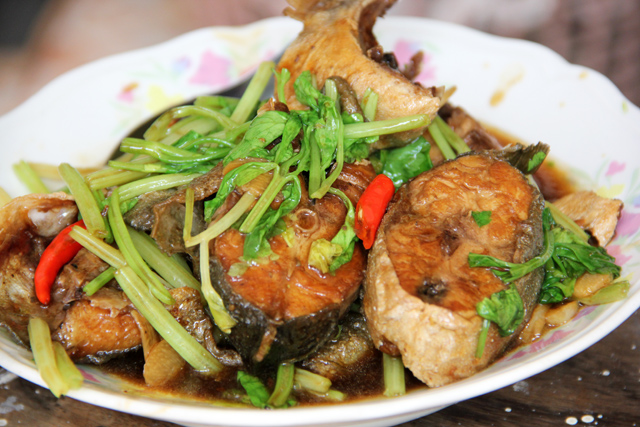 2011 was a fantastic year of delicious Thai food!
There was street food of all kinds in abundance, the month long vegetarian Thai food challenge (by the way, we'll be launching the all-new Vegetarian Thai Food Guide soon – mid January 2012), and of course there was plenty of durian.
Along with launching the Eating Thai Food Guide, I also figured out the secret ways to pick an outstanding restaurant before you eat there, and we also dined on some pretty exotic dishes at the annual Jay festival!
As a way to round-up 2011, I've picked a few of the best restaurants I ate at in Bangkok throughout the year!
Here are the top 11 Bangkok Thai food restaurant picks of 2011:
1. Tho Po Channa โต๋วโภชนา
Located just off Ratburana road in southern Bangkok, it's a bit of journey to get there, but you'll forget all of that as soon as you taste their outstanding dishes.
Order their Pla Chon Tod Lard Prik ปลาช่อนทอดราดพริก (deep fried fish covered in sweet chili sauce) and their Bpet Paloe เป็ดพะโล้ (soy sauce boiled duck).
The restaurant is only open for lunch from 11:00 – 14:00. Click here to read more about Tho Po Channa.
2. Lan Luam Dtai ร้านรวมใต้
Southern Thai food stole me heart this year… and I don't plan on changing in the years to come. I can't get over the spices and robust flavors that make up the cuisine of the southern portion of Thailand – I love it!
One of my top recommendations for southern Thai food in Bangkok is Lan Luam Dtai, located near Siriraj Hospital.
3. Areesaa Lote Dee อาอีซะฮ์ รสดี
Surprisingly situated just strides away from the un-Thai area of Khao San road, Areesaa Lote Dee is a hidden oasis that serves top-notch local style Khao Mok Gai (Thai chicken rice biryani).
Areesaa Lote Dee is delicious, wildly tasty.
4. Laan Thung Khao Tom Hua Pla ร้านตี้งข้าวต้มหัวปลา (ตลาดพลู)
Thai-Chinese dining is at an all-time high at this restaurant.
Their Pla Kahpung Neung Manao ปลากะพงนึ่งมะนาว (steamed sea bass in lime and garlic) is extravagant.
You won't have a bad dining experience at Laan Thung Khao Tom Hua Pla.
5. Som Tam Boo Maa ส้มตำปูม้า
One of my favorite Isaan restaurants in Bangkok for a while now, Som Tam Boo Maa Restaurant did not fail to deliver extraordinarily tasty food through out the year.
This place makes grilled fish to perfection (as well as everything else I've ever eaten there).
Som Tam Boo Maa is located on Bang Khun Non, one of my favorite Bangkok street food hoods.
6. Kuang Sea Foods กวางทะเลเผา หูฉลาม
Delicious seafood at a decent price is what Kuang Sea Foods is famous for.
Try their Pla Kahpung Neung See Ew ปลากะพงนึ่งซีอิ๊ว (steamed fish in soy sauce) and their sizzling Or Suan ออส่วน (sizzling oyster omelet).
7. Lan Gai Baan Yang Kao Suan Kwang ร้านไก่บ้านย่างเขาสวนกวาง
It's really the ambiance that I enjoyed about this place. The food is pretty good too.
They make their bangin' som tam with peanut brittle, adding a nice touch of Thai style sweetness!
Lan Gai Baan Yang Kao Suan Kwang is a great restaurant if you are looking for a relaxing evening of food and fun.
8. Lan Kuay Jab Jaedang ร้านก๋วยจั๊บเจ๊แดง
After eating at this famous cluster of streets stalls at Bangkok's Victory Monument for quite a few years now, it was finally time to put them to the test.
We knew they served FAST Thai food, but we didn't know just how fast – so we timed them.
If you looking are looking for good Thai street food and a wonderful dining experience head over to Lan Kay Jab Jaedang.
9. Lan Loong Lui Restaurant ร้านลุงหลุยส์ (ท่าพระจันทร์)
Overlooking the Chao Phraya River and catering to the hungry students of Thammasat University, Lan Loong Lui serves a huge selection of wonderful Thai food that won't let you down.
10. Su Ki Jeh Ru Yi Restaurant สุกี้เจหรูยี่
During the month long July vegetarian challenge, I was able to eat at quite a few veggie restaurants in Bangkok, and Su Ki Jeh Ru Yi was one of my favorites.
Though their menu is extensively vegan, you may be fooled by the delicious fake meats!
11. Baan Suan Pi บ้านสวนใผ่
A vegetarian food court may not be appealing to everyone, but as a lover of all forms of food (meat or meatless), I can verify that you won't be disappointed at Baan Suan Pi.
Deliciously tasty plates of Thai vegetarian food for great prices. Don't miss their grilled skewers of mushrooms, absolutely delicious!
Expect a lot more Thai street food coming your way in 2012, including the brand new launch of the "Vegetarian Thai Food Guide!"
I want to hear from you: Any favorite restaurants this year?
Any places / foods you recommend? Please leave a comment!