5 Ways to Use Foursquare to Create Daily Food Tours in Bangkok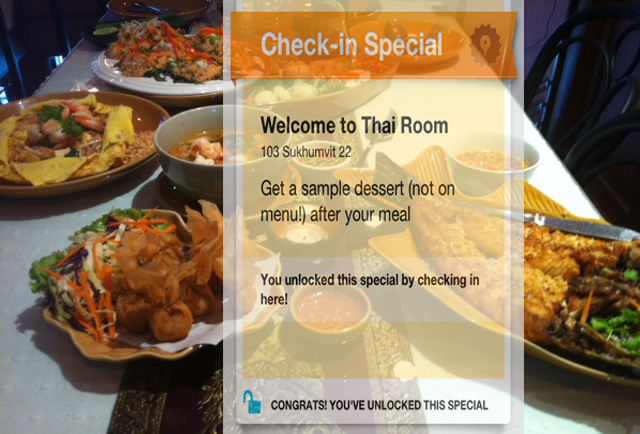 Everyone hates a know-it-all.
Don't worry, we don't want to tell you where you HAVE to eat as much as we want to help you discover and appreciate Thailand's diverse cuisine.
This is the main goal of The Ultimate Thai Food Guide and clutch blog posts like 9 Secret Ways to Pick an Outstanding Restaurant Before You Eat There.
We're all about making it possible for you to create your own Thai food tours and today we've got some tips on how to use the smart phone app Foursquare to help.
They call them smart phones because they can lead you to food!
1. Quickly Find Recommended Eats or Slowly Tour Bangkok Food Havens
Whether you planning a strategic dinner or needing to make haste to the next plate, Foursquare's explore option let you know what's well loved in the nearby area.
Want to explore a market, but don't know where to start? Get out of the taxi in Ratchawat and follow your phone to the next plate.
You may need to know the Top 16 Street Food Sanctuaries in Bangkok to give you some ideas.
2. Create A To Do List & Revisit Old Foursquare Favorites
Who uses Foursqure anyway? Well, I'm happy to report it's not just people checking in at intersections and bathrooms.
One of the coolest ways to use the app is create lists of places you want to try or return to at a later date.
When friends check in some place cool you can add the spot they like to your lists or follow the ones they've created.
Browse other's lists to see what they've bookmarked as their favorites. Just find good lists and don't bother with lists made up McDonald's locations and chain restaurants you can find in any mall.
The most helpful lists aggregate hard to find types of cuisine, top spots in located near each other, or specific favorites such as a list of vegetarian restaurants.
After you're full get home and log on Foursquare's website to edit and browse the maps you've created for you next custom food touring excursion around Bangkok.
3. Stalk Your Favorite Bangkok Fattys
Already complained about about people who think they know it all about food.
Get this, if you follow them on Foursquare you never have to TALK to them.
See their tips, lists, and check ins without all the extra blah blah blah prescriptive commentary.
You never know when someone random will lead you to a stellar discovery like Tho Po Channa!
4. Avoid Food Fumbles with Foursquare
There's too much good food in Bangkok to waste your time and money with nonsense.
We've already tipped you off to an abundance of restaurants less traveled.
If you've lost count of the amazing places we've shared, start with this list: Top 11 Bangkok Thai Restaurants of 2011: You Don't Want to Miss Them!
Now take advantage of the over abundance of possible feasting and use people's comments on Foursquare to infer your chances of having great experiences.
5. Collect Bonuses & Discounts All Over Bangkok
Now it hasn't caught hold as much in Bangkok as it has in other places, but restaurants occasionally offer specials for people checking in and frequenting their place.
Special hidden menu dessert item from Thai Room? Hellsss Yeah!
I don't see them often, but when I do catch one from my favorite restaurants I  jump on it!