7 Top Thai Food Blogs to Follow in 2012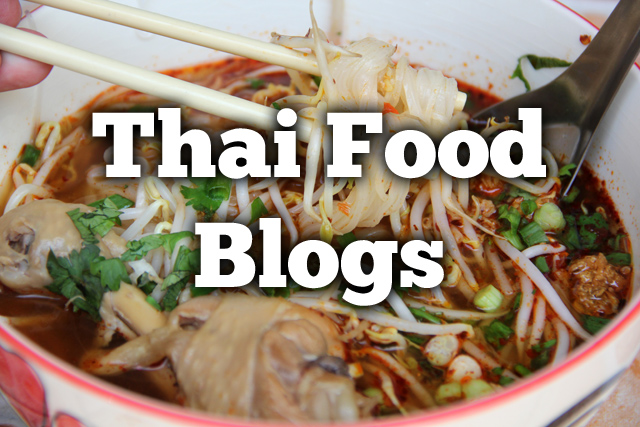 Listed below are 7 of the most delicious Thai food blogs (English blogs) to follow in 2012:
1. Enjoy Thai Food
Richard Barrow is the Thai food lover behind Enjoy Thai Food.
He blogs about an assortment of all things Thai food and tackles some awesome street food challenges as well as things like the Thai school lunch challenge.
Among the articles that Richard posts, he also handles the task of reporting live food events like the annual Thai vegetarian festival from his twitter account.
Website: Enjoy Thai Food
2. Austin Bush
Austin Bush's food blog is by all means one of the top Thai street food blogs in Thailand. When he publishes an article, you can be guaranteed that it will be about a street stall that is worth visiting.
His knowledge of Thai food paired with his amazing food photography is a mouthwatering combination – I get a lot of food photo inspiration from reading his blog!
Along with street food reviews, Austin hits the kitchen occasionally and publishes awesome recipes for speciality dishes like kuaytiaw phat puu (noodles stir fried with curry paste and crab).
Website: Austin Bush Food Blog
3. Thai Food Master
Looking for truly authentic Thai recipes?
As the name of his blog suggests, Hanuman is an absolute master when it comes to cooking, taking photos and writing recipes. His aim is to preserve the traditional side of Thai food, the recipes and dishes that are slowly being forgotten in modern Thailand.
Many of the rare dish combinations he covers aren't even available at restaurants throughout Thailand, but are strictly home style dishes.
You know the common dish of tom yum goong? Hanuman takes it to the next level and demonstrates how to cook a much more complicated (and impressive) tom yam goong thaawt man daawk sa noh (Thai tom yum prawn soup along with fried cakes made from sa noh flowers)!
It's also worth mentioning that the Thai Food Master is an expert at linguistics and really translates food terms with precision.
Website: Thai Food Master
4. Bangkok Glutton
As a freelance journalist and the author of Bangkok's Top 50 Street Food Stalls, the Bangkok Glutton is a fantastic writer.
Her Thai food blog covers entertaining rants and thoughts about Thai food as well as restaurant and street food stall reviews.
From the moment you start reading the articles on Bangkok Glutton, hearing things like "10 in the morning, and I am already stuffed" you'll immediately notice that the author is extremely passionate about food!
Website: Bangkok Glutton
5. Riya's Kitchen
Riya's kitchen is full of delicious home style recipes that highlight the use of fresh ingredients, are simple to cook, and are very tasty combinations!
Along with Thai food recipes, Riya also covers a range of international recipes and some restaurant reviews in the mix.
If you are looking for quick Thai food recipes that are easy to follow and sure to impress, head on over to Riya's for some kitchen inspiration! Instead of normal green mango salad, try her recipe for a salmon fillet with green mango.
Website: Riya's Kitchen
6. She Simmers
Leela, the author behind She Simmers, is not only a serious foodie, but she's also extremely knowledgable when it comes to linguistics, history and philosophy. So along with a huge archive of tasty recipes, She Simmers also includes intriguing  thoughts and lots of mouthwatering photos.
She Simmers is one of the best looking Thai food blogs out there and Leela does a great job of maintaining her high standards.
If you like Thai desserts, She Simmers also includes some great sweets recipes like sticky rice with durian coconut cream!
Website: She Simmers
7. Chili Lime Garlic
Avril covers a range of Burmese and Thai recipes as well as tips about cooking and other food related topics like visiting local markets. She's also creative when it comes to putting together dishes like fried rice made with anything in the fridge.
I'll also take this special opportunity to mention that the author of Chili Lime Garlic is a fellow addict of the gloriously pungent spiky and creamy fruit known as the durian! She has a great durian smoothie recipe.
Website: Chili Lime Garlic
Stay tuned for lots and lots more tasty Thai food coming your way in 2012 – you don't want to miss any of it!
By the way…
Do you have a copy of the newly updated Bangkok $1 Menu yet?
The brand new 2012 updated (and upgraded) version now includes 50 Thai dishes to order for just a buck (and the guide is FREE).
Make sure you grab your Free copy here if you don't already have it!
Thanks for tuning in to Eating Thai Food!