Thai Nam Prik – The Local Guide to Thailand's Fiery Chili Sauces!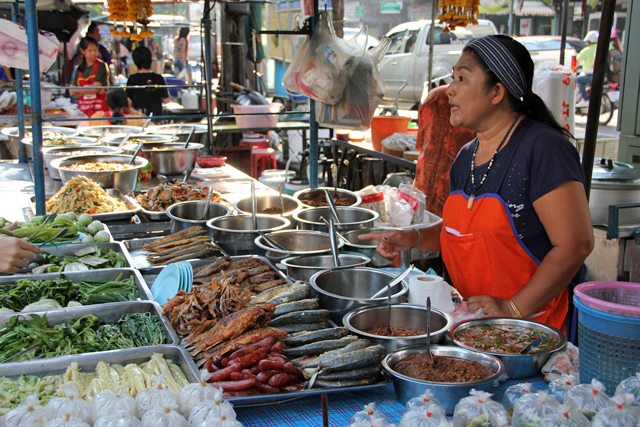 Variations of nam prik are among the most common everyday foods in Thai cuisine.
Yet among non-Thais, nam prik isn't nearly as famous as curries or fried noodles. So here is an ultimate guide in an attempt to make sense of the complex eating culture of Thai nam prik.
What is Thai Nam Prik?
Nam prik is kind of like the "veggies and dip" of Thai cuisine, but instead of carrot sticks, there's boiled bitter melon (and other vegetables) and in place of ranch dressing, it's fermented shrimp paste and roasted chilies!
Nam prik is a very general term for any kind of spicy chili sauce that is normally eaten as a condiment or dipping sauce for fried fish and lots of boiled vegetables.
Though there are a crazy amount of different types of nam prik in Thailand, the most popular variations in Bangkok include nam prik kaphi (chili sauce with fermented shrimp paste), nam prik pla too (chili sauce with de-boned mackerel fish) and nam prik pla raa (chili sauce with fermented fish sauce).
Eating Nam Prik
There seems to be no right or wrong way to eat nam prik in Thailand.
Most Thais eat nam prik along with vegetables and fish and a plate of rice – that's the way I love it too.
There are two main and acceptable ways to go about eating nam prik.
The first is to grab a piece of cabbage or eggplant, dip it into the communal nam prik sauce and put it straight in your mouth.
Double dipping is allowed in Thai dining!
The other way to do it is to grab a vegetable or piece of fish, place it on top of your rice, dip your spoon into the nam prik and put the sauce onto the vegetables sitting on your rice. This way you are able to enjoy your vegetables along with a spoon of rice all flavored with nam prik.
I eat nam prik using a combination of both methods.
In this nam prik guide, we are going to go over a few of the most common types of nam prik.
Nam Prik Kaphi (นำ้พริกกะปิ)
One of the most widely available and popular forms of Thai chili dipping sauce is roasted fermented shrimp paste mixed with lots of chillies, lime juice, sugar, and fish sauce. The result is a grayish pink sauce that's laced with chillies and vibrantly flavorful.
This is one on my favorites.
Nam Prik Pla Ra (นำ้พริกปลาร้า)
With pickled fermented fish as the main flavoring ingredient, it can take a little time to fully get used to – but you just may grow to love eating "pla ra." The flavor is cherished in Isaan food.
This dipping sauce also includes roasted chillies, garlic, fish sauce and lime juice.
Nam Prik Pla Too (น้ำพริกปลาทู)
This famous nam prik is a pounded combination of mackerel fish (like in miang pla too), roasted garlic, onions and chilies, and is flavored with lime juice, fish sauce and a bit of sugar.
It's a mild tasting nam prik that goes well with vegetables or even just plain on rice. This is the wet version, but there are also dry version that can be found.
Nam Prik Pla Too Maeng Da (น้ำพริกปลาทูแมงดา)
One bizarre yet common ingredient in Thai nam priks is the extracted flavor from giant water beetles known in Thai as maeng da (or more technically known as lethocerus indicus).
The water beetles gives the chili sauce a metallic, almost anise like essence that slightly numbs the mouth upon eating. If you didn't know the distinct essence came from a water beetle it would be a challenge to figure out exactly what it was.
Here's a video about eating bugs in Bangkok where you can see the water bugs – in its pure form they taste a little like sour chicken!
Nam Prik Narok Maeng Da (น้ำพริกนรกแมงดา)
With a name that translates to chili sauce form hell, you can expect some heat in this nam prik dipping sauce. Along with masses on chillies, lime juice, and fish sauce, this version is also includes giant water bugs.
Nam Prik Ta Daeng (นำ้พริกตาแดง)
Love fiery spice?
Nam prik ta daeng, meaning red-eye chili sauce, is basically a garnish of pounded dry chillies with a bit of fish sauce and lime juice. It's madly spicy, will add a kick to whatever you put it on, and will probably make your eyes bloodshot.
Nam Prik Pao (นำ้พริกเผา)
She Simmers calls nam prik pao the "secret arsenal" ingredient for Thai restaurants.
While it can be used as a component in stir fry dishes, nam prik pao is also available at nam prik stalls throughout Thailand. It includes roasted chillies, shallots, garlic and palm sugar. Eaten straight, it reminds me of Mexican chipotle smoky chili salsa.
Nam Prik Goong Sot (นำ้พริกกุ้งสด)
Similar to nam prik kaphi, nam prik goong sot also includes shrimp paste and the ever present pounded chillies, lime juice and fish sauce.
What I really love about this sauce are the chunks of shrimp that give it a delicious consistency and an extra delightful taste. This is a popular nam prik in southern Thailand – if you are ever in Krabi, they make it very well and Nong Joke.
Nam Prik Makam (น้ำพริกมะขาม)
Pounded tamarind pulp, garlic, chillies and a few other ingredients are what make nam prik makam so excellent. The tamarind gives it a fruity flavor like a spicy chutney.
I almost always order it from Lan Luam Dtai.
Nam Prik Ong (น้ำพริกอ่อง)
To be honest, I kind of think of nam prik ong as Thai Sloppy Joes.
Of course, the Thai version is much more flavorful and instead of eating it pressed between two buns, nam prik ong is eaten as a dip. Minced pork is combined with a tangy tomatoey sauce that incudes chillies, garlic, lemongrass and fried basil.
If you're ever in Chiang Mai, check out Huan Huay Kaew restaurant for a good nam prik ong.
Nam Prik Noom (น้ำพริกนุ่ม)
To me, nam prik noom is kind of like a Mexican food green salsa. Roasted green chillies, garlic and fresh cilantro are a few of the fantastic ingredients that make nam prik noom so delicious.
Unlike some of the other Thai chili sauces, nam prik noom is very un-fishy and pretty much everyone should enjoy it. Also, aside from fish sauce, nam prik noom can make a great vegetarian Thai food that's healthy and tasty.
Nam Prik Pla Yang (น้ำพริกปลาย่าง)
Grilled fish makes the base for nam prik pla yang. The fish is then deboned and mingled with the familiar nam prik ingredients of fish sauce, lime juice and chillies to create a wonderfully smoked fish flavor.
Eating Nam Prik
As mentioned above, nam prik is not eaten alone, but rather along with fried fish, boiled or blanched vegetables, and often plates of rice.
Here are a few things to eat along with nam prik:
Pla Too Tod (ปลาทูทอด)
Very common for traditional Thai food is pla too (mackerel fish), fried up and served along with nam prik.
Pla Kem Dat Diew (ปลาเค็มแดดเดียว)
Dried and deep fried is what makes pla kem dat diew so tasty, and the entire thing is edible including the bones, skin and flesh. Taking a bite is like biting into a potato chip, just much more flavorful, especially when dipped in a nam prik of choice.
Pla Kem Tod (ปลาเค็มทอด)
Similar to pla too tod, this version is salt cured and then deep fried. The deep saltiness ingrained into the fish paired with the crunchy exterior gives each bite a salty kick.
Goon Chiang (กุนเชียง)
Even Chinese salty sausage is popular with nam prik. Porky and oily, some choose to ditch the vegetables altogether and go with greasy pork sausage!
The sausage is similar to a few of the items on the enticing Chinese street cart.
Pak Dtom (ผักต้ม)
Boiled vegetables are what make eating nam prik normally a healthy Thai food option.
For takeaway, you'll be able to select a bunch of different green and natural veggies, pile them on a plate and bag them up.
At restaurants, nam prik will be served with whatever vegetables the restaurant chooses – both raw and cooked.
Cucumbers (Taeng Gwa แตงกวา)
Thai Eggplant (Makua มะเขือ)
Neem (Sadao สะเดา)
Bamboo Shoots (Nor Mai หน่อไม้)
Thai Bitter Melon (Mara Kee Nok มะระขี้นก)
Cauliflower (Galam Dok กะหลำ่ดอก)
Humming Bird Tree Flowers or Sesbania Grandiflora (Dok Khae ดอกแข)
Okra (กระเจี๊ยบ)
Winged Bean (Tua Plu ถั่วพลู)
Longbeans (Tua Fuk Yao ถั่วฝักยาว)
Cabbage (Galam Bplee กระหลำ่ปลี)
Mustard Greens (Pak Gwang Toong ผักกวางตุ้ง)
These are by all means not all the vegetables you may encounter, there are so many more.
Whether you grab some nam prik from a local market or if you order a nam prik platter at a sit down Thai restaurant, remember to include it as a main dish, right up there with the most famous of curries and stir fries!