51 Explicit Thai Food Pictures that Will Make Your Mouth Water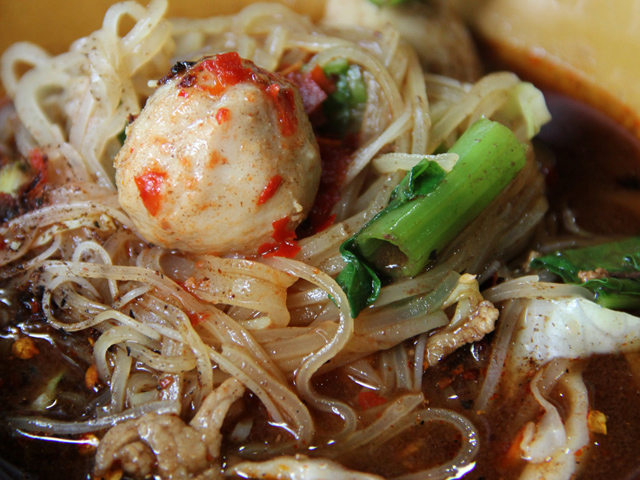 WARNING:
This post contains extremely graphic Thai food pictures that are guaranteed to make your mouth water. You may want to grab a snack before you proceed…
COMMON SIDE EFFECTS:
stomach growling, mouth watering, drooling, food sweats, food anxiousness, massive binge attacks, occasional unintentional farts
Now that we got the serious liabilities out of the way…
…you may proceed to scrolling down into the explicit Thai food photos.
Here are 51 Thai Food Pictures guaranteed to make your mouth water!
1. Boat Noodles (kuay teow reua) ก๋วยเตี๋ยวเรือ
Say goodbye to flavorless mushy soup noodles; Boat Noodles are the definition of flavor exploding ambrosia in a bowl. With each bite comes a guaranteed burst of joy for any Thai food lover.
Head to boat noodle alley for awesome boat noodles, located near Victory Monument. Also check out this boat noodle video!
2. Minced Pork Salad (larb moo) ลาบหมู
Few dishes can arouse the taste buds like a spicy plate of Thai minced pork mixed with onions and dried chili flakes. Smother it in lime juice and fish sauce and you've got an exciting dish that perfectly compliments a blob of sticky rice!
3. Spicy Green Papaya Salad (som tam thai) ส้มตำไทย
One of the most iconic Bangkok street food dishes is som tam – shredded green papaya mixed with tomatoes, peanuts, dried shrimp and bathed in a fresh dressing of fish sauce, lime juice, sugar and lots of Thai chillies!
4. Needle Mushroom Seafood Salad (yam het kemtong) ยำเห็ดเข็มทอง
The combination of seafood, needle mushrooms, sweet onions and ripe bursting tomatoes is always a good idea! This is one of the most brightly colorful Thai food pictures on the list!
5. Thai Egg and Pork Omelet (kai jeow moo saap) ไข่เจียวหมูสับ
If there's one Thai food that really represents that necessary culinary comfort of Thailand, it's a Thai egg and pork stuffed omelet. Cooked in lots and lots of oil, served over a bed of hot steamed rice and topped with tomato sauce (sauce prik), you just can't go wrong!
6. Fire Red Southern Fish Curry (choo chee blaa) ฉู่ฉี่ปลา
The coconut is a very special fruit that is used as the secret ingredient in all kinds of Thai curries (and in Sri Lankan food too). You don't want to visit Thailand and miss a saucy coconut infused curry called 'chu chee' that's for sure! And if you follow our lead, you may even find a vegetarian rendition of this infamous southern Thai curry!
7. Shrimp Flavored Rice with Toppings (khao kluk kaphi) ข้าวคลุกกะปิ
With a color wheel of diverse and tasty flavors, khao kluk kaphi is a breakfast morning wake up call to the mouth.
The foundation is shrimp paste fried rice and on top are red onions, shredded sour mango, chopped green beans, chili peppers, sliced egg, sausage, pork, and cucumbers.
One of my favorite dishes off the Bangkok $1 Menu.
8. Rice Noodles in Coconut Curry (khanom jeen nam ya kati) ขนมจีนน้ำยากะทิ
The southern Thai version of nam ya kati curry over soft rice noodles is like heaven in a bowl. Fish is boiled until it basically disintegrates into a medley of coconut milk and chilies and served with a few raw veggies. Outstanding!
9. Squid with Holy Basil (pad gra pao pla meuk) กระเพราปลาหมึก
Pad gra pao is one of the ubiquitous dishes of Thailand – omnipresent and almost never bad.
When you don't know what to eat, it's the wildcard dish that anyone and everyone can cook. Though it's popularly made with pork, I prefer to get mine with shrimp or squid!
10. Thai Rice and Chicken Biryani (khao mok gai) ข้าวหมกไก่
Infused with Indian flavored spices like turmeric and jeera, khao mok gai is the Thai version of chicken rice biryani. When you get a good plate, the rice should melt in your mouth and the chicken should slide right off the bone with ultimate tenderness!
Go to Areesaa Lote Dee for an outstanding plate of khao mok gai in Bangkok.
11. Stir Fried Cabbage, Egg and Minced Pork (galam blee pad kai sai moo saap) กะหล่ำปลีผัดไข่ใส่หมูสับ
Sometimes it's just simple combinations of ingredients cooked with precision that are the most tasty. Cabbage stir fried with minced pork and smothered in an egg is one of those simple and killer combinations!
The Pumpkin Lady knows this recipe to perfection.
12. Pork and Bamboo Shoots with Holy Basil (pad gra pao moo saap sai normai) กระเพราหมูสับใส่หน่อไม้
Another version of the wildly popular Thai stir fried holy basil dish includes julienned bamboo shoots, adding a lovely twist to the strictly meat variation!
13. Southern Thai Dry Pork Curry (kua kling moo) คั่วกลิ้งหมู
One of my all-time favorite Thai dishes is Kua Kling, a scrumptious Thai dry curry.
Imagine a soupy curry that is dehydrated, yet all the flavor and spice remains and fills up in the meat like a sponge. A few fragrant slices of kaffir lime leaves add to the amazingness!
Head over to Lan Luam Dtai restaurant for some serious southern Thai food.
14. Grilled Pork Salad (nam tok moo) น้ำตกหมู
It's safe to say that pork lovers won't be disappointed with nam tok moo.
There's really not much to dislike about sliced tender juicy cuts of pork combined with onions, chilies and toasted rice flakes all  dressed in the tongue pleasing combo of fish sauce and lime juice.
15. Pad Thai (pad thai) ผัดไทย
I'm not normally a huge fan of the ever famous fried noodle dish of Pad Thai – unless it contains giant meaty prawns, like the one above! Then it can be pretty good!
16. Thai Pork Satay (moo satay) หมูสะเต๊ะ
If grilled skewers of succulent pork marinated in coconut milk and turmeric isn't enough to make your mouth water with lust, the glorious peanut sauce will surely do the trick.
17. Deep Fried Catfish Fluff with Mango Salsa (yam pla duk foo) ยำปลาดุกฟู
When I first came to Thailand I wasn't all that fond of deep fried fluffy-ness…but then I smothered a bite in the green mango spicy sour sauce and my love affair began.
Try the yam pla duk foo at Lan Isaan Lom Yen on Soi Rangnam.
18. Deep Fried Mushrooms (het tod) เห็ดทอด
Imagine potato chips coated on mushrooms and smothered in tomato sauce and chilies and you've got yourself a plate of ultimate deep fried mushrooms.
Get this glory from Baan Suan Pi (aka Banana Family Park) at Ari BTS station.
19. Northern Thai Sausage (sai ooah) ใส้อั่ว
These fatty Thai pork sausages are the enemy of any weight loss diet plan, but WOW are they tasty! Thai food pictures don't get more tantalizing than this!
20. Smoked Catfish Salad (larb pla duk) ลาบปลาดุก
I have a slight addiction to larb pla duk. It's just hard to beat a combination that includes smoked and deboned catfish, onions, mint sprigs, garlic and fried chilies!
21. Thai Style Oyster Salad (yam hoy nang lom) ยำหอยนางรม
If you're into the delights of raw oysters, you'll be living in heaven when you get your hands on a plate of shelled Thai style oysters. With each bite you add a fried onion, a dab of roasted chili sauce and a sprig of herb. Guaranteed to melt in your mouth!
Get them at Kuang Seafood restaurant.
22. Chicken Fried with Chili (gai pad prik gaeng) ไก่ผัดพริกแกง
Pad prik gaeng is one of my favorite go-to dishes when I just need something quick and tasty. Chicken stir fried with string beans in chili paste over rice never fails to deliver the flavor!
Order this at any general Thai food restaurant or street food stall.
23. Pork Ribs in Roasted Chili Sauce (seekong moo pad prik pao) ซี่โครงหมูผัดพริกเผา
Tender juicy lip-licking pork ribs stir fried in roasted chili sauce and basil is hard to trump. There are very few single mouthfuls that are as pleasing as this! This is one of those Thai food pictures my mouth can already taste, just from looking at it!
24. Chicken and Holy Basil with Fried Egg (pad gra pao gai kai dao) กระเพราไก่ไข่ดาว
It's the fried egg and its yellow yolk that oozes all over the rice that really makes pad gra pao awesome. This simple Thai dish over rice  leaves bellies throughout Thailand happy and satisfied.
25. Mixed Tofu (tao hoo song kreung) เต้าหู้ทรงเครื่อง
You might shutter at the sound of tofu…but what if it's first deep fried and then stir fried with pork and onions and other tasty ingredients? You literally don't even have to chew the creamy chunks of tofu as they melt in your mouth!
26. Chicken Fried Rice (khao pad gai) ข้าวผัดไก่
Fried rice is yet another Thai comfort food and though it's simple to make, it's flavorful and delicious – especially with some extra chilies and a squeeze of lime juice!
27. Fish Kidney Curry (khanom jeen gaeng dtai pla) ขนมจีนแกงไตปลา
One of the top dishes of southern Thai cuisine is a dark stew like curry filled with carrots and yams and flavored with salty fish kidney. I've heard it's an acquired taste, but once you dig it, you can't get enough!
Gaeng dtai pla is best enjoyed at places like the Krabi market, but you can also get it in Bangkok at Lan Luam Dtai or Puk Tai Dao.
28. Stir Fried Wide Rice Noodles (pad see ew) ผัดซีอิ๊ว
Fried noodles in Thailand are always tasty and pad see ew is one of the most widely enjoyed. The dish consists of wide rice noodles along with a bit of kale or cabbage, an egg mixed in and seasoned with soy sauce.
Head over to Ma Yodpak Radna at Ratchawat Market for a pretty good pad see ew lunch.
29. Thai Seafood Soup (tom yum talay nam sai) ต้มยำทะเลน้ำใส
The tongue pleasing flavors that come with a spoonful of home-made tom yum are almost unexplainable. I like my tom yum made with mixed seafood, roasted chili sauce and an absurd amount of lime juice!
Make it yourself, try this easy Thai tom yum soup recipe.
30. Thai Beef Curry (gaeng neua) แกงเนื้อ
Rich creamy spiced coconut milk curry is hard to beat… especially when it is the sauce for tender chunks of beef!
I ate this one down south in Krabi at the awesome Abdulloh Muslim restaurant.
31. Thai Chicken Yellow Egg Curry (gai pad pongali) ไก่ผัดผงกะหรี่
It's impossible for me to keep my mouth from salivating when I see one of the Thai food pictures of  gai pongali curry. Yellow curry powder fried with a choice of meat or seafood and curdled with an egg is my kind of Thai street food!
32. Fried Fish with Sweet Chili Sauce (pla chon tod lad prik) ปลาช่อนทอดลาดพริก
It was surely a BKKFatty that came up with this one. Slice the fish thin, deep fry it so basically the entire piece is crunchy (through and through) and smother the plate in sweet sour chili sauce.
It's a little outside of central Bangkok, but get this in it's most glorious form at Tho Po Channa restaurant.
33. Thai Beef Soup (soup neau) ซุปเนื้อ
While beef is rarely as good as pork in Thailand, if you go to an Islamic restaurant you will have the decision to devour a bowl of piping hot fall apart tender beef soup (and I'd highly recommend it).
A few garnishing green onions, some slices of chili and a squeeze of lime add to this Thai soup perfection.
34. Thai Fresh Lettuce Wraps (miang pla too) เมี่ยงปลาทู
The sauce is the boss when it comes to miang pla too. You take a piece of lettuce, add a few khanom jeen noodles, some fried mackerel, a few herb sprigs and a spoon of sauce, wrap it up like a burrito and you'll have a little one bite wonder!
Best to get miang pla too at the market in a take-away bag.
35. Stir Fried Fish with Celery (pad pla keun chai)
A sure way to win my friendship is with a grade-A quality plate of fish stir fried with baby celery leaves, garlic and chiles. If it's made right, I literally can't get myself to stop eating this dish!
36. Perfect Bite of Roasted Fish (pla pao) ปลาเผา
Nothing tantalizes me more than a bite of flaky roasted fish smothered in Thai green chili sweet and sour seafood sauce. It's a sensation that is embedded in my mouth forever! This is one of the Thai food pictures that really get's me aroused!
37. Thai Omelet with Acacia Shoots (cha om kai) ชะอมไข่
This is the Rolls Royce of Thai omelet varieties. Fragrant acacia shoots are added to the raw egg before it's fried in a hot thick layer of grease and serve normally with nam prik kaphi (fermented shrimp chili sauce).
38. Shrimp Chili Sauce (nam prik goong sot) น้ำพริกกุ้งสด
A section of Thai food is known as nam prik or various chili dipping sauces for steamed veggies. This version is made with chunks of shrimp and is a robustly flavorful combination of ingredients!
If you're in Krabi, grab this at Nong Joke.
39. Grilled Pork Sticks (moo ping) หมูปิ้ง
You won't have any problem locating pork in the street food kingdom of Thailand. Pig in its purest form is lightly marinated, grilled and enjoyed with little baggies of sticky rice.
You can't walk more than a few hundred meters in Bangkok without seeing another moo ping stand!
40. Green Chicken Curry (gaeng keow wan gai) แกงเขียวหวานไก่
It's hard to beat a homemade bowl of Thai chicken green curry. It's a mild Thai dish, yet the spices mixed with the heavy coconut cream make for a combination that will warm your heart.
When cooked correctly, the eggplant will be buttery while the peppers and sweet basil remain lightly cooked.
41. Soy Sauce Boiled Duck (bpet paloe) เป็ดพะโล้
Shove aside chicken, and get the good stuff – DUCK! Bept paloe is boiled in sweet soy sauce and when you eat it with a bowl of rice you're guaranteed to be happy.
Tho Po Channa is a little outside of central Bangkok, but worth it if you crave some boiled duck for lunch!
42. Fried Tofu (tao hoo tod) เต้าหู้ทอด
Take just about anything, deep fry it, and include a dipping sauce, and you've got something extremely mouth pleasing. Whether it be tofu or glass noodle filled spring rolls, it's going to be good!
Head on over to my favorite deep fried snack portable truck in Bangkok.
43. Roasted Snakehead Fish (pla chon pao) ปลาช่อนเผา
There are few things even in Thailand that make me more excited than a perfectly roasted snake head fish that's not overcooked. The meat is firm yet flaky and due to the salt rub on the skin it remains juicy and outrageously tasty!
Som Tam Boo Maa does it to perfection!
44. Stink Bean and Shrimp Curry (goong pad sataw) กุ้งผัดสะตอ
The stink bean is something they are rightfully proud of in southern Thai cooking, and it is one of my all-time favorite things to eat in the world. Take the beans, fry them with shrimp and simmer all the ingredients in chili paste and you've got a dish that will make you remember Thailand for the rest of your life.
Get the goodness at Lam Luam Dtai.
45. Grilled Mushroom Sticks (het yang) เห็ดย่าง
This is one of those Thai food pictures you may think is grilled meat, but in reality it is the most delicious stick of grilled mushroom you'll ever taste. These mushrooms are so lip licking good they actually taste like rib eye steak!
Got to get these at Baan Suan Pi – one of the best vegetarian food courts in Bangkok.
46. Thai Red Pork and Rice (khao moo daeng) ข้าวหมูแดง
If crispy pork belly, red barbecued pork, fried Chinese sausage, salted boiled egg and a ladle full of sweet red gravy sauce don't get your heart pumping, you're probably vegetarian.
It's a bit of a trek, but I have a suggestion for the best khao moo daeng in Bangkok.
47. Ice Cream Sandwich (itim khanom pang) ไอติมขนมปัง
Ice cream is one of the most popular Thai desserts in the country. Biting into a soft bun filled with a few scoops of fresh coconut ice cream is always a good time!
48. Durian (toorien) ทุเรียน
Did you really think I was going to make a Thai street food list without a tribute to the ultimate king of fruits?
Impossible.
Of all the Thai food pictures, this creamy bite of ripened durian is the one that elevates me into the highest form of culinary  enlightenment. It brings back those vivid positive memories of that legendary durian buffet in Kuala Lumpur.
49. Roasted Bananas in Syrup (gluay tap) กล้วยทับ
Ripened bananas roasted over an open bed of coals and smothered in sweet caramel like sauce is the creation of a genius. I'm not a big snacker (I prefer to save myself for entire meals), but I just can't pass up a Thai street food stall that's vending gluay tap!
50. Fruit (ponlamai) ผลไม้
Simply stated: If you aren't taking advantage of Thailand's outrageously abundant tropical fruit supply, you're missing out!
If you like your fruit blended, go to Talat Nang Loeng for the best fruit shake in Bangkok.
51. Thai Fruit Salad (som tam ponlamai) ส้มตำผลไม้
Thais are the absolute masters when it comes to mixing and matching the most diverse flavors known to man.
Ordinary fruit salads are plain boring, so in Thailand they add flaming red chillies, peanuts, and a dressing that includes fish sauce, sugar and lime juice – YUMMM!
Hungry? Is your mouth watering yet?
Thanks for taking a look at these 51 Thai food pictures.
If you enjoyed this post I would really appreciate you sharing it with your friends (click on the Facebook or Twitter icons to the left)! Also if you don't already have a copy of the Bangkok $1 Menu, just click here to grab a copy (it's free).
What Thai dish really makes your mouth water?