3 Reasons NOT to Miss World Food Day's Big Bite Bangkok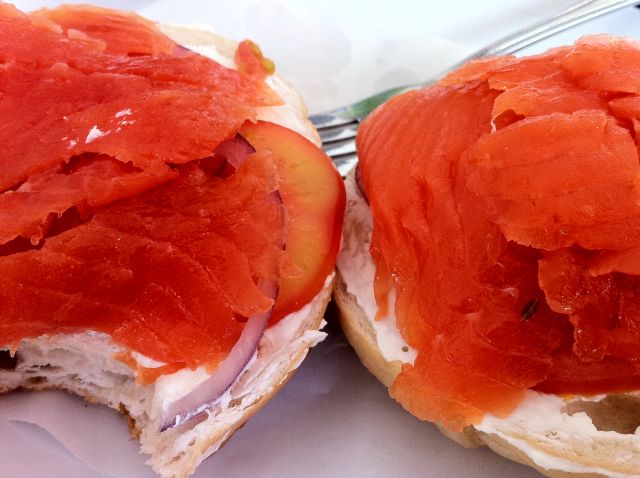 We're hosting an event for foodies on October 16th, 11-3pm at Maduzi Hotel called Big Bite Bangkok! Here's three big reasons you won't wanna miss it.
Reason #1 – Take Big Bites & Share with Fellow Foodies
You can think of Big Bite Bangkok as a tasting party. This isn't a giant food fair with a bajillion random options, but instead, a few places making great food that we really admire. All of the vendors showcasing their food will have big bites for you to try and bigger than bite size portions you can buy if you like what you taste.
That means…
You can commit carbicide running between Bangkok's best bread makers BKK Bagel Bakery, Rosarin Baked & More, and Urban Pantry…
OR…
Pretend you're in a Thai family's living room with food from the Pra Jane Community & the Satorn Housewives Group.
OR…
Let our international big bites take your on a tasty journey to places you've never been (or tasted) like Hue province in Vietnam!
Food photos will be encouraged, just remember to share on twitter using the #BKKFatty tag or show us what you're eating by posting on the Eating Thai Food facebook page.
Reason #2 – Your Body May Thank You
Don't tell the BKKFatty crew, but there will be healthy food featured at Big Bite too.
When we went vegetarian for a month, we did some crazy-random things like taking Dehydrated MLC's raw food chocolate preparation class (Click here to see the video). We made friends with Jennifer, the raw food chef who taught the class, and she's bringing tasty raw food bites you'll be able to sink your teeth into guilt-free on Sunday.
In addition to discovering raw food for the first time, we found a bevvy of places who make wonderfully prepared food using organic ingredients. Make sure you look for big Mediterranean style bites from Birds in a Row and veggie bites from Auntie Tu's vegetarian Thai food.
Reason #3 – Celebrate World Food Day
October 16th is the day the world celebrates World Food Day by raising funds for organizations working to end hunger.
World Food Day is celebrated in 150 countries, if you're reading from some place besides Thailand, there may be another event in your area.
The cost to join our World Food Day celebration in Bangkok is  200 THB. The money we collect at the event will be donated to In Search of Sanuk, a charity I started that helps provide education opportunities to kids from at risk or lower income communities. The word sanuk is Thai for fun, so come have fun and help us support the important work we're doing.
Get more info on Big Bite on our Facebook invite and see you there!