11 Best Thai Restaurants in Bangkok in 2015 (That I Ate At)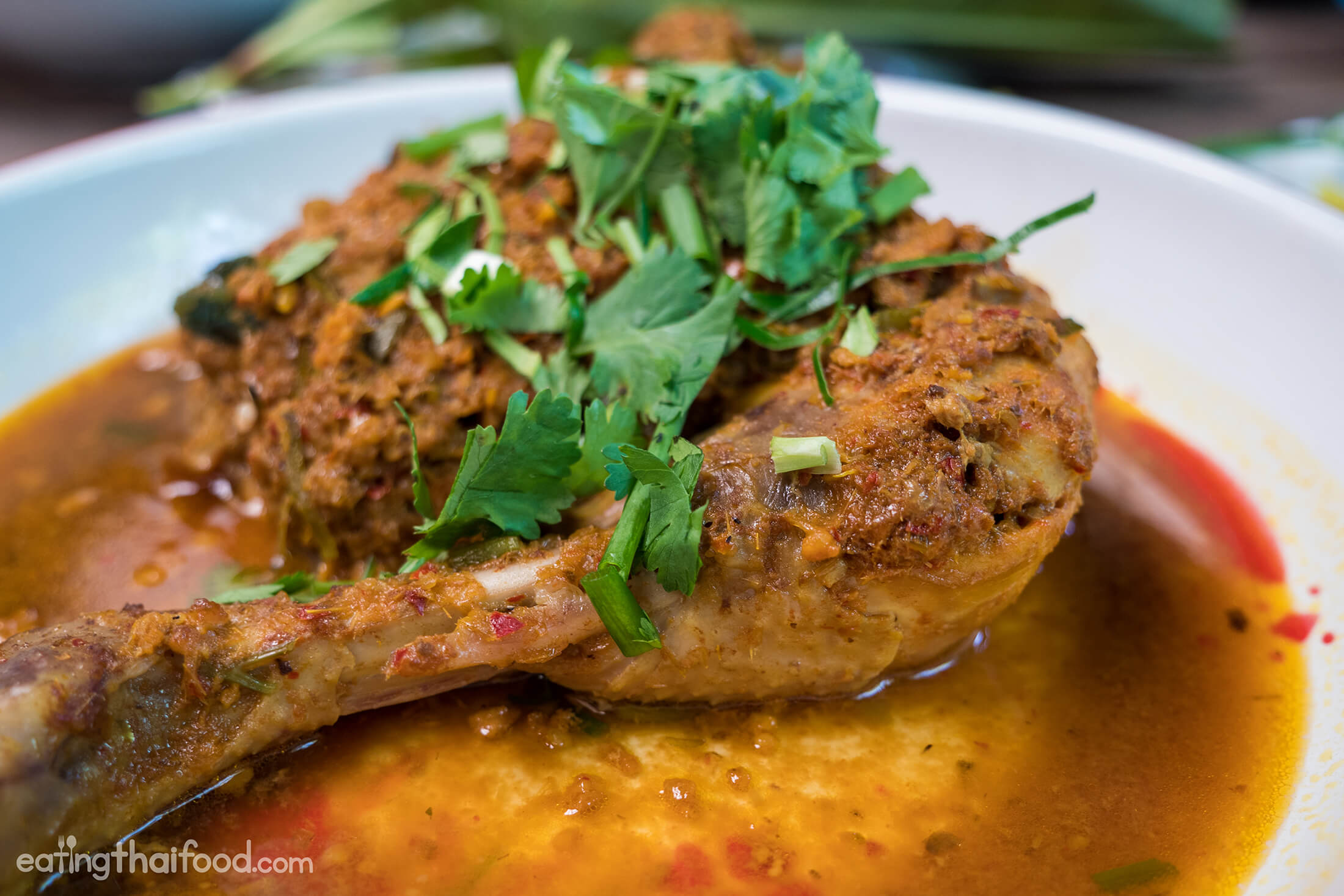 Hello Thai food lovers!
Hope you had an amazing year of eating Thai food in 2015. In this blog post I wanted to share with you 11 of the best Thai restaurants in Bangkok that I ate at in 2015.
You'll also find information on each restaurant so you can hopefully eat there and enjoy it too.
In 2015 I did quite a bit of traveling, but I did have a few good solid months in Bangkok, and had a number of seriously delicious meals.
NOTE: Also, before we get into this list, I want to make it clear that these are the 11 best Thai restaurants I tried for the first time in 2015. You can read through my full list of favorite restaurants in Bangkok of all time here, but this blog post is focused only on this year, and where I personally ate.
I was going to try to put the restaurants in order, but I couldn't… they are just all so good and serve such different food. So they are in no particular order.
Here are my 11 top picks for best restaurants that I ate at in Bangkok in 2015:
1. Khao Tom Bawon (ข้าวต้มบวร)
I like every type and genre of Thai food, but one of my personal dinner favorites, is a khao tom restaurant – what is typically a Thai Chinese style restaurant that serves mostly stir fried and braised dishes, which are nice and salty and can be eaten with either rice soup (khao tom) or regular rice.
Khao Tom Bawon (ข้าวต้มบวร) is a longstanding khao tom restaurant in Bangkok located across the street from Wat Bawon temple, and just a stones throw from Rambuttri.
The boo kai dong yam (ปูไข่ดองยำ), a raw blue crab egg salad packed with chilies and garlic, is delicious, and also they also have a steamed shrimp version, which is equally as marvelous.
Address: 243 Phra Sumen Rd, Wat Bowon Niwet, Phra Nakhon, Bangkok 10200, Thailand
Open hours: 4 pm – 3 am daily
2. Mit Ko Yuan (ร้านมิตรโกหย่วน)
During 2015 I had a chance to explore, pretty extensively, the Sao Chingcha area of Bangkok – also known as the Giant Swing. In my opinion, with a great selection of legendary restaurants that have been serving the same dishes for decades, it's one of the best restaurant areas of Bangkok.
Mit Ko Yuan (ร้านมิตรโกหย่วน) is nothing fancy, just a typical looking shophouse restaurant, but the food they serve is simply fantastic.
One of their most famous dishes is tom yum goong (ต้มยำกุ้ง), and I think it's one of the best in Bangkok. They even make very simple dishes, like stir fried vegetables, taste extremely good, by using just the right amount of seasoning and stir frying in the right amount of oil and on the right heat.
Address: 186 Thanon Dinso, Phra Nakhon, Bangkok 10200
Open hours: 11 am – 2 pm for lunch and 4 pm – 10 pm for dinner
3. Saeng Chai Pochana (ร้านแสงชัยโภชนา)
Located on Sukhumvit Soi 32, Saeng Chai Pochana (ร้านแสงชัยโภชนา) is one of the better Thai Chinese khao tom and seafood restaurants that I ate at in Bangkok in 2015.
In the evening they set up a couple tables along the sidewalk, but the main dining room is inside one of the shophouse rooms. The menu is massively extensive, with just about every seafood and pork Thai Chinese combination imaginable.
One of the best dishes I had was pla gao tod gratiem prik Thai (ปลาเก๋าทอดกระเทียม), a deep fried brown marbled grouper topped in a mountain of incredibly crispy garlic and black pepper.
Address: 762/5-6 Sukhumvit Road, Soi 32 – Right on the main Sukhumvit Road
Open hours: 6 pm – 4 am daily
4. Tom Yum Goong Banglamphu (ร้านต้มยำกุ้งบางลำพู)
Being one of my favorite Thai dishes, I'm always on the look-out for famous restaurants in Bangkok that serve tom yum (I even love tom yum so much it's the subject of a t-shirt I wear every other day).
Tom Yum Goong Banglamphu (ร้านต้มยำกุ้งบางลำพู) is an average looking street food stall in Bangkok, located just outside the parking lot garage in the Banglamphu area. But even though it's nothing out of the ordinary from appearance, the tom tom yum goong (ต้มยำกุ้ง) is extraordinary.
They also make some seriously stunning other shrimp dishes that you have to try when you eat here.
Address: Thanon Kraisi (right in front of the big Banglamphu car park), Talad Yawd Phra Nakhon, Bangkok, Thailand
Open hours: 9 am – 6:30 pm daily
5. Muslim Restaurant (อาหารมุสลิม)
For years I've walked right past Muslim Restaurant (อาหารมุสลิม), a well known halal restaurant in Bangkok's Bangrak district, and for some reason, I never stopped to eat.
Finally, during 2015 I had a chance to step into this classic restaurant for breakfast, and most of what I ordered turned out to be delicious. The khao mok pae (ข้าวหมกแพะ), biryani rice with goat, is a must-order, with a tender hunk of meat combined with fragrant and fluffy rice and a curry sauce.
Also, don't miss their excellent mataba(มะตะบะ), a stuffed roti, which they do very well. Along with the food, you can't help but love the classic wooden booths, and turquoise floor tiles.
Address: 1354-1356 Charoen Krung Soi 42, opposite corner from Lebua State Tower
Open hours: 7 am – 4 pm daily
More details coming soon.
6. Som Tam Sida (ส้มตำสีดา)
I didn't eat at Som Tam Sida (ส้มตำสีดา) for the first time in 2015, but I din't go for a while (maybe it was even a year or two), and I re-ate here this year, and finally blogged about it.
And since the Isaan food is so good here, I decided I had to include it in this years best Thai restaurants in Bangkok 2015. The restaurant is located smack dab in the middle of Wang Lang Market (one of my favorite markets in Bangkok).
Their som tam (ส้มตำ green papaya salad) of all variations is excellent, as are their grilled meats and Isaan sausage. But probably my ultimate favorite dish at Som Tam Sida (ส้มตำสีดา) is their version of laab pla duk (ลาบปลาดุก), a smoky catfish salad.
Address: 112/6 Soi Wang Lang, Thanon Arunamarin, Bangkok 10700 (right in the middle of Wang Lang Market on the walking alley)
Open hours: 9:30 am – 6:30 pm daily
7. Heng Chun Seng (ร้าน เฮ้งชุนเส็ง)
I had to include one more oldie but goodie restaurant on this list – only because I ate here many years ago, and then kind of forgot about it, and then re-ate here again this year.
While they do serve Thai beef noodles at Heng Chun Seng (ร้าน เฮ้งชุนเส็ง), the most famous dish to eat, and the dish I'd recommend is the maw fai ruam (หม้อไฟรวม), a Thai flaming fire pot of assorted beef and organs all within a beautiful garlicky broth. You can also just just get braised beef (without the innards) in your fire pot if you'd prefer (หม้อไฟเนื้อเปื่อย).
Address: 133 Thanon Sunthon Kosa, Rama 4 Road, on the backside of Khlong Toey Market
Open hours: 8 am – 4:30 pm daily
8. Pa Krua Tuan (ร้านพ่อครัวเถื่อน)
On our last and final day of the 2 Weeks In Bangkok travel video guide series (a series of videos where I traveled around Bangkok and went to all sorts of attractions and ate at some marvelous restaurants), I went to Pa Krua Tuan (ร้านพ่อครัวเถื่อน).
Pa Krua Tuan (ร้านพ่อครัวเถื่อน) is yet another legendary old restaurant on Charoen Krung road, a restaurant that has been passed down for a couple of generations already.
They serve mostly a menu of steamed and boiled dishes which are exceptionally simple and delicious. I really loved the mara toon seekrong moo (มะระตุ๋นซี่โครงหมู bitter melon with pork ribs), and one of the best versions of kai toon (ไข่ตุ๋น steamed egg) that I've ever had in Bangkok.
Address: 2351/26 Charoen Krung Soi 91, inside the alley a little bit
Open hours: 9 am – 4 pm from Monday – Saturday (closed on Sunday)
More details coming soon.
9. Charoen Saeng Silom (ร้านเจริญแสง สีลม)
If you're a pork lover, eating a braised pork leg at Charoen Saeng Silom (ร้านเจริญแสง สีลม) will be a dream come true.
Located down an alley off of Charoen Krung road in Bangrak (not far from Silom), this legendary kha moo (ขาหมู) restaurant in Bangkok is a huge local Thai favorite for Thai Chinese style braised pork legs and knuckles.
The pork is out of control tender and will melt in your mouth. Wow it's good!
Address: 492/6 Charoen Krung 49, Bangkok 10500 – You have to walk into the alley a little.
Open hours: 8 am – 2 pm daily
More details coming soon.
10. Hia Wan Khao Tom Pla (ร้านเฮียหวานข้าวต้มปลา)
Freshness of the fish and seafood at Hia Wan Khao Tom Pla (ร้านเฮียหวานข้าวต้มปลา) is the most important things about eating here. The main dish they serve is khao tom pla (ข้าวต้มปลา), a simple dish of fish and rice soup, and the fish is incredibly fresh and meaty.
They also make a really good version of luak jim ruam mit (ลวดจิ้มรวมมิตร), a mixture of seafood boiled and topped with Chinese celery and crispy garlic.
The type of food at Hia Wan Khao Tom Pla (ร้านเฮียหวานข้าวต้มปลา) is simple and plain, but the freshness of the seafood is what shines.
Address: Thanon Chan 32/2 Tung Wat Don, Sathon, Bangkok
Open hours: 5 pm – 12 midnight daily (closed on some Chinese holidays)
11. Man Muang (ม่านเมือง)
Despite it being extremely delicious, northern Thai food isn't all that common in Bangkok. So when I hear about a good northern Thai restaurant, I have to check it out.
Unfortunately Man Muang (ม่านเมือง) is located a bit far outside of central Bangkok along Ramkhamhaeng, but it's worth the journey to get there if you're looking for one of the best northern Thai restaurants in Bangkok.
The khao soi gai (ข้าวซอยไก่ curry noodles) is rich and flavorful, the gaeng hanglay (แกงฮังเล northern Thai curry) is sour and packed with spice, my personal favorite dish is gai neung (ไก่นึ่ง steamed chicken), a steamed chicken leg topped in a heap of curry paste.
Address: Thanon Ramkhamhaeng 112, Sammakon Soi 16
Open hours: 9 am – 8 pm daily
Conclusion
The amount of great restaurants and street food stalls in Bangkok is mind-blowing, and it's such a joy to be able to spend a year exploring and discovering delicious food in the city.
Hope you enjoyed these 11 of the best Thai restaurants in Bangkok that I ate at in 2015. For more information, check out my full list of all time favorite restaurants here.
Now I want to hear from you: What was the best Thai restaurant you ate at this year (anywhere in the world)?