Excellent Vegetarian Food in Phuket at Jiya Chai (ร้านเจี๊ยะฉ่าย)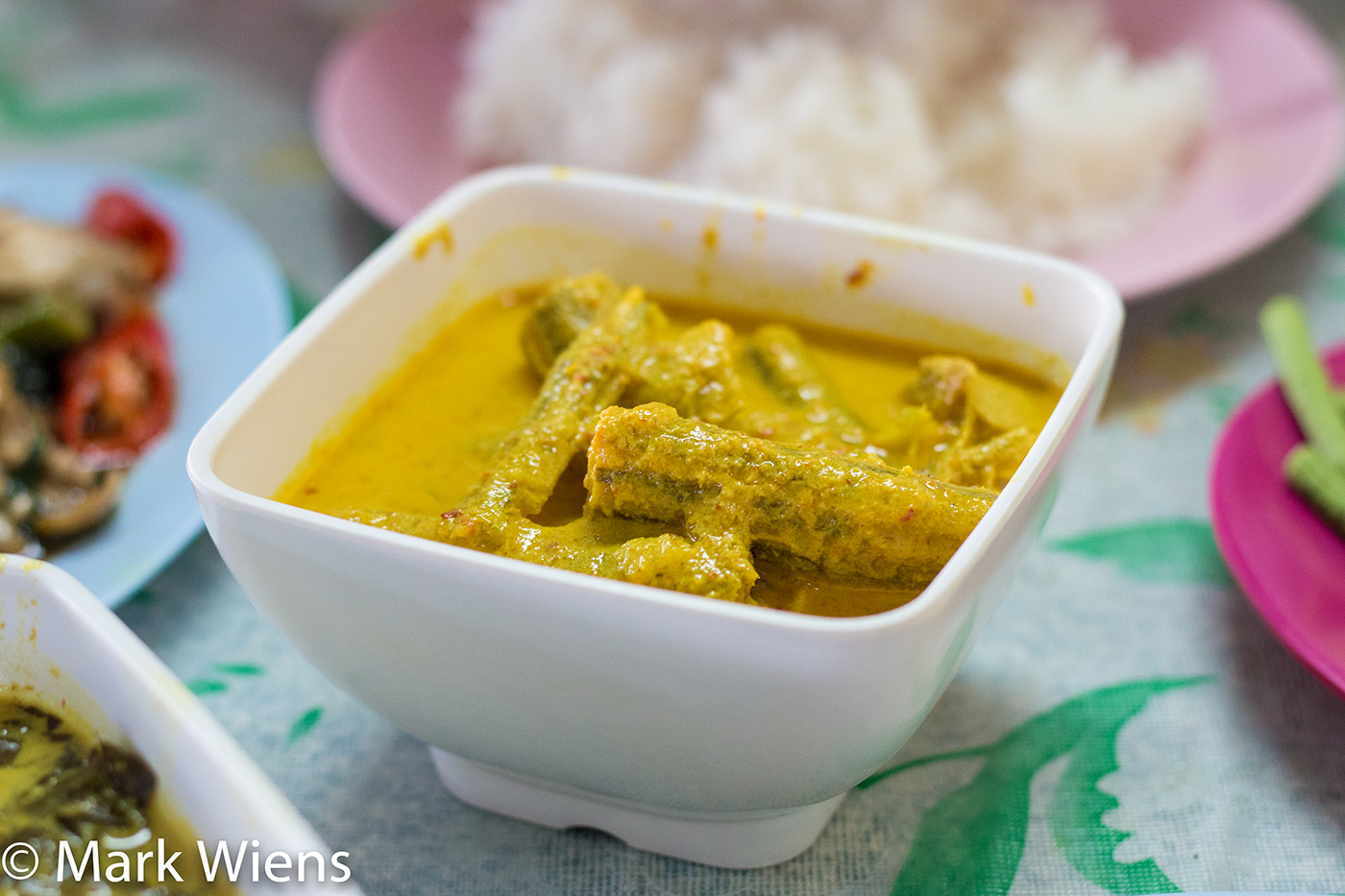 Looking for Thai vegetarian food in Phuket?
By far the most famous destination in Thailand to eat vegetarian food is on the island of Phuket, especially in Phuket Town.
After taking a hike up the hill, my wife and I took a stroll over to Ranong Road near the Jui Tui Shrine, where there's a concentration of many local vegetarian restaurants.
We chose to eat at a restaurant called Jiya Chai (ร้านเจี๊ยะฉ่าย), and we had an incredibly satisfying vegetarian meal.
Whether you're vegetarian or not, eating a vegetarian Thai food meal in Phuket is something you should try.
You'll probably be pleasantly surprised!
Phuket vegetarian festival
You might know about the annual Thai vegetarian festival (known in Thai as Tesagan Gin Jay).
While the festival is celebrated nationwide now, it originated, and is still the most popular and largest in Phuket.
It was back about 150 years ago when a group of opera performers from China were traveling in the south of Thailand, and they happened to be in Phuket.
The entire group got sick, and after contemplation they found out they were all ill because they had not paid respect to the Nine Emperor Gods from the Chinese Taoist belief.
In order to cleanse themselves, they decided to eat a strict vegetarian diet for a period of 9 days. The festival is not only known for vegetarian Thai food now, but also for the public displays of body mutilations.
The festival of Thai vegetarian food in Phuket lasts for 9 days per year, usually somewhere around September or October.
Ok, so back to Jiya Chai (ร้านเจี๊ยะฉ่าย) restaurant now.
The festival isn't always taking place, but you can always get vegetarian Thai food in Phuket throughout the year.
Jay food (อาหารเจ) – vegan food
In Thai, jay (เจ also sometimes spelled jae) is a word that means something close to vegan, or a strict vegetarian.
So Thai jay (เจ) food includes no eggs or fish sauce, or any kind of animal product.
Many of the restaurants along Ranong Road in Phuket Town have "vegetarian food" signs written in English, but just by looking at the yellow signs and banner you'll be able to tell they serve jay food.
Pad mee leung (ผัดหมี่เหลือง)
I'm rarely in the mood to eat noodles in place of rice, but the stir fried yellow noodles (ผัดหมี่เหลือง) looked really good, and so I decided to order that instead of rice.
The noodles were medium sized, and stir fried with little bits of green vegetables, and seasoned with a little soy sauce.
The pad mee leung (ผัดหมี่เหลือง) had a nice texture, the noodles were slightly chewy, and though a little oily, they hit the spot.
The flavor had a hint of smokiness and a nice saltiness from soy sauce.
Gaeng kee lek (แกงขี้เหล็ก)
One of my biggest temptations when faced with any Thai food khao gaeng (rice and curry ข้าวแกง) line are the curries. I'm a huge fan of curry, especially when it's packed with coconut milk.
I'm happy coconut milk is vegetarian.
This is a dish called gaeng kee lek (แกงขี้เหล็ก), a curry made from the kee lek leaves (ขี้เหล็ก), which in English are the leaves from the senna siamea tree.
The leaves are boiled before they are made into this curry, and they are both a little sour and bitter, and have a slightly chewy texture.
The curry was extremely buttery and rich from the coconut milk, with a kick of chili heat, and those wonderful slightly bitter kee lek leaves.
I've had plenty of Thai non vegetarian versions of gaeng kee lek (แกงขี้เหล็ก), but I have to say, even without meat, it was stunning.
Gaeng kati maroom (แกงกะทิมะรุม)
Another curry I couldn't resist was gaeng kati maroom (แกงกะทิมะรุม), again, another coconut milk based curry, but instead of leaves this time, this curry included maroom (มะรุม), the pods from the miracle tree (also known as moringa).
The pods were cut into bit sized strips, and then stewed in thick coconut milk, chilies, lemongrass, and turmeric that made it nice and yellow in color.
The curry had a similar flavor, apart from the different main ingredient, as the gaeng kee lek (แกงขี้เหล็ก), but without the sourness.
You can't eat the full moringa pod. It's almost like a stick.
But what you can eat is the soft and goopy inside of the pod. What you do is you bite down, and as soon as you bite, the soft insides of the moringa pod will squish out into your mouth, and you suck out all the pulpiness.
You'll be left with the outer shell of the pod, which is tough to chew and kind of like bark, so you toss that out.
The gaeng kati maroom (แกงกะทิมะรุม) was again another fantastic Thai vegetarian dishes in Phuket.
Ka prao hed (กะเพราเห็ด)
The last thing I ordered was ka prao hed (กะเพราเห็ด), mushrooms stir fried with holy basil, and there were also some Chinese long beans and chilies in the mix.
This is one of the most popular Thai street food dishes, often made with chicken or seafood, but it also works very well with mushroom as a vegetarian food.
The mushrooms tasted nice and fresh, slightly rubbery as they should be, and the Chinese long beans contrasted them with a fresh crunch.
Complemented with some soy sauce and chilies (no fish sauce at vegetarian restaurants in Phuket), it was even better tasting.
Conclusion
Phuket is the epicenter of vegetarian food in Thailand.
But even if you're not vegetarian, you should think about having a Thai vegetarian meal when you visit. You may (like me) be surprised just how flavorful and delicious vegetarian food can be.
There are plenty of Thai vegetarian food restaurants throughout Phuket, but my wife and I chose to eat at Jiya Chai (ร้านเจี๊ยะฉ่าย), a khao gaeng (rice and curry restaurant) located right across the street from the Jui Tui Shrine in Phuket Town.
Everything from the stir fried yellow noodles to the stir fries, and the rich coconut milk curries, was delicious.
There are many wonderful places to eat in Phuket Town, and you should try to include a Thai vegetarian meal on your agenda as well.
Jiya Chai (ร้านเจี๊ยะฉ่าย) – Phuket, Thailand
Address: Across the street from Jui Tui Shrine, Ranong Road, Phuket 83000
Open hours: 6:30 am – 3 pm daily
Prices: Our total bill for everything came to 120 THB ($3.58), so it's about 30 THB per dish. You can eat a vegetarian feast for just a few dollars.
ที่อยู่ ใกล้กับศาลเจ้าจุ้ยตุ่ย ถ.ระนอง อำเภอ เมือง จังหวัด ภูเก็ต 83000