Bangkok's Uncle Tokyo: Coconut Custard & Hot Dog Rolls (Khanom Tokyo)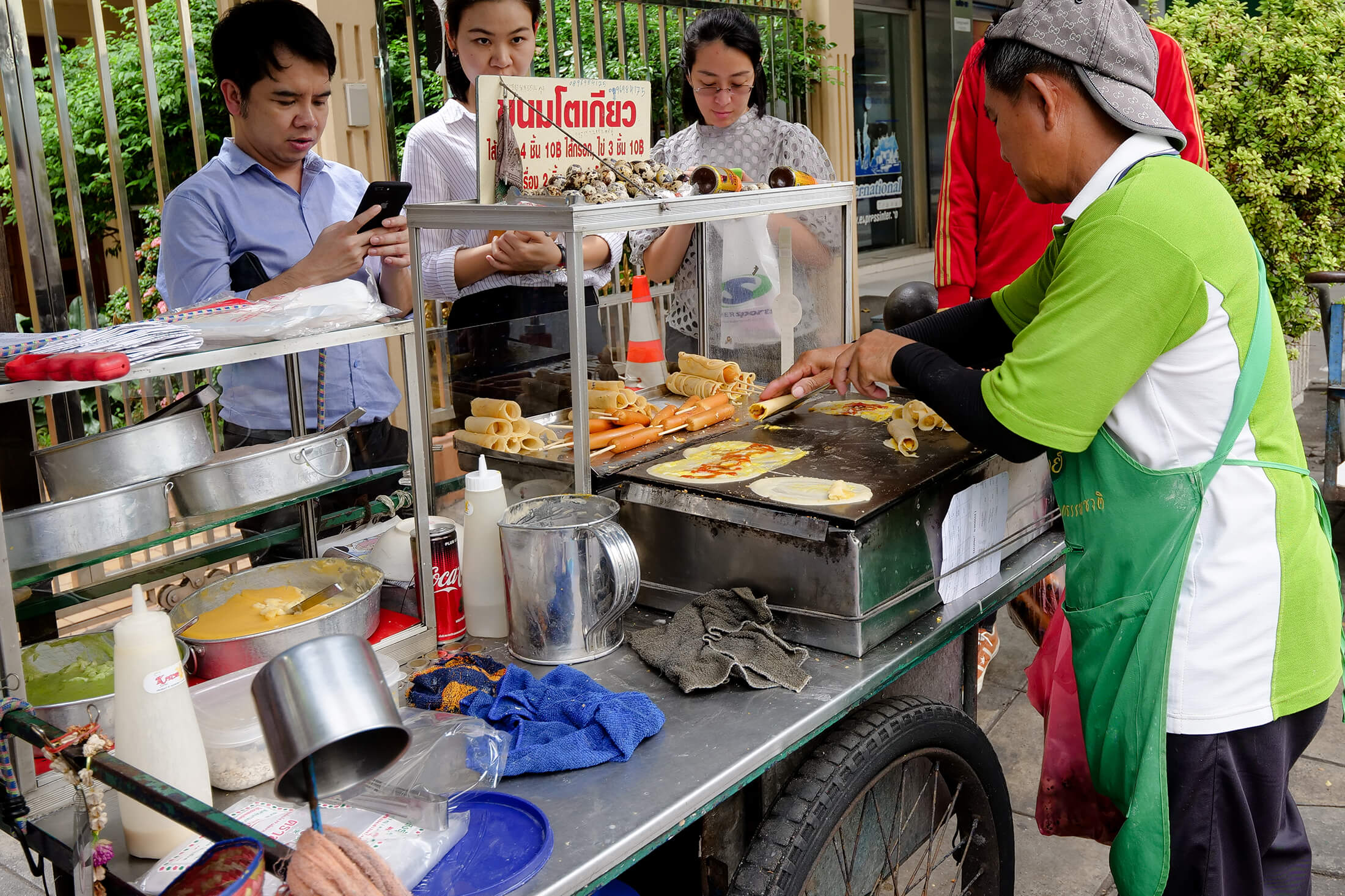 Khanom Tokyo (ขนมโตเกียว) is a popular Thai sweet and savory street food snack.
While you'll find it across Thailand and throughout Bangkok, one of the happiest vendors of all is Uncle Tokyo (ลุงโตเกียว), who sells along Soi Convent in Silom, Bangkok.
I'll share all the details with you in this post.
Just after finishing a delicious bowl of lunch noodles in Silom, we were walking down the street when Uncle called us over to taste his Khanom Tokyo (ขนมโตเกียว).
His friendliness caught my attention, and Drew and I decided on a whim that that's what we should eat next.
What is Khanom Tokyo (ขนมโตเกียว)?
Khanom Tokyo (ขนมโตเกียว) is a Thai sweet pancake / crepe snack that can be filled with either a variety of different sweet custards or savory quail egg and hot dog combos.
Although it's called Tokyo snack, I don't know the exact history of it, and cannot verify if it has any relations to Japan at all.
What I do know is that my wife especially loves it, and one of her favorite versions is in Krabi at the night market (it's been a while, hope he's still there).
Ok anyways, as Uncle was there making our snacks, I asked him, what the name of your stall?
"Uncle Tokyo (ลุงโตเกียว)," he replied with a friendly smile.
The first step in making Thai Tokyo snacks is the batter, which is somewhere in-between a pancake and crepe.
It's liquid, but it's poured quite thin and spread out so some spots are more thin, others are more thick – this equals crunchier parts and fluffier parts when it's finished cooking. If you order the hot dog special, Uncle also squeezes out a beautiful lattice pancake artwork onto the hotplate.
Egg and hot dog (ไข่กับไส้กรอก)
Let's begin with the egg and hot dog.
So after making the pancake batter base, for all salty versions Uncle then grabs a quail egg.
With a swift experienced hand, the egg plops into the middle of the pancake at the perfect cooking time, and he then proceeds to immediately spread the yolk using a trowel all over the base.
What you'll notice throughout his entire cooking repertoire is that Uncle is doing each step with a look of ultimate joy and happiness as he does it.
Next a squeeze of sweet tomato sauce goes on, a dash of white pepper, followed by a hot dog which is already pre-skewered and ready to go.
These are the special full hot dog experience, but he also has a version that includes minced pork, plus a little bite of hot dog.
Finally, Uncle Tokyo (ลุงโตเกียว) perfectly rolls it up, encasing your hot dog within the pancake, egg and tomato sauce neatly wrapped within, and lattice work surrounding the outside for a beautiful aesthetic touch.
The hard part is, he has to use the spatula to scrape the thin pancake off the bottom of the hot plate, while at the same time rolling and not scrunching it up.
Trust me, it takes some practice. And Uncle could do it with his eyes closed.
The hot dog, as they are, is a little on the mushy side, but the tangy sweet tomato sauce, the egg coating, and the sweet and crunchy pancake, all combine with the salty hot dog make it a rather tasty snack.
It is just very slightly like a corndog, yet vastly different.
Sweet versions
I'm typically a salty food person, but for me, I prefer the sweet versions of khanom tokyo (ขนมโตเกียว) in general – I'm just not a huge fan of hot dogs.
For sweet versions, you can choose sweet coconut custard (สังขยา sang kaya), cream (ครีม), or taro (เผือก peuak).
Uncle scoops in the fillings and again, rolls them up into little soft and crunchy pancake / crepe rolls.
For me, the sweet coconut custard (สังขยา sang kaya) and taro (เผือก peuak) are the best.
I'm not going to say the hot dog version of khanom Tokyo (ขนมโตเกียว) is one of my favorite street food snacks in Thailand, to be honest hot dogs are just not my favorite. However, the sweet versions of Khanom Tokyo (ขนมโตเกียว) are very good, and Uncle does an amazing joy.
The real reason I wanted to highlight Uncle Tokyo (ลุงโตเกียว) in Silom is because of his hard work and dedication, day after day, and doing it all with enthusiasm and a smile on his face. He's a Bangkok street food hero!
When you're in Silom around lunchtime, go say Hi to Uncle Tokyo (ลุงโตเกียว), and have some Thai Tokyo pancakes (ขนมโตเกียว) while you're at it.
Uncle Tokyo (ลุงโตเกียว)
Address: Soi Convent, Silom, Bangkok (right about here on Google Maps), just a 2 minute walk from Sala Daeng BTS station
Open hours: From about 11 am – 2 pm or so
Prices: Sweet – 4 for 10 THB, full hot dog – 10 THB per piece