Bangkok Street Food – Dry Tom Yum Egg Noodles in Silom (ก๋วยเตี๋ยวแคะ)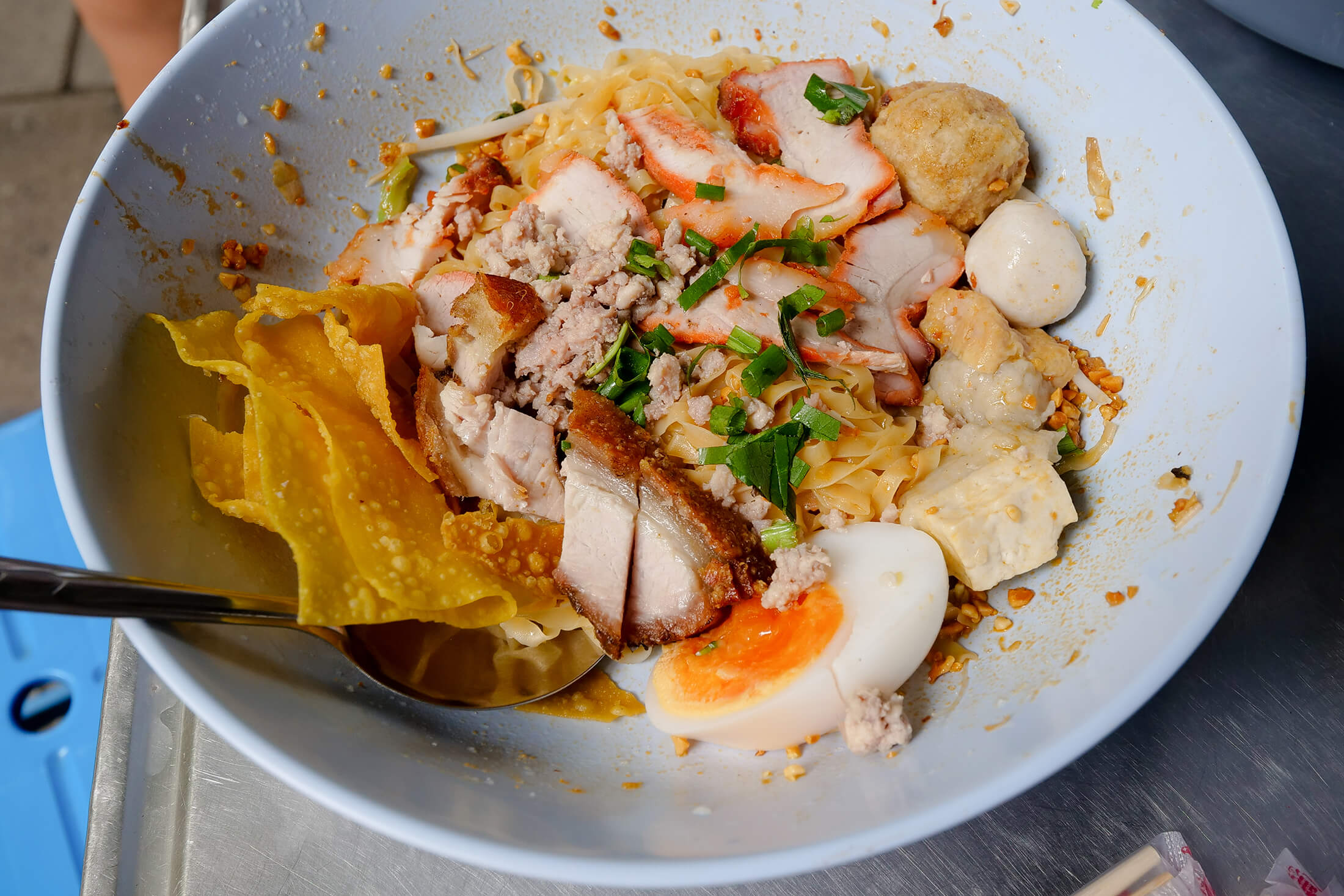 Kuay Teow Khae (ร้านก๋วยเตี๋ยวแคะ) is an extremely popular Thai street food noodle stall in downtown Silom, Bangkok.
The egg noodles are crinkly, the seasoning is spicy and sour, and the crispy pork belly will crunch and melt in your mouth at the same time.
When you're in Silom at lunchtime, here are all the details you need to eat an amazing bowl of noodles at this packed street food stall.
Kuay Teow Khae (ร้านก๋วยเตี๋ยวแคะ)
Because of the huge office lunch rush, Silom has no shortage of excellent lunchtime Thai street food stalls. You'll find everything, from rice and curry to amazing green papaya salad, to popular bowls of noodles.
The stall is called Kuay Teow Khae (ร้านก๋วยเตี๋ยวแคะ) and it sets up along Soi Convent, right in the heart of Silom (just down the street from Sala Daeng BTS station) for lunch.
They offer big portions for a decent price, and in my opinion it's one of the tastiest lunchtime bowls of Thai noodles in Silom as well.
If you go right at 12 noon all the tables along the sidewalk will be full and there will likely already be a crowd waiting for a table. So if you have a flexible schedule, it can be wise to arrive about 11:30 am, or before, so you don't have to wait too long.
Watch the video:
(Or watch the full video on YouTube here)
Last time I ate here I was with Drew, and we arrived just before Noon I think, and we did end up waiting about 30 minutes before being seated.
It was well worth it though!
Noodle options
The first time I ate at Kuay Teow Khae (ร้านก๋วยเตี๋ยวแคะ) I asked one of the friendly servers what she recommended, and without hesitation she said, "get the 60 Baht bowl, with egg noodles, and all toppings."
That's what I ordered and that's all I've ever ordered.
They do have smaller sized bowls, 40 Baht, 50 Baht, and 60 Baht. And you also have the option to choose from a variety of different Thai noodles, all displayed in the cabinet in the cart.
But this is not the type of Bangkok street food stall where you want to skimp or cheat yourself. You'll want to order the full 60 Baht largest size, with all the toppings.
Dry egg noodles special (ต้มยำแห้งเส้นโซบะ พิเศษ)
Let's move onto the dish:
The dry egg noodles special (ต้มยำแห้งเส้นโซบะ พิเศษ tom yum haeng sen soba pisayt) is the dish I automatically order.
It comes with wide crinkly egg noodles on the bottom, which are first blanched. Then goes on a variety of seasoning sauces and oils like pork lard fried garlic, chili flakes, and crushed peanuts.
Followed by red bbq pork, minced pork, half a hard boiled egg, a pork meatball (which sometimes gets hidden beneath other toppings), beansprouts, crunchy wonton wrappers, a couple dumplings, and finally a handful of golden crispy fried pork belly – I might have missed a few things?
When you order your noodles dry (แห้ง haeng), you will still get your soup on the side in a bowl, as opposed to soup within you bowl of noodles.
I prefer the dry version so that my noodles don't get soggy and saturated as I'm eating. Plus the dry version means that all the flavor and seasoning doesn't get watered down in the soup. The pork belly just shines on top of your bowl.
There's another stall in Bangkok called Ko Boo Rossing Noodle (ร้านโกบู้รสซิ่ง) which serves a similar version of dry tom yum egg noodles, both are excellent.
Like with any bowl of Thai street food noodles you eat, it's a good idea to taste test before you add seasoning.
At Kuay Teow Khae (ร้านก๋วยเตี๋ยวแคะ), they actually do a great job of including plenty of seasoning – chili flakes, a sprinkle of sugar, garlic fried lard, and plenty of peanuts. For some it may be already perfectly seasoned.
However, they do include omnipresent Thai noodle seasonings on you table, and they are meant to be used at your desire. I usually add about 2 – 3 extra spoons of chili flakes and the same amount of vinegar.
As I'm eating through the tangly noodles, crunchy wontons and juicy pork belly, I sometimes add a spoonful of the soup to my noodles to rehydrate them as I go.
The balance of sour, spicy, sweet, plus all textures sandwiched within each chopstick mouthful, makes this bowl of noodles extremely tasty and special.
Kuay Teow Khae (ร้านก๋วยเตี๋ยวแคะ) is a Bangkok street food stall that's well worth seeking out when you're in Silom during lunch.
Kuay Teow Khae
Address: Silom, Soi Convent, about a 3 minute walk from Sala Daeng BTS station (google map)
Open hours: 7 am – 2 pm on Tuesday – Saturday
Prices: I ordered the biggest bowl for 60 THB
ร้านก๋วยเตี๋ยวแคะ ซอยคอนแวนต์
ต้มยำแห้งเส้นโซบะ พิเศษ
เปิด อังคาร-เสาร์ 7.00-14.00 น.