Real-Deal Isaan Food in Bangkok at Som Tam Jay So (ร้านส้มตำเจ๊โส)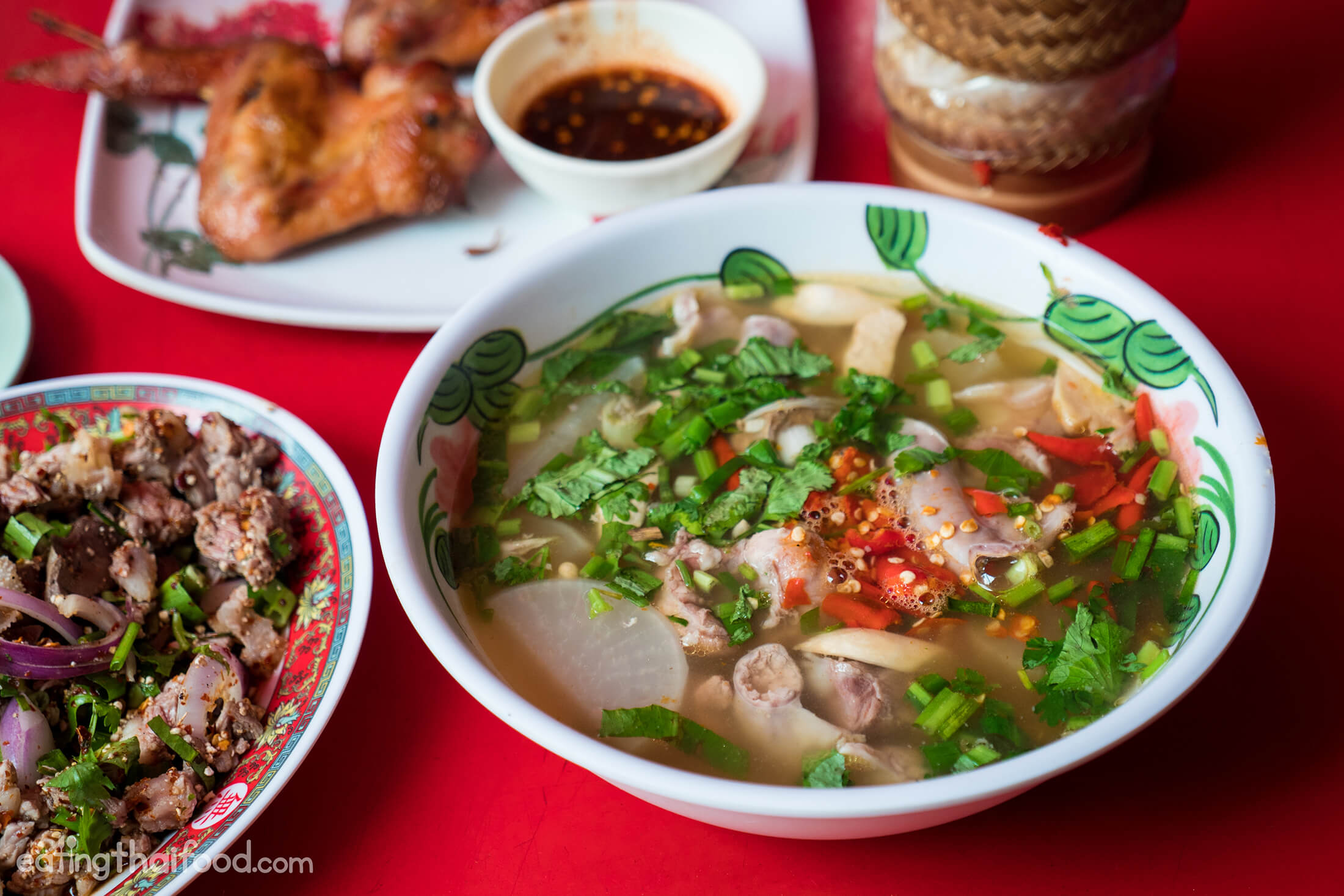 In Bangkok you'll find a lot of restaurants that serve Isaan food (northeastern Thailand).
And while there are many great Isaan restaurants in the city, there are many that lack the same crazy bursts of flavor that you find in the salads and dishes actually within Isaan (or Laos).
Being a huge fan of som tam (versions of green papaya salad), I'm always on the look out for delicious som tam.
Som Tam Jay So (ร้านส้มตำเจ๊โส) is a restaurant that serves green papaya salad almost exactly the way you'll find it in Isaan.
And if you love som tam in its rawest and most pungent spicy form, this is a restaurant in Bangkok you're going to love.
Som Tam Jay So (ร้านส้มตำเจ๊โส)
Som Tam Jay So (ร้านส้มตำเจ๊โส) is a very popular Isaan restaurant located right in the downtown business district of Silom, in Bangkok.
If you go at the peak of lunch on a weekday, expect it to be packed out – and big groups of office workers also often call ahead to reserve tables. So if possible, try to show up a little before lunch, at about 10:30 am or 11 am to get a table quickly.
The restaurant looks like little more than the front of a garage from the outside, but they have a few tables set up outside on the street, plus a section inside the patio, and then more tables set up inside the parking lot of the house.
At the front of Som Tam Jay So (ร้านส้มตำเจ๊โส) you'll see the green papaya salad ingredients on the left side, where they prepare all the salads, and a cabinet full of grilled meat and an assortment of pots that include soup broth on the right hand side.
The owners are all very friendly, and it's one of those restaurants in Bangkok that even though you're right in the middle of downtown, you're down a quiet relaxing side street.
The Menu
I didn't notice any English menu, and the Thai menu is written in checklist form, so you can just go through the list and check the dishes you want.
But you can alternatively just tell them the dishes you want, and they will be happy to help you out and take your order.
Tam pa (ตำป่า)
My wife and I started off with the tam pa (ตำป่า), a type of green papaya salad that literally translates to jungle pounded and it includes a pretty random mixture of all sorts of pungent ingredients.
As soon as our plate of tam pa (ตำป่า) arrived, with full dry red chilies popping out, rough cut herbs, and with a dark murky fermented fish sauce (pla ra) dressing I knew I was in for the real deal.
The tam pa (ตำป่า) was as fiery spicy as it looked, and she used mainly dry chilies, giving the salad a fragrant chili taste along with being crazily spicy.
Seriously flavor in this salad
Best Isaan food in Bangkok
In the mix there were also shreds of green papaya, tomatoes, culantro, crab, and pieces of chopped up what in Thai are called hoy cherry (หอยเชอรี่) – a type of freshwater channeled apple-snail.
The tam pa (ตำป่า) was pungent from the fermented fish sauce, yet it still had a wonderful freshness to it, with a diverse spectrum of textures going on.
It was one of the best I've had in Bangkok.
Price – 50 THB
Som tam sua (ส้มตำซั่ว)
Another green papaya salad we ordered was som tam sua (ส้มตำซั่ว), green papaya salad with fermented fish sauce and crab and khanom jeen rice noodles pounded into the salad.
It had similar dressing ingredients as the tam pa (ตำป่า), with pungent fermented fish dressing and lime juice, just less of the random jungle ingredients, specifically the apple-snails.
Price – 50 THB
Although fermented fish sauce being fresh is quite ironic, the plate of som tam sua (ส้มตำซั่ว) was refreshing, and a true roller coaster of excitement to the taste buds.
My wife Ying and I were both so satisfied with the som tam at Som Tam Jay So (ร้านส้มตำเจ๊โส) that we sat there in silence, slightly crying from the chilies, and thoroughly enjoying every bite – like we were back in Isaan.
Pik gai yang (ปีกไก่ย่าง)
Another thing that you'll see just about everyone who is eating at Som Tam Jay So (ร้านส้มตำเจ๊โส) order is the pik gai yang (ปีกไก่ย่าง), grilled chicken wings.
When they delivered them to our table, they were so golden brown and looked so crispy on the outside, that I would have guessed they were deep fried, but they were indeed grilled.
The wings were marinated in a salty and slightly sweet marinade, and they must have marinated for a long time because the flavor penetrated all they way through the meat to the bone.
They were good with some sticky rice and bites of the pungent salads.
Price – 17 THB per wing
Laab neua (ลาบเนื้อ)
Additionally, I decided to try their laab neua (ลาบเนื้อ), an Isaan meat salad, this time made with beef.
The laab neua (ลาบเนื้อ) came with hand chopped up bits of beef, some bite sized pieces, others more minced pieces, mixed with plenty of cilantro and green onions, shallots, dry chili flakes, and a good amount of fresh tasting khao khua (roasted rice powder).
Price – 55 THB
It was a pretty decent plate of laab neua (ลาบเนื้อ), and it was the style I like, with lots of roasted rice powder to give it a smoky taste and crunchy texture, and lots of herbs.
Kaw moo yang (คอหมูย่าง)
I wasn't planning to eat kaw moo yang (คอหมูย่าง), grilled pork neck at Som Tam Jay So (ร้านส้มตำเจ๊โส), but when I saw the cabinet filled with slabs of grilled pork neck, juices dripping, there was no way I could resist.
Sometimes when you eat Isaan street food in Bangkok, they don't actually use the real pork neck, but use a cheaper cut that's just fatty and not as good.
Price – 55 THB
But I believe from the marbling of the meat, that they were using real pork neck meat. She removed a big piece from the glass cabinet, sliced it up, and put it on a plate, served with a sweet chili dipping sauce.
The kaw moo yang (คอหมูย่าง) was unbelievably juicy, and flavorful, and while it was fatty of course, it was well worth it.
I wasn't a huge fan of their nam jim jaew (chili dipping sauce) as it was of the sweet tamarind variety I believe – I would have liked it better had it just been a simple mixture of fish sauce, dry chili flakes, and roasted rice powder.
However, it was still excellent, and that pork was ridiculously tender.
Tom saeb moo (ต้มแซ่บหมู)
Finally, to finish off our Isaan food lunch in Silom, Ying and I ordered a bowl of tom saeb moo (ต้มแซ่บหมู), the common Isaan soup.
The soup, which was prepared from a slow boiling pot of bones and parts, included lots of intestines, and a mild yet soothing porky broth.
I liked how she dished it out, then added in a scoop of fresh pounded chilies and cilantro to the bowl to give it some extra flavor.
Price – 55 THB
Video of the meal:
If you have a few minutes, press play below to watch the full video of this excellent food:
(If you can't see the video, watch it on YouTube here)
Conclusion
Som Tam Jay So (ร้านส้มตำเจ๊โส) is a local Isaan restaurant in the Silom area of Bangkok, that I think serves some of the best som tam (green papaya salad) in the city.
Their different versions of green papaya salad are outstanding, fiery hot, pungent with fermented fish sauce, and overall just thrilling to the taste buds. They also serve an assortment of other Isaan dishes, especially excellent chicken wings and grilled pork neck.
For myself, eating som tam at Som Tam Jay So (ร้านส้มตำเจ๊โส) is about as close as you can get to eating in Isaan while still being in Bangkok.
Som Tam Jay So (ร้านส้มตำเจ๊โส)
Address: Soi Phiphat 2, Silom, Bangkok 10500
Open hours: 8:30 am – 4:30 pm daily
Price: About 40 – 50 THB per dish
ที่อยู่ ซอยพิพัฒ 2 สีลม บางรัก กรุงเทพมหานคร 10500
โทร. 085-999-4225
เปิดบริการทุกวัน 8.30 – 16.30 น.
How to get there: Som Tam Jay So (ร้านส้มตำเจ๊โส) is located on Soi Phiphat 2, right off Soi Convent in Silom. It's just a 5 minute walk from Sala Daeng BTS station.