Khanom Tokyo: Krabi's Sweet Pancake Rolls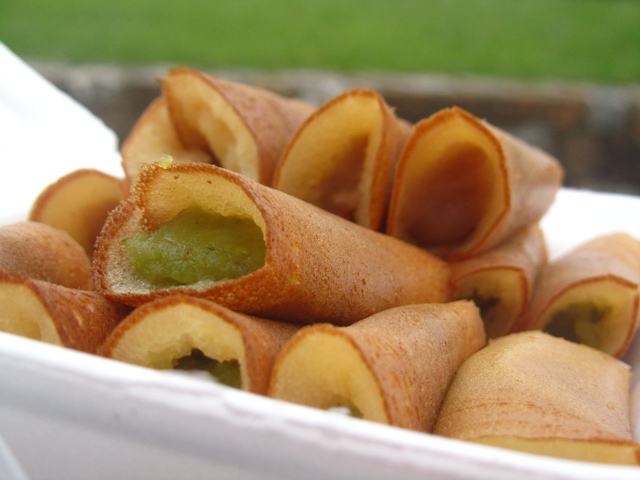 One of the finest little snacks in Krabi town is Khanom Tokyo ขนมโตเกียว.
This is no ordinary Khanom Tokyo ขนมโตเกียว.
The man behind the treat has been cooking up his recipe and pleasing his fans for more than a few decades now.
His hands and his fluid motions are an immediate indicator of his affection for Thai desserts.
He starts off with a batter that resembles normal pancake batter. With the batter in one hand, he ladles a scoop onto his hot flat pan and spreads it out with the bottom of the spoon.
With precision he waits a few seconds, the flame heating the pan to the perfect degree.
When the moment is perfect, he grabs either a spoon full of sang kaya or sweet taro paste and he knifes on a small dabble in the middle of the sizzling pancake batter.
Note: Southern Thai style sangkaya is a sweet green paste, unlike in Bangkok where sangkaya is more of a yellow custard – like in khao neow dam sang kaya.
A few seconds later he lifts the pancake off the griddle with a single swipe of his spatula (which is more like a trowel) and in the same extended motion he wraps the pancake into a bite sized burrito.
The final creation is an award winning Khanom Tokyo ขนมโตเกียว that shouldn't be missed when in Krabi!
The Bottom Line
I think this man serves the best Khanom Tokyo in Thailand. Grab 8 pieces of the Sangkaya version and let me know what you think – it's like a little sweet pancake.
Hours: 5 pm – 10 pm
Price: 8 pieces for 20 THB
How to Get There
The stall sets up near the Krabi river waters edge. It is at the front of the cluster of street food stalls that opens in the evening in Krabi.

View Khanom Tokyu in a larger map