There's No Such Thing As Thai Breakfast Food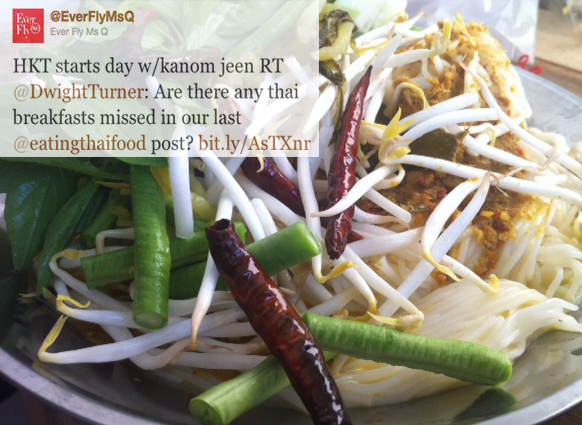 What's Thai breakfast food?
Hard boiled egg? Kanom jeen? Chicken biryani?
The truth is there's no such thing.
As Mark alludes in this week's 13 Most Popular Thai Dishes for Breakfast, Thais hardly make any time based distinction between food groups like breakfast, lunch, and dinner.
The thai word used for breakfast (ahaan chow อาหารเช้า) roughly translates as "morning food."
In fact, if we really wanted to vigorously categorize Thai food, we would be far more accurate to group foods by what you eat when semi-hungry, drunk, or avoiding the dreaded 'ring of fire.'
You love Thai food? Then forget about breakfast.
Let's take an elusive plate of Thai street food style chicken biryani with saffron rice (kow mok gai ข้าวหมกไก่) as an example.
The vendor dealing this plate of yellow intoxication can be found across the street from Bangkok's Hindu Temple, but she's only there for early risers and by 9am she's sold out.
You show up, looking like an extra from The Walking Dead, at 8:55am and can hear the woman who runs the stall scraping the giant boiler to fill up the last few plates. The other zombies who showed up after you, get in line inquiring over your head, "Is it all gone yet?"
"Almost," the vendor answers as she scrapes.
The ungodly hour, the antsy people behind you, and the threatening scraping of the pot are all colluding to convince you this food is better in the morning.
Snap out of it! While you may have to get up occasionally for a biryani fix, there's no reason to go around trying to make it a regular thing.
Anyway, neither the infamous biryani or the common kanom jeen are likely to be the "morning food" westerners think of as breakfast.
This is not only great news for the few liberated minds among us who recognize NOTHING good happens before 9am, but also to foodies who appreciate the freedom to eat all manor of deliciousness around the clock!