How to Make Delicious Thai Tom Yum Goong (VIDEO Recipe)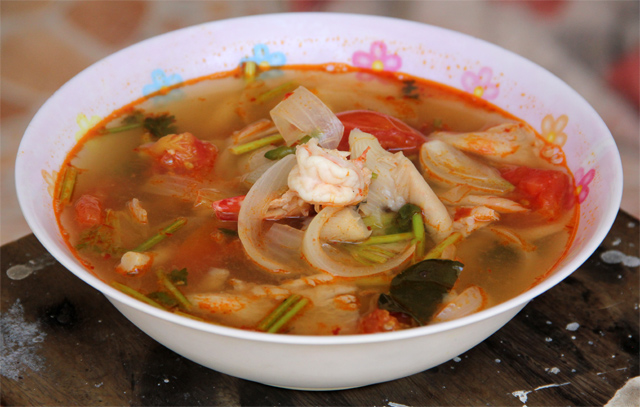 (If you can't see the video, click here to watch it on Youtube)
Thai food is a wonderful combination of ingredients and flavors. Meals should encompass a range of tastes so every taste bud becomes alive!
One of foundational dishes of Thai cuisine is tom yum goong soup – a hot and sour soup flavored with seafood, pork, or in this case shrimp.
While we do a lot of eating at EatingThaiFood.com, we're also going to start publishing a few recipes! Please be sure to share your own tips by leaving a comment at the bottom of this article.
Ingredients you'll need for this Tom Yum Goong Recipe
About 1.5 liters of water,
Thumb size chunk of galangal
8 kaffir lime leaves
4 stalks of lemongrass
8 cloves of garlic
2 sweet white onions
3 red tomatoes
red or green Thai chillies (however many you want)
a handful bunch of cilantro
2 -3  handfuls of mushrooms (I'm using oyster mushrooms)
4 – 5 limes depending on how sour you like your soup,
2 tablespoons of Thai chili paste (prik pao)
1 teaspoon of salt
1 teaspoon of salt
2 tablespoons of sugar
2 tablespoons of fish sauce
1/4 kilo of raw shrimp.
Amount – medium pot of soup, probably 5 – 6 bowls
Time – about 30 minutes
Recipe Instructions
The rest of the recipe instructions below are a transcription of the video – so please check out the video, but if you also need some text reference, feel free to read below…
1. The first thing to do is put a pot filled with about  water on the stove and bring it to a boil.
2. Prepare the galangal by chopping it into thin slices.
3. For the lemongrass, all you want to use is the bottom of the stalks. Discard the really tough outer leaves and cut each stalk into 2 – 3 centimeter chunks.
4. Garlic adds an incredible fragrance to tom yum gong, so I'm going to use about eight cloves, peeled and then sliced.
5. Next, chop up the two sweet white onions into large wedges – don't worry they don't need to be small.
6. Cut the three tomatoes exactly the same as you cut the onions, into large wedges.
7. For this soup, I'll be using a quarter kilo of shrimp, mostly for their lovely flavor. You can use any sort of shrimp but be sure to divine them first.
8. Most of the time I use Thai red chillies but this time I'll be using little green chillies. Add as many as you want, I'm going make this pot with about twenty of these little guys.
9. The next step is to chop up a good handful of cilantro. Be sloppy, it doesn't need to be small or evenly cut.
10. Next prepare the mushrooms into bite sized pieces. Feel free to use whatever mushrooms you can find but I'm using oyster mushrooms in this tom yum goong recipe.
11. Cut the limes and then squeeze the juice into a separate bowl. For this tom yum gong I'll be using about four to five limes, but I like it pretty sour!
12. Once the water has come to a light boil, throw the galangal, lemongrass, garlic, and kaffir lime leaves into the pot.
13. Just crunch the kaffir lime leaves with your hand.
14. Immediately add two heaping tablespoons of roasted prik pao chili paste into the water. Stir it around and bring the soup to a boil.
15. Next, add two tablespoons of sugar and one teaspoon of salt to the soup and stir that in.
16. Let the soup boil for about two minutes and then add the chopped chillies.
17. When you've got a rolling boil going on, it's time to add the shrimp.
18. Then add the mushrooms, the onions and the tomatoes.
19. Cook the soup for about five more minutes and then add two tablespoons of fish sauce.
20. Boil the soup for another two to three minutes and then add the lime juice.
Cook it on high heat for about three more minutes while stirring it quite frequently.
Remember to sample the soup at anytime to see if it needs any other flavoring ingredients. You may need to add a little more fish sauce or lime juice – up to your own preference.
21. Finally add the handful of chopped cilantro to the pot. Lightly stir it in and turn off the heat.
That's it, this is a simple Thai tom yum goong recipe that won't take more than 30 minutes to make and the flavor is wonderful!
Happy Cooking!