Khao Man Gai ข้าวมันไก่ (Thai Chicken Rice): Plain but Delightfully Comforting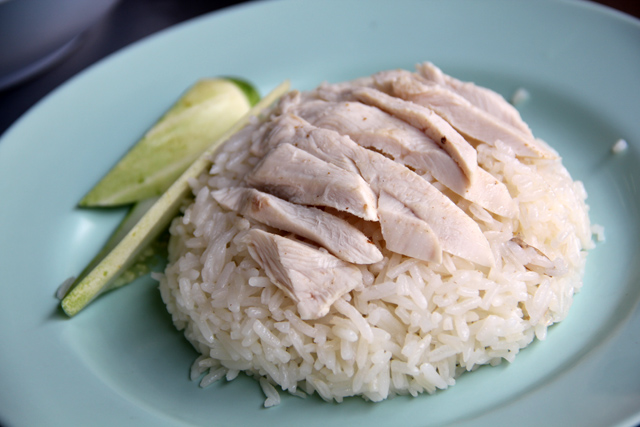 It's not one of Thailand's most flavorful $1 dishes… but that's alright.
Sometimes you just need something comforting, a dish to cleanse the palate and something soothing on the mouth and stomach.
When this situation arises, Khao Man Gai (ข้าวมันไก่), Thai style chicken and rice is always waiting right around a corner in Bangkok.
Chicken Rice
This version of chicken and rice originated in Hainan, China, and spread while being perfected in places like Singapore, Malaysia and Thailand.
Since it's such a common dish, just like khao moo daeng, making a good plate of khao man gai (ข้าวมันไก่) is about paying attention to the finest details.
I very rarely indulge in khao man gai (ข้าวมันไก่), I guess it's because there are so many other Thai dishes that are more pungently sour and spicy and honestly just more exciting to eat.
But like I've mentioned countless times before, I believe the power of a local crowd mustered at a dining establishment is something we should all pay close attention to.
With thousands and thousands of restaurant stalls in Bangkok, the bottom line is if there are lots of locals eating there, the restaurant must be doing something right.
The Chicken (Lazy, Fat Chicken)
Khao man gai (ข้าวมันไก่) begins with chicken – plump couch-potato chickens in this case.
I didn't know this before asking, but the word Kaiton (ไก่ตอน) in Thai means raised cooped chickens, NOT the scrawny little bird's that roam free.
What this means for us is that Kaiton chickens are fat, lazy, juicy, and pleasant to eat.
Normally the chickens hang in the glass cabinet strangled by their necks, but the chicken choppers during lunchtime rush at Kaiton Pratunam didn't even have time to display the chickens, but just pulled em' out of the bucket.
Sometimes a plate of khao man gai (ข้าวมันไก่) is served along with a few chunks of blood jelly, but at this particular restaurant they didn't serve it.
The Rice
The rice served with khao man gai (ข้าวมันไก่) is not ordinary white plain rice.
It's rice that's cooked in chicken broth and chicken fat, making each individual grain glisten with oil and scream with chicken-ey goodness.
After a bowl of rice is put on the plate, the chopped chicken is placed on top and a few slices of cucumber and possibly cilantro accompany as garnish.
The Sauce
Chicken rice die-hard fans will tell you that it's the sauce that will make or break the khao man gai (ข้าวมันไก่) – and I'm not one to argue about that.
In Singapore, Dr. Tay explains that the sauce is so important that when the owner of Tian Tian Chicken Rice couldn't source the exact ginger for her sauce, she forfeited serving the sauce altogether. It's that IMPORTANT.
There are lots of different variations of sauce. Red chili infused gingery sauces or soy based sour sauces are both common. At Kaiton Pratunam ไก่ตอนประตูนำ้ (โกอ่าง), their sauce was alright, but honestly it wasn't anything remarkable.
The Soup
With every serving of khao man gai (ข้าวมันไก่) comes a bowl of chicken soup (น้ำซุป)
Lots of Bangkok street food stalls will just give you a little bowl with a few sips of broth accompanied by a few particles of chicken.
At Kaiton Pratunam ไก่ตอนประตูนำ้ (โกอ่าง), they serve a big bowl of chicken soup filled with lip licking bones and lightly flavored with salt and pepper. It truly makes for a spoon of comfort.
The Bottom Line
So all in all, khao man gai "is" khao man gai – it's rice and chicken.
The sauce is the boss, and when it's good, the khao man gai is good, and when it's average, the khao man gai is just another plate of boiled chicken over rice that can be found on just about every street corner in Bangkok.
The sauce at Kaiton Pratunam ไก่ตอนประตูนำ้ (โกอ่าง) was mediocre, not something that special. However, the restaurant is in a great location and the chicken paired with rice is definitely something comforting.
Khao man gai makes a pretty good Thai breakfast dish too.
Below is a quick video about eating at Kaiton Pratunam (Ko-Ang) ไก่ตอนประตูนำ้ (โกอ่าง), check it out to get a good feeling of the dining atmosphere and some close ups of the food!
Thank you for watching!
(if you can't see the video, click here to watch it on Youtube)
Kaiton Pratunam (Ko-Ang) ไก่ตอนประตูนำ้ (โกอ่าง)
Address: Soi Petchaburi 30, New Petchaburi Road, Makkasan, Ratchawithi, Bangkok, Thailand
Hours: 5:30 am – 3:30 pm & 5:00 pm – 3:00 am
Phone: 0-2252-6325
Prices: Plate of chicken rice and soup is just 30 THB (about $1)
ไก่ตอนประตูนำ้ (โกอ่าง)
ปากซอยเพชรบุรี 30  ประตูน้ำ ถ.เพชรบุรี มักกะสัน ราชเทวี กทม.
เปิด 5.30 – 15.30 น. และ 17.00 – 3.00 น.
โทร. 0-2252-6325
How to Get There
The restaurant is located in the Pratunam area of Bangkok, right across the street form Pratunam Center on Petchaburi Soi 30. It's just a 5 minute walk from the mega Platinum Shopping Center.

View Eating Thai Food Map in a larger map