Amazing Thai Suki in Bangkok at Thai Haeng (ร้านไท้เฮง)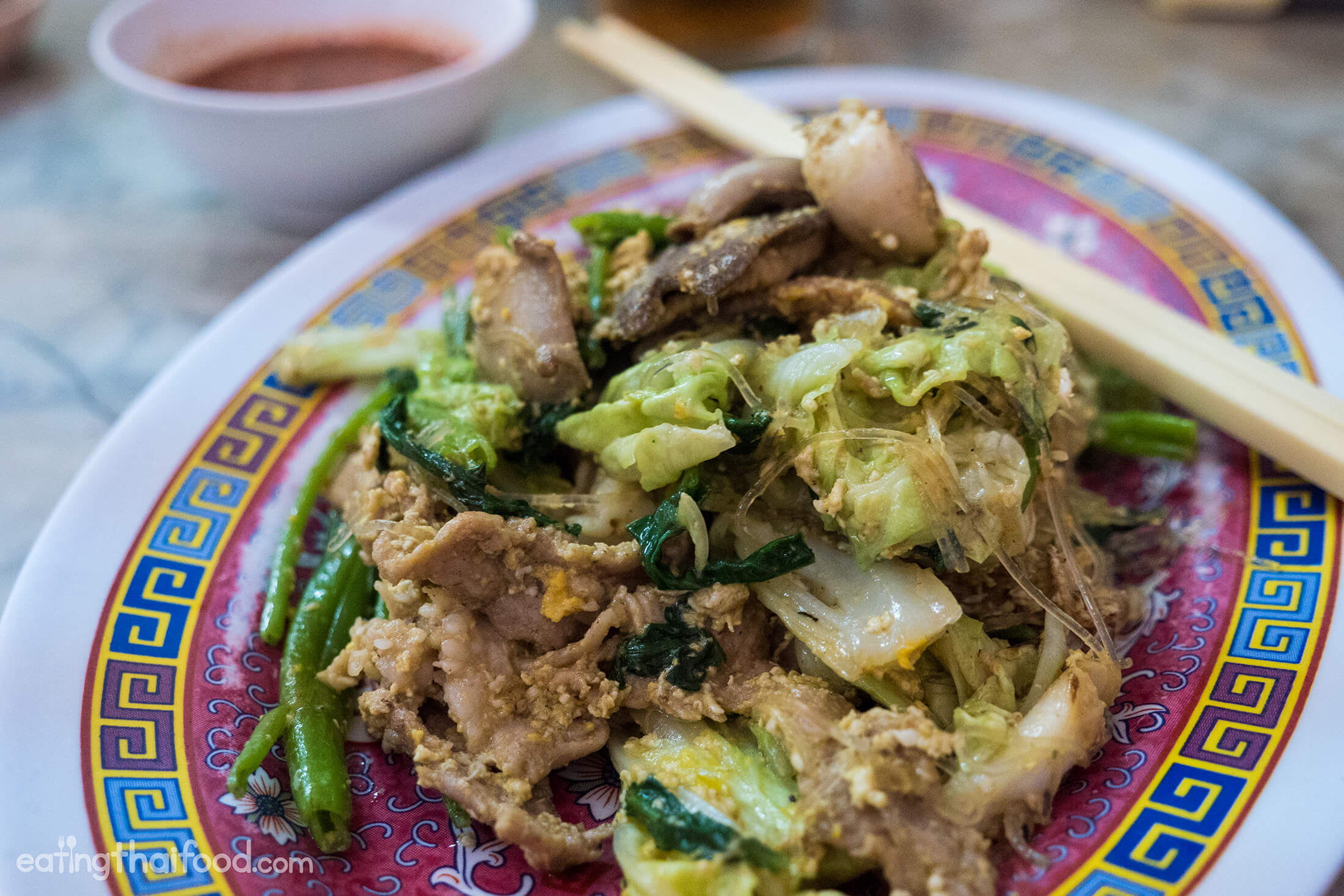 Here's the story:
During my 2 weeks in Bangkok staycation trip, Ying and I spent an entire day eating in Bangkok's Chinatown (also known as Yaowarat) and we were going to make video of the entire day.
We had a few places in mind to check out, but really we were just going to eat as much as possible.
Before we began for the day, Ying stopped to see a friend who owns a shop right on Yaowarat road and was born and raised in Yaowarat.
She said we should go eat at her favorite Thai suki restaurant, a place called Thai Haeng(ร้านไท้เฮง) restaurant.
When someone from Yaowarat recommends something to me, I go there… immediately.
And that's how we ended up at Thai Haeng (ร้านไท้เฮง) for an unimaginably good plate of Thai suki.
Thai Haeng (ร้านไท้เฮง) Restaurant
Thai Haeng (ร้านไท้เฮง) Restaurant is about as properly a preserved and old school Thai Chinese restaurant as it gets in Bangkok. It's one of those places that looks like it hasn't changed at all – and probably hasn't – in 50 years, maybe longer.
The restaurant is located in Bangkok's Chinatown, down Yaowarat Soi 8, which is little more than a sleepy walking and motorbike alley that's home to a couple of Chinese temples. But just a few meters into the alley, you'll see the sign for the restaurant immediately after Wat Bamphen Chin Phrot temple.
You'll see a cabinet with a few hanging chickens (indicating their sale of chicken rice) in one of the most classic wooden cabinets you'll ever see in Bangkok.
They only serve two different dishes: khao man gai (chicken rice ข้าวมันไก่), and suki (Thai sukiyaki สุกี้ร).
The shophouse kitchen is located on the right hand side of the alley, while right opposite the alley is the sitting room, a high ceiling shophouse, with a number of scattered Chinese wooden tables covered in a marble top.
Before the food even came, my hopes were already high, just because of the decor… I knew they'd been doing something right all these years.
Khao man gai (ข้าวมันไก่)
Suki ruam mit nam (สุกี้รวมมิตรน้ำ)
Suki ruam mit nam (สุกี้รวมมิตรน้ำ)
Ying ordered a bowl of suki ruam mit nam (สุกี้รวมมิตรน้ำ), Thai style suki with a mix of seafood and meat, and the soup version.
The suki included a mix of pork meat, liver, and some squid, plus probably some little bits of other seafoods as well. It also included lots of napa cabbage, a few sprigs of water morning glory, mung bean noodles, and an egg curdled into the sup.
Rather than being bland and sweet, like many version of Thai street food suki nam you'll get these days, this bowl was smoky in taste, with a depth of porky broth flavor which must have come from the result of a masterful stock.
It doesn't look like much, but it was fantastic, among the best bowls of Thai suki nam I've tasted.
Although sukiyaki has Japanese origins and influence, the Thai version isn't really anything like Japanese suki, it's been completely Thai-ified.
Thai suki sauce
Another hugely important component of eating Thai suki is the sauce, and there are a number of different version, but the original version that you won't find at your average street food stall in Bangkok anymore, is made with pink fermented tofu paste (the same ingredient used in yen ta fo soup).
The sauce at Thai Haeng (ร้านไท้เฮง) sauce contained just the right amount of fermented tofu, balanced with lots of pureed garlic and chilies, and not unnecessarily sweet.
While some restaurants have taken to using a sweet tangy, almost ketchup-y sauce, you'll find the real deal suki sauce here.
Suki ruam mit haeng (สุกี้รวมมิตรแห้ง)
Thai sukiyaki is a very popular dish – and it's a favorite at Thai indoor mall restaurants, where suki is often a hotpot of soup with meat and veggies that's served with a dipping sauce.
But along with the soup version of Thai suki, you can also get suki haeng, which is always available at any suki restaurant you go to in Bangkok, but it's the lesser known version of the dish. However I think it's the superior version – mostly because I have a soft spot for smoky wok fried foods.
One of the best Thai suki
A dip in the suki sauce
Suki haeng (สุกี้แห้ง) is the dry stir fried version of suki, including all the same meat and vegetables, just stir fried up to give it that incredible wok flavor, instead of with soup.
The suki was incredible. The vegetables, slices of pork, and the mung bean noodles, were equally coated in smoky flavored egg, and it was dry from the heat of the wok, yet the ingredients were not dried out.
Taking bites of the suki and dipping them into the sauce, was excellent. It was better than just about every other version of suki haeng I've had in Thailand.
Khao man gai (ข้าวมันไก่)
Although suki is the dish Ying and I really wanted to eat, we couldn't visit Thai Haeng (ร้านไท้เฮง) Restaurant without trying their other signature dish: chicken rice.
To my surprise the the chicken rice was also very good. The rice wasn't too oily, and it was fragrant from chicken broth and with a nice garlicky taste. Additionally, the rice was nice and fluffy, not to heavy.
The chicken sliced on top was also delicious, and even though it was chicken breast and had probably been hanging in the cabinet for a few hours, it wasn't dried out.
Again, they made no mistakes with their sauce, which was of the fermented soy bean variety. It was salty and spicy, and went so well with the chicken and rice.
Our total price for the three dishes we ate came to 170 THB ($4.86).
Conclusion
There are so many outstanding restaurants in Bangkok's Chinatown, but when it comes to Thai sukiyaki, Thai Haeng (ร้านไท้เฮง) Restaurant does it among the best in Bangkok.
Both the suki with soup and the stir fried dry suki were delicious, and the sauce, made with pink fermented tofu and plenty of chilies and garlic, was incredible.
Not only is the food great at Thai Haeng (ร้านไท้เฮง), but the atmosphere of the restaurant, down a quiet alley in Yaowarat, and unchanged in decades, just adds to the experience.
Thai Haeng (ร้านไท้เฮง) Restaurant
Address: Yaowarat Soi 8, Talad Noi, Sampangtawong, Bangkok 10100 – right down Yaowarat Soi 8
Open hours: 10 am – 5:30 pm daily
Prices: Total price for everything we ate was 170 THB ($4.86)
ที่อยู่ ถ.เยาวราช ซ.เยาวราช 8 ตลาดน้อย สัมพันธวงศ์ กรุงเทพมหานคร 10100
เปิดบริการทุกวัน 10.00 – 17.30 น.
How to get there: The restaurant is located right in the heart of Yaowarat, on Yaowarat Soi 8. You can see the map here. Just walk down the alley a few meters the the restaurant is right down the alley.