Fish Hotpot in Udon Thani at Baan Pla Joom (ร้าน บ้านปลาจุ่ม)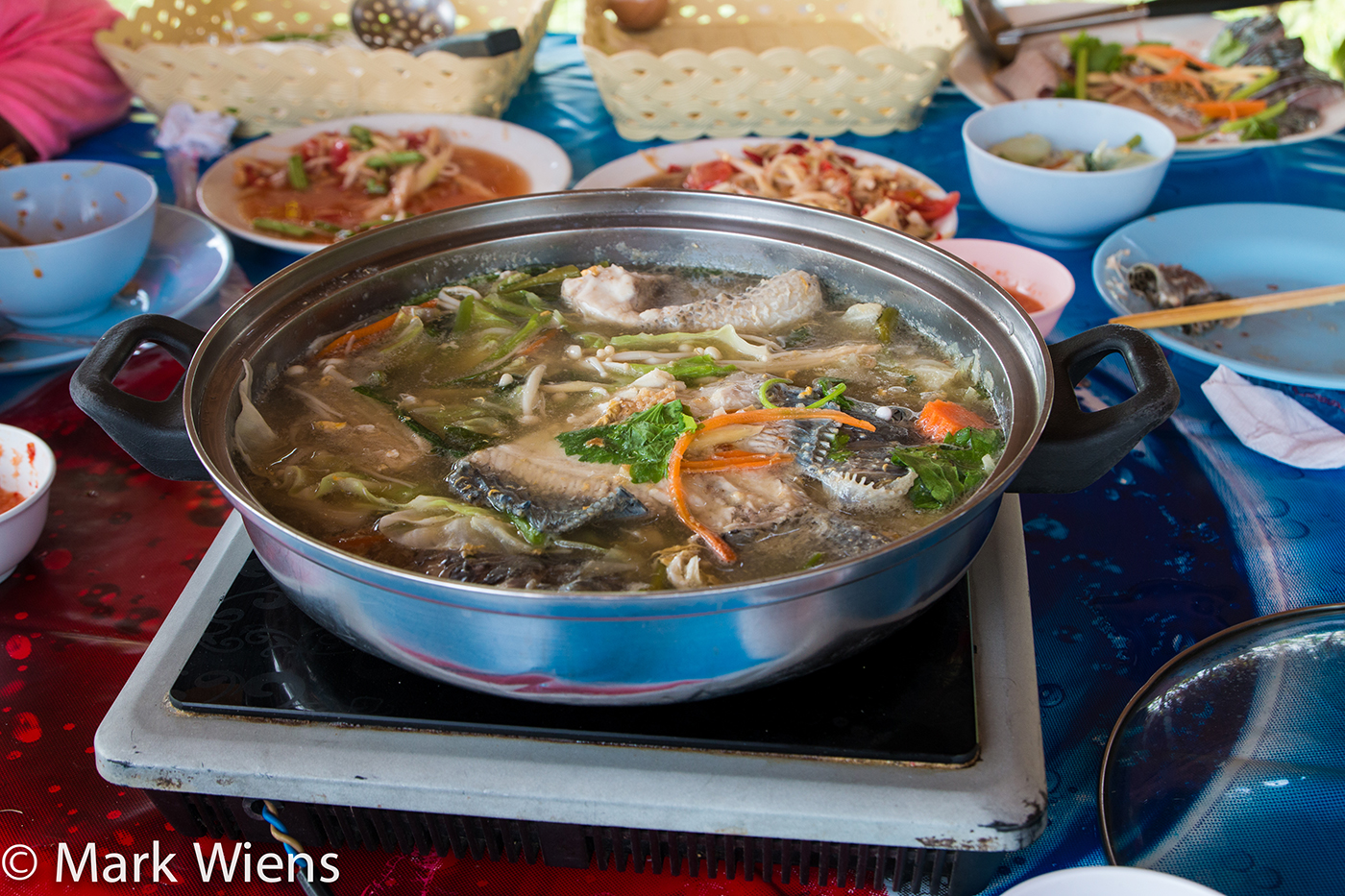 When I spent some time in Udon Thani, I went on a fish eating spree, enjoying a whole tilapia nearly everyday for both lunch and dinner.
Within the city there are numerous restaurants that prepare fresh fish in a variety of different ways like salt crusted grilled fish and fish laab.
But another popular way to eat fish in Udon Thani is in a dish called pla joom (ปลาจุ่ม), a soup hotpot.
While many restaurants serve pla joom (ปลาจุ่ม) in Udon Thani, my wife and I decided to check out a place called Baan Pla Joom (บ้านปลาจุ่ม).
Baan Pla Joom (บ้านปลาจุ่ม)
Baan Pla Joom (บ้านปลาจุ่ม) is literally located about 100 meters (if I remember correctly) from the gate of the Udon Thani airport… so you could literally get off your flight and have a relaxing meal within minutes.
Since it's next to the road leading to the airport, there happens to be a giant billboard in the parking lot of the restaurant, but at the time I was there, the sign was empty.
I immediately loved the style of Baan Pla Joom (บ้านปลาจุ่ม) – they had a main dining section, and they also had small individual thatch roof huts.
We chose a hut, and I could feel the Thai countryside relaxation coming onto me strongly.
You may have eaten at, or seen the MK suki restaurant chain at malls throughout Thailand? Pla joom (ปลาจุ่ม) is sort of the fresh, non-chain, countryside, open air atmosphere version.
The Menu
On the menu at Baan Pla Joom (บ้านปลาจุ่ม) you'll find all sorts of different Isaan dishes, but their main dish, the food that's in the name of their restaurant, is their fish hotpot set.
We decided to just go for what the restaurant is most famous for, their pla joom (ปลาจุ่ม).
The first item that came to our table was a basket of vegetables that included cabbage and pieces of water morning glory (pak boong), alongside a handful of mung bean noodles, a variety of mushrooms somewhere below, and a raw egg.
Our pot of soup was placed on a single electric burner in the middle of our table to get things started.
The soup stock, which I'm not sure if it was pork based or fish based, was light, slightly salty, and fragrant with ginger and daikon radish.
Price for set – 220 THB
For just about every meal I eat, the highlight for me is the meat centerpiece – in this case, a fresh tilapia, which I think came out of the water just moments before coming to our table – which was then sliced off the bone into large bite sized pieces.
On top of the raw fish, they tossed on a handful of Chinese celery, slices of ginger, a sprinkle of crispy toasted garlic, and finally a few slices of carrot.
There's no real right or wrong way to cook and eat pla joom (ปลาจุ่ม), or a hotpot in Thailand, but my wife and I tend to subscribe to the throw-everything-into-the-pot-at-once strategy.
Others like to toss in a few ingredients at a time, wait for a bit, and eat slowly.
We started by first adding about half of the fish to the bottom of the soup, and then added most of the cabbage, the morning glory, and the mushrooms.
The fish cooked pretty quickly, and since I didn't want to overcook it, I kept a pretty close eye on it, and in just a few minutes I fished it all out of the hot soup to begin eating.
One of the joys of eating hotpot is the dipping sauce.
The actual broth and method of cooking is quite bland, so it's all about the sauce.
At Baan Pla Joom (บ้านปลาจุ่ม) they served us two different sauces, one was a darker red, while this one pictured was more light orange.
The darker red sauce was a little on the sweet side for me, but the orange red sauce was my style – fiery spicy, filled with raw garlic, and sour from lime juice.
I ate the fish first, and waited for the vegetables to cook a bit longer.
Som tam Laos (ส้มตำลาว)
In addition to our fish hotpot, no meal in Isaan is complete without a plate of green papaya salad, and I ordered my favorite version, som tam Laos (ส้มตำลาว).
Just like the fish and the fresh vegetables for the hotpot, the som tam Laos (ส้มตำลาว) was fresh and crisp, with a beautiful flavor of pla ra, fermented fish sauce.
Price – 50 THB
After leisurely slurping down round one, we continued to add more vegetables, and eventually we dropped in the raw egg, to curdle, cook, and kind of coat some of the vegetables with extra protein.
We also ended up ordering an extra basket of vegetables (เพิ่มผัก) to continue happily eating and relaxing.
Extra basket of vegetables – 30 THB
What I really enjoy about eating pla joom (ปลาจุ่ม) is that it's both healthy and very relaxing to eat, especially in the countryside of Thailand.
You can toss in some fish and vegetables, and take bites while reclining in your plastic chair, shaded from the sun, with a nice cool country breeze.
Conclusion
Pla joom (ปลาจุ่ม), a style of Thai Isaan fish hotpot, is quite a simple dish to prepare, serve, and eat. Because it's so simple, the ingredients have to be extremely fresh, or it just isn't good at all.
In Udon Thani, Baan Pla Joom (บ้านปลาจุ่ม) is a pleasant relaxing restaurant that specializes in serving pla joom (ปลาจุ่ม), and they serve it well.
The fish was fresh, the vegetables were crisp, the broth was mild yet had a wonderful ginger fragrance, and the two sauces were good – but I really loved the orange red garlic chili sauce.
There are many awesome places to eat at in Udon Thani, and Baan Pla Joom (บ้านปลาจุ่ม) is a nice choice for a relaxing and quite healthy meal.
Baan Pla Joom (ร้าน บ้านปลาจุ่ม) – Udon Thani
Address: Phrom Prakai Road, literally on the end of the runway of the Udon Thani airport
Phone: 099-432-8812
Open hours: 10 am – 10 pm daily
Prices: The standard hotpot set is 220 THB
ที่อยู่ พรหมประกาย (น่าสนามบินอุดรธานี ตรงข้ามโรงเรียนอุดรพิชัยรัตน์) เชียงพิณ อำเภอ เมือง จังหวัด อุดรธานี
โทร. 099-432-8812
เปิดบริการทุกวัน 10.00 – 22.00 น.
How to get there: Baan Pla Joom (บ้านปลาจุ่ม) is located in Udon Thani, right next to the airport. From the center of Udon Thani, it's easiest to take a motorbike taxi, or you can take a rot songthaew to the airport, and then walk down the road to get here.