Udon Thani Restaurants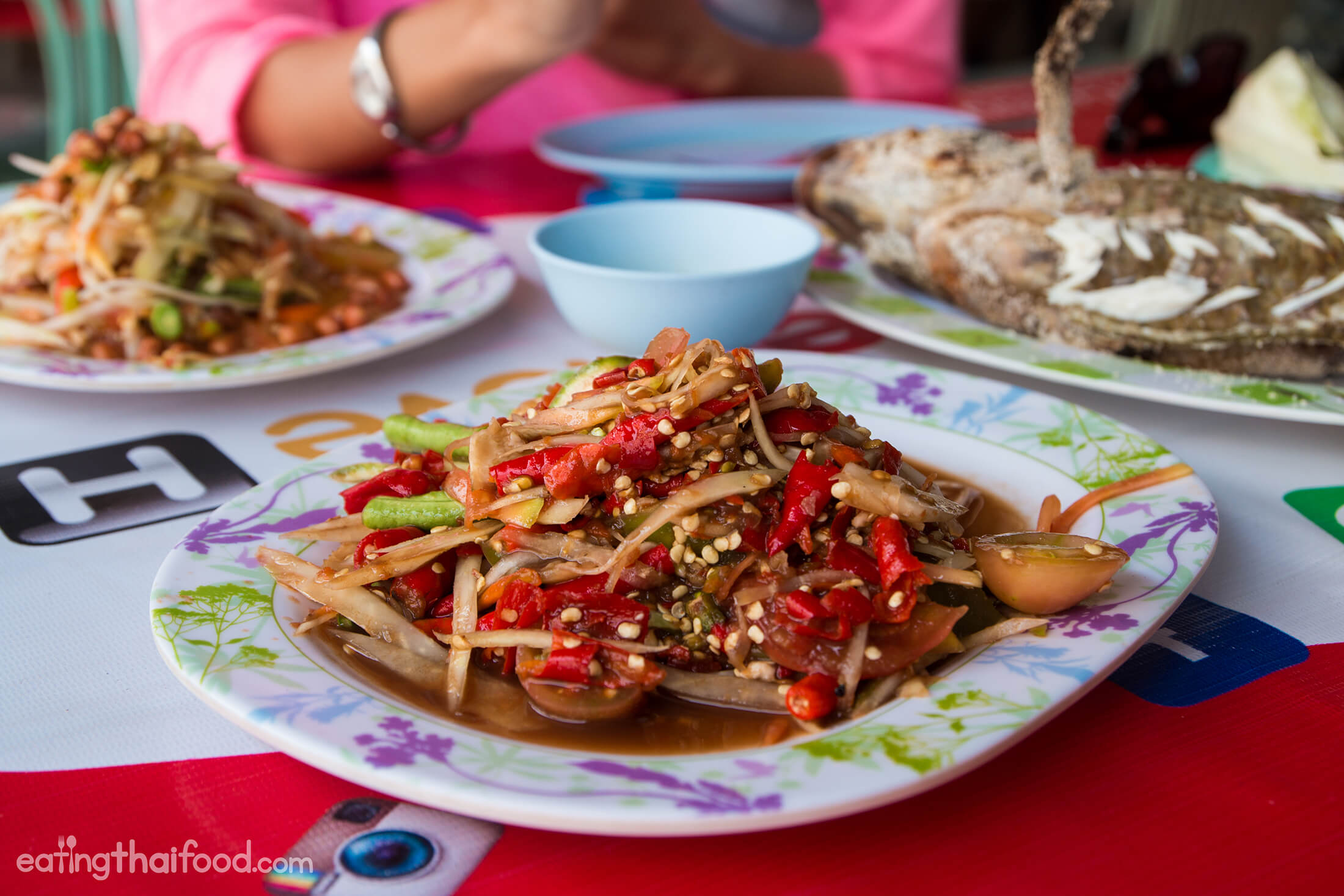 Udon Thani (อุดรธานี) is a province and a major city in the northern part of the Isaan region of Thailand (for these restaurants I'll focus on places to eat within Udon Thani city).
Udon Thani (อุดรธานี) is quite a large city, with probably a population of 1/2 a million people. That means there's enough of a population for quite a few outstanding restaurants and foods to try.
Fiery plates of green papaya salad (ส้มตำ som tam), sour and spicy soup (ต้มแซ่บ tom saab), and both grilled fish (pla pao ปลาเผา) and grilled chicken (ไก่ย่าง gai yang), are popular dishes you'll find throughout Udon Thani. Sticky rice, known better as khao neow, is the ultimate staple throughout Isaan.
Get food updates (for free):
Enter your name and e-mail to join over 18,000 other Thai food lovers who get exclusive Thai food tips and delicious updates by e-mail:
My favorite Udon Thani restaurants:
Taw Baw Pla Pao (ท่อบ่อปลาเผา) – Udon Thani is famous in Thailand as an excellent province for eating freshwater tilapia fish, and probably the most well-known restaurant that serves pla pao, or roasted fish in the city is Taw Baw Pla Pao (ท่อบ่อปลาเผา). I had actually eaten grilled fish so many meals before I made it to this restaurant that I didn't actually try their grilled whole fish, but I decided to try some of their other fish dishes, including their laab pla (ลาบปลา), a minced fish salad, which was probably the best version I've ever had in Thailand. This restaurant serves delicious fish dishes, and it's a nice friendly and laid back environment. This is probably one of the best Udon Thani restaurants I would recommend – you can't miss it!
Udon Miang Pla Pao (อุดรเมี่ยงปลาเผา) – Another outstanding restaurant that specializes in fresh tilapia fish in Udon Thani, is Udon Miang Pla Pao (อุดรเมี่ยงปลาเผา). The fish are stuffed with lemongrass and kaffir lime leaves, coated in a crust of salt, and grilled until juicy perfection. We ate the miang pla pao (เมี่ยงปลาเผา), a grilled fish served with a bounty of leaves and herbs and side sauce. You first grab a few leaves, add some fish and some condiments, then some sauce, and consume. The fish was incredibly fresh and cooked to perfection. Another excellent restaurant in Udon Thani, and another fantastic relaxing environment.
Laab Nuad (ร้านลาบหนวด เนื้อวัว 100%) – Along with many fish restaurants, Laab Nuad is a restaurant that specializes in Thai Isaan beef dishes, and makes them extraordinarily well. You'll find dishes like koi neua (ก้อยคั่วเนื้อ), slices of beef dressed in fish sauce and lime juice, that is often served raw, or slightly cooked, and a fantastic version of tom saeb neua buay (ต้มแซ่บเนื้อเปื่อย), Isaan beef soup. Along with beef, Laab Nuad also has serves puang nom moo yang (พวงนมหมู), grilled pig breasts, which are stunningly tender and flavorful. But my favorite thing about eating at Laab Nuad, and to me what makes it one of the best restaurants in Udon Thani is the sauce – an unbelievably good concoction of dry chili, fish sauce, lime juice, and bile to give it a hit of bitterness.
Baan Pla Joom (ร้าน บ้านปลาจุ่ม) – Like you've already seen in this list, fish, specifically freshwater tilapia, is one of the most famous and popular things to eat in Udon Thani. Along with grilling, and making fish into salads, another common way you'll find fish eaten in Udon Thani is in a dish called pla joom (ปลาจุ่ม), which is basically a fish hotpot. Baan Pla Joom (ร้าน บ้านปลาจุ่ม) is a nice laid back Isaan restaurant, situated literally at the end of the runway at Udon Thani airport. While they serve other Isaan dishes, their main speciality is the hotpot. The ingredients were fresh, the sauces were delicious, and I especially liked the laid back atmosphere.
As I continue to explore and eat at more Udon Thani restaurants, I'll continue to blog and update this page.
Have a great time in Udon Thani, and enjoy the food!
– Mark Wiens
Need a place to stay in Udon Thani? If you're traveling to Udon Thani and looking for a great hotel to stay at, check out the deals here. If you make a booking, at NO extra charge to you, I'll get a commission, and it will help me to continue to blog about Thai cuisine. Thank you in advance!