Larb Pla Duk (Thai Catfish Salad)
Larb Pla Duk (Thai Catfish Salad) ลาบปลาดุก is the a Thai version of spicy catfish salad made with smoked catfish and served with sticky rice.
Larb Pla Duk ลาบปลาดุก
Spicy Catfish Salad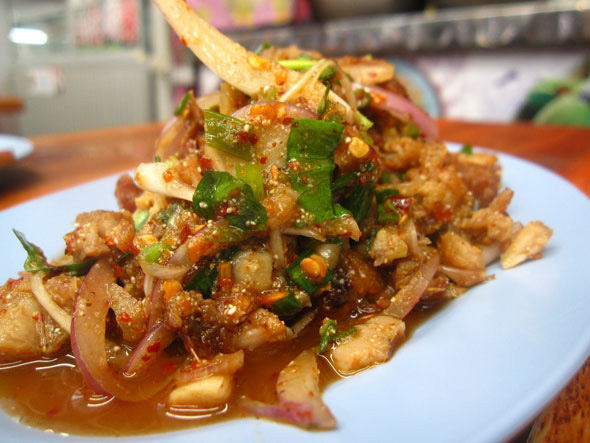 Pronunciation
lâap bplaa-dùk
Description
Larb pla duk is a dish I seek out to find and eat almost every other day while living in Bangkok.  The catfish is grilled over burning coals to become smoky yet still remain firm and flaky.  The fish is de-boned and mixed with the normal larb ingredients to form a mouthwatering spicy combination fish salad.  It goes superbly well with either sticky rice or normal rice.
Main Ingredients
Catfish
Red chili flakes
Toasted rice flakes
Mint
Onions
Lime juice
Fish sauce
Green onions
Where to Eat
Most Isaan restaurants around Thailand.  If you see a street cart of restaurant serving som tam (papaya salad) along with grilled catfish, the vendor will be able to make it for you.
Recipes / Information
Larb pla duk can be made with the same recipe as normal pork larb, just exchange the minced pork with de-boned catfish.