Sensational Thai Beef Fire Pot at Heng Chun Seng (ร้าน เฮ้งชุนเส็ง)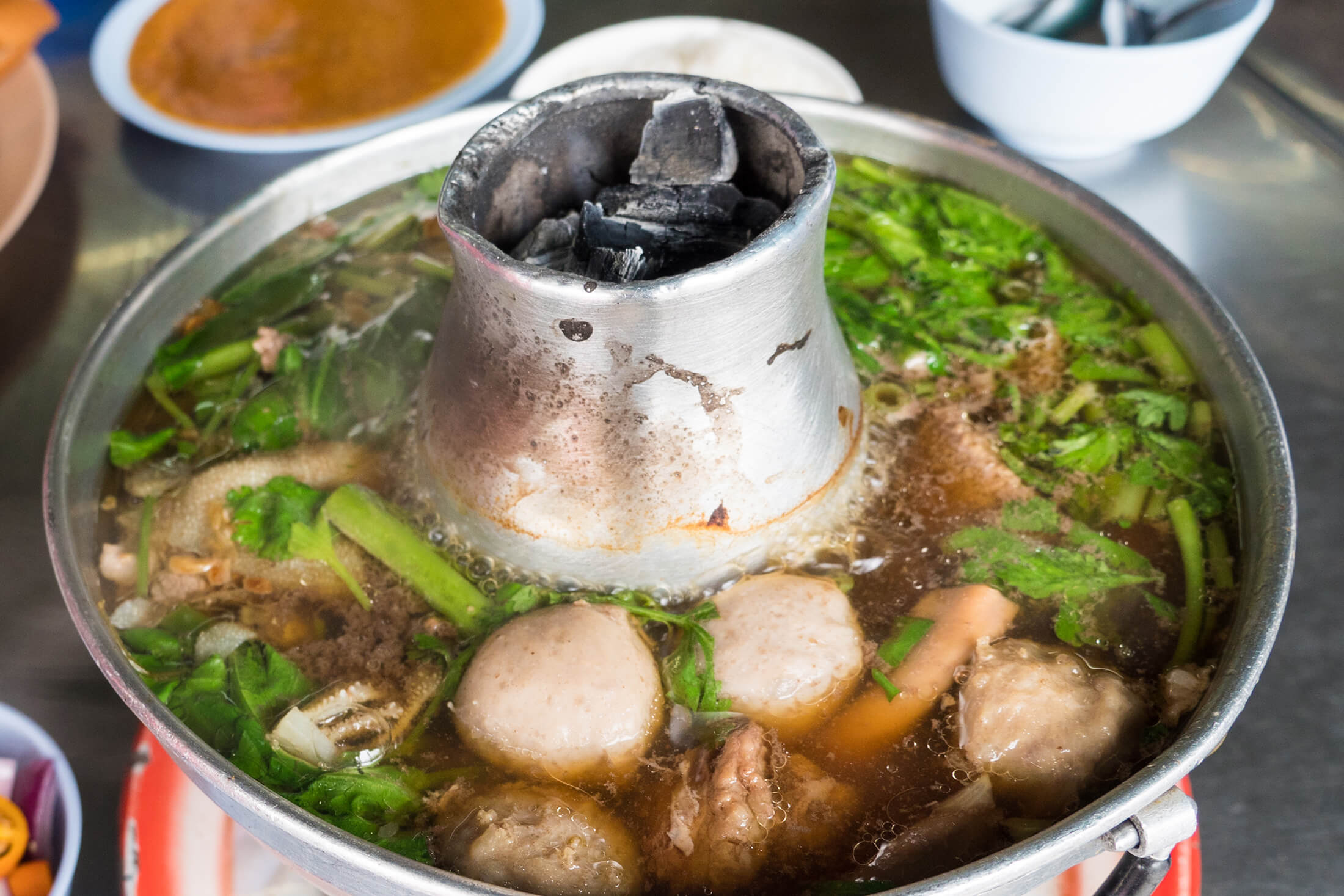 There are a lot of Thai foods that really excite me.
One of them, is Thai beef noodles, or Thai beef soup. While just about everyone, and every street food stall can stir fry up a dish or pound a green papaya salad, beef is something in Thailand that not too many people know how to care for.
Thais are very particular when it comes to cooking beef, making sure the flavor isn't too gamey or meaty tasting, and using the right combinations of spices and ingredients to make it fragrant.
One of the places that does Thai beef soup extraordinarily well in Bangkok is Heng Chun Seng (ร้าน เฮ้งชุนเส็ง).
I wrote about this restaurant a few years ago, but since then I have been back many times, taken new photos, and also because it's such a good restaurant, I thought it deserved a new blog post review, instead of just an update.
Heng Chun Seng (ร้าน เฮ้งชุนเส็ง)
Located on the edge of Khlong Toey market, Heng Chun Seng (ร้าน เฮ้งชุนเส็ง) is a well known spot in the area for beef lovers.
They set out about a dozen tables outside on the sidewalk, and they also have two indoor dining rooms, one with AC to the left hand side, and one shophouse, positioned behind the pot of eternal brewing beef parts.
I usually try to sit outside if there's a free table, but if not, sitting indoor is alright as well.
At the front of the restaurant is where the always braising fire pot of beef sits. It's a little scary looking, which is always a good sign of delicious beef noodles in Asia.
Moo satay (หมูสะเต๊ะ)
Thai pork satay is quite good
Moo satay (หมูสะเต๊ะ)
Before you proceed onto the beef, right at the front entrance of the restaurant you'll find a grill smoking away with yellow Thai pork satays (หมูสะเต๊ะ).
They are actually a pretty good version, so if you need a plate of appetizers to snack on before the beef comes, it's a very welcoming option.
The moo satay (หมูสะเต๊ะ) isn't too sweet, and the texture isn't too soft, yet it's still tender. And on the meat you can actually taste the grilled coconut milk and light blend of turmeric.
The peanut sauce is always a bit on the sweet side, but quite good here, and I always enjoy the pickled shallots, cucumbers, and spur chilies that's served on the side.
Price – 50 THB for 10 skewers
The sauce
At Heng Chun Seng (ร้าน เฮ้งชุนเส็ง) they don't provide you with any sauce, but it's up to you to mix your own sauce from the ingredients on the table.
Most of the time I just grab a small sauce bowl, add in some chili vinegar, a few scoops of chili flakes, and then just a splash of fish sauce.
After fishing out a piece of beef, I then dip into the simple dry chili flake mixture, and eat with rice.
So you'll want to mix up a sauce for yourself while you wait for your beef soup to arrive.
Maw fai ruam (หม้อไฟรวม)
Beef soup fire pot with a bit of everything
Maw fai ruam (หม้อไฟรวม)
Like I quickly mentioned at the top of this blog post, they do also have Thai beef noodles on their menu, but nearly everyone orders beef soup to eat along with a bowl of rice, and that's what I'd recommend.
Maw fai ruam (หม้อไฟรวม) – meaning a Thai fire pot with mixed beef, comes with a mix of everything – along with standard chunks of beef you'll also get a mixture of organs and beef meatballs.
So if you enjoy tripe, intestine, tendon, and some random other possibly unidentifiable parts of beef, this is the dish to order. It's awesome, and I also think they have pretty good beef meatballs as well.
Additionally with the beef, the fire pot of soup comes packed with deep fried fragrant garlic, and fresh water morning glory that boils in the beef soup.
Price – 140 THB
Maw fai neau buay (หม้อไฟเนื้อเปื่อย)
The only thing better than one fire pot of Thai beef soup, is two fire pots of beef soup.
On our last meal at Heng Chun Seng (ร้าน เฮ้งชุนเส็ง), Ying and I had just come from bicycling around Bang Krachao, so we were pretty hungry and in the mood to devour some serious meat.
Beef and morning glory
The beef is so fragrant
Maw fai neau buay (หม้อไฟเนื้อเปื่อย), is a fire pot of just meat – no organs or meatballs, or anything funny shaped – just straight up the meat. So if you're not into the organs, this is the fire pot of beef soup that I'd recommend.
Again, it came identical to our first fire pot, packed with deep fried crispy garlic and water morning glory, and steaming with a beef soup aroma that's enough to make anyones mouth water.
It was again, equally as delicious as our first fire pot.
Price – 140 THB
Some extra toppings
Although when they serve you a fire pot of beef at Heng Chun Seng (ร้าน เฮ้งชุนเส็ง), it includes garlic and morning glory, it never hurts to get some extras to toss in.
Ying and I ordered an extra bowl of deep fried garlic and morning glory, which we happily tossed into the boiled soup, and it elevated the fragrance of the soup to even new levels.
Price – 10 THB each
Conclusion
Along with the giant swimming pool of beef at Wattana Panich, for beef lovers in Bangkok, Heng Chun Seng (ร้าน เฮ้งชุนเส็ง) should be included on your list of must eat spots.
Although the restaurant also has beef noodles (which I've never tried before), the real reason people come to eat here is for the beef fire pot of soup, which is eaten along with a side bowl of rice.
The beef is tender and fragrant, and the extra fried garlic and water morning glory makes the soup even better. I also love the simple dipping sauce – just dry chili flakes, chili vinegar, and a splash of fish sauce – which makes a perfect tender beef dipping sauce.
A sensational Thai beef restaurant, and one of my favorites in Bangkok.
Heng Chun Seng (ร้าน เฮ้งชุนเส็ง)
Address: 133 Thanon Sunthon Kosa, Rama 4 Road, on the backside of Khlong Toey Market
Open hours: 8 am – 4:30 pm daily
Phone: 086-666-9575
Prices: Everything we ordered for 420 THB ($11.73)
ที่อยู่ ถนนพระราม 4 (ถนนพระราม 4 ก่อนถึงทางรถไฟ มุ่งหน้าไปสาทร สีลม) คลองเตย , คลองเตย , กรุงเทพมหานคร 10110
เปิดบริการทุกวัน 8.00 – 16.30 น.
โทร. 086-666-9575
How to get there: Heng Chun Seng (ร้าน เฮ้งชุนเส็ง) is located on the bottom side of Khlong Toey Market, so you can take the MRT to Khlong Toey station, but then you'll need to walk clear through across the market to the corner of Thanon Sunthon Kosa and Soi 7. Alternatively grab a taxi there.