Classic Chinese Teochew Food in Bangkok at Tang Jua Lee (ร้านตั้งจั้วหลี)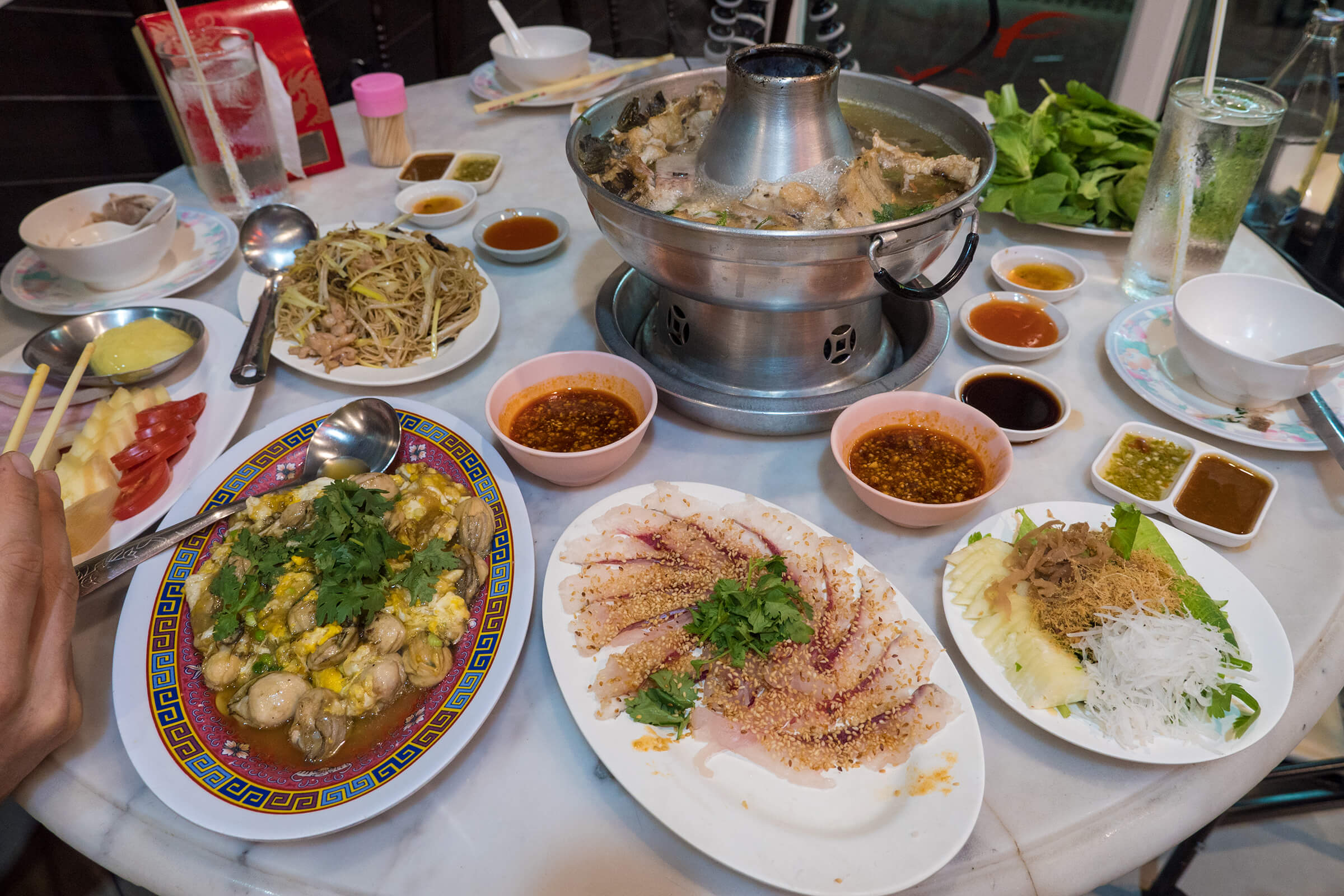 Chinese Teochew food (อาหารแต้จิ๋ว) will impress you by how simple the combinations of ingredients are, yet how pure and comforting the food is.
Tang Jua Lee (ร้านตั้งจั้วหลี) is a long-time Thai Chinese Teochew classic restaurant, located in Yaowarat (Chinatown), Bangkok. They are especially known for their old style fish steamboat and freshwater sashimi.
In this blog post restaurant review, I'll share all the details with you.
Video of this meal
If you have a few minutes, first press play above to watch the full video of this amazing meal.
(Or you can watch it on YouTube here: https://www.youtube.com/watch?v=qDgeaERmBH8)
Note: Thank you for Ronnie for this restaurant recommendation!
In Thailand, quite a huge population of Thai Chinese originate from Chaoshan (潮汕地区), or have Teochew roots, from the Guangdong province of China.
You'll notice lots of Thai street food dishes, especially many of the noodles dishes, and dishes like rice soup with fish, that have Teochew origins.
Tang Jua Lee (ร้านตั้งจั้วหลี) is a classic Chinese Teochew restaurant in Bangkok, and although they have renovated their original shophouse look, they still serve the same amazing food.
I ate along with my friend Joel and my wife Ying, and we ordered a selection of their signature, most well known dishes.
Fish and taro steamboat (หม้อไฟเผือกปลากระพง)
Probably the most famous of all the Teochew dishes served at Tang Jua Lee (ร้านตั้งจั้วหลี) is their fish steamboat, and just about no one who eats here doesn't order it.
They do have a tom yum soup version, and a regular plain version. But since I wanted to order mostly authentic Teochew Chinese food, I decided to go for the plain fish and taro based soup broth.
The steamboat came flaming hot, filled with charcoal in the center of the firepot, and bubbling away.
The slices of barramundi fish were initially deep fried, before being assembled into the steamboat along with chunks of starchy taro, Chinese celery, and seaweed.
Even though the soup wasn't spicy or sour or anything too strong, I was blown away by how incredbily simple and flavorful it was. The fish broth was superb, and occasional starchy pieces of taro, it was delicious. It reminded me a lot of a fish steamboat I had in Singapore at Tian Wai Tian Fish Head Steamboat.
They also gave us some leafy vegetables, which had a taste that was like a cross between lettuce and spinach to toss into our steamboat, which was fantastic as well.
No doubt, an absolute winner of a Teochew Chinese steamboat in Bangkok.
Chinese sashimi (ปลาดิบจีน)
The dish I was most excited to try at Tang Jua Lee (ร้านตั้งจั้วหลี) is their famous thinly sliced freshwater sashimi. They used some type of bighead carp for the sashimi.
The fish was sliced into thin strips, and topped in a crust of fragrant toasted sesame seeds. It was served with a dipping sauce that was nutty and sweet.
Again, this Chinese Teochew sashimi was outstanding.
It wasn't fishy tasting at all, and nor did it have a chewy texture, but it was rather smooth and silky all the way through, while melting in your mouth.
Oyster omelet (ออส่วน)
Another Teochew Chinese classic is an oyster omelet (ออส่วน aw suan). The gooey batter and egg mixture paired with plump melt in your mouth oysters was superb. It wasn't too salty, but just perfect.
Probably the only reason why I didn't rave more about the oyster omelet here is because I was so amused by the fish steamboat and the Chinese sashimi, which overpowered the oyster omelet for me – but the oyster omelet was still excellent.
Cold goat (แพะเย็น)
I always enjoy trying random things on any menu restaurant I go to.
At Tang Jua Lee (ร้านตั้งจั้วหลี) is was cold goat (แพะเย็น pae yen) that stood out as being pretty interesting to me.
The cold goat (แพะเย็น) was preserved all in-house at the restaurant, and it was sliced into pieces and served with bamboo shoots, pineapple, tomatoes, and Thai mayonnaise salad dressing on the side.
With the exception of the Thai mayonnaise, which I've never really been a fan of, the cold goat (แพะเย็น) was pretty amazingly good. It was definitely cold, and it was very similar to goat ham, with a gelatinous skin around the outside.
I wouldn't say the cold goat (แพะเย็น) is a must order when you eat at Tang Jua Lee (ร้านตั้งจั้วหลี), but it was interesting to try.
Fried noodles (ผัดหมี่ฮ่องกง)
For the final dish of our meal we ordered Hong Kong fried noodles (ผัดหมี่ฮ่องกง).
No mistakes here, the noodles were fried nice and dry, not too oily, and fragrantly smoky.
Total price
Our total bill for 3 of us came to 1,485 THB ($42.84).
Conclusion
Tang Jua Lee (ร้านตั้งจั้วหลี) is a classic Thai Chinese Teochew restaurant in Bangkok.
I'm an addict of spicy and overly pungent foods, but one of the things that always impresses me when I eat Teochew Chinese food is how simple yet satisfying and clean the flavors are.
The fish steamboat at Tang Jua Lee (ร้านตั้งจั้วหลี) is something you don't want to miss for ultimate comfort food, while the Chinese sashimi is unbelievably good as well.
Tang Jua Lee (ร้านตั้งจั้วหลี)
Address: Address: 2212 Thanon Khao Lam, Samphanthawong, Bangkok
Open hours: 11 am – 2 pm and 5 pm – 10:30 pm daily
Phone: 02 861 3213
Total price: 1,485 THB ($42.04)
ที่อยู่ 2212 ถ.ข้าวหลาม, ต.ตลาดน้อย, อ.สัมพันธวงศ์, กทม. 10100
เปิดบริการทุกวัน 11.00-14.00, 17.00-22.30 น.
โทร.02 861 3213