Fresh Seafood in Bangkok at Hia Wan Khao Tom Pla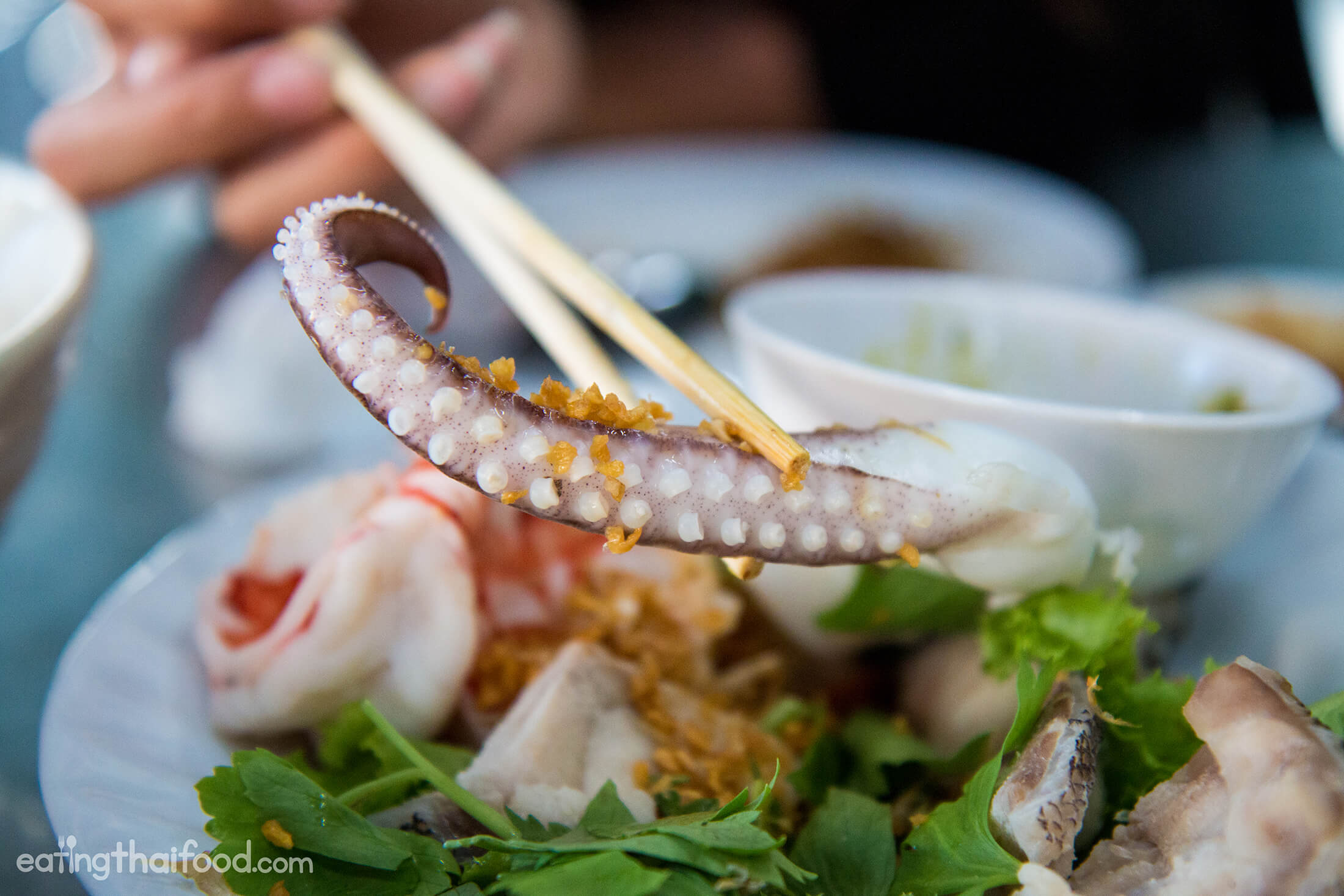 The area around Thanon Chan road in southern Sathon, is home to some of the best seafood restaurants in central Bangkok.
The reason: it's close to Saphan Pla, the main fish auction of Bangkok.
So around Charoen Krung and Thanon Chan, there are lots of great Thai seafood restaurants, many of which serve Chinese style seafood like New Peng Chieng.
I had been wanting to go to another restaurant in the area, this one called Hia Wan Khao Tom Pla (ร้านเฮียหวานข้าวต้มปลา) for a while now, and finally Ying and I were in the area at the right time for an evening dinner.
Full video of the meal:
(If you can't see the video watch it on YouTube here)
The Restaurant
Hia Wan Khao Tom Pla (ร้านเฮียหวานข้าวต้มปลา) is right along Thanon Chan.
All the seafood is lined up and sits on ice at the front of the restaurant, where there's also a shophouse, but all the tables are set up on the sidewalk and in front of the neighbors business.
I think this restaurant would fall under the Bangkok street food category due to its atmosphere, yet it's high end and high quality street food dining.
The Menu
There was only a menu in Thai, and it was a little confusing, but I'll do my best to explain.
On the left side of the menu are all the different types of khao tom (rice soup ข้าวต้ม), each with a different type of seafood or a mix of seafood or toppings / ingredients. The left price column was for tamada (ธรรมดา), usually the typical size, and the right side was for pisayt (พิเศษ), the special or the larger size.
We only ordered tamada (ธรรมดา) and the portions were very generous.
Khao tom pla gao (ข้าวต้มปลาเก๋า)
Let's begin with the khao tom pla (ข้าวต้มปลา), the dish that the restaurant is most well known for – it's the dish in their name.
Khao tom is boiled rice soup.
Unlike congee rice porridge which is like a paste, the rice kernels in khao tom (ข้าวต้ม) are separated, very clear grains of rice swimming in broth, or sometimes water.
There were many different versions of khao tom to order, but I chose khao tom pla gao (ข้าวต้มปลาเก๋า), rice soup with brown marbled grouper fish.
First off, it was a pretty decent sized bowl, and the ratio of rice soup to pieces of fish was very generous for the price.
The soup was, as typical, plain, yet soothing. I think it was a fish based stock, but I'm not totally sure, it could have very well been a pork based broth, with a faint black pepper flavor.
The big pieces of boneless fish were boiled in hot water, then added to the khao tom, then sprinkled with a handful of sliced Chinese celery, and a spoon of deep fried garlic. I think that's it.
Although I didn't get a photo of it, on the table was a sauce made from tao jeow, fermented soybeans, which was intended to be used for dipping the pieces of fish in.
The khao tom rice soup was good, but nothing especially stand out, but what really stood out in this bowl of khao tom pla gao (ข้าวต้มปลาเก๋า) were the chunks of fish.
They were so fresh, firm, and without the slightest fishy taste at all. I loved the brown marbled grouper.
Price – 80 THB
Goong ob woon sen (กุ้งอบวุ้นเส้น)
The next dish we tried at Hia Wan Khao Tom Pla (ร้านเฮียหวานข้าวต้มปลา) was their version of goong ob woon sen (กุ้งอบวุ้นเส้น), mung bean noodles baked in a mini pan with shrimp.
On the bottom of the pan were a few pieces of pork fat, some slices of ham, then a few jumbo sized ocean prawns, and finally a handful of mung bean noodles that expanded on top.
It didn't have the depth of flavor, the strong black pepper and cilantro roots flavor as my favorite goong ob woon sen (กุ้งอบวุ้นเส้น) in Bangkok, but it was still very good, and those monstrous prawns were incredible.
What I did really like at Hia Wan Khao Tom Pla (ร้านเฮียหวานข้าวต้มปลา) was their nam jim seafood, the garlic chili dipping sauce used for lots of different seafood dishes in Thailand.
It was spicy, sour, sweet but not overly, and had a zing to my tongue with each bite. Along with the jumbo prawns, it was amazing.
The goong ob woon sen (กุ้งอบวุ้นเส้น) included three seriously massive prawns.
Price – 200 THB
Tom yum pla kapong (ต้มยำปลากะพง)
We also tried their version of tom yum pla kapong (ต้มยำปลากะพง), a tom yum soup made with barramundi fish.
The tom yum was again pretty good size, and it came loaded with straw mushrooms and a ton of rough cut sawtooth herb.
Just like the khao tom pla gao (ข้าวต้มปลาเก๋า), the tom yum was all about the fish.
Sometimes pla kapong (ปลากะพง) can be mushy when it's either overcooked or not fresh. But the pieces of barramundi in this tom yum were firm, and again, had zero fishiness to them.
The soup itself was a bit too sweet for me and not spicy enough, but it was powerfully sour, and the fish was fantastic.
Price – 120 THB
Luak jim ruam mit (ลวดจิ้มรวมมิตร)
Luak jim is a Thai dish I've especially enjoyed eating in Isaan, northeastern Thailand, and it can be made with either seafood or beef, at least what I've seen so far.
The seafood or meat is just boiled with some aromatic herbs like galangal and kaffir lime leaves, dished onto a plate, topped with crispy garlic and Chinese celery, and always served with sauce.
Being a seafood restaurant, the luak jim ruam mit (ลวดจิ้มรวมมิตร) at Hia Wan Khao Tom Pla (ร้านเฮียหวานข้าวต้มปลา) included an impressive pile of mixed seafood parts and pieces.
There was another massive prawn, slices of fish, and a bunch of squid, which was huge as well.
I'm not sure if you can really judge from the photo to see how much seafood was on the plate served to us, but it was quite a generous portion.
The same nam jim seafood was used for the luak jim ruam mit (ลวดจิ้มรวมมิตร).
Although eaten with the sauce, luak jim ruam mit (ลวดจิ้มรวมมิตร) is a dish where the natural seafood or meat can't be covered up.
The ingredients must be good quality, and most importantly, extremely fresh.
They made no mistakes at this restaurant, it was all fresh, firm seafood, and not overcooked.
Again, this is just plain boiled seafood, so don't expect massive flavors, just the fresh flavors of the seafood.
Price – 180 THB
Again, the portion sizes were huge, and Ying and I were stuffed after finishing this meal.
But as we were about to pay and leave, the owner had seen us making a video, and wanted to ask what we were doing. He was extremely friendly by the way.
We mentioned we were just making a video for our Thai food blog, EatingThaiFood.com, and making a video for YouTube.
Badeng (บะเต็ง)
Then he said, "you didn't try our fried pork, that's one of our signature dishes."
The next thing you know, he brought over just a sampler sized bowl of the fried glistening pork, what they call badeng (บะเต็ง), saying it went extremely well with khao tom.
It was outstanding.
The pork was crispy nearly all the way through, and to my pleasant surprise, it wasn't very sweet, but mostly salty and crispy.
If I go back to Hia Wan Khao Tom Pla (ร้านเฮียหวานข้าวต้มปลา), the badeng (บะเต็ง) will be a dish I order along with seafood.
Conclusion
Hia Wan Khao Tom Pla (ร้านเฮียหวานข้าวต้มปลา) is a street food stall in Bangkok that serves good quality seafood.
Their speciality dish is khao tom pla (ข้าวต้มปลา), rice soup with fish, and it's a dish you shouldn't miss when you visit. Everything else I ordered was also delicious, focusing on very simple cooking, and just fresh seafood… oh yah, and the fried pork, though not seafood, was amazing as well.
Along with serving excellent seafood, Hia Wan Khao Tom Pla (ร้านเฮียหวานข้าวต้มปลา) is the type of Bangkok atmosphere I love so much – on the sidewalk, tucked off the busy road, and all about the food.
If you love seafood, this place is worth a visit.
Hia Wan Khao Tom Pla (ร้านเฮียหวานข้าวต้มปลา)
Address: Thanon Chan 32/2 Tung Wat Don, Sathon, Bangkok
Phone number: 02-2110829 , 081-8272381
Open hours: 5 pm – 12 midnight daily (closed on some Chinese holidays)
Prices: I listed the price for each dish above, but our total bill for 2 came to 600 THB – and we could have shared the amount we ordered with 4 people I think. I think it was a very good price for the amount and quality of seafood we got.
ที่อยู่ ถนนจันทร์ 32/2 ทุ่งวัดดอน สาธร กรุงเทพ
โทร. 02-2110829 , 081-8272381
เปิดบริการ 17.00-24.00 น.
How to get there: The restaurant is located on Thanon Chan Soi 32/2, almost at the corner of Soi 32/2 and the Sirat Expressway. The closest BTS station is Surasak, but it's about a 20 minute or so walk from there. So probably best to take a taxi directly here.
For the map, scroll to Bangkok, then click on Hia Wan Khao Tom Pla (ร้านเฮียหวานข้าวต้มปลา) highlight the position: