Samrub For Thai – Ancient Thai Recipes, Private Kitchen with Chef Prin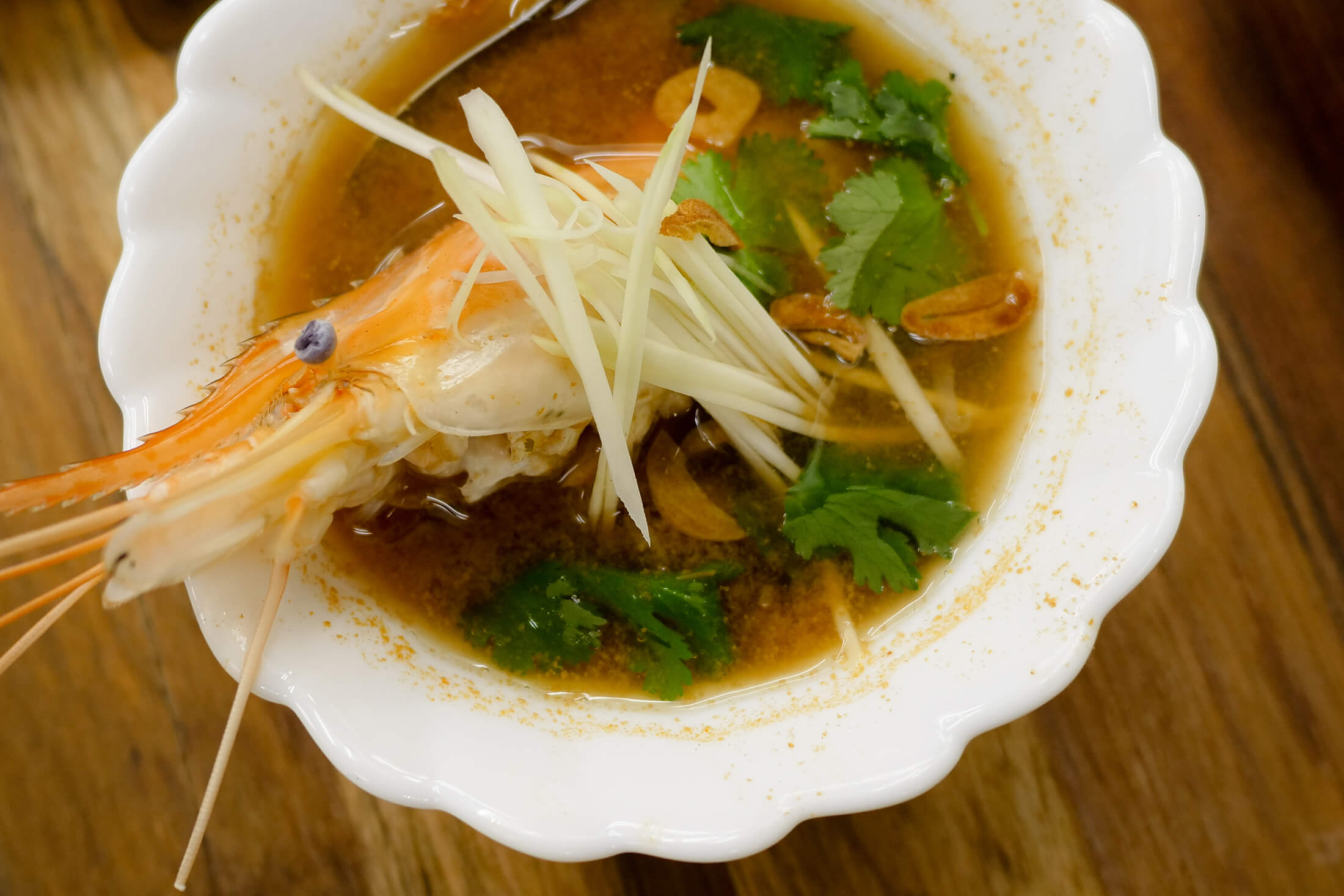 Samrub For Thai (สำรับสำหรับไทย) is a small private kitchen restaurant in Bangkok by Chef Prin (former head chef of Bangkok's Nahm restaurant).
He especially focuses on ancient family Thai recipes, many of which are unheard of these days, and cooks each dish with precision.
It was an honor to have a chance to eat Samrub For Thai (สำรับสำหรับไทย) with Chef Prin and his talented team, and I'm going to share all the food with you in this post.
Samrub For Thai (สำรับสำหรับไทย)
An experience eating at Samrub For Thai (สำรับสำหรับไทย) is gourmet, laidback and fun, a lesson on Thai recipe history, and most of all, exquisitely delicious.
In addition to the amazing food, one of the highlights of eating at Samrub For Thai (สำรับสำหรับไทย) is the entire open air kitchen where you can see all the food and ingredients that are being cooked, and have a chance to interact with Chef Prin and the entire team.
Chef Prin is very friendly, and from the moment you see him cooking, you can see his passion and love for what he does – and that's also a reason why his Thai food is so good.
There's only 8 seats at Samrub For Thai (สำรับสำหรับไทย), and typically private groups tend to book out the entire restaurant (which is located at Soy Sauce Factory art space).
Thanks to Khun Neeracha for organising this meal for us, along with Khun Pup Pup, Khun Fon, and Chef Andy.
You'll find the menu written on the white-board for the day, and the menu is constantly changing according to Chef. But I can assure you, although you won't know what dishes you'll be served, Chef Prin is the type of chef that you can trust anything he cooks.
Ok, let's move on to all the food.
Grilled squid, Muslim curry (ปลาหมึกย่างแกง)
When we arrived, Chef Prin was slicing up this a giant squid, which he was scarring in a pattern, and then slicing into pieces to eventually skewer.
The squid was then grilled over a high heat charcoal, and then covered in a Thai Muslim curry sauce, and garnished with cucumbers.
The squid itself was amazing, perfectly chewy, but with a snap, and not hard to chew, yet not too soft. The curry sauce was outstanding, vibrant with spice, and reminded me slightly of this coconut milk bbq sauce.
Grilled laab (ลาบปลาตอง)
Next course were laab (but nothing like laab that you typically know of in Isaan or Northern Thailand) rolls originating from Nakhon Phanom, and made with clown knife-fish.
Inside, was similar to a fish-ball, but pure fish with a great tone of curry paste, and the thing I really liked was that it was wrapped in a mulberry leaf, and roasted. So it had unique herbaceous taste, with a roasted aroma. A squeeze of lime to contrast the flavor, made it even better.
Grilled crab in betal leaf (เมี่ยงส้มเขียวหวานปู)
Next appetizer course was a version of miang kham, a packet of ingredients wrapped up into a wild betel leaf.
Chef Prin's version included grilled crab, tangerine, a series of herbs including mint, all wrapped up in the peppery betel leaf.
It was a bite of contrasts yet complementary tastes and textures all at the same time. You could feel the strands of the crab in your mouth, followed by the burst of the tangerine pulp, and freshness of the herbs.
Grilled tomato salad and grilled oyster (ยำหอยนางรมกับมะเขือเทศย่าง)
Next dish was a pair of a grilled tomato salad with a grilled oyster from Surat Thani (province usually associated wit the best oysters in Thailand).
The tomato salad was amazing, roasted and peeled, topped with I think fried shallots and garlic, Asian pennywort, and a dressing was citrusy, but not sharp like lime juice, and not sweet.
The oyster was just lightly grilled, shucked, and served hot with the accompanying herbs and tomato salad.
Tom yum (ต้มยำกุ้งแม่น้ำกับมะม่วงดิบ)
I've always been a huge lover of Thai tom yum, but not every version.
This is one of the most famous Thai dishes, but it's one of those dishes that in my opinion can either be unbelievably delicious, or not good at all.
Chef Prin made an ancient Thai family recipe for tom yum with river shrimp and shreds of green mango, and it was one of the best tom yum's I've ever had.
The sharp sourness came from sour tamarind and pickled garlic, with shrimp paste in the broth to give it umami and depth. Finally, the river shrimp was creamy and fleshy.
This was truly a stunning and complexly flavorful tom yum.
Dry fish innards curry, smashed beef (แกงไตปลาแห้งจิ้นตุ๊บ)
One of the ultimate dishes of Southern Thai food is fish innards curry (แกงไตปลา gaeng tai pla), but this version was dry, not like a runny curry, but more like a relish.
It also happens to be a favorite dish of mine for its vibrancy and spiciness.
All the flavor was condensed in this dry version, and along the the fermented fish innards making the base of flavor, the relish including plenty of jackfruit seeds, which was a nice addition.
Like the tomato salad and oyster, the dry fish innards curry was paired with Northern Thai style smoked and smashed beef – this is interesting how Chef Prin paired typically Southern Thai and Northern Thai dishes together. And it worked so well.
Dried and smashed beef (จิ้นตุ๊บ) is a dish you'll find in Northern Thailand and also Laos, and it's so good, but this is probably the best I've ever had.
Using Australian wagyu, Chef Prin smoked the beef, and then smashed it to tenderness. The smokiness, meat umami, and texture were all perfect. This beef blew me away – I could have sat there all night and day snacking on this.
One more twist added to the gaeng tai pla haeng (แกงไตปลาแห้ง) was when chef brought out a tub of duck liver (foie gras) to pair with it.
The delicate and cool duck liver, with the spicy salty fish innards curry was delicious.
Grilled chicken (ไก่ผะแนง)
The grilled chicken was another highlight, not your average grilled chicken.
Firstly, it was a domestic free range chicken from Khon Kaen, which was coated in a thick layer of curry paste, before the final grilling process.
The chicken was incredibly tasty and had a wonderful texture that wasn't chewy, but not too soft either, and yet still juicy.
The curry paste was a burst of flavor, I could really taste the dry spice blend like coriander seed and cumin, coming together with chilies and flavors of galangal, and what I'm sure was a multitude of fresh spices.
Grilled omelet (ไข่ป่าม)
This dish wasn't written on the menu, but it's a Northern Thai grilled omelet in a banana leaf.
Chef Prin continually monitored the egg cooking over the grill, so it didn't fully cook, but the top half remained slightly runny. It was similar to a fried egg, but with no oil, and just the pure egg and light seasoning like green onions, with a melt in your mouth texture, and slight smokiness.
It was even better on top of rice with fish sauce and chilies!
Longan ice cream, corn fritter (ไอศกรีมลำไยกับข้าวโพดทอด)
Dessert was longan ice cream with deep fried corn fritters, topped with both fresh longan and whiskey soaked dried longan fruit.
The traditional Thai style longan ice cream was frozen in a brick like shape, so it was sliced into pieces to put in each bowl.
The ice cream was not too sweet, with the wonderful taste of longan and the contrast of the warm fried corn fritter and sharpness of the whiskey soaked longans.
Great combination and way to end a memorable Thai food experience.
What I loved so much about this meal at Samrub For Thai (สำรับสำหรับไทย) were the rare Thai dishes, high quality of ingredients, the sharp and bold flavors, and Chef Prin's friendly and laid-back approach.
When you eat at Samrub For Thai (สำรับสำหรับไทย) you'll not only enjoy the food, but learn about ingredients, ancient Thai recipes, and unique combinations.
On top of the amazing food, the private kitchen atmosphere and great company, makes Samrub For Thai (สำรับสำหรับไทย) a very memorable Thai food dining experience.
The restaurant is located at Soy Sauce Factory, an art space shophouse, in Chinatown, Bangkok.
Samrub For Thai (สำรับสำหรับไทย)
Address: 11/1 Soi Charoen Krung 24, Khwaeng Talat Noi, Khet Samphanthawong, Krung Thep Maha Nakhon 10100 (Google map)
Contact: Facebook (I believe they open reservations by month according to Chef availability)
Open hours: Dinner was at 7:30 pm
Price: 2,200 THB per person
Note: Samrub For Thai (สำรับสำหรับไทย) is a temporary restaurant until a new restaurant at Maha Nakhon is opened.