Grilled Chicken Perfection in Khon Kaen (ไก่ย่างระเบียบเขาสวนกวาง)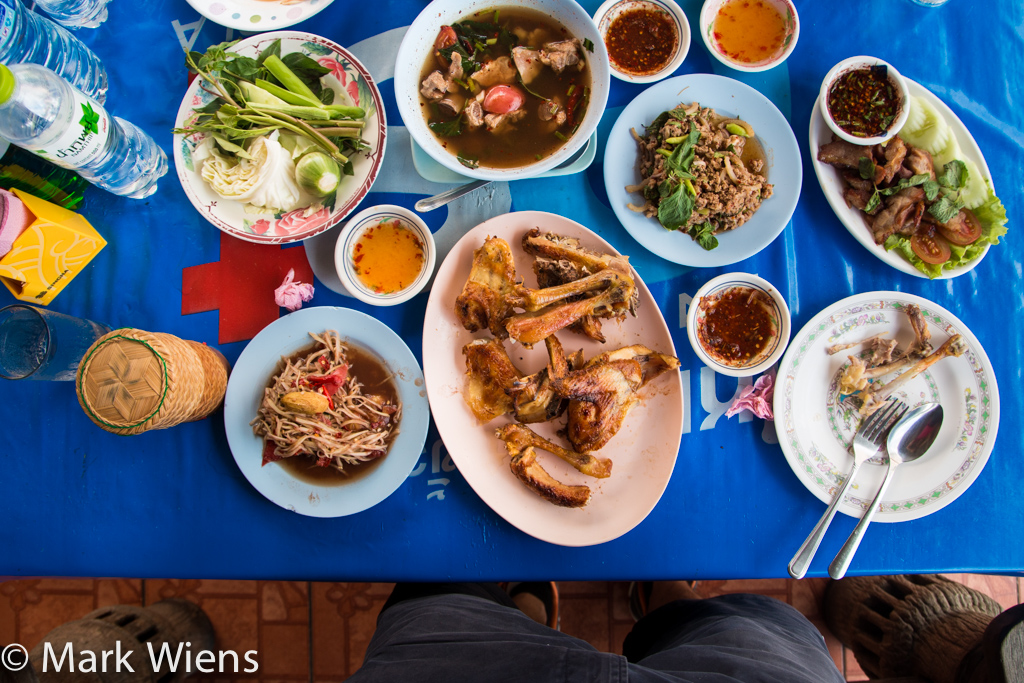 Isaan (Isan), the northeastern region of Thailand, is home to some of the most well known Thai grilled chicken, and som tam (green papaya) recipes in the country.
I spent some time in Khon Kaen (ขอนแก่น), one of the 4 major cities in Isan, and while I was there, I ate at a restaurant called Gai Yang Rabeab Khao Suan Kwang (ไก่ย่างระเบียบเขาสวนกวาง), famous especially for their grilled chicken.
Khao Suan Kwang (เขาสวนกวาง)
People from Khao Suan Kwang (เขาสวนกวาง), a district in Khon Kaen, are known for their expert skills both raising and grilling chicken. It's sort of like the Memphis (experts of BBQ), of Thailand's grilled chicken.
Gai Yang Rabeab Khao Suan Kwang (ไก่ย่างระเบียบเขาสวนกวาง) restaurant is not in Khao Suan Kwang (เขาสวนกวาง), but according to Lonely Planet, the family that runs the restaurant is from there, and they also source their chickens from that district as well.
It's just about as close as you can get to the Shangri-La of grilled chicken in Thailand.
The "basin grills"
What you'll immediately notice about Gai Yang Rabeab Khao Suan Kwang (ไก่ย่างระเบียบเขาสวนกวาง), are their beautiful grills, full of the most perfect looking golden grilled chickens.
There are many different methods of grilling in Thailand, in Chiang Mai I was impressed with a home-made rotisserie grill, and in Isan, one of the common methods is the indirect "basin grill."
At the very bottom of the grills are small clay grills, and that's where the hot coals are placed.
On top of the clay grills, are big rimmed metal basins, that fit right over the grills. The next layer is the griddle, and finally the chicken sits on the very top.
The big basin, separating the birds from the coals, gives the chicken some space, and also I think it sort of works like a combination grill and oven at the same time – the heat sort of bounces off the walls of the basin.
This slow, indirect coals grilling method, allows the chickens to grill perfectly… just look at the color of that SKIN!
The menu
The menu at Gai Yang Rabeab (ไก่ย่างระเบียบ) includes all the classic Isan dishes you'd expect at a local restaurant in Khon Kaen.
The full variety of som tam, lab (larb), and all sorts of salads are available.
Grilled chicken (ไก่ย่าง gai yang)
Let's begin with the grilled chicken.
I think just about everyone who eats are this restaurant orders a full chicken – and if you eat here – you should do the same. The chickens are quite small – so you should have no trouble eating the entire chicken yourself!
Price – Full chicken (ตัวละ) 160 THB
Honestly, my first thought was that the chicken looked a little dried out and scrawny.
And yes, the chickens definitely are a little on the scrawny side – which is actually a good thing – meaning they are more natural, free running chickens.
But I was totally wrong about it being dried out; The skin was just the perfect crispiness, and the meat underneath was so moist and oily that it was almost creamy.
I'm still dreaming about this gai yang, and I still can't believe how good it was – it was marvelous.
The chicken was lightly salted, but really I don't think they marinated it in too much. It mostly tasted like pure grilled chicken, the unadulterated flavor of REAL country chicken.
I was very happy with the chicken, and licked the bones as clean as I could.
If you're interested in making Thai grilled chicken, be sure to check out my recipe here.
Som tam Lao (ส้มตำลาว)
Ok, let's move on to the other dishes we ordered at Gai Yang Rabeab (ไก่ย่างระเบียบ).
Probably my favorite variation of som tam is som tam Lao (ส้มตำลาว), which is almost like som tam boo pla ra (green papaya salad with fermented fish and crab), except they usually don't add a crab, just the fermented fish sauce.
Price – 40 THB
The Som tam Lao (ส้มตำลาว) was spot on.
It was fresh, pounded with just the right amount of fiery chilies, pungent from the fermented fish sauce, and it always makes a wonderful complement grilled chicken and sticky rice.
Something you don't see often in Bangkok, but usually should be included in the som tam Lao recipe, is what in Thai is called a Laos olive มะกอกลาว (in English I believe it's a spondias).
Also, I don't have a picture of it, but we also ordered som tam kai kem (ส้มตำไทยไข่เค็ม), green papaya salad with salted egg, which was wonderful – my wife said it was one of the best she's had in a very long time.
Lab moo (ลาบหมู)
The only dish I was slightly disappointed with, and not that it was bad, it just wasn't to the standard of the other dishes, was their lab moo (ลาบหมู), Isan minced pork salad.
I think it was pre-mixed ahead of time, so the khao khua (roasted sticky rice powder that gives the dish a crunchiness) was soft, and it wasn't nearly sour enough for me.
Luckily, the grilled chicken and other dishes, made up for it. But I probably wouldn't order their lab moo again.
Price – 60 THB
Tom sab graduk moo (ต้มแซ่บกระดูกหมู)
On a typical Isan meal table, there includes a mix of different dishes, one of them usually being a soup. One of the most commonly available soups in Isan cuisine is tom sab (ต้มแซ่บ), and we ordered the version with pork and pork bones.
It was very good, nice and clear pork soup, studded with chilies, sawtooth, lemongrass, sweet basil, and tomatoes.
Price – 60 THB
Kaw moo yang (คอหมูย่าง)
Grilled pork neck, known as kaw moo yang (คอหมูย่าง) is another popular item off the grill in the Isan region of Thailand.
At Gai Yang Rabeab Khao Suan Kwang (ไก่ย่างระเบียบเขาสวนกวาง), it's only available on the weekend, and since I happen, just by chance to be eating here on Saturday, we decided to try it.
The meat was fatty and tender, and I really loved their nam jim chili dipping sauce. However, the pork was marinated a little too sweet for my best liking.
I think the best grilled pork neck I've had was in Khorat.
Price – 60 THB
Tabtim krob (ทับทิมกรอบ)
I'm not really a sweets kind of guy, but my wife Ying loves desserts, so she ordered a bowl of tabtim krob (ทับทิมกรอบ).
Conclusion
If you're ever in Khon Kaen (ขอนแก่น), Thailand, and are ready to chow down of some grilled chicken perfection, Gai Yang Rabeab (ไก่ย่างระเบียบ) is a restaurant you don't want to miss.
All the dishes we ordered were quite good, but everything was blown away by the finger-lickin', country tasting, grilled chicken. I would be quite happy to just eat a full chicken, som tam, and sticky rice here.
In addition to grilled chicken perfection, the restaurant is just a nice relaxing and spacious restaurant to sit at, and the staff are very nice.
Gai Yang Rabeab (ไก่ย่างระเบียบ)
Address: Thepharak Rd, Mueang Khon Kaen District, Khon Kaen, Thailand
Phone: 043-243-413
Open hours: 9 am – 3:30 pm daily
Prices: Full chicken is 160 THB, altogether our bill was around 500 THB and we had a feast
ที่อยู่ ถนนเทพารักษ์ ต.ในเมือง อำเภอเมือง ขอนแก่น 40000
โทร. 043-243-413
เปิดบริการ ทุกวัน : 09:00 – 15:30