Nong Joke (ร้านน้องโจ๊ก): One of the Best Restaurants in Krabi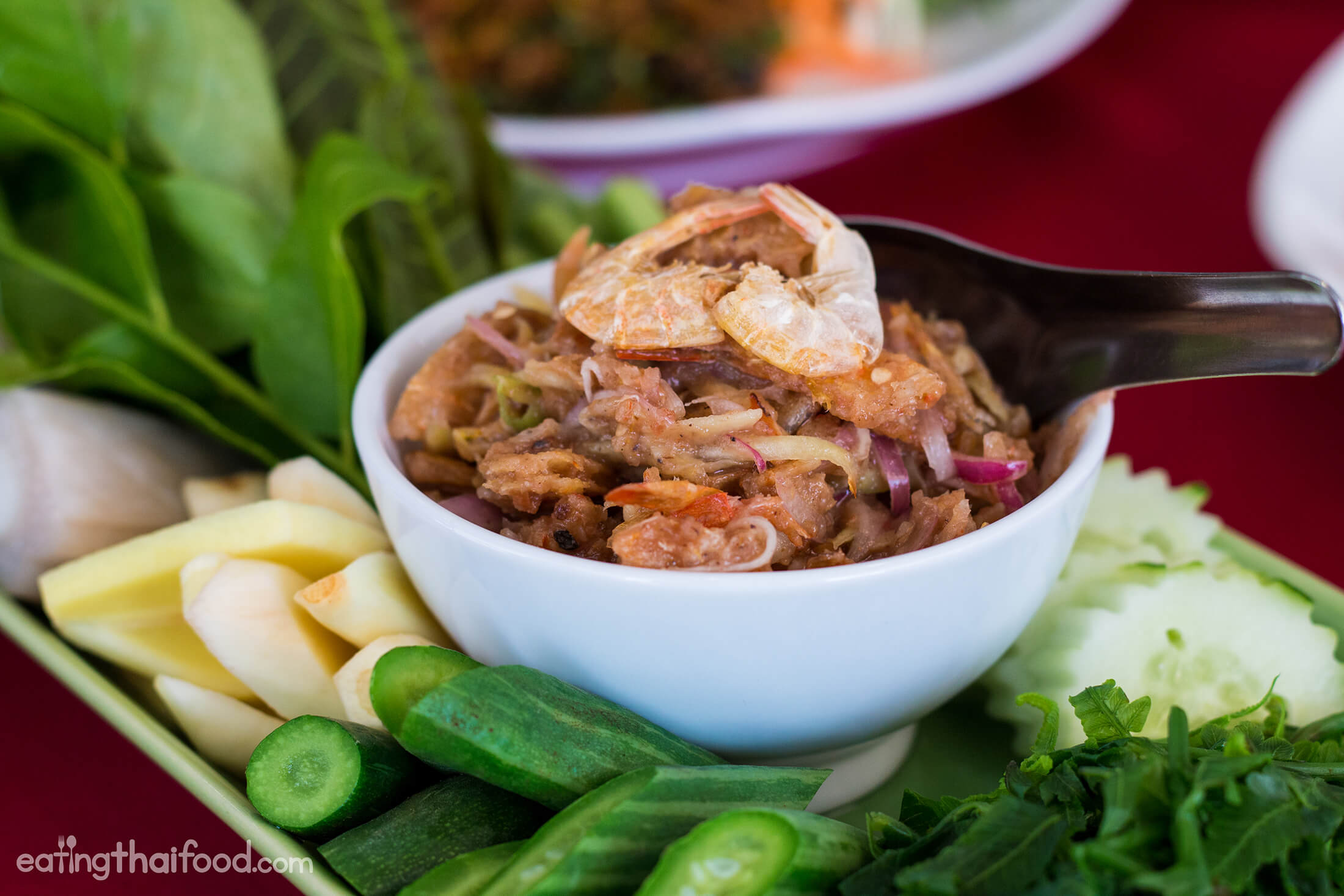 If you were to mention Krabi to me in a conversation, Nong Joke (ร้านน้องโจ๊ก) is one of the first things I would think of.
It's a restaurant that Ying and I eat at as soon as we get back to Krabi. Every time.
A few years ago I wrote a different blog post about Nong Joke (ร้านน้องโจ๊ก), but since it has been a few years, and since the restaurant has been passed fully to the owner's son (P'Joke himself) and he's done some renovations to the restaurant, yet preserved the food fully, I thought I'd write another separate post.
So here it is, one of my favorite restaurants in Krabi…
Nong Joke Restaurant ร้านน้องโจ๊ก (quick history)
Since my wife is originally from Krabi Town, which is a pretty small town, she happens to know quite a few people, and she actually went to school with P'Joke.
Nong (น้อง) in Thai means young one or a kid. And Joke is the nickname of the son of the owner of the restaurant.
The restaurant was originally not a restaurant at all, but started off at a market street food stall selling khao gaeng (Thai rice and curry).
As the town of Krabi started to recognize the delicious flavors of curries Joke's Mother and Father were selling at the market each day, their family food stall became more and more popular and well known.
Eventually, after years of selling food at the market, they moved to an indoor restaurant location.
About the same time, they had a child, his nickname being Joke, and so they decided to name their restaurant Nong Joke (ร้านน้องโจ๊ก).
P'Joke (P' is the polite way to refer to someone in Thailand) grew up in the restaurant and as he told me, he would go to the market everyday and help to gather ingredients.
However, as he grew older, the restaurant business was not what he wanted to be doing with his life. After high school and university he still wasn't interested in running his family restaurant.
But as time progressed, and his father's health declined, his father gave him a decision if he wanted to take over the restaurant fully, or it would come to an end.
Good for you and I, and for the sake of all food and restaurant lovers in Krabi, P'Joke decided to take over the restaurant.
Although now fully run by the son, who is Nong Joke whom the restaurant is named after, the southern Thai food and family recipes are still fully preserved and he has accurately maintained the quality of the food.
The menu
The menu at Nong Joke (ร้านน้องโจ๊ก) is impressively extensive.
They mostly have a selection of southern Thai food, as well as southern Thai Chinese influenced dishes. The restaurant is not Halal, so they do have plenty of pork dishes on the menu, but they also have plenty of seafood, all of which is fresh and wild caught.
Khua kling moo (คั่วกลิ้งหมู)
On our last trip to Krabi we ordered their khua kling moo (คั่วกลิ้งหมู), a dish I had yet to try at Nong Joke (ร้านน้องโจ๊ก).
Khua kling (คั่วกลิ้ง) is a southern Thai style of dry curry, typically made with either minced beef or minced pork, dry stir fried with curry paste.
While the minced meat and curry paste is usually the extent in which the flavor is composed in most versions, at Nong Joke (ร้านน้องโจ๊ก) they take the recipe to the next level.
The meat not only included flavorful curry paste, but it was also packed with slices of galangal, lemongrass, jeera leaves, green peppercorns, and it included a hint of cumin, which is very rare in Thai dishes.
Their khua kling moo (คั่วกลิ้งหมู) moo was an explosion of flavor.
Gaeng som pla krapong yawd ma prao (แกงส้มปลากะพงยอดมะพร้าว)
One of the most popular and famous southern Thai dishes, and one of my personal favorite dishes in the entire world (my mother in law makes it at home frequently), is gaeng som (แกงส้ม), sour curry.
P'Joke told Ying and I that their gaeng som (แกงส้ม) is probably their most ordered and most loved dish at the restaurant – almost every table that eats at there orders it.
The signature version of gaeng som they serve is gaeng som pla krapong yawd ma prao (แกงส้มปลากะพงยอดมะพร้าว), made with barramundi fish and coconut shoots.
Price – 250 THB
Using fresh fish, it remained firm and not mushy within the curry, and with a blend of thick turmeric and chilies, the flavor was smooth and well balanced.
Coconut shoots are similar to bamboo shoots, but they are more crisp and less chewy, very similar in flavor and texture to jicama in my opinion.
Although it might look dangerously spicy, it really wasn't all that spicy, but more thick and rich with flavor, with a slight sweetness to counter the spices.
You can order a mix of dishes when you come to this restaurant in Krabi, but gaeng som pla krapong yawd ma prao (แกงส้มปลากะพงยอดมะพร้าว) must be one of them.
Pla insee tod see ew (ปลาอินทรีทอดซีอิ๊ว)
While much of the food served at Nong Joke (ร้านน้องโจ๊ก) is southern Thai curry and relish dips, there are also quite a few Chinese influenced dishes on the menu as well, the south of Thailand (or all of Thailand) having many Chinese dishes adapted into the cuisine.
P'Joke recommended I try the pla insee tod see ew (ปลาอินทรีทอดซีอิ๊ว), a steak of king mackerel, deep fried and seasoned with soy sauce.
Wow, it was incredibly good, and I'll do my best to describe it.
Price – 220 THB
Nam prik
King mackerel in Krabi
King mackerel is a white meat strong ocean fish, and the texture is firm and meaty – it tastes really good when it's not overcooked.
From the looks of the photo it's hard to tell, but it was deep fried so it was just cooked through, but not overcooked at all, so it remained juicy and moist on the inside, and crazy crunchy on the outside.
The sauce included what appeared to be a slightly thickened soy sauce, maybe with a hint of sesame seed oil.
It was simple, but marvelously good. Along with rice, for me it was Chinese comfort food.
Nam prik goong siab (น้ำพริกกุ้งเสียบ)
Nam prik (น้ำพริก) is the general word for any variety of Thai chili dipping sauces.
Nam prik goong sot (chili dip made with fresh shrimp) and nam prik goong siab (น้ำพริกกุ้งเสียบ nam prik made with dry shrimp) are two popular types of nam prik in southern Thailand.
For this meal we tried the nam prik goong siab (น้ำพริกกุ้งเสียบ). The chili dip was chunky and included loads of delicious ingredients like shredded green mango, shallots, heaps of salty dry shrimp, and a shrimp paste tamarind sauce to wrap it all together.
Alongside the nam prik came a platter of boiled and raw vegetables including cucumbers, fern, white cumin, cashew tree leaves, banana stump, and a few other southern Thai garnishing herbs.
In order to eat nam prik (น้ำพริก), you can either dip in any of the vegetables and eat them together, or you can take some of the nam prik (น้ำพริก) and put it onto your rice. I like to eat it both ways.
What I loved about the nam prik at Nong Joke (ร้านน้องโจ๊ก) was that it was really hearty and chunky, packed full of vibrant fresh ingredients.
Price – 150 THB
Sataw pao (สะตอเผา)
For good measure, to be eaten along with the nam prik (น้ำพริก), and also just to eat along with the gaeng som (แกงส้ม) and other curries, every time I eat at Nong Joke (ร้านน้องโจ๊ก), I order some roasted stink beans.
They are just too good to pass up.
Price – 40 THB
Local seaweed in Krabi (สาหร่ายทะเล)
P'Joke told me that this type of seaweed (สาหร่ายทะเล) is only found in Krabi, and even at his restaurant it's not available everyday, but only on certain occasions when he can get it from local fishermen during the right season.
One of the nights I went, he said he had some and brought us a plate to test.
The seaweed was really fresh, plucked right out of the sea. It had the seafoody flavor of caviar, a beautiful straight flavor of the ocean and seawater, but with a really pleasant crispness.
It was a little on the salty side like saltwater, but when paired with something sour, like nam prik (น้ำพริก), it was good.
Nong Joke Restaurant, Krabi
Goong pad kapi sataw (กุ้งผัดกะปิสะตอ)
Goong pad kapi sataw (กุ้งผัดกะปิสะตอ)
There are two main ways to stir fry stink beans in southern Thailand, one is with curry paste, and the other is with shrimp paste. Both are excellent, just depends on what you're in the mood for.
This time we had the goong pad kapi sataw (กุ้งผัดกะปิสะตอ).
First of all, when you eat at good restaurants in Krabi like Nong Joke (ร้านน้องโจ๊ก), you can expect to have good fresh seafood, wild caught.
Price – 150 THB
So the shrimp were good size, fresh, muscular, and incredibly delicious. And again, stink beans are one of those things I could eat non-stop for the rest of my life.
The shrimp and stink beans were stir fried in a fragrant sauce of tamarind and shrimp paste, so it was sour, a bit sweet, and salty from the shrimp paste.
But the shrimp paste wasn't overly powerful – so even if you're not overly into really fishy flavors, you probably would still like this.
Just a little on the sweet side for me, but still very good.
Yam pad krood (ยำผักกรูด)
Very common in the south of Thailand, yam pad krood (ยำผักกรูด) is a fern vegetable that has a pretty neutral taste. It's often either stir fried or served with nam prik as a garnishing vegetable, or made into a salad.
The fern was cooked and mixed with a bunch of toasted coconut, so it had a really lovely roasted coconut flavor to it, plus some slivers of green mango for sourness, sliced shallots, and just a few chilies.
The salad was refreshing and I enjoyed the coconut flavor.
Pak miang pad kai (ผักเหมียงผัดไข่)
If there's one vegetable dish that I can't get enough of in southern Thailand, it's pak miang pad kai (ผักเหมียงผัดไข่), melinjo leaves stir fried with egg.
It's a dish that's really hard to find in Bangkok, and although the leaves are occasionally available at markets, it's seldom found at restaurants (in Bangkok you can get it at The Local).
Melinjo leaves are all about the texture, which is very stiff, but somehow not all that chewy. They are strong leaves.
Sometimes you get a plate of, or even I'll admit sometimes when I've tried to cook pak miang pad kai (ผักเหมียงผัดไข่) at home, it comes out watery because I don't have the exact right wok heat temperature down.
But at Nong Joke (ร้านน้องโจ๊ก) it was cooked the way its supposed to be – fried on an extremely hot heat so it was pretty dry, and the egg was mixed within and slightly charred.
It's one of the best egg and leaf combinations I've ever known. Pak miang pad kai (ผักเหมียงผัดไข่) is really one of my favorite vegetable dishes.
Conclusion
When my wife brought me to Krabi for the first time years ago, after eating her mom's cooking (which changed my life for the better forever!) one of the first restaurants she brought me to was Nong Joke (ร้านน้องโจ๊ก).
Nong Joke Restaurant (ร้านน้องโจ๊ก) has been one of our favorite restaurants in Krabi for years, and though the son P'Joke has fully taken responsibility of it now, he has done extremely well to preserve the original flavors that his parents began.
For local southern Thai food at its finest in Krabi, Nong Joke (ร้านน้องโจ๊ก) is the spot to go. I don't think you can go wrong with anything you choose on the menu.
Nong Joke (ร้านน้องโจ๊ก) Restaurant, Krabi, Thailand
Address: 50/3 Thanon Kong Ka, Krabi 81000
Phone number: 075 611 639
Open hours: 11 am – 2 pm for lunch and 5 pm – 9 pm for dinner daily
Prices: Dishes cost anywhere from 50 – 300 THB, depending on vegetables and meat and seafood. The sizes are quite generous and the food is really good quality. Expect to pay about 200 – 400 THB for a big seafood family style meal.
ที่อยู่ 50/3 หมู่ 7 ถนนคงคา ตำบลไสไทย อำเภอเมือง จังหวัด กระบี่ 81000
โทร. 075-611639
เปิดบริการทุกวัน 11.00 – 14.00 น. , 17.00 – 21.00 น.
How to Get There: Krabi town is pretty small, and you can walk just about everywhere. The restaurant is located on Thanon Kong Ka, towards the mouth of Krabi River. From Chao Fah Park, walk south through the parks, and follow the road. You'll eventually get to Nong Joke.
For a Halal restaurant option, check out Paknam Krabi Seafood restaurant just down the road.