Hainanese Chicken Rice (ข้าวมันไก่) at Mongkol Chai in Bangkok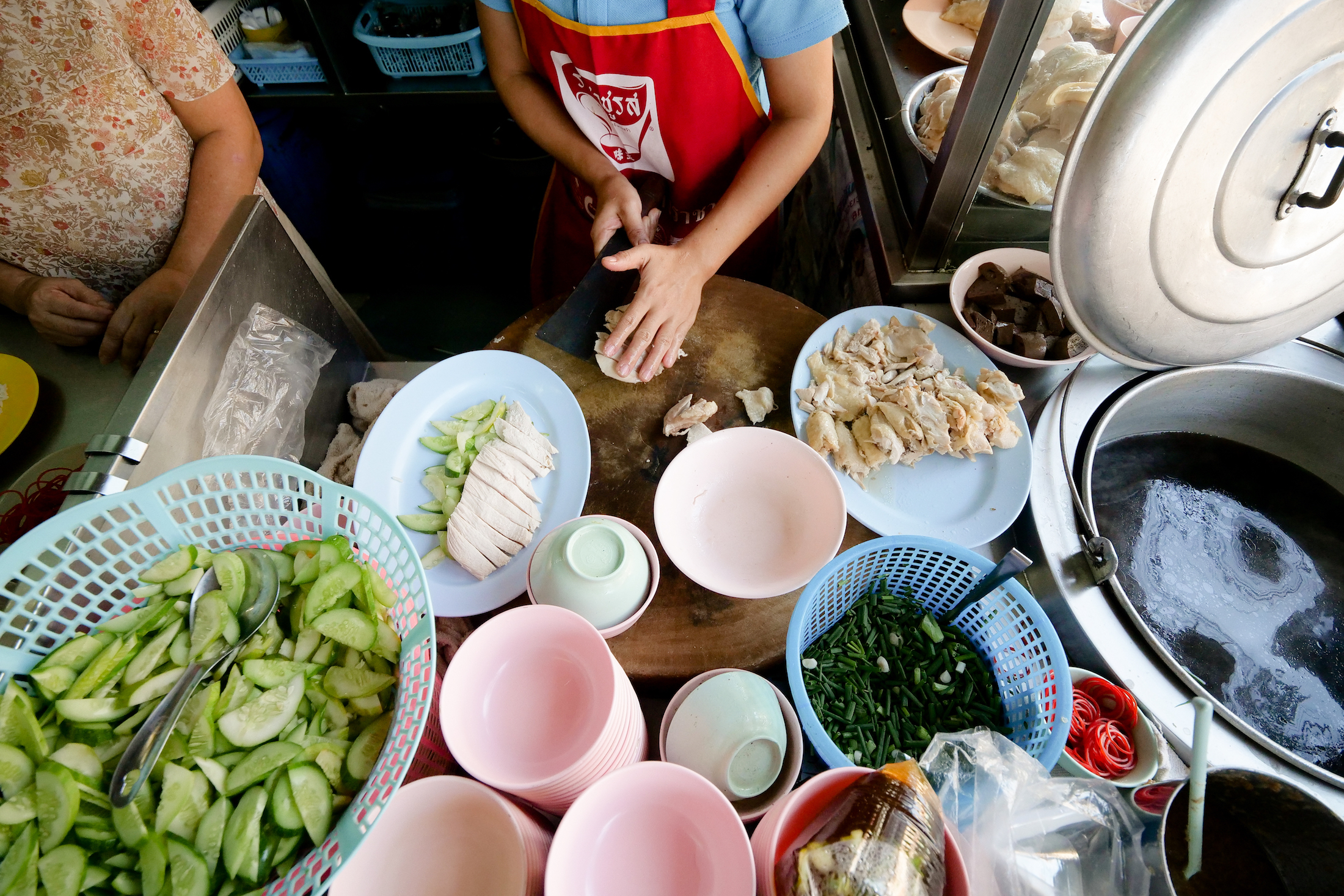 Hainanese Chicken Rice is an iconic South-East Asian street food.
Enjoyed in Bankok, Thailand for generations, this is one classically BKK street food that any visitor absolutely must try.
For Thai style Hainanese chicken rice (ข้าวมันไก่) "khao man gai," and high quality Hainanese-style meat and vegetable soups, Mongkol Chai Restaurant is one of the best in Bangkok.
In this article, read all the details of a recent meal here, and information on how to find Mongkol Chai restaurant near the Thewet Pier market.
Hainanese Chicken Rice near Thewet
Hainanese chicken rice is an extremely simple dish compared to what many people might think of as 'Thai Food.'
What that means though, is that each basic step is vitally important to making this dish perfect.
I was recently exploring near the Ratchadamnoen area of Bangkok, and I saw Mongkol Chai restaurant while hunting amidst the endless street food options of Thewet river market area.
Chicken Fat Rice (ข้าวมันไก่) or "khao man gai"
From across the street you can recognize the classic rows of hanging pale-skin chickens, and the huge wooden chopping block.
Looking closer, you will notice also a beautiful array of braised duck, random cuts of pork meat and organs, and crispy fried pork belly next to all that chicken.
If you're like me, any storefront as attractive and meaty as the one in front of Mongkol Chai, is a storefront worth a visit.
Skinless Sheen of Fatty Chicken Meat
That gentle sheen of the pinkish-white chicken meat is exactly what you want to see.
With so few other flavors for the chicken to hide behind, you will really taste the pureness from the meat itself.
You're going to want to savor these bites of chicken, soft and plump, but not at all mushy.
Before my own initiation into the simple joys of Hainanese chicken rice, I kind of thought that it was a mistake to remove all of the tasty fat that goes with a chicken's skin.
These chickens though, have been raised in a way which makes the meat fatty itself. Thats the meaning of the word you'll see on the menu, ไก่ตอน "gai tawn," this type of chicken is the meat in the khao man gai dishes served by Mongkol Chai.
Smooth Fibers and Texture in Every Bite
Before the choice cuts of meat are ready to be cut up on that huge wooden chopping block, the whole chicken goes through quite a process first.
The process of boiling the chicken takes an entire morning, but the quality of chicken meat is of utmost importance in a perfect plate of khao man gai Hainanese chicken rice.
These chickens get a pre-boil salt massage, leaving only the healthy inner layers of skin which still stick to the chicken meat. This salt rub literally exfoliates, cleans, and then smooths the chicken skin.
Preparing the skin and outer layers of meat like this readies the chicken for plumping, helping it absorb as much soup broth into the meat as possible.
The Chopping Block Selection
When the meats are finally ready, the chef selects a combination of these three ingredients for each plate of chicken rice.
Precious bites of rich liver, silkily-smooth congealed chicken's blood, and a long strip of lean chicken meat.
The selection is important, because you want a blend of light meat and dark meat on every plate. Each piece itself though has some required details – each piece could include just a bit of skin, maybe a tiny bit of chewy gristle or cartilege at one end as well, and a bite-sized piece of lean meat to hold it all together.
Texture and mouth-feel are a big part of a perfect plate of khao man gai Hainan chicken rice, and for those who really crave this dish cooked Bangkok street-style, without the squares of congealed blood, this dish just isn't complete.
Chili, Ginger, and Dark Soy Sauce Dip
When plates of khao man gai arrive to the table, the final step is your own seasoning.
Waiting for you on the table are the optional taste-boosters of salty, sour, and spicy.
About eight or nine diced chilies in a small dish, as well as a thumb-sized chunk of ginger, and you top that off by drizzling on a spoon or two of sweet dark doy sauce.
My own favorite ratio would include a double portion of chilies, and just enough soy sauce so that all of it gets soaked up by the matching amount of fresh ginger.
Anointing your Hainanese Chicken Rice
As with most Thai food, a taste test is the final step to blending your own personal dip.
Adding small amounts of each ingredient at a time, taste as you go, until its just the way you like it.
Dip a strip of chicken in to make sure you've got it, and cheers to your graduation as a real Thai-food foodie if you got it exactly right the first time.
Once you can't stand it any longer, go ahead and anoint your Hainanese chicken rice. Dump on a heaping spoonful of your new favorite dip, make your perfect bite, and enjoy.
If you want to learn more about this recipe, or try to make it yourself, here is a link to a great recipe from the creator of EatingThaiFood's own mother-in-law. You could also watch the video here.
Eating Thai Style
A solo meal here would have the rice and sliced chicken meat on a single plate (45B, or 55B with extra meat), and then a small bowl of soup broth would come on the side. Mix your own personal ratios of diced chili, fresh shreds of ginger, and sweet dark soy sauce, all of which can be topped up at the counter if you really love things spicy.
This is a restaurant though, where you can just as easily eat with a large family as you can alone.
Eating Thai Style with your whole family and friends would look something like the table in the photo above, every main dish shared and all set within arms reach.
Great Solo, even better as a Group
Going with a group is even better in my opinion, because when sharing among a group you can try some of Mongkol Chai's other larger menu items. Our choices this day were a huge bowl of lime pickle soup with duck, and a pork-stuffed bitter gourd served with bites of soft pork rib. (see below for more details)
Finally, if it happens to be a really large family outing, then Eating Thai Style means more of each dish, multiple bowls of the same menu item will be brought to each table, making small table sets as many times as needed.
This is also exactly how a traditional Thai meal works – everyone feels like they are still dining together, while also maintaining maximum convenience. You don't have to share one huge bowl, or have to pass dishes around to anyone out sitting at the table's far ends.
All eating styles are welcome of course, and finally, tables can also easily be moved to accommodate larger groups at Mongkol Chai.
Great Chicken, and also Beef, Pork, Duck…
Mongol Chai restaurant is a great place to have Hainanese chicken rice, as well as several other authentic Hainan-style recipes of pork and duck as well.
Besides the khao man gai chicken and rice, Mongkol Chai also specialize in several different traditional Hainanese styles of soup.
They have another recipe that sounds amazing, soft pork ribs in a cabbage pickle stew (ซี่โครงหมูตุ๋นเกี๊ยมฉ่าย) "see krong moo toon gee-am chai." We couldn't try it today as they were just starting a new batch when we were arriving.
Two beef dishes are also on their menu, one of them a single plate, and one a large serving to share. The single plate is roast beef served over regular rice (ข้าวหน้าเนื้ออบ) or "khao na neua ob" for 55B, and the large plate of roast beef Lam-style* (เนื้อวัวอบสูตรไหหลำ) or "neua ob soot hai lam," for 160B.
Note: Lam-style, or Hai-Lam, is the Thai word for Hainan (cooking, or anything from Hainan Island).
Duck in Lime Pickle Soup
The flavor in this soup broth is incredible, and if you're in the mood for more than a quick plate of khao man gai, this is the first dish you need to try.
Lime pickle soup has a strong rich reddish-brown color, and smells amazingly fruity. The amount of entire limes needed to make a whole mother pot of this soup must be incredible.
The bitterness from the lime peels though just barely comes through, just enough to excite the tongue. The overall taste balances so well though, as there are a huge amount of other herbs besides the lime pickles.
Duck meat in this lime pickle soup is as soft as could possibly be – to eat this you would literally need only what the duck itself has, a tongue and gums, as its so fall-apart tender that no teeth are necessary.
Bitter Gourd with Soft Pork Ribs
The small bowl of bitter gourd packs a huge flavor. The bitter gourd comes with pork ribs, but is also full of pork and glass noodles itself, and tons of garlic.
In Thai, the dish is มะระตุ๋นซี่โครงหมู, or "ma-ra toon see krong moo," and is a long-time favorite of mine among all Thai-Chinese style dishes.
This was one of the first dishes I can ever remember appreciating how truly wonderful the bitter flavor profile can be. The sensation of 'bitter' is just incredible once you start to enjoy the tingling hints of bitterness present in so many fresh ingredients from around the world.
Each bowl of bitter gourd is 50B, and I would say that the intricate flavor combination of the bitter vegetable and the fatty oils coming from the pork ribs are a perfect pair with the more simple and clean flavors of Hainan chicken rice.
Secrets of Fatty Rice
Last but not at all least, the final thing to look at is the rice itself.
This is probably the main reason why, when you want exactly that authentic taste, this Hainan-style chicken rice is so difficult to make at home.
Whether it is due to the exact cooking time, the family's favorite ratio of rice to broth to water, the unique species or grain of rice, even the specific location where that type of rice grows – all of these are important.
You can also be sure, that the family will be sharing none of these secrets.
So if you're in Bangkok, and in the mood for a great plate of Hainan-style chicken rice, Mongkol Chai is a great place to visit.
Conclusion:
The word "mongkol" means 'crown' in Thai, and "chai" means 'victory.'
Just like the name, Mongkol Chai deserves a crown as one of Bangkok's kings of Hainan Chicken Rice.
Great food for the price, a very authentic feel in the small family restaurant where its served, Mongol Chai is a great place to visit during a day of walking around the Tewet Pier River Market area.
Its also just a short walk from Bangkok's historical district, the Ratchadamnoen area, or even Banglamphu (the area around Khao San Road).
I hope you enjoyed this article, and thank you for reading and supporting the EatingThaiFood website.
If you do love Thai chicken rice, another good place to try it in Bangkok is at Khao Man Gai Jae Yee (ข้าวมันไก่เจ๊ยี) or in Chiang Mai at Kiat Ocha (ร้าน เกียรติโอชา).
Name: Mongkol Chai (มงคลชัย)
Location: (Google Maps)
Hours: 6AM – 1:30PM Open Daily
Price: 45-55B for a single plate, 100-160B for large plates of meat to share