Kiat Ocha (ร้าน เกียรติโอชา) – Khao Man Gai and Satay in Chiang Mai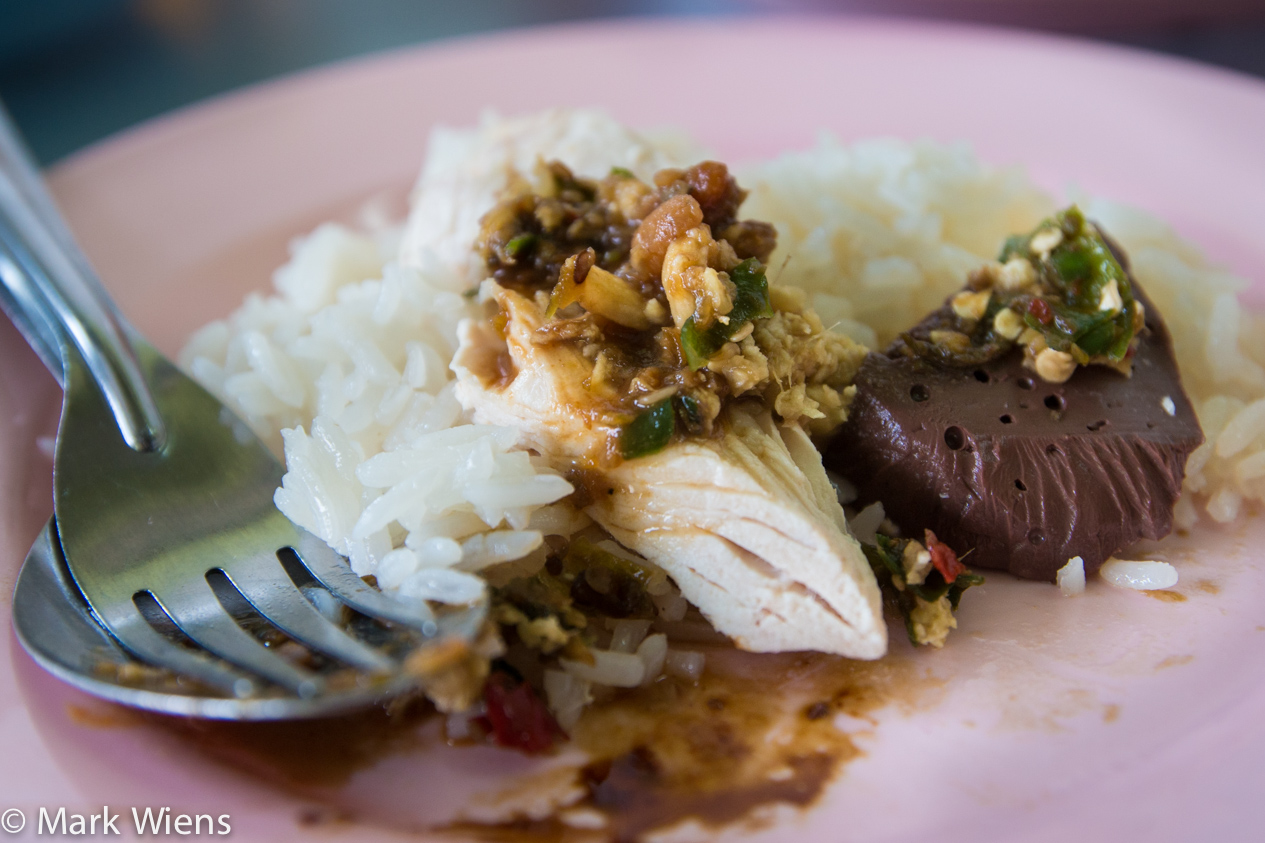 If you follow EatingThaiFood.com, you might have noticed that I don't eat khao man gai (rice with chicken) all that often.
It's not that I don't like it, it can be good, it's just that it's not the most flavorful dish in Thailand, and I usually go for meals, like this or this, that have a bit more kick to them.
But there's this insanely famous restaurant in Chiang Mai known as Kiat Ocha (ร้าน เกียรติโอชา), and I had to see what the hype was all about.
During their open hours, from 6 am – 3 pm daily, Kiat Ocha (ร้าน เกียรติโอชา) remains busy, and if you try to go on a weekend or holiday you might have to wait to be seated.
It's very popular, for both Chiang Mai locals and Bangkok Thais visiting.
They mostly serve khao man gai (ข้าวมันไก่), which is rice and chicken, but they also have pork satay, which I was pleased to see.
That's a combination that's not actually common to see paired together in Thailand, most restaurants that serve khao man gai, serve khao man gai only.
You could order just a single plate of khao man gai (ข้าวมันไก่), which would come with the usual scoop of rice with a handful of chicken chopped on top.
But that's just not enough protein for me.
What most people order at Kiat Ocha (ร้าน เกียรติโอชา) is a full plate of chicken (ไก่ จาน), which comes as an assortment of chicken on a full plate, rice is served on separate plates.
Price – 100 THB
If you don't tell them anything, or if you ask for just the normal mixed plate of chicken, it will include about 70% white meat chicken (and I ask for it with no skin on, as I'm not a fan of boiled skin), and about 30% liver, lungs, heart, and a few cubes of blood jelly.
I like the full mix, including some of the chicken organs, but if you don't like that, you can get yours with just white meat chicken (for all white meat chicken say: neua luan เนื้อล้วน).
The best part of eating chicken rice…
For myself, chicken rice would be nothing without the sauce, and especially the raw chilies and ginger.
At Kiat Ocha (ร้าน เกียรติโอชา), they serve all you can eat of this taste enhancing trio, and if you're like me, you'll probably go overboard filling every bite with as much raw chillies and ginger as you can handle.
The sauce was Teochew style I believe, made from fermented soybeans.
The Rice
One of the reasons I don't eat khao man gai (ข้าวมันไก่) all that often is because I'm honestly not a huge fan of the rice (ข้าวมัน).
The rice is cooked in fatty chicken broth so it glistens with oil and has chicken stock flavor to it. It's often one of those dishes where it feels like you used lip gloss after your meal.
However, I was pleasantly surprised at Kiat Ocha (ร้าน เกียรติโอชา), and I thought their rice was nicely balanced and not too oily, but still fragrant.
To eat, take pieces of chicken, place them on top of your rice, scoop on heaps of ginger and chilies, douse with a generous scoop of sauce, and you're good to go.
Again, it's all about the fresh chilies and ginger and sauce that makes khao man gai (ข้าวมันไก่) good.
Pork Satay
No one seems to eat at Kiat Ocha (ร้าน เกียรติโอชา) without an order of their moo satay (หมูสะเต๊ะ).
And how could you resist… they grill them up out front, tempting everyone from the beginning. The grill is not quite bus sized, but it's still impressive.
Ying and I got a plate of 20 skewers, to supplement our plates of chicken (yes, we got a plate each).
Price – 20 sticks (ไม้) for 100 THB
Their moo satay (หมูสะเต๊ะ) was pretty decent, the skewers of pork were quite big in size, and they weren't overcooked. Also, I liked that the meat wasn't too sweet like it can sometimes be.
The sauce was also nicely balanced, not too sweet, and had a nice nutty flavor to it. I'm also loved the pickles they served with it.
Two full plates of chicken, about four plates of rice, and 20 sticks of pork satay, and Ying and I were feeling quite satisfied and ready to continue walking around Chiang Mai.
We ate at Kiat Ocha (ร้าน เกียรติโอชา) at about 10:30 am on a weekday (not exactly a peak meal time), but it was still busy and 90% of the tables were filled the entire time we were there.
If you go on a weekend, it can get pretty packed. It's one of the most well known restaurants in central Chiang Mai.
Watch the video of this meal…
(If you can't see the video, watch it here: http://youtu.be/fydaWB_JcwY)
The Bottom Line
First of all, I really enjoyed the atmosphere, my kind of place; It was busy, people running around, people yelling and calling out food, food running here and here, love it.
The khao man gai (ข้าวมันไก่) was very good and the moo satay (หมูสะเต๊ะ) was nice as well.
It's also worth noting that the staff and owners are all really nice and friendly.
Kiat Ocha (ร้าน เกียรติโอชา) – Chiang Mai
Address: 42-43 Intawarorot Road, Amphoe Mueang, Chiang Mai
Open hours: 6 am – 3 pm everyday
Phone:  053-327-262
Prices: Full plate of chicken and rice 100 THB
ที่อยู่ อยู่ข้าง ศาลากลางเก่า (ที่ตั้งอยู่ ด้านหลัง อนุสาวรีย์สามกษัตริย์) เลขที่ 41 – 43 ถนน อินทรวโรรส อำเภอเมือง เชียงใหม่
โทร. 053-327-262 ถึง 3
เปิดบริการทุกวัน 06.00 – 15.00 น.
How to get there:
The restaurant is located just behind (or south of) Three Kings Monument in Chiang Mai, almost right in the center of the old walled area of town. Here's my Chiang Mai food map for the details, just click on Kiat Ocha (ร้าน เกียรติโอชา), it's easy to find and get to.