Unique Discoveries at Bangkok's Kasetsart University Fair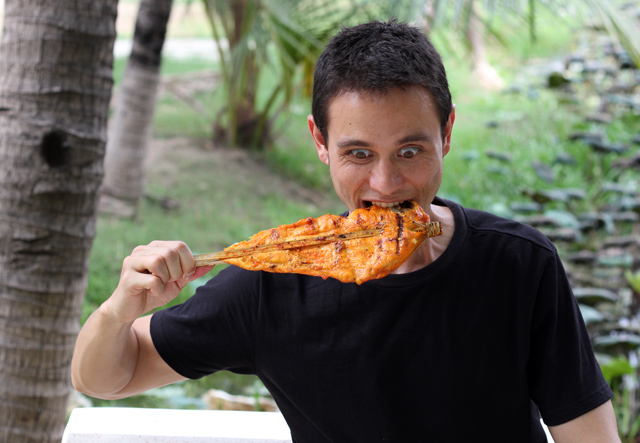 Yesterday afternoon I made the journey out to Kasetsart University to explore the Kaset Fair, a gigantic sprawling outdoor bazaar.
It was so ridiculously large that it may have actually been too large – we were there from 2 pm until 7 pm (when it started closing) and still weren't able to cover the entire market!
Today I wanted to quickly share some photos from the event.
There was entire section just dedicated to garlic! Awesome!
The first thing we enjoyed was a cup of fresh yoghurt topped with strawberries.
Maybe it's that I barely ever eat yoghurt anymore these days, but it tasted phenomenally wonderful – slightly sour and nice and creamy.
The Kaset Fair had a large section of pets for sale, dogs being the most popular.
Fuk Khao, or Gac Fruit, was on display a number times. I've been a fan of the fruit and the delicious juice for while now. The super-health juice tastes kind of like a cross between a tomato and a ripe papaya.
At any Thai fair or bazaar you're bound to stumble into a few funny things – like this little boy peeing!
One of the largest sections of the Kaset Fair was dedicated to the selling of potted fruit trees.
In order to push along the sales of potted fruit trees, vendors also included the most impressive fruits from their trees on display (fruit not for sale). I guess it was an effort to show that you could grow that kind of fruit!
This banana was literally the size of my forearm, if not longer.
Jackfruits were gigantic and flawless in shape.
There was a also a little floating market, an area set up to serve food.
I was excited to see chambada, a fruit similar to jackfruit and available only in southern Thailand. We bought some deep fried chambada which were coated in coconut batter.
Along with endless snacks, Thai meat lover's treats like fried pork and pork belly were widely available throughout the Kaset Fair.
When I spotted this Africa shaped piece of grilled chicken, there was no way I was going to resist.
It was indeed extremely satisfying!
Finally after a few hours of hectic walking around, we took a rest and enjoyed a fantastic meal of miang pla pao, yam ruam mit, and a side of som tam!