Jay Jay Restaurant – The Vegetarian Thai Food Society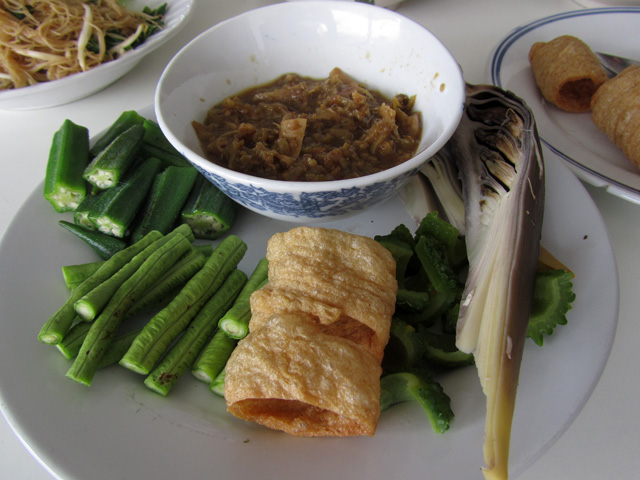 Jay Jay Vegetarian Center of Thailand ร้านเจเจ ( อาคารอริยสัจสี่ ) restaurant serves up specialized Jay food (Chinese vegetarian Thai food) and emphasizes pungently fresh herbs.
I'm going to honest and say that we had no idea it was located smack dab in the middle of a Buddhist temple until arriving.
Monks were lightly chanting in the background – a pleasant sound that sort of made me forget to stop eating when I was full.
Luckily the chef, after hearing that I would write a restaurant review, kept bringing food to our table, and I couldn't resist from munching it all down in a fury.
I ate at Jay Jay over a holiday weekend in Thailand, so the restaurant was not officially open, though they did manage to scrounge up quite a lot of food for us to eat.
I was satisfied from the start with their vegetarian version of Tom Jap Chai (ต้มจับฉ่าย). It's always known as a super health food in Thailand, though it does often included bits of meat.
This form was delightful, cooked to death like it should be so all the vegetables melt in your mouth without even needing to chew.
The excitement continued with Jay Jay's veggie filled Tom Yum Soup. When it arrived to the table I could already smell the garden of earthly herbs used to flavor the broth.
It was easily the most herbaceous Tom Yum I've ever had, generously prepared with lemongrass and loads of galangal.
The Pad See Ew (ผัดซีอิ๊ว) made with Sen Mee noodles was OK. Nothing to rave about, just normal plain goodness.
I'm a big lover almost all variations of Nam Prik in Thailand. This particular Nam Prik Jay (น้ำพริกเจ) version (less spices, no garlic) was indeed a little bizarre, but it grew on me as I kept eating. The assortment of raw and lightly steamed vegetables were fantastic.
The chili sauce was a little plain, slightly sour and tasted a little bit like shredded cardboard.
But with every bite, it did get better and better.
I'd have to give the vegetarian nam prik award to Khun Churn's at the Bangkok vegetarian buffet.
I tend to get a little queasy when thinking or hearing about fake meat, so when this Moo Daeng Jay (red barbecued pork, minus the pork) arrived from the kitchen, I hesitated for a moment.
It turned out to be quite good actually. Might sound weird, but it was kind of like a meat flavored chewy pita bread sliced up and fried up.
After indulging to the fullest, they brought out one more dish: Kanom Jeen Nam Ya Kati (ขนมจีนน้ำยากะทิ). It was as if they had known that I was longing for one last dish to put me over the top of fullness.
Their Yam Ya curry sauce included a rich flavor of coconut cream and a blend of spices.
The Bottom Line
It's a ways out there, but WOW is the food worth it if you are in need of a vegetarian feast. They used herbs to their advantage, really highlighting their flavors through many of the dishes.
It was the Tom Yum and the Nam Ya Kati that was really made well!
If you happen to be in the vicinity of The Mall Bang Khae, you'll want to stop by Jay Jay.
Jay Jay Vegetarian Center of Thailand ร้านเจเจ ( อาคารอริยสัจสี่ )
Address: Ariya Saj Si Building, 270/2 Soi 65 Phet Kasem Road, Bangkok, Thailand
Hours: 11:00 – 15:00
Price: Dishes are 30 – 50 THB, It was kind of strange though – I was not charged for the food, they just said I could give a donation of whatever I pleased…
ร้านเจเจ ( อาคารอริยสัจสี่ )
270/2 ซ.65 ถ.เพชรเกษม เขตบางแค กทม. 10160
โทร. 02-421-0489
How to Get There
There's really no easy way to get to Jay Jay Vegetarian Society restaurant. It's located off in the suburbs of Bangkok, but is accessible by either taxi or public bus. Once you get to Phet Kasem Soi 65, the society center is about a 5 minute walk down the road.

View Jay Jay Vegetarian Center in a larger map