Isan Food at Gai Yang Klang Bueng (ไก่ย่างกลางบึง) in Bangkok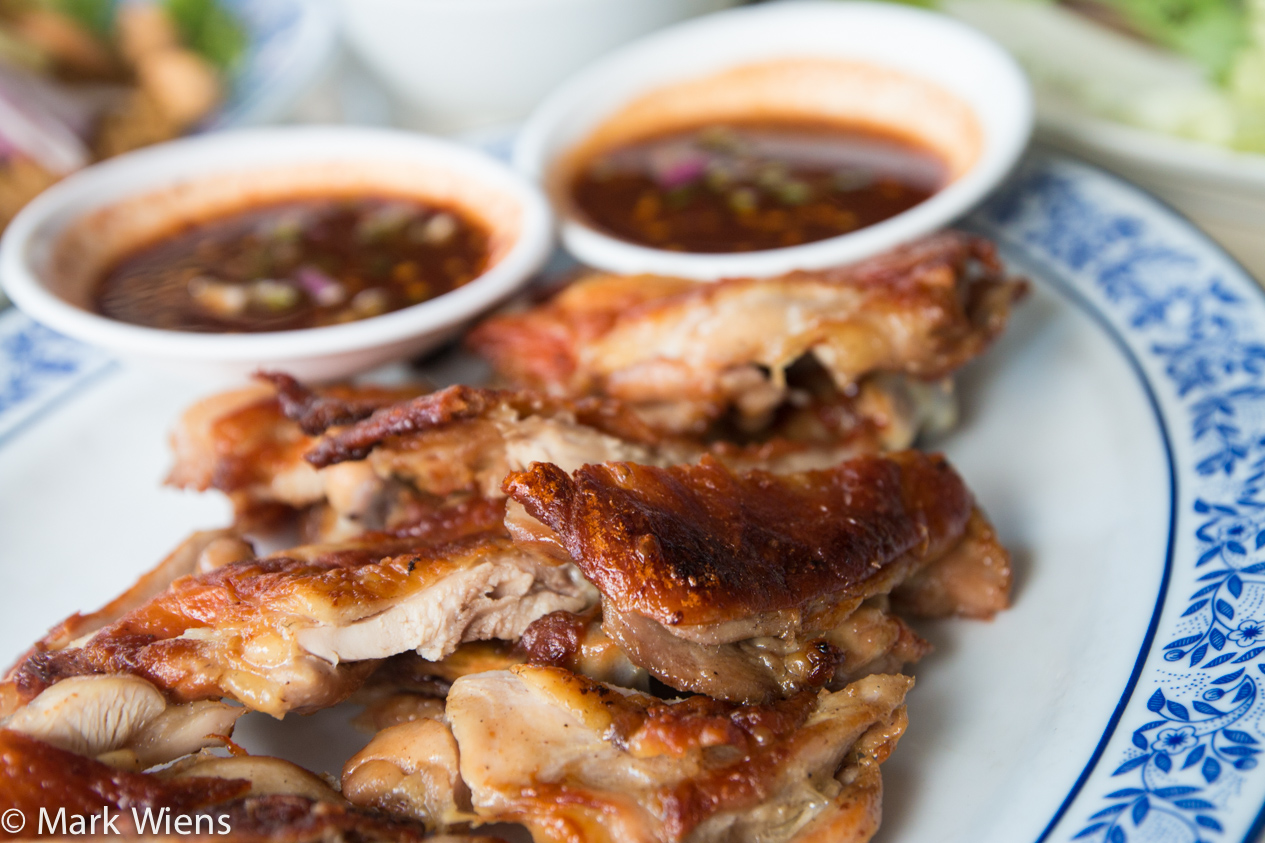 The other day we headed over to Gai Yang Klang Bueng (ไก่ย่างกลางบึง), a lovely restaurant adjacent to Bangkok's Seacon Square shopping mall, and right next to the weekend Rot Fai Market (so you could have dinner here before going to the market if you'd like).
I ate here with my family, and this was one of those meals where I just sat back, and let the ladies (my wife and her sisters) do all the ordering.
They did pretty well, not that they ever wouldn't, to the point where there was barely a free square inch on our table.
Gai Yang Klang Bueng (ไก่ย่างกลางบึง), though right next to the not so attractive box of a mall they Seacon, is really calm, relaxing, and beautiful.
You can choose to either sit indoors in an air conditioned room, or at a waterside table. Thought it's right next to the mall, it's such a different environment.
The pond is stocked with fish, giant aggressive fish, and you can purchase bags of bread from the restaurant to feed the fish while you wait for your meal to arrive.
Som tam boo pla ra (ส้มตำปูปลาร้า)
The fist dish that emerged from the kitchen was som tam boo pla ra (ส้มตำปูปลาร้า), Thai green papaya salad with crab and fermented fish sauce.
The mix of fresh vegetables, including nice red tomatoes, and whole wedges of lime, was refreshing.
They balanced the the fermented fish (pla ra) sauce nicely with a good sourness from the lime juice, and without palm sugar, so it was pungent, sour, and really nice tasting.
Price – 50 THB
Som tam kai kem (ส้มตำไข่เค็ม)
We also had som tam kai kem (ส้มตำไข่เค็ม), green papaya salad with wedges of salted egg mixed in. Again, it was a very good plate of som tam, they did well.
Price – 70 THB
Another thing I immediately liked at Gai Yang Klang Bueng (ไก่ย่างกลางบึง) was that they had khao neow dam (ข้าวเหนียวดำ), black sticky rice.
Any local Thai restaurants that serve either black sticky rice or brown rice automatically receive an extra positive boost from me.
Price – 15 THB
Gai yang (ไก่ย่าง)
As you would expect from the name of the restaurant (Gai Yang Klang Bueng (ไก่ย่างกลางบึง), they are quite well known for their grilled chicken, gai yang (ไก่ย่าง).
It was a completely different style than many other Thai grilled chickens I've eaten, or even the one I made.
Price – 160 THB
This version only made use of chicken thighs, that were flattened and almost cooked like a roast duck. The skin was incredibly crispy, and the meat was juicy underneath.
It didn't have the big meaty pieces of breast meat chicken like on a full chicken, so it wasn't hugely meaty, but it was highly tasty.
Especially if you're a lover of chicken skin and licking the flavor off bones, you're going to love the gai yang (ไก่ย่าง) at Klang Bueng (ไก่ย่างกลางบึง).
Yam pla duk foo (ยำปลาดุกฟู)
The yam pla duk foo (ยำปลาดุกฟู) was also quite good, nice and fluffy, extremely crispy, and drained nicely so it didn't have too oily of a feel to it.
I liked how they cleanly dressed it with just a few fresh shavings of green mango, red onions, toasted cashew nuts, and some springs of cilantro.
The sauce, could have been a bit more sour, but I think it was a little on the sweet side due to the riper mango – it being mango season when we ate here, so real super sour green mangoes are harder to come by.
Overall, a very good plate of yam pla duk foo (ยำปลาดุกฟู).
Price – 110 THB
Larb bet (ลาบเป็ด)
I decided to try the larb bet (ลาบเป็ด), larb duck salad.
The duck came minced with many bits of fat and pieces of liver mixed in, all dressed in chili flakes, slivers of herbs, lime juice, and fish sauce. The flavors were good, but the duck was a bit on the fatty side and quite grizzly as well.
However, this is often how the duck version of larb is. I think larb is better overall with pork or chicken.
Price – 100 THB
Kaw moo yang (คอหมูย่าง)
The kaw moo yang (คอหมูย่าง), grilled marinated pork neck was very tasty.
Sometimes kaw moo yang (คอหมูย่าง) comes with fat on one side of the meat, and meat on the other side so you can take off some of the fat if you like, or if I buy it at a market, I normally choose a leaner piece.
This one was a piece of pork that was impossible to remove the fat, however, it sure tasted amazing. It was slightly sweet with just the right amount of saltiness.
It was delicious, but next time I would ask them for a leaner piece.
Price – 100 THB
This was only the mid-way point of our meal…
We also had a pla krapong leh tod nam pla (ปลากระพงแล่ทอดน้ำปลา), a butterfly cut barramundi (Asian sea bass), deep fried with fish sauce.
It was incredibly crispy, perhaps one of the crispiest versions of this fish that I've ever had, which was awesome. Unfortunately though, they added a little bit of a slightly sweet glaze on top of it, which I wouldn't have preferred, but nevertheless it was awesome.
Price – 380 THB
Meuk kai neung manao (หมึกไข่นึ่งมะนาว)
The meuk kai neung manao (หมึกไข่นึ่งมะนาว), female squid and its eggs in a lime juice soup, was also very tasty.
The squid was filled with the squiggly eggs, which are a little rubbery in texture, and mostly take on the flavor of the soup.
The soup was nice and sour from the lime juice, spicy from chilies, and wonderfully garlicky. I thought this was a very good dish at Gai Yang Klang Bueng (ไก่ย่างกลางบึง).
Price – 200 THB
 Haw mok (ห่อหมก)
Finally, yes we've come to the end of this feast, we got haw mok (ห่อหมก), Thai seafood custard, made in small bite sized portions.
The mixture of fish and other bits of seafood was mixed with coconut milk and a hint of red curry paste I think, and then steamed in a platter that made each haw mok (ห่อหมก) about the size of a golf ball.
They were pretty good.
Price – 150 THB
The food at Gai Yang Klang Bueng (ไก่ย่างกลางบึง) is really good, and the setting is equally nice and relaxing.
One of the greatest things about Gai Yang Klang Bueng (ไก่ย่างกลางบึง) is their after-meal golf cart service, which is almost to the equivalent of after-meal wheelchair service.
Even though walking out to the main Srinakarin Road is only about a 2 minute walk, when you've just finished a feast, golf cart service is quite a luxury.
The Bottom Line
Good classic Thai food, mostly Isan, butt they have the full spectrum of usual Thai dishes. I enjoyed both the food and the relaxing ambiance here, and if you're ever in the Seacon neighborhood, it's worth a stop for a meal.
Gai Yang Klang Bueng (ไก่ย่างกลางบึง)
Address: 4/1 Thanon Srinakarin Soi 51, close to Seacon Square
Open hours: 11 am – 10 pm Thursday – Tuesday (Closed on Wednesday)
Prices: Our total bill came to 1,600 THB, and you can see how much food we ordered. Prices are not bad, expect to pay about 150 – 300 THB per person.
ที่อยู่ 4/1 ถ.ศรีนครินทร์ ซอย.51 ติดซีคอนสแควร์ กรุงเทพ
โทร.0-2393-2098
เปิดบริการ พฤหัสบดี – อังคาร 11.00 – 22.00 น. หยุดทุกวันพุธ
How to get there:
Gai Yang Klang Bueng (ไก่ย่างกลางบึง) is located right to the side of Seacon Square shopping mall, just off Srinakarin Road, in Bangkok. It's not connected to any mass transit station, so your best bet of getting here is by taxi.

View Bangkok Eating Thai Food Map in a larger map