Day 25 Vegetarian Thai Food: Coffee, Fried Rice, Eggplant Chili Sauce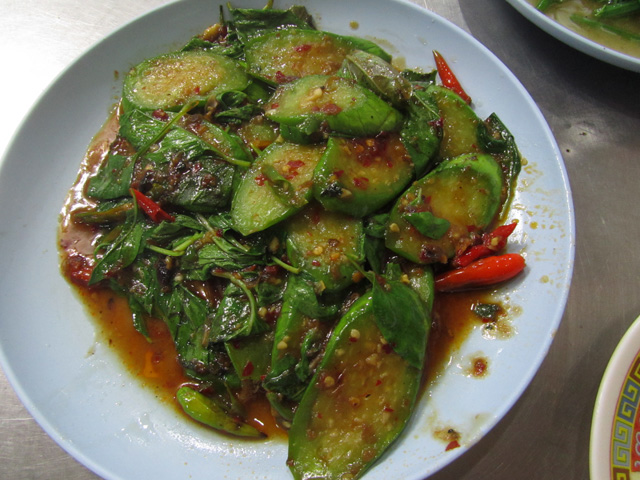 Breakfast
Believe it or not, after eating yesterday's mass quantity of vegetation, I woke up still full. I just ate a banana and drank my daily cup of black coffee.
Lunch
I rarely eat simple fried rice, but for some reason when lunch rolled around, I just simply felt like eating it. Ordered this khao pad pak ruam – vegetable fried rice (you'll also need to say mai sai neua – because vegetarian fried rice is a pretty foreign concept in Thailand).
Dinner
For dinner I went to eat at Lan Khao Tom Hua Pla in Talat Phlu, one of my all-time favorite restaurants. Normally I go to eat their pla khapung neung manao (steamed lime fish), but today I ordered all vegetarian.
Luckily, they don't just know how to cook seafood, they know vegetables too.
The dish that trumped them all was the makua yao prik pao, eggplant cooked in chili sauce with sweet basil. The eggplant was cooked to that glorious mushy melt in your mouth texture and soaked up the wonderful roasted chili sauce. It was absolutely incredible.
The pad yord mala (stir fried bitter melon leaves) are always a winner.
The last dish was something new to me and I'm not even sure of the name in Thai. The vegetable was what is called a leek in English stir fried up with fried tofu. It was another award deserving dish.