4th Generation Braised Goose at Bangkok's Chua Kim Heng (ร้านฉั่วคิมเฮง)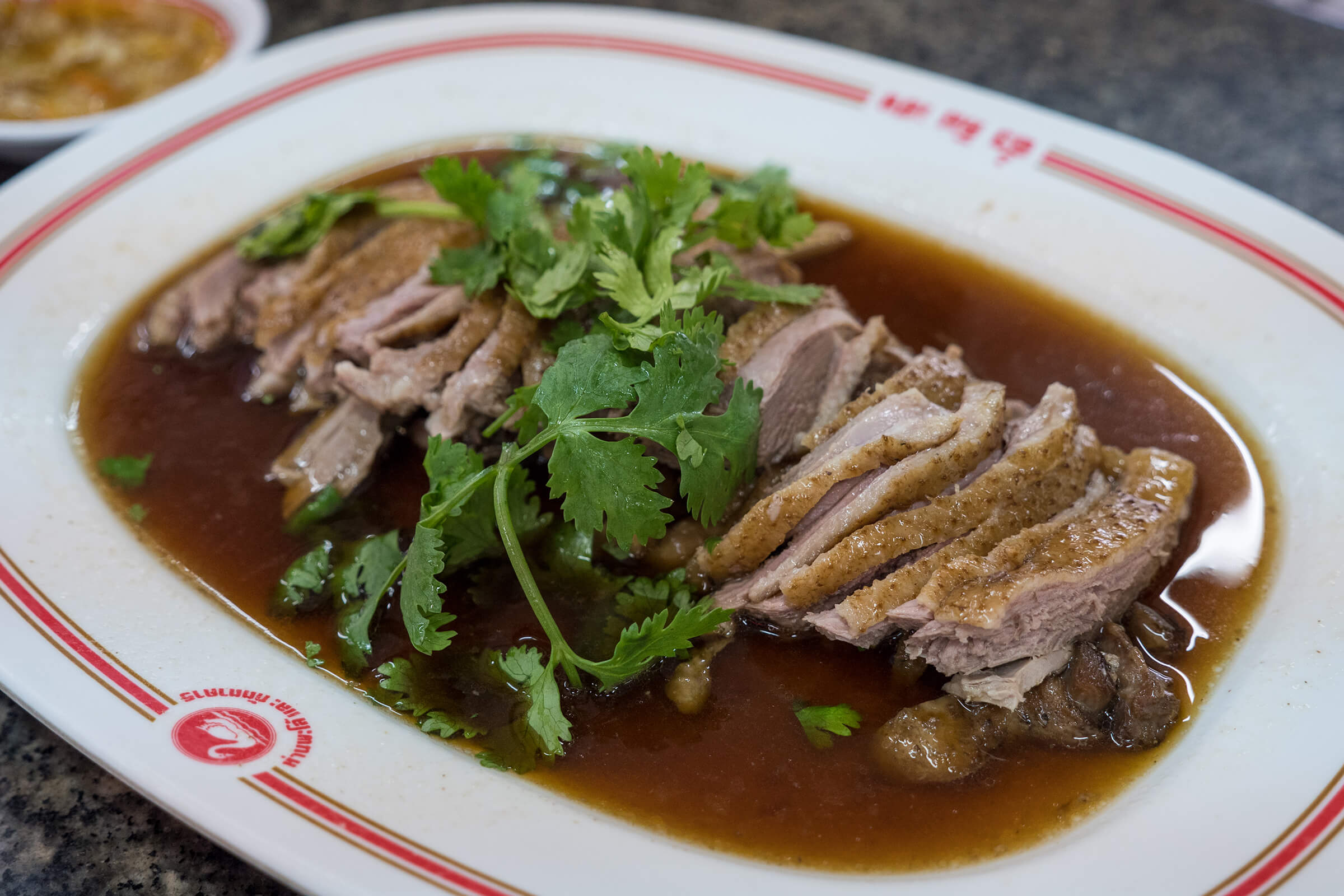 Chua Kim Heng (ร้านฉั่วคิมเฮง) is a restaurant in Bangkok that's legendary for their braised goose.
They've been serving the same goose braised in a secret mixture of soy and spices for 4 generations now, and the authentic taste and cooking method has been passed down through the family.
In this blog post I'll share with you all the details about eating at this famous braised goose place in Bangkok.
Watch the video:
If you have a few minutes, press play to watch the video of this entire braised goose meal:
(Or you can watch the full video on YouTube here)
Chua Kim Heng (ร้านฉั่วคิมเฮง)
It's also important to note that the braised goose is only served at lunchtime, I think until they run out.
The restaurant is open for dinner as well, but they change to serving khao tom pla (fish rice soup) and other Thai Chinese dishes (checkout the post on BKK Fatty). So if you want to taste their braised goose you have to go for lunch.
Let's first talk about the setting and atmosphere of Chua Kim Heng (ร้านฉั่วคิมเฮง), which has a quite similar feel to Bangkok's legendary beef noodle jacuzzi restaurant; It's everything you could hope for in a classic Thai Chinese restaurant in Bangkok.
The decor is original, with an impressive collection of model figures and pictures of His Majesty the King.
Additionally, there's the main open air dining room, plus an extra AC room across the driveway… which brings us to the driveway.
It's absolutely classic. It reminds me of a drive through mechanic or car wash.
You can drive straight through the center of the restaurant to get to the parking lot on the other side. Many car loads of people drop off people right into the restaurant before parking. I love it.
The menu at Chua Kim Heng (ร้านฉั่วคิมเฮง)
The menu is relatively simple and written in both Thai and English with decent pictures that highlight most of their signature dishes.
Just keep in mind on the menu that when they say "goose leg," you'll actually get what is actually the goose foot.
Goose in Bangkok is overall known to be quite expensive, and Chua Kim Heng (ร้านฉั่วคิมเฮง) is additionally extremely famous. So their prices I would say are quite high, it's not a cheap restaurant.
Braised goose (ห่านพะโล้)
The very first thing you must order when you eat at Chua Kim Heng (ร้านฉั่วคิมเฮง) is a plate of braised goose; This is the reason to come here.
Famous Chef Ian Kittichai says it's some of the best braised goose in Bangkok.
Depending on how many people you come with, you can choose your size sized plate of braised goose (han paloe ห่านพะโล้), all the way up to the full goose if you're feeling up for it.
Price – 380 THB
One of the joys of eating goose is watching the master butchers chopping it up and putting onto plates.
Using a giant butchers block and some incredibly heavy looking sharp Chinese cleavers, they transform a fully braised goose into boneless bites of goodness within minutes. It's amazing to watch them chop up a goose from start to finish.
There were four of us eating, and we ordered the medium sized plate of goose, which wasn't too much, but it was a sufficient amount to get a good taste for their goose.
Before explaining about the taste of the goose, I need to first tell you about the goose sauce.
It's so sour and so garlicky that if you take a bite of it off-guard, you'll likely cough a bit.
It's very vinegary and garlicky (and they use the small fragrant Thai garlic), and if you have a palette for strong tastes, you'll absolutely love it. I thought it was amazing.
The goose has a wonderful muscular texture to it, with the skin melting into the succulent lean flesh.
While some versions of braised duck or goose (han paloe ห่านพะโล้) in Thailand can be salty and sweet, what I immediately loved about Chua Kim Heng (ร้านฉั่วคิมเฮง) is that their goose is not sweet at all. I took spoonfuls of the braising sauce and I didn't really detect any sweetness, but it's rather on the salty side.
Legendary braised goose
Boneless and delicious
Underneath the wonderful saltiness, you'll taste ginger, pepper, star anise, and a host of other spices that I guarantee are kept in the secret family recipes vault.
The bottom line of the braised goose is that if you like your goose on the salty side instead of the sweet side, you'll love the goose at Bangkok's Chua Kim Heng (ร้านฉั่วคิมเฮง).
Goose feet pan (ขาห่านอบแห้ง (ไส่หมี่)
Along with a straight plate of braised goose, one of the most popular other dishes to order is goose feet in a pan (ka han ob haeng ขาห่านอบแห้ง (ไส่หมี่). Now just a word of warning on the menu it says "goose leg," but in fact it's actually goose feet.
So don't expect a drumstick.
The goose feet are baked in a pan that's similar to a goong ob woon sen pan, with a bunch of ingredients including slices of pork belly, garlic, big chunks of ginger, shiitake mushrooms, pepper, and an very noticeable amount of cilantro roots. Finally, a good handful of egg noodles are tossed on top to mop up all the flavor.
Price – 400 THB
I can say with honesty that chicken feet have never been one of my favorite things to eat. They just don't have that much to eat on them.
However, goose feet on the other hand are pretty awesome.
They have more pad-materiel to eat, and all that wonderful gooey webbing. Now you do need to appreciate gooey and gelatinous textures, but if you do, these goose feet are tender and gooey to perfection.
The noodles were also wonderful, with a hearty taste of pork fat, ginger, and cilantro roots.
Getting to the bottom you'll discover all the wonderful seasoning goodies that make the goose feet in a pan (ka han ob haeng ขาห่านอบแห้ง (ไส่หมี่) so delicious.
Bitter melon soup (น้ำแกงมะระตุ๋น)
Bitter melon and pork ribs is a common Thai Chinese soup usually with Teochew origins.
The bitter melon in the soup was just slightly bitter, not very bitter at all, and the bitter melon was stewed until it was literally disintegrating tender. The meat on the pork ribs also slipped right off the bone. I especially enjoyed the rib meat dipped into the vinegar garlic sauce for the goose.
Price – 180 THB
Pea shoots with oyster sauce (โต้วเหมี่ยวน้ำมันหอย)
I thought this dish was overpriced for a plate of vegetables, but anyway, to order a completely well rounded meal we had have a plate of pea shoots with oyster sauce (dow meow nam man hoy โต้วเหมี่ยวน้ำมันหอย).
It was very good, crisp shoots, half raw garlic, and just the right saltiness. But again, way expensive for a stir fried plate of vegetables.
Price – 180 THB
Conclusion
Chua Kim Heng (ร้านฉั่วคิมเฮง) is a legendary restaurant in Bangkok that has been serving braised goose for 4 generations.
There's no doubt they serve one of the best versions of braised goose in Bangkok, which is on the salty side and served with an pungently vinegary and garlicky sauce to dip it in.
Eat at Chua Kim Heng (ร้านฉั่วคิมเฮง) for the goose and the well preserved Thai Chinese cultural heritage.
Chua Kim Heng (ร้านฉั่วคิมเฮง)
Address: 81 Thanon Phatthanakan, Kwang Suan Luang, Kate Suan Luang, Bangkok 10250
Open hours: 8:30 am – 6 pm daily – these are the hours for serving goose
Phone number: 02-319-2511, 02-729-8822
ที่อยู่ 81 (ตรงข้ามพัฒนาการซอย 6) ถนนพัฒนาการ แขวงสวนหลวง เขตสวนหลวง, กรุงเทพมหานคร 10250
โทร. 02-319-2511, 02-729-8822
เปิดบริการทุกวัน 8.30-18.00 น.
How to get there: Chua Kim Heng (ร้านฉั่วคิมเฮง) is located in the Phatthanakan district of Bangkok, on the north side of Ekkamai or south end of Ramkhamhang. The easiest way to get there is by taking a direct taxi or uber, but it's also within walking distance from the Ramkhamhaeng Airport Rail station.