If You're a Thai Seafood Lover – Heavenly Somsak Boo Op (สมศักดิ์ ปูอบ) Street Stall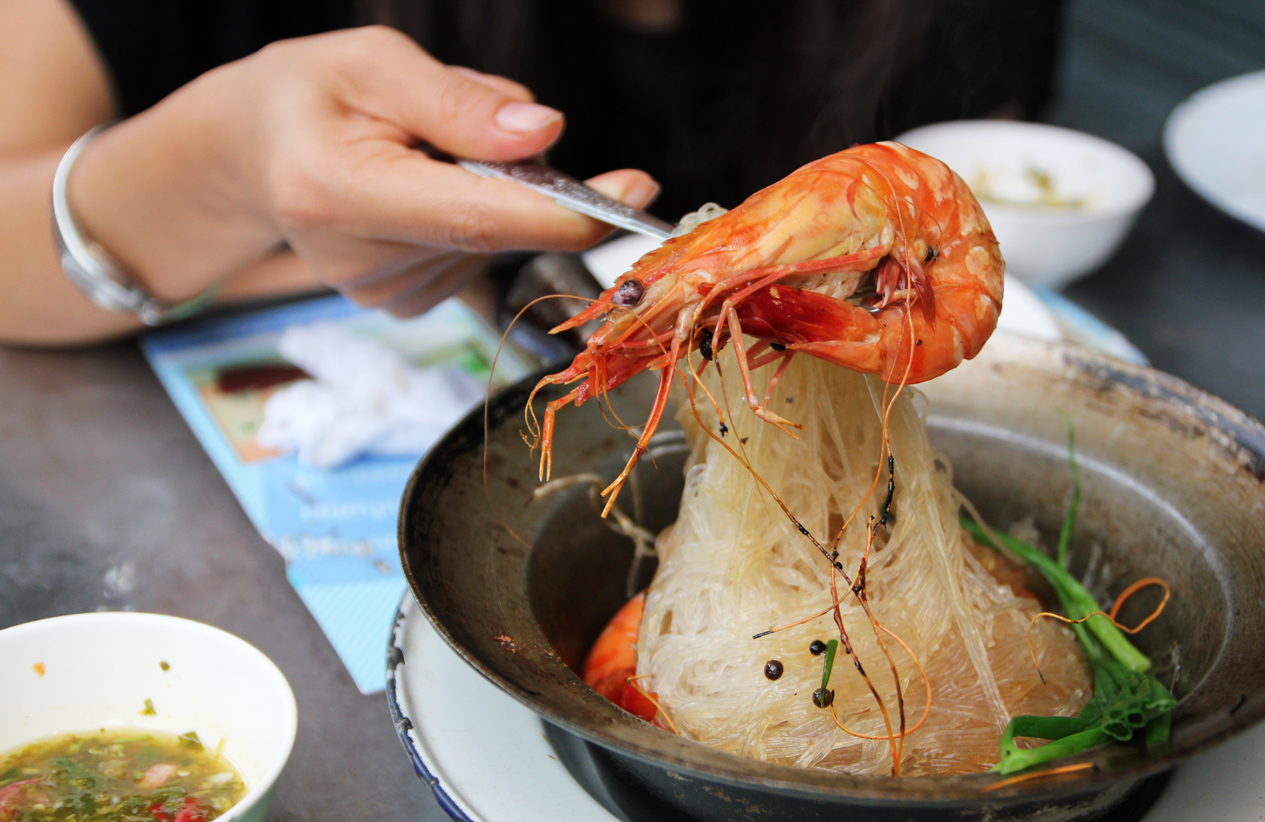 While oftentimes Thai street food comes at very affordable prices, other rare times it can be expensive (relatively).
But let me tell you, if you're paying top prices for Thai street food, your money isn't going towards the nice ambiance or the perfect service, you're paying for high quality ingredients.
Located just a 5 minute walk from Bangkok's Wong Wian Yai, on Charoen Rat Soi 1, is a street stall that lives up to its reputation of having the BEST goong (shrimp) and pu (crab) ob woon sen (with vermicelle, baked in a small pan) in the city (at least by far the best I've ever had).
Starting at 5 pm each evening Somsak Pu Ob (สมศักดิ์ ปูอบ) takes position along the sidewalk.
This is the type of Bangkok street food stall where Mercedes driving CEO's share the same tables with those like myself who scraped up our final 1 Baht coins to claim a seat.
The recipes used at Somsak Pu Ob (สมศักดิ์ ปูอบ) are simple, but it's the superb quality of ingredients and the pinpoint timing of the cooking that makes it so extraordinary.
Unlike places like Pad Thai Thip Samai where the fame of their pad Thai made them expand into hiring 10 chefs to produce quantity, one thing I admire is at Somsak Pu Ob (สมศักดิ์ ปูอบ) it's just a single chef, and he only cooks four pans of goong ob woon sen (กุ้งอบวุ้นเส้น) at a time – keeping quality and precision at its highest.
The shrimp, or crab, are first added to the skillet along with a few seasonings, and placed over the flames which are so hot they could probably be used as a welding torch.
A mixture of glass noodles and soy sauce is then added to the top of the shrimp before a handful of green onions is placed on top.
I've had goong ob woon sen before, at places like Kuang Seafood, but after eating this goong ob woon sen, I can tell you that I'll never be ordering this dish again anywhere but here. I would probably be disappointed with any other version.
Depending on how many orders are before yours, which can be quite a few, will determine how long it takes for you to get your food. And while Thai street food often comes within 5 minutes, you can easily wait 10 – 20 minutes, or even much longer (sometimes to even get a seat) at Somsak Pu Ob (สมศักดิ์ ปูอบ).
Quality won't be sacrificed.
Within the Goong Ob Woon Sen (กุ้งอบวุ้นเส้น) were four jumbo prawns (even larger than those beauties in P'Aor's tom yum goong), a handful of glass noodles, and green onions.
The prawns were so meaty and had a brilliant muscular texture; They were also cooked perfectly so they weren't rubbery and remained juicy. The glass noodles were spectacular, coated in a little pork oil and flavored with just the right amount of soy sauce, black pepper, and fresh coriander root.
Price – 220 THB
They may be notorious for their potential diarrhea causing properties (like any street food shellfish), but if you love shellfish, you'll enjoy Hoy Kraeng (หอยแครงลวก), or blood cockles. I've had some that are fully cooked, others that taste almost raw, and these were somewhere in between.
The key to eating hoy kraeng (หอยแครงลวก) is the dipping sauce, and at Somsak Pu Ob (สมศักดิ์ ปูอบ) they make no mistakes; It's perfectly spicy and sour.
Price – 50 THB
The crab version, Pu Ob Woon Sen (ปูเนื้ออบวุ้นเส้น), also arrived to our table, looking like pure glory.
The noodles were a little drier, so I think there wasn't as much pork fat used in the preparation, but they were still unbelievably flavorful. The chunks of crab were sweet and I loved the smoky flavor embedded within them from the high fire torture they received.
Price – 250 THB
The Bottom Line
If you love juicy jumbo prawns and sweet crab claws, there's nothing negative about this place, you're going to love it. I personally found everything we ordered extremely delicious, and worth the cost!
Somsak Pu Ob (สมศักดิ์ ปูอบ)
Address: Thanon Charoen Rat Soi 1, Khlong San, Bangkok
Open hours: Monday – Saturday from 5 pm – 10 pm, Sunday from 4 pm – 10 pm (but they often sell out early)
Prices – 300 – 500 THB per person
เจริญรัถ เขตคลองสาน ถ.เจริญรัูถ ซอย1 กรุงเ่ทพ
โทร. 081-823-9706
จันทร์ – เสาร์ เปิด. 17.00 – 22.00
อาทิตย์ เปิด 16.00 – 22.00
How to get there:
You can take the BTS to Wongwian Yai station. Exit towards Saraphi 3, walk straight up the road and once you get to the Charoen Rat intersection, you'll see Charoen Rat Soi 1. It's very close to the Wong Wian Yai roundabout.

View Bangkok Eating Thai Food Map in a larger map